Changes at Venice's beloved Rose Cafe stir up protests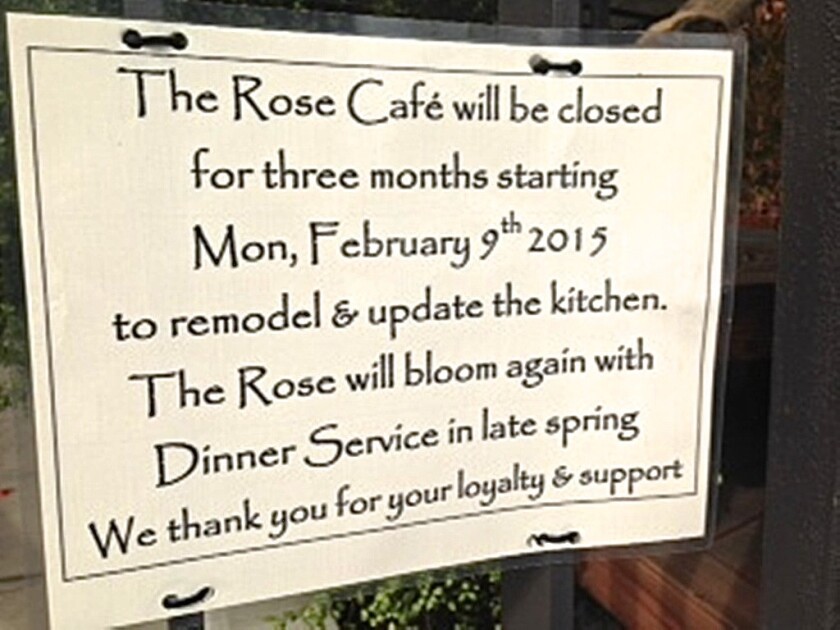 Watch out if you're thinking about messing with a landmark. Bill Chait might have thought he was doing a good thing by buying Venice's beloved artist hangout Rose Café and updating the food with Jason Neroni in the kitchen.
But that's not the way some of the restaurant's regular patrons saw it.
A group of them have banded together to form a Facebook page aimed at preserving the institution, and a public protest at the café is scheduled for Friday afternoon.
They complain that Chait (whom they call a "former restaurant chain operator" and a "multimillionaire owner" in a press release) is treating the staff badly by not guaranteeing them a salary during the four to five months the restaurant is going to be closed for renovations and by requiring them to reapply for their jobs when the restaurant reopens sometime this spring. The official closing date is Monday.
Dominic Hoffman, a regular for 23 years, grabbed a cup of coffee on one of the Rose Café's final days and groused about its closing.
"These are lovely people and a lovely establishment," Hoffman said. "It's part of the neighborhood's fabric."
Karen Pomer, one of the protest organizers who says she has been a weekly visitor to the Rose, said in a press release: "We regulars come for the warm and friendly service. The ambience and food are secondary. It's a shabby way to treat loyal employees. Some workers have been at the Rose over 30 years, and have several generations of their families working there."
Chait, who did start his career with the Louise's Trattoria chain and now helps run some of Southern California's finest restaurants, sounded somewhat amazed at the uproar. There was nothing like this when he was opening Rivera, Petty Cash, Bestia, Sotto, Redbird or Republique.
Most of Chait's projects have involved starting restaurants from scratch; he hasn't taken over such an established institution before. "This is a completely different scenario than anything we've ever done," he said.
Chait says he values the experience of the staff at the Rose Café, and says that owners Kamal Kapur and Manhar Patel, who will be part of the new ownership group, have offered what he considers generous terms to those laid off — two weeks' notice and four weeks' severance.
"I asked at a meeting and I'll bet 50% of the workforce has been there more than 15 years, and many of them more than 25 or 30 years," Chait said. "I've never seen anything like it. It's like family. When you work in something like that, there's no similarity with a situation where you're taking over a restaurant, changing the name and changing everything about it."
Indeed, the new restaurant will be called simply the Rose.
"We're keeping the name because we think it stands for something we value," Chait said. "I have a tremendous appreciation for the concept they pioneered, the quick-service model, and a lot of what they do has become very popular in restaurants today. Actually, that's a lot like what we're doing at Republique right now. It's very friendly, casual, open throughout the day.
"We're just trying to evolve that from a culinary standpoint, but not change the feeling. The vibe of the place is great."
Rose Cafe, 220 Rose Ave., Venice, (310) 399-0711.
Times staff writer Martha Groves contributed to this report.

Are you a food geek? Follow me on Twitter @russ_parsons1
---
Get our weekly Tasting Notes newsletter for reviews, news and more.
You may occasionally receive promotional content from the Los Angeles Times.