Put down those dumplings and try the scallion pancakes at these 7 San Gabriel Valley restaurants
The scallion pancake, also known as cong you bing, is a thin, unleavened fried pancake found all over China, Taiwan, Hong Kong — and at most Taiwanese restaurants and dumpling houses in the U.S. Just think of it as the dependable, less glamorous older sister of the dumpling. And although it's the dumpling that gets the food crawls, the 10-best lists and the fan clubs, visit a restaurant with a great scallion pancake and you'll see the bubbly, golden brown, jade-flecked disks on every table.
As for origin myths, some trace the cong you bing to Shanghai's Indian community; others even credit it as the inspiration for pizza.
There's no one way to make the pancakes. The temperature of the water varies, as does the amount of time the dough is rested, the kind of oil in the dough and whether the pan gets rotated during frying. But regardless of how you cook a scallion pancake, the core ingredients are generally the same: water, flour, oil and scallions. The end result should be a pancake that is tender, layered, crispy, chewy and full of green onion flavor.
See the most-read in Life & Style this hour >>
Since they're readily available at restaurants, most people go out for scallion pancakes rather than make them at home. And while many restaurants serve them, certain places take special pride in their cong you bing. Here are seven of them.
Earthen
Head to Hacienda Heights for a stack of scallion pancakes and the house chicken (cold Shandong-style chicken) at this Taiwanese-leaning restaurant in a shopping center a few doors down from 99 Ranch Market. We mention the pancakes and chicken together because if you're going to do dinner here the right way, you need to get both. The pancakes are cut into isosceles triangles and resemble sauce-less slices of New York-style pizza. Thick pieces of green onion look like green tiles underneath a uniformly crisp, bubbly shell. Dunk each slice in the house chicken sauce (this is half the reason you ordered the chicken). It's a salty, garlic sauce fragrant of vinegar and soy sauce, and it will become essential to the pancake-eating experience. 1639 S. Azusa Ave., Hacienda Heights, (626) 964-1570.
Flavor Garden
This San Gabriel Valley restaurant features food styles from Taiwan, northern China and Chongqing, with shrimp and tofu dumplings, braised beef noodle soup, spicy pork stomach — and scallion pancakes. The pancakes may be the most scallion-intensive in the SGV, with extra green onion peeking out through each of the layers. Tiny, crisp bubbles cover both the top and bottom of the pancake, encasing a middle that is more soft than chewy — the extra scallions create moisture in the middle. And some of the onions actually fry and caramelize during the cooking process, giving these pancakes an extra toasty onion flavor. No dipping sauce required. 1269 E. Valley Blvd, Alhambra, (626) 284-3549.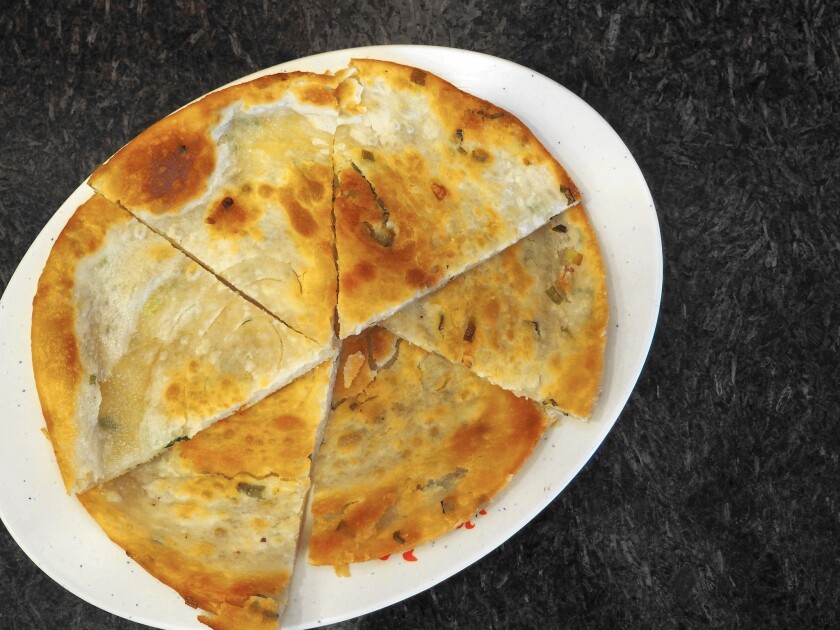 J&J Jin Jian Restaurant
This spot in Prospect Plaza is the epitome of a no-frills shopping center restaurant, where hot tea is served in Styrofoam cups. But the ambience and lack of proper tea cups don't matter when you're sitting at a table with an order of crab soup dumplings and a hot, million-layer pancake in front of you. The pancakes at J&J have so many layers, they are actually called million-layer pancakes on the menu. The edges are a golden brown color, as if they've been deep fried, making them look kind of like flat green-onion doughnuts. 301 W. Valley Blvd., No. 109, San Gabriel, (626) 308-9238.
Mandarin Deli
This is a tiny strip-mall restaurant in Monterey Park (not to be confused with the now-closed Mandarin Deli noodle shop in Chinatown) where the floors are scuffed, the tables nicked and the laminated menus are just a tad sticky. But the pancakes, completely covered in tiny air bubbles, are like the best parts of a bubbly pizza crust. They are light, airy, and the way they are cut, into triangles, makes them actually look like pizza. 728 S. Atlantic Blvd. No. 103, Monterey Park, (626) 289-2891.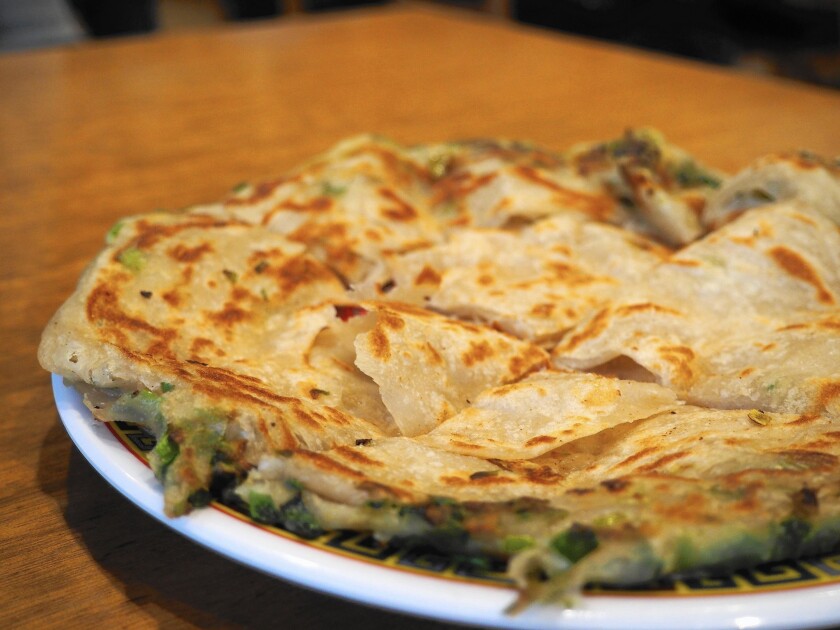 Mandarin Noodle House
In addition to scallion pancakes, an order of Taiwanese beef noodle soup and pot stickers will be featured prominently on every table. The pancakes look different here — they're not flat. The ripples of dough in the middle are caused by the chef pushing a wooden utensil into the pancake while rotating it in a pan, creating air pockets. This also forces most of the scallions along the edge of the pancake, concentrating all of the green onion flavor there. The result is a chewy middle you can easily pull apart and dunk in some vinegar. 701 W. Garvey Ave., Monterey Park, (626) 570-9795.
New Golden City
Half the fun of this Rowland Heights dumpling house is finding it. It's located inside a small mall, opposite 99 Ranch Market, and you'll likely circle the building, get confused and think it's the jewelry store, one of two banks or the Happy Harbor restaurant. Just walk inside the plaza and look for a crowd of people waiting for a table outside, and a scallion pancake or two (and an order of pot stickers) on every one of the tables inside. The scallions in these pancakes are haphazardly cut, creating bursts of big green onion flavor in every other bite. The pancake slices are more chewy than crisp — and cut into elongated triangles, you can fold them like a proper piece of pizza. 1015 Nogales St. Suite 128, Rowland Heights, (626) 965-6822, www.newgoldencity.com.
Tasty Noodle House
This is a tiny restaurant featuring dishes in the style of Dalian (a city in China's Liaoning province), located in a San Gabriel strip mall just a few doors down from the beloved Vietnamese restaurant Golden Deli. It's where you'll find incredibly fluffy pan-fried pork buns and some of the thinnest, lightest scallion pancakes in the San Gabriel Valley; they seem more like notebook paper than pancakes. The dough is crisp and extra flaky, with multiple layers you can pull apart, showcasing the excellent laminated dough. The scallions are tiny and dotted throughout, offering a subtle green onion flavor. And you may find that the pancakes smell of melted butter, despite the restaurant's insistence that oil, not butter, is used to cook them. 827 W. Las Tunas Drive, San Gabriel, (626) 284-8898.
ALSO
What we're into: Patatas bravas at Gasolina in Woodland Hills
Highland Park is about to get a new, serious cocktail bar, called ETA
Head to Taqueria Periban in South El Monte for excellent carnitas
---
Get our weekly Tasting Notes newsletter for reviews, news and more.
You may occasionally receive promotional content from the Los Angeles Times.