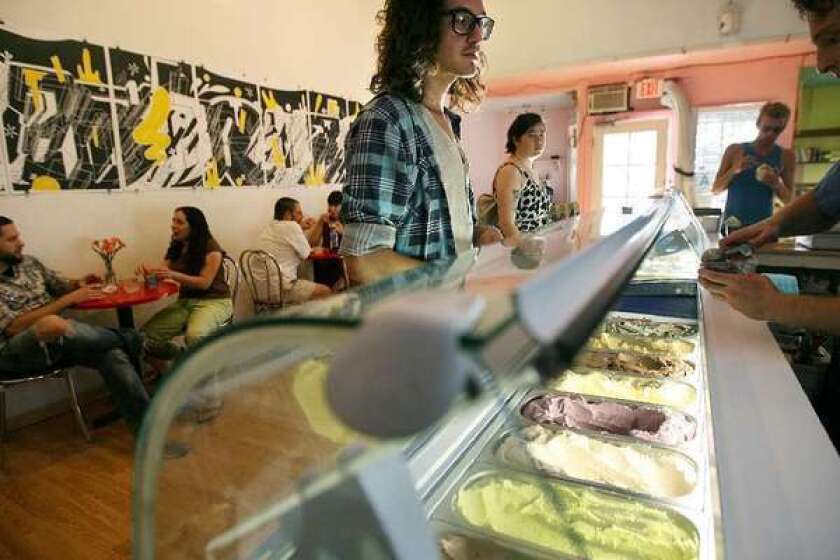 A new location of Scoops, the cult favorite ice cream shop founded by Tai Kim, is heading to Chinatown. Though still working on the lease, Scoops Chinatown would be two doors down from Roy Choi's Chego in Far East Plaza.
The original Scoops on Heliotrope Drive is a showcase for Kim's more than 700 flavors, including salty vanilla Jim Beam, burnt sugar, lavender goat cheese honey, mascarpone caramel pistachio, brown bread, Guinness tiramisu, hazelnut passion fruit, jackfruit, matcha almond and so on. Flavors rotate daily, and each location offers about a dozen to 18 flavors.
"A few months ago when Tai asked me if I wanted to open Scoops we were just talking about where," said Chris Gere, a longtime Scoops employee. "I was thinking downtown, the Arts District. But maybe it's a little too up and coming. There are very few spaces available and what spaces are available are becoming extremely expensive. Downtown would still be great, but Chinatown seems like it's going to have a great revitalization in the next few years.
"We walked around Chinatown and we saw the spaces that were available and it seemed perfect. The space was a restaurant before so it's not a huge undertaking in terms of construction, plumbing. Chego and Scoops -- you can take a date out and spend $8 at Chego and $3 at Scoops, then walk around Chinatown. Perfect night."
Chinatown is attracting a wave of restaurateurs, including Choi, Thi and Nguyen Tran who opened Starry Kitchen in Grand Star Jazz Club, and Michael Ourieff, owner of an Italian gastropub called 643 North set to debut on Spring Street. New bars include Melody Lounge in a former karaoke club and the coming General Lee's.
The new Scoops would be run by Gere. Kim runs the original on Heliotrope Avenue and another in Highland Park. Scoops Westside is helmed by Matthew Kang.
"I will buy it wholesale from Tai and use the Scoops name. Then I'm able to run the shop whichever way I want while of course respecting the nature of Scoops and what Scoops is.... I jumped at the opportunity because I love Scoops, love the ice cream."
"The way Tai talks about flavors is as though he's mixing paints," Gere said. "Some are slightly different from one another and some are wildly different from anything else out there."
ALSO:
Quirky frozen treats at Ice Bar
Aleppo's Kitchen for Syrian specialities
---