Henry's Tacos for yellow cheese and the taste of nostalgia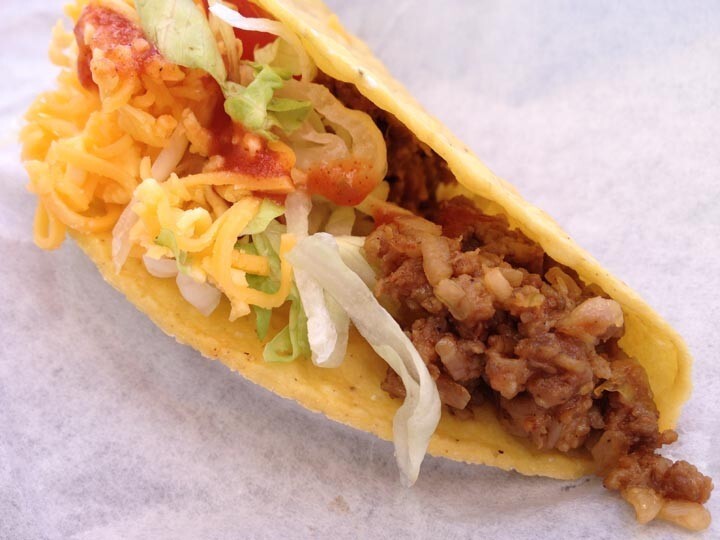 Henry's Tacos in Studio City provided the taco of many childhoods.
(Jo Maxwell Stougaard / For The Times)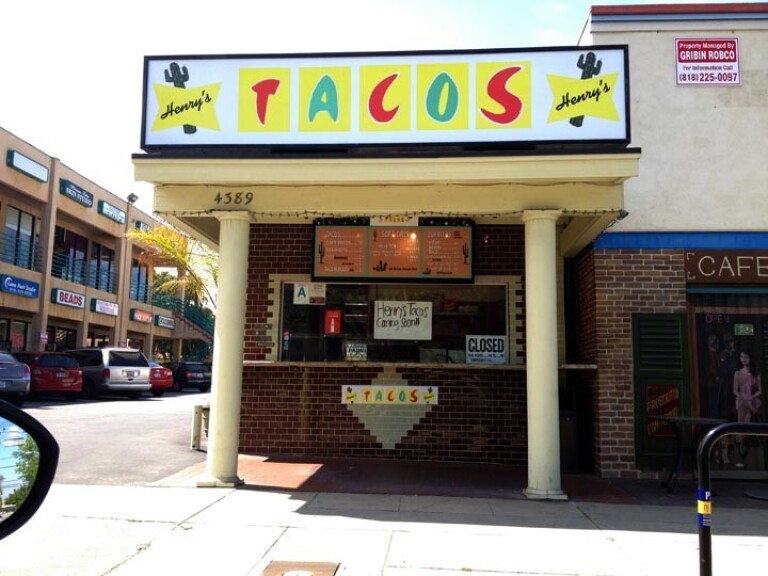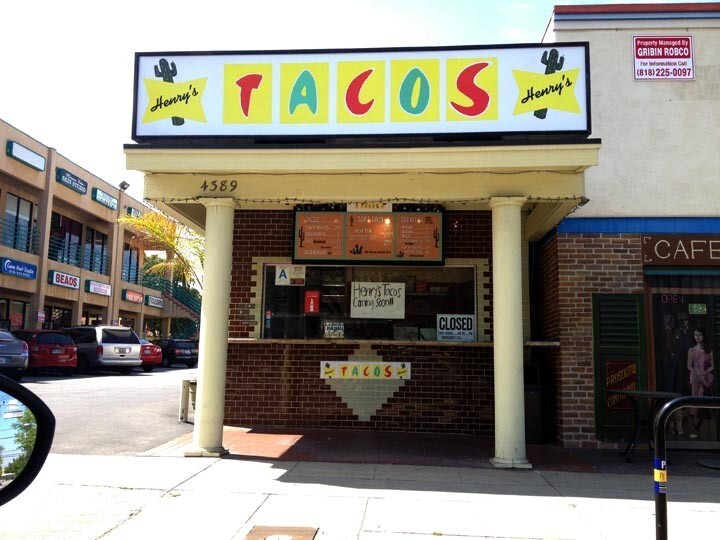 Henry's Tacos at its new location, just down the street from its longtime home..
(Jo Maxwell Stougaard / For The Times)
Name of restaurant: Henry's Tacos, at its new location.
Owner: Omar Vega. He bought Henry's Tacos from Janis Hood. The Hood family owned and operated the shop for over 50 years.
What dish represents the restaurant, and why? Order the seasoned, ground beef taco (a.k.a. "gringo" taco) for a taste of nostalgia. It's all about the bright, orange cheese and crunchy taco shell.
Concept: If you grew up eating Mexican food in the 1960s and '70s, this was probably the taco of your childhood. Of course there are more-authentic tacos in Los Angeles, but the gringo is all about memories.
Who's at the next table? Actor/model on cellphone, construction worker, young dad with kids.
Appropriate for...: Everyone.
Uh-oh...: The gorgeous Googie-style sign is gone. The burritos don't hold as much nostalgia (or flavor) as the tacos.
Service: Quick and friendly. There's a covered area for dining in the shade and umbrella-topped tables out front.
What are you drinking? Diet Coke. Which means I can order another taco, then stroll across the street for a scoop of blood orange gelato.
Info: 4389 Tujunga Ave, Studio City. (818) 769-0343
More scouting reports:
For hard-core uni lovers it's Maruhide Uni Club
At Cho-Mak it's the whole fish with a sprinkle of salt
Tuning Fork gastropub: 80 beers, mac and cheese with potato chips
The Scouting Report is a quick look at restaurants worth a visit. Scouts were selected by restaurant critic Jonathan Gold, who may or may not agree with a single word.
---
Get our weekly Tasting Notes newsletter for reviews, news and more.
You may occasionally receive promotional content from the Los Angeles Times.