El Huarique: Big Peruvian flavors from a tiny beach counter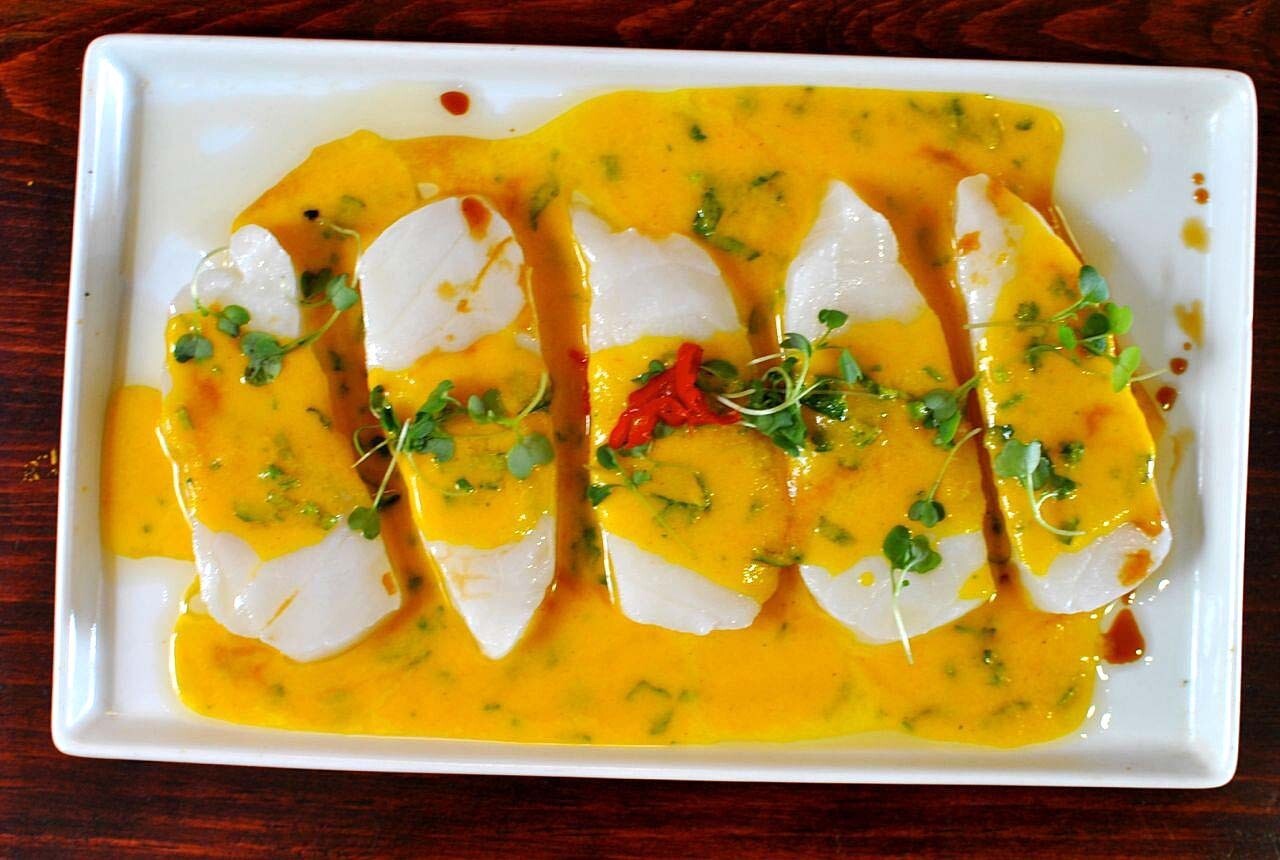 Tiradito de seabass: Seared cuts of seabass in a garlicky aji sauce.
(Javier Cabral / For The Times)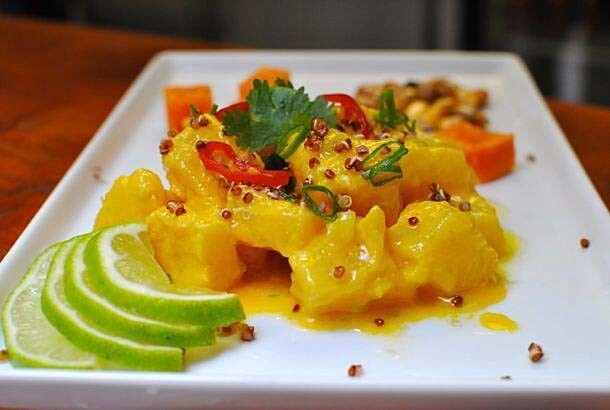 Cebiche Passionfruit: Sashimi-thick slices of halibut in tart passionfruit sauce
(Javier Cabral / For The Times)
Arroz con Mariscos: Al dente seafood rice seasoned with saffron and Peruvian aji peppers.
(Javier Cabral / For The Times)
Name of restaurant: El Huarique. It's Peruvian slang for a place not so well known where you can eat, drink and buy on the cheap. A name that fits like a glove for this place.
Concept: A tiny kitchen inside of a hallway-cum-food court along the Venice boardwalk, serving some serious Peruvian food and slightly cheffed-up ceviches.
Chef: Ernesto Gutierrez of the short-lived Inka Deli in Mar Vista, and his culinary school-trained nephew Walther Adrianzen. Both were born in Lima, Peru.
What dish represents the restaurant, and why? Their "Cebiche Passion Fruit" with Pacific halibut. The buttery fish is cut in gorgeous, sashimi-thick slices and served in a tart garlicky passionfruit sauce. Also on the plate are creamy sweet potato cubes, puffed Peruvian corn, cured onions, Limo and Rocoto aji peppers and a dash of chewy scarlet quinoa. It showcases those saucy and spicy characteristics of Peruvian ceviche that we all know and love but with an almost electric tang provided by passionfruit.
Runner-ups: Arroz con mariscos. Though described as a "Peruvian paella" on the menu, the generous pile of al dente rice is coated with more of those floral Peruvian chiles than saffron. Lomo saltado gets a drizzle of red wine and soy sauce before being seared in a high-heat wok, perfect with the pile of steamed white rice. Last but not least, anticuchos, Peruvian-style charred tender beef on a stick.
Who's at the next table? Chefs, line cooks ... no tables here, just six to eight seats at the bar directly facing the open kitchen.
Appropriate for: An authentic L.A.-style solid lunch while taking visiting relatives or friends out to the Venice boardwalk.
Uh-oh: Parking. This spot is literally on the boardwalk so prepare to make a few rounds around the blocks on weekdays. If going on a weekend, just pay for parking and make a day out of it. Also, extremely limited seating, but there is always takeout.
Service: Friendly and curt. Be prepared to give the chefs your honest opinion if you eat at the counter. They are working right in front of you and will most likely ask how it was.
What are you drinking? Chicha morada, a refreshing spiced punch made from purple corn, apple, pineapple and cinnamon.
Info: 1301 Ocean Front Walk, Suite 10, Venice (in the Food Court), (310) 452-1254.
ALSO:
Eat your crickets: 5 great dishes
Korean rice rolls at Gaju Hanshik Bunshik
---
Get our weekly Tasting Notes newsletter for reviews, news and more.
You may occasionally receive promotional content from the Los Angeles Times.