For hardcore uni lovers, it's Maruhide Uni Club in Torrance
With dinner comes a clear soup of uni, onions and mozzarella cheese.
(Betty Hallock / Los Angeles Times)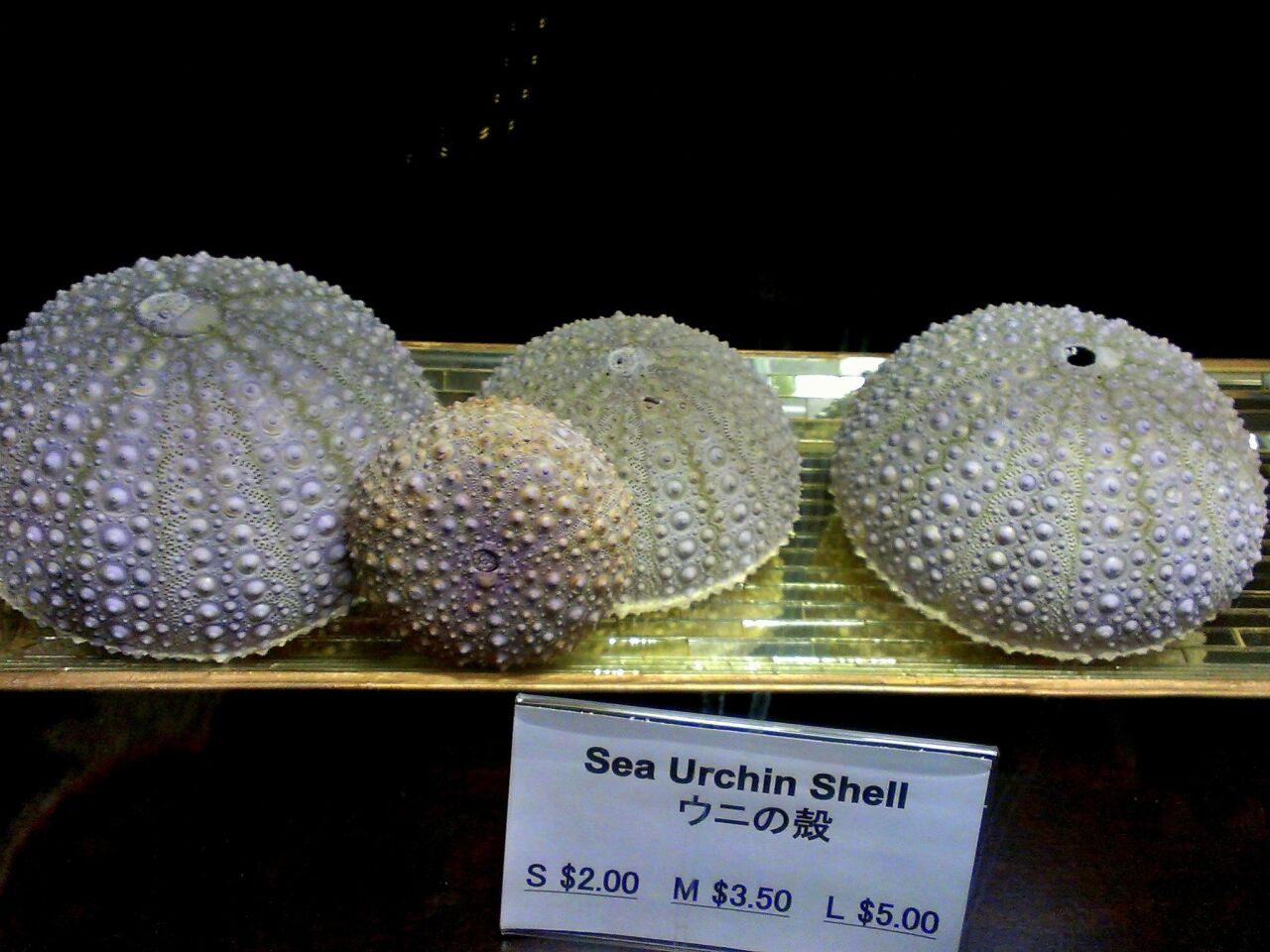 Sea urchin shells for sale at Maruhide Uni Club.
(Betty Hallock / Los Angeles Times)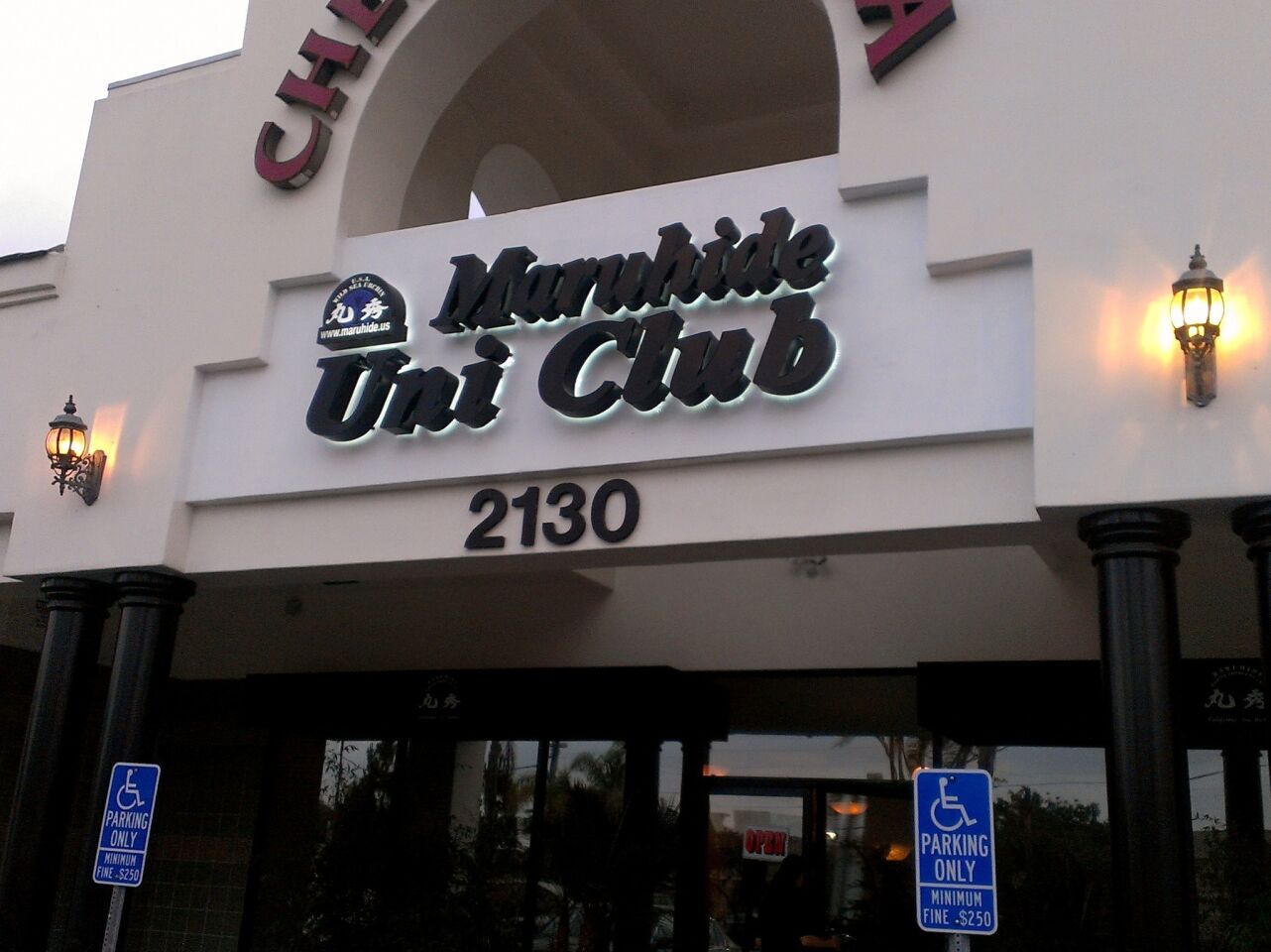 Maruhide Uni Club in Torrance.
(Betty Hallock / Los Angeles Times)
Name of restaurant: Maruhide Uni Club
What dish represents the restaurant, and why? A bowl of sushi rice topped with uni (raw sea urchin "roe"), salmon roe and tuna sashimi, the kind of straightforward Japanese dish that you'd eat for breakfast at a stall outside of the Tsukiji fish market in Tokyo but is oddly hard to find in L.A., unless you make a special request at a sushi bar, which might then offer its uni bowl and a separately charged order of tuna sashimi. At Maruhide Uni Club, it comes in small (with several pieces of uni) and large (nearly a dozen pieces of uni) versions, which cost $12.80 and $20.80 respectively. An uni bargain.
Runner ups: Sea urchin, salmon roe and salmon bowl; sea urchin, salmon roe and scallop bowl; sea urchin, salmon roe and yellowtail bowl; sea urchin peperoncino pasta; sea urchin cream pasta; sea urchin nigiri. Live uni in the shell, which must be ordered by calling the restaurant in advance. The sea urchin tasting menu is available only if you reserve a week in advance for parties of four or more.
Concept: The restaurant version of a factory outlet for a Japanese sea urchin wholesaler servicing both domestic and Asian markets. Maruhide sends a ship from San Pedro to north of Santa Barbara every morning to catch sea urchins (as well as sea cucumbers), which are then transported to its Long Beach plant where the "roe" (really, the gonads) is extracted by hand and packaged. Its Torrance storefront -- the first sea urchin specialty store in the U.S., the company claims -- opened last year, then began serving lunch and in May started serving dinner, or what it calls "all-night uni cram sessions." The company also markets its own bottled marinated sea urchin, called Uni Shutou in various flavors (but why go bottled when you can go fresh?). You can also buy fresh uni to take home, some available in the refrigerated case by the cashier, or call for special orders.
Who's at the next table? A table of six Japanese-speaking uni lovers in New Balance sneakers or with Louis Vuitton bags, with a large bottle of sake on the table and uni rice bowls or plates of uni pasta. Maybe some of them work at Toyota Motor Sales U.S.A., American Honda Motor Co. or Mitsubishi Logistics America, all headquartered in the South Bay.
Appropriate for: Hardcore uni obsessives who want to feed their cravings without breaking the bank.
Uh-oh: Maruhide Uni Club has all the ambience of a Days Inn motel lobby. Also, some fresh uni dishes may not be available depending on the day's catch.
Service: Friendly, but once the food arrives at the table, expect long intermittences.
What are you drinking? Junmai daiginjo sake, barley shochu or Asahi. Skip the wine.
Info: 2130 W. Redondo Beach Blvd., Torrance, (310) 323-2864, www.maruhide.us.
ALSO:
The South Bay's burgeoning beer scene
Shopper arrested for taking too many samples
Everything you need to know about sriracha in a 30-minute film
---
Get our L.A. Goes Out newsletter, with the week's best events, to help you explore and experience our city.
You may occasionally receive promotional content from the Los Angeles Times.