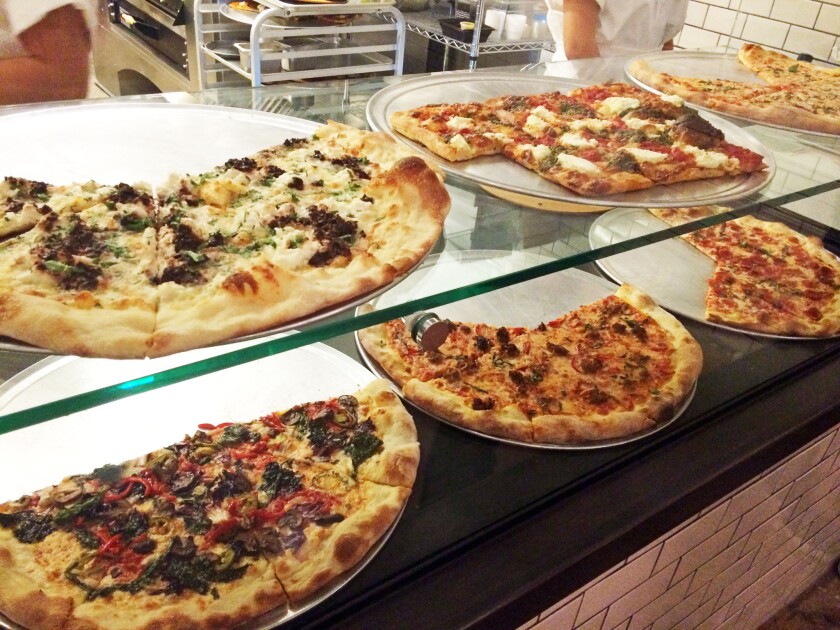 Name of the restaurant: Prime Pizza.
Concept: A New York-style pizzeria by Jason Bernstein, Zak Fishman and James Starr, the guys behind Bludso's, Golden State and Cofax. With Damiano Mr. Pizza gone, it's the new Fairfax neighborhood pizza joint. On the menu are paper-thin pies, a square pizza topped with seasoned ricotta and pesto made using an old molcajete, garlic knots with marinara and a couple salads. The slices come out on paper plates, and the Parmesan cheese, oregano and red pepper flake shakers are already on the tables.
What dish represents the restaurant, and why? Any of the pizzas, but especially the sausage pizza. It's topped with mozzarella cheese, slivers of sweet red peppers and onions, and housemade sausage by Ugly Drum's Erik Black. Of course a pizza joint by the guys behind Bludso's would use housemade sausage on their pies. And the crust is crisp, but chewy enough to fold in two before sliding a slice into your mouth.
Runners-up? The garlic knots. The nuggets of dough are completely coated and dripping with a mixture of crushed garlic, olive oil, Parmesan cheese and parsley. The tops of the knots are crisp and golden brown, and they pull away to reveal a soft, doughy center. They're served in a basket with a side of marinara sauce, but there's a pool of garlic oil at the bottom, perfect for dipping.
Who's at the next table? Well-dressed publicists popping in for a slice before their event down the street, a couple wandering in from their nearly apartment and three 20-something guys in sneakers and jeans, who smelled pizza from the sidewalk, saw the bright lights and decided to check it out.
Appropriate for: Slices with a couple friends pre or post drinks at the nearby The Dime. Or the next time a game is on, pop over and get a whole pie to go.
Service: Counter service. Pretend you're at a sushi bar and ask "what's fresh?" to get a slice of pie just out of the oven.
Uh-oh: There's no delivery, and wings are not a permanent fixture on the menu. They are working on adding wings, and starting pizza delivery soon.
Info: 446 N. Fairfax Ave. Los Angeles, (323) 852-1188, https://primepizza.la/
I order anchovies on my pizza. Follow me on Twitter @Jenn_Harris_
---