Seed Bakery in Pasadena has whole grain bread, a stone mill and yes, avocado toast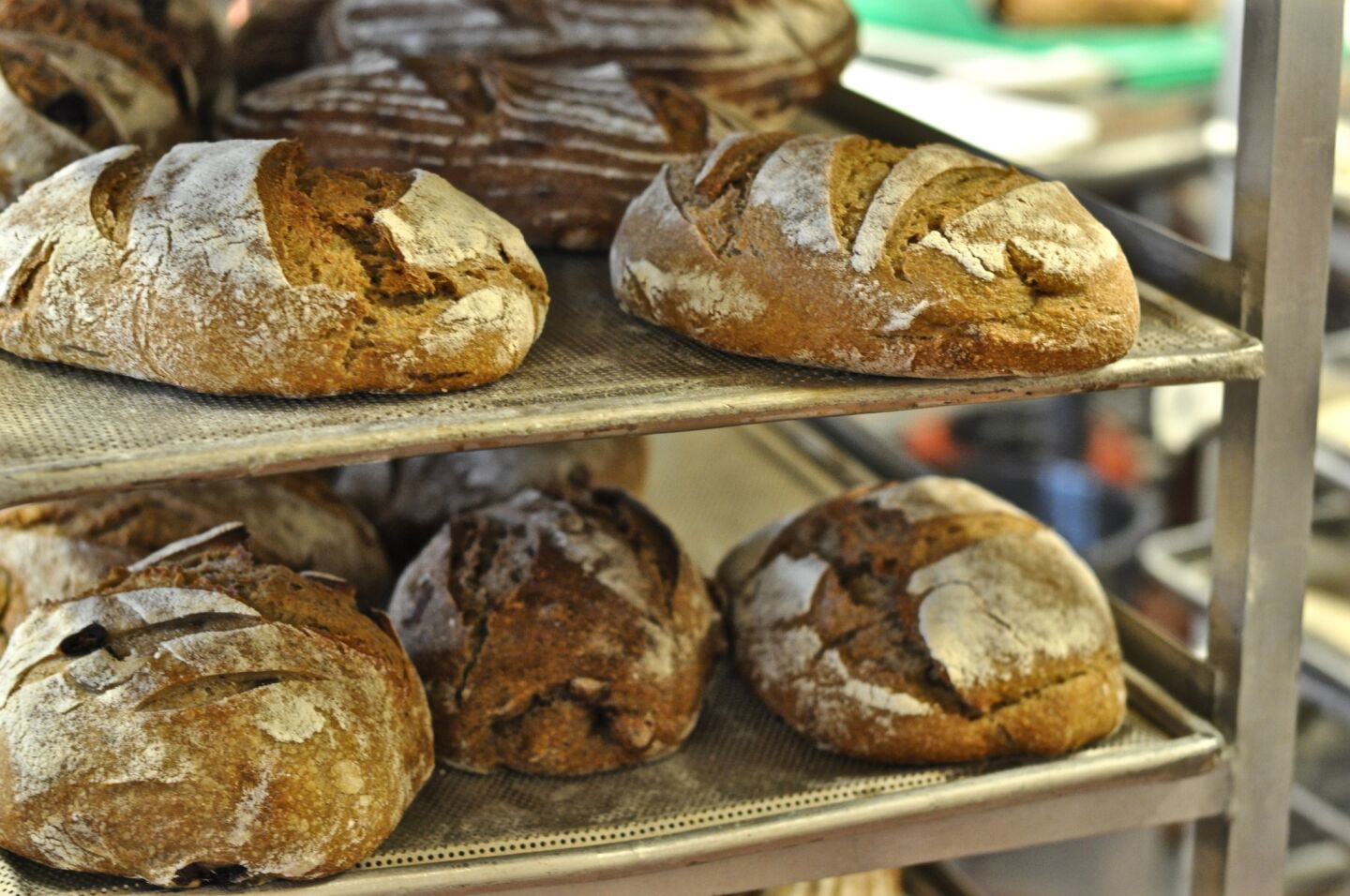 Loaves of whole grain bread rest in the kitchen near the deck oven at Seed Bakery in Pasadena.
(Amy Scattergood / Los Angeles Times)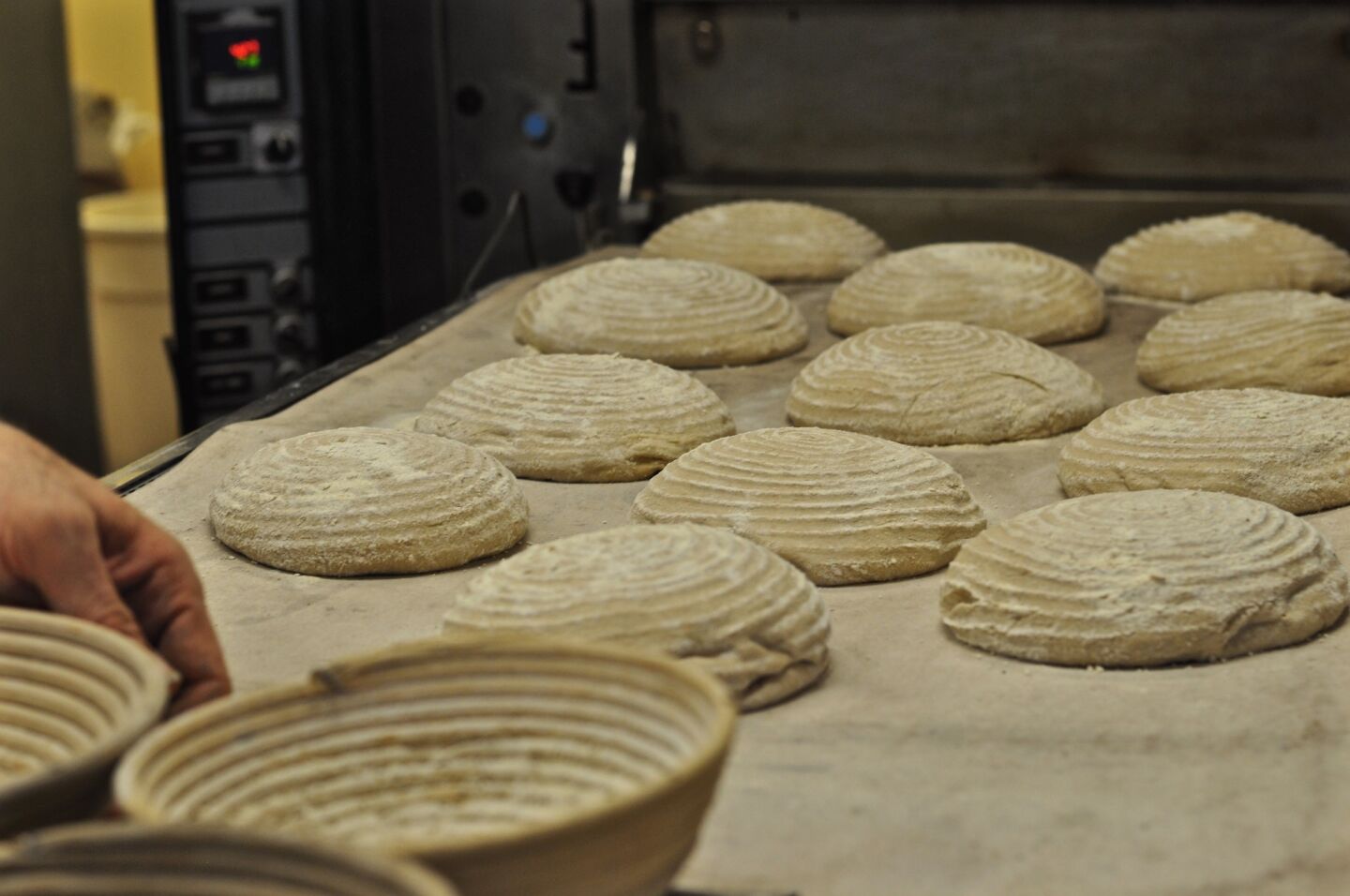 Rows of proofed loaves wait to be baked at Seed Bakery in Pasadena.
(Amy Scattergood / Los Angeles Times)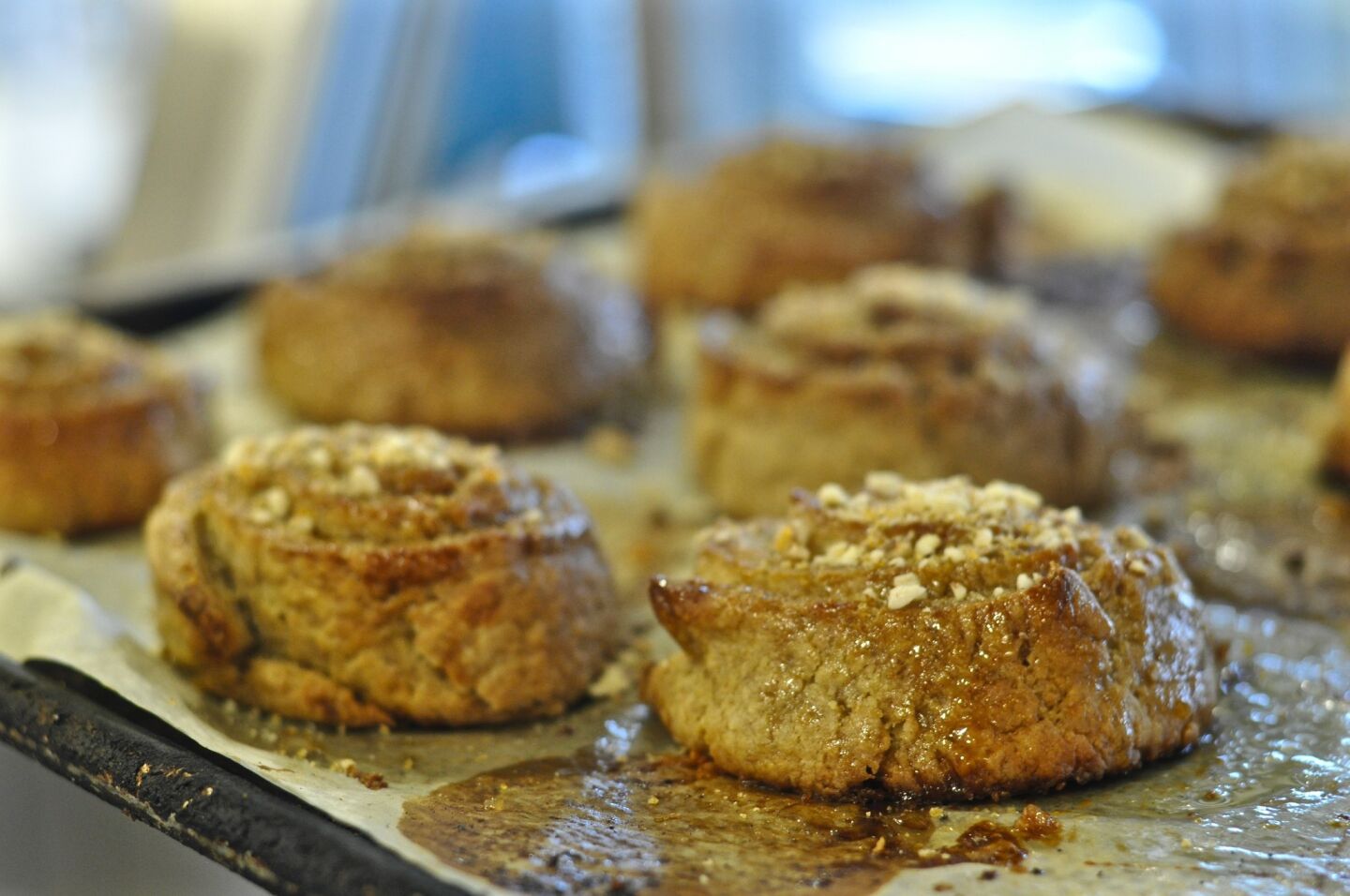 A tray of freshly baked rye and maple Danishes awaits customers at Seed Bakery in Pasadena.
(Amy Scattergood / Los Angeles Times)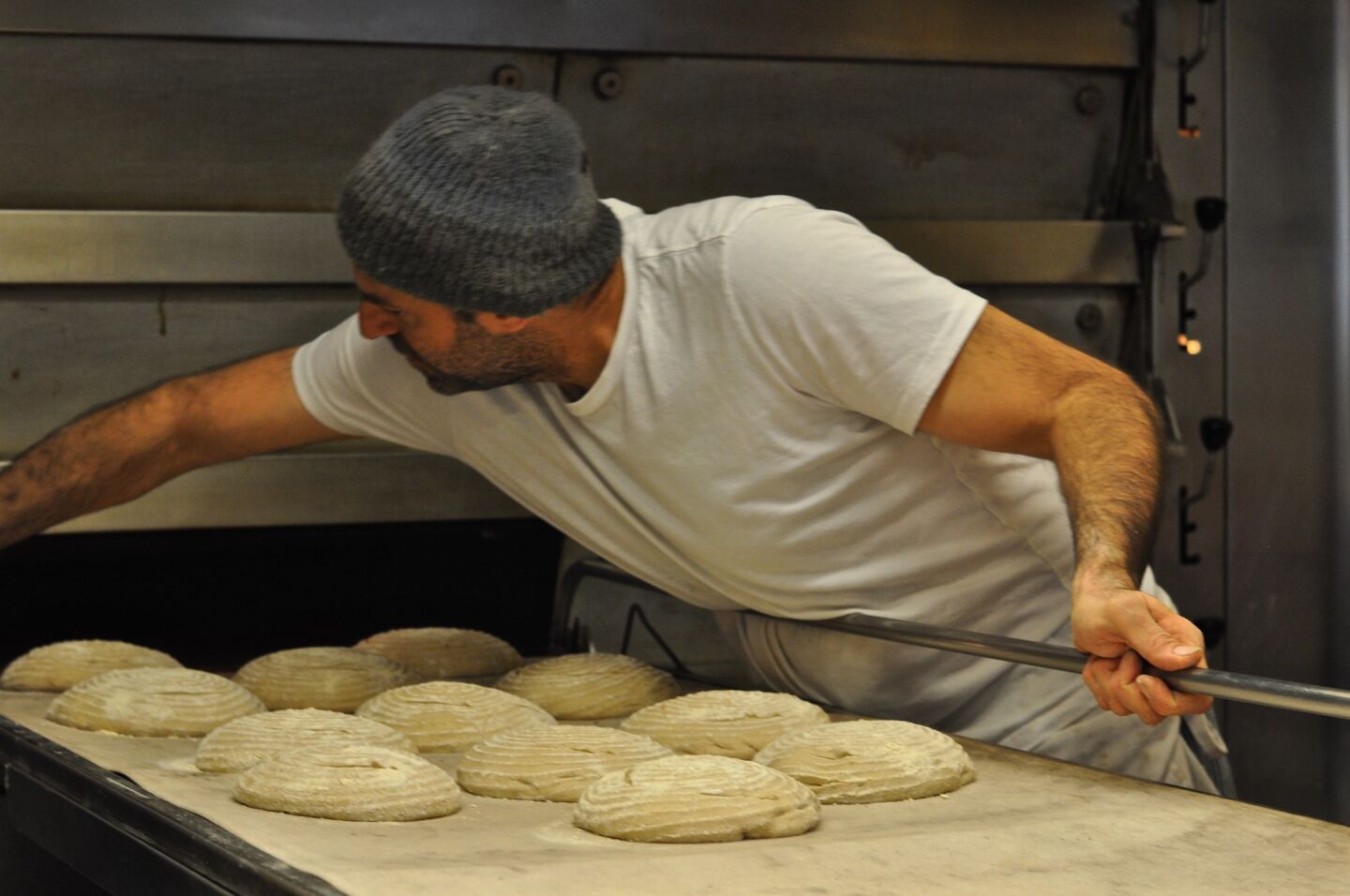 Baker Joseph Abrakjian loads loaves into the large deck oven at his newly opened bakery in Pasadena.
(Amy Scattergood / Los Angeles Times)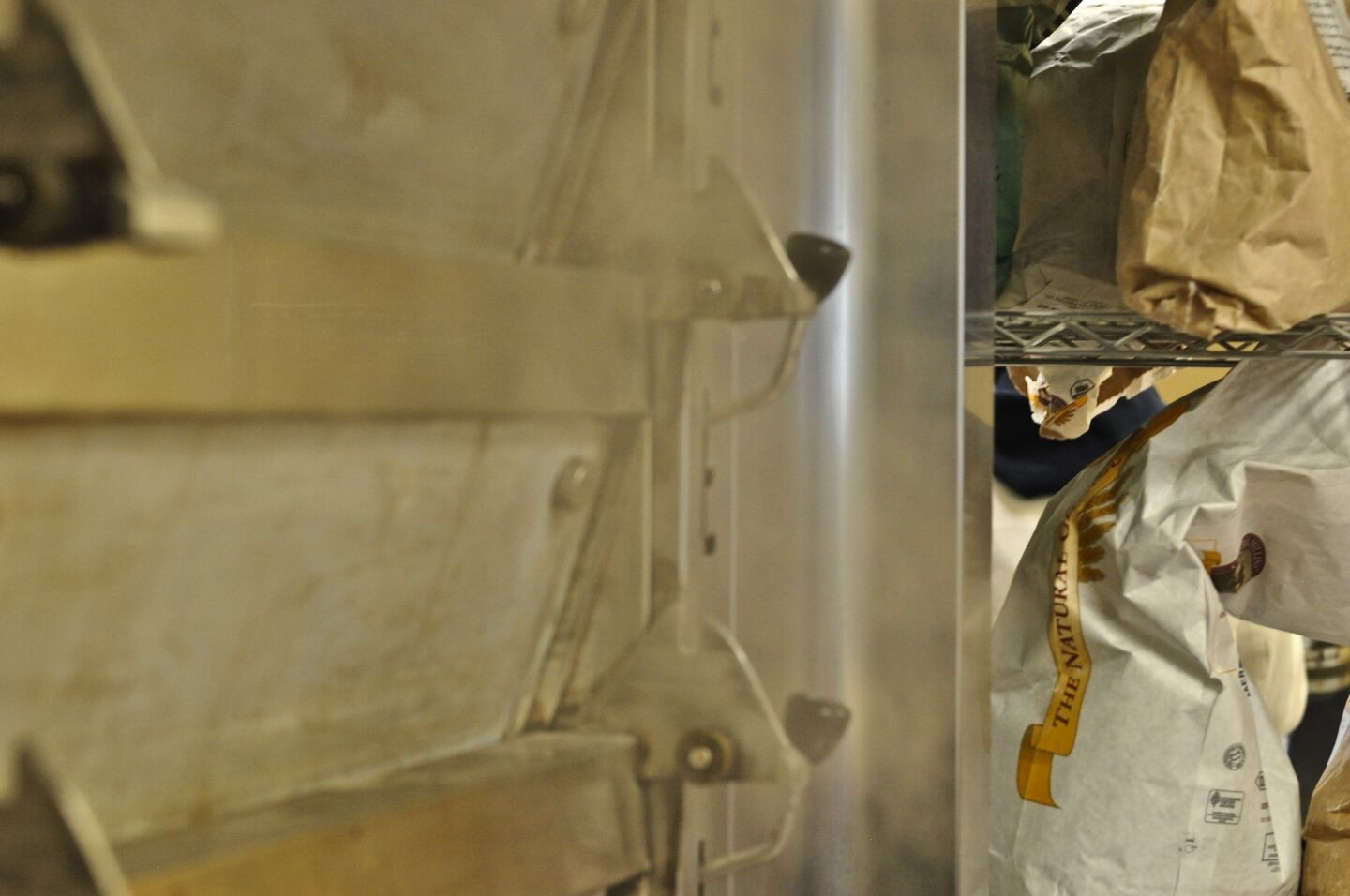 Steam spills out of the massive four-deck oven at Seed Bakery in Pasadena.
(Amy Scattergood / Los Angeles Times)
Near Lake Avenue and Washington Boulevard, in the northern quadrant of Pasadena, one of the newer bakeries in Los Angeles is continuing this town's quiet bread renaissance. In mid-November, baker Joseph Abrakjian opened Seed Bakery, a small restaurant and retail space arranged around an enormous Bongard four-deck oven that he brought from a bakery in Sevastopol.
Abrakjian, who runs the business with the help of his wife, is baking whole grain loaves made from natural levain and flour he mills himself in a small back room on a stone mill. The breads — farro, einkorn, kamut — chalked on the board in the front of the shop make the place sound more like a heritage seed bank than a boulangerie, as do the sacks of grain stacked along the side of the dining room.
"I was milling with Nan when she was still in her garage," says Abrakjian, who worked with Grist & Toll's Nan Kohler and sold his breads from local farmers markets before opening his own bakery. "I could never go back," he says of milling his own flour.
Abrakjian gets his kamut from Montana, his Sonora wheat from Mendocino, some grains from Chico and most of the rest from Central Milling. The grain is milled in small batches, then goes into the loaves of bread — 100% rye, spelt, a blend of four whole grain flours, Sonora, a blend of buckwheat and wheat — as well as pastries, some of which are also made with whole grains, such as the remarkable rye and maple Danishes.
He's also making traditional baguettes and pastries with white flour or a combination of white and whole grain, including both plain and chocolate croissants. To go with all the bread and pastries, there's a coffee menu, with coffee from Kickapoo Coffee, a Wisconsin fair trade coffee program, and a small menu of breakfast and lunch dishes. Grain bowls, French toast, quiche, sandwiches. And yes, there's avocado toast.
Abrakjian is still selling his bread at farmers markets, including in South Pasadena and at the Wednesday Altadena market. "That's the real test," he says. "You don't get any tourists; it's people buying your bread on a weekly basis."
After looking for years for the right space, Abrakjian is pretty happy to have found a permanent home. The roughly 1,400-square-foot location, which previously was a fried chicken restaurant — hence a cheery chicken silhouette on one door — had to be reworked, and that giant oven taken apart and reassembled in the center of the kitchen.
As he inverts loaves of bread from bannetons onto the canvas loader that fills the center of the bakery and slashes the tops of the loaves with a razor, Abrakjian pauses to look around, as if still a little dazed that the bakery is finally up and running. (Or factor in sleep deprivation, as the baker's days start at 4:30 a.m.)
"It's primal, that's what it is," he says — of the aroma filling the kitchen, of the feel of the flour he's just milled, of the weight and feel of the bread itself.
And then there's the taste of it, which is earthy and nutty and faintly sour from the levain and the long fermentation. It's remarkable bread, whether still warm from the oven or, later, sliced and toasted. Because, if you think about it, this Era of Toast we're living in means nothing without very good bread.
942 E. Washington, Pasadena, (626) 486-2115,
www.seedbakerypasadena.com
.
Because taking pictures of food is almost as much fun as eating it, on Instagram @latimesfood.
ALSO:
Shake Shack to open in downtown Los Angeles
The ultimate Ventura Boulevard food and drink crawl
Locol, the new 'fast food' project from chefs Roy Choi and Daniel Patterson, opens today in Watts
---
Get our L.A. Goes Out newsletter, with the week's best events, to help you explore and experience our city.
You may occasionally receive promotional content from the Los Angeles Times.