'Star Wars' mac and cheese is a real thing. Get ready for tiny pasta Yoda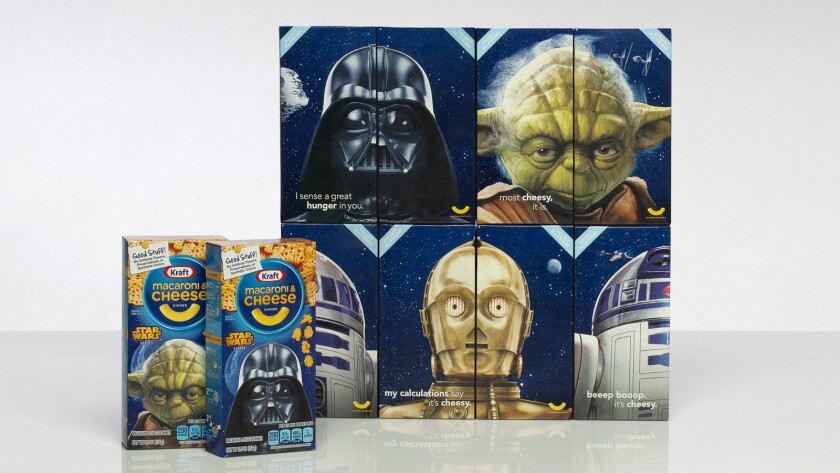 Does food taste better if it's shaped like your favorite film and TV characters? My 7-year-old self says "absolutely."
Kraft has released a new line of macaroni and cheese to celebrate the new Star Wars film, "Star Wars: Episode 7 - The Force Awakens." It's a box full of tiny Yodas, Darth Vaders, R2-D2s and C-3POs, all made out of pasta.
Really good idea, Star Wars macaroni and cheese is. You agree, hmm? Hmm.
In accordance with Kraft's new pledge to stop using artificial ingredients in the U.S., these "Star Wars" products are free of artificial flavors, preservatives and synthetic colors.
The company has also released a line of "Minions" macaroni and cheese with Kevin, Stuart and Bob pasta.
The new "Star Wars" and "Minions" macaroni and cheese boxes are available now, and the suggested retail price is $1.29.
And if you're in the mood for more "Star Wars"-inspired eats, check out www.JustJennRecipes.com. It's a blog full of Darth Vader Nutella peanut butter truffles, Chewbacca cookies and Rebels Hera cupcakes.
I'd like to visit a galaxy far, far away. Follow me on Twitter @Jenn_Harris_
---
Get our weekly Tasting Notes newsletter for reviews, news and more.
You may occasionally receive promotional content from the Los Angeles Times.