Your summer beer party guide, plus how to select the perfect keg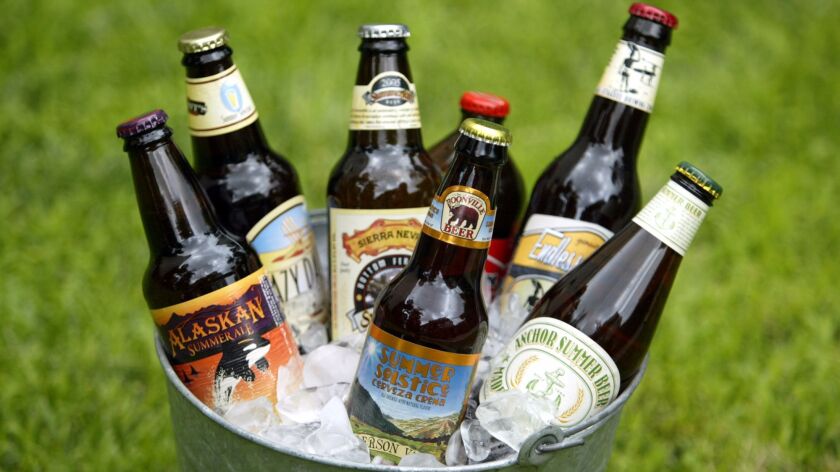 Somehow it's almost the end of summer in L.A., but there's still time to throw some backyard barbecues and pool parties. You're going to need beer, but the once simple beer run is now fraught. Sure, you could just grab some Coronas and call it a day, but with so many craft brewed options in every flavor and style imaginable, you can do so much better than a case of the mass market stuff.
Don't stress about the beer run; here are tips on brews with which to fill your cooler.
Wheat ales
The instinct to reach for a light lager, like those beloved imports from Mexico, as the go-to summer brew is a good one, and the craft brewers have embraced the world of pale and refreshing styles. From neo-traditional pilsners to ubiquitous blonde ales, there are plenty to choose from. You really can't go wrong with beer from these simple yet flavorful families. Another broad class of summer-ready craft beers is the traditional wheat ale (think Hefeweizen and Belgian Witbier), and the creative alternatives from American brewers.
With a snappy finish and brisk tartness, the cloudy Hefeweizen has long been the favorite beverage of summer in Bavaria. The "Hefe" in Hefeweizen means yeast, and these wheat beers are dominated by the bready, fruity and spicy compounds the yeast produces. The Witbier is another style that's yeast driven, and the addition of spices (traditionally coriander and grains of paradise) and citrus peel adds to the complexity. Neither Hefes nor Wits are particularly bitter, so they're a great choice for your hop-averse guests. One note for serving these wheat ales at your party: they're not the best styles for drinking right from the bottle or can. With big aromas and a pearlescent haze, they demand a glass. But the extra effort is well worth it.
There is no shortage of creative new-school takes on traditional wheat beers, and American breweries have especially taken to the tart wheat beers of Germany, such as the Gose and the Berliner Weisse, as jumping-off points for experimenting with fruit, herbs and just about everything else. Try the black lime-flavored SeaQuench from Dogfish Head, the fragrant and spruce-fueled G&T Gose from Anderson Valley Brewing or the dry-hopped summer sour Sunbather from Angel City Brewery.
Pale ales
Pale lagers and crisp wheat beers were built for summer sipping, but let's not forget how well pungent, bitter hops pair with bright sunshine. From the ultra-hip hazy IPAs to the once pervasive American pale ale, there are more hop-driven styles and options than any other genre of beer. Once you're hooked on the hoppy stuff, you can't really scratch that itch with anything else, and if you're having hop heads over, you'd better have some IPA (or at least pale ale) to sate them. Your best bet is something dry and not too bitter. When in doubt, you can't go wrong with the classic Sierra Nevada Pale Ale.
Apart from the continued evolution of the hoppy American ale, one of the biggest trends in craft beer is the ever-growing selection of canned beer. On balance with bottles, cans are a superior package for craft beers, and canned brews are especially perfect for your summer fetes. They chill down quicker in an icy cooler, won't shatter when dropped on the patio, and they're lighter and easier to transport. In fact, the only better way to serve beer at a party is from a keg.
The right keg
If you want to go all out with a craft beer kegger to celebrate summer, here's what you need to know. The hardest part about serving keg beer is ensuring that you can finish the whole thing in a couple days (while keeping the keg cold the whole time). There are a few sizes of craft kegs available; the most common are the full-sized 15-gallon "half barrel" kegs. These should cost you between $125 and $200 depending on the brewery, and you'll net about 120 pints (or 160 12-ounce servings). More manageable is the "sixtel" keg — the long and skinny kegs popular with craft and home brewers alike. These run between $70 and $120, and you'll get around 40 pints (or 55 12-ounce servings) from one.
Total Wine and BevMo! stores both stock some craft kegs; Beverage Warehouse in Del Rey and Ramirez Beverages in Boyle Heights can arrange for special order brews as well. Many local craft breweries will sell you a keg of your favorite beer as well. It's best to call your source a couple of days ahead and confirm they can get what you want (and that they'll rent you the hardware to get the beer out of the keg). Without a pressurized draft system, you'll have to rely on a party-pump. Once you've tapped a keg with one of those hand pumps, the beer will begin to oxidize, and you'll have only a couple of days to drain it before the beer begins to taste stale. Have technical questions or want how-to advice for kegs? The Brewers Assn.'s Draught Quality website has the answers.
One downside of the keg approach? You got have to settle on one beer. If you'd rather offer a wider selection to party guests, the popular variety packs are the way to go. These 12-packs of bottles or cans usually have three of four different beers from a brewery in a range of styles. Firestone Walker, Pizza Port, Saint Archer, Oskar Blues and New Belgium all offer mixed packs of canned brews that are commonly available at supermarkets and well stocked liquor stores.