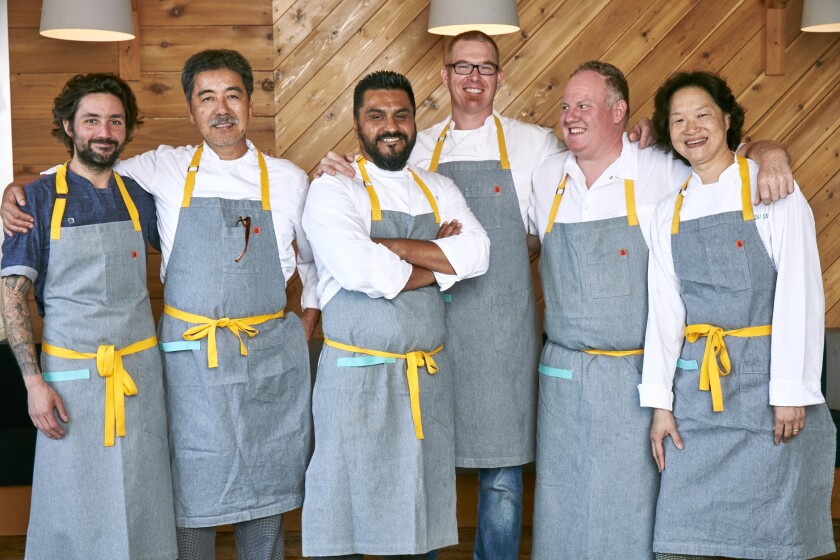 Superba Food + Bread and Superba Snack Bar, the two Venice restaurants owned by Pitfire Artisan Pizza founder Paul Hibler, have lately changed their kitchens, with very notable chefs behind respective stoves. And today, Hibler adds to his portfolio, with a new Food + Bread opening in El Segundo.
Since the summer, husband-and-wife team Kazuto Matsusaka (previously at Spago, Chinois and Beacon) and Vicki Fan (former general manager at Beacon) have been cooking at the original Venice Food + Bread. And about a mile away, Sydney C. Hunter III (previously at Petit Trois) has been heading the Snack Bar kitchen. About 10 miles away, the new Food + Bread opens its doors today, with a full bar and with executive chef James Trees (previously at Hutchinson Cocktails & Grill) and executive sous chef Jeffrey Thomas in those kitchens.
In El Segundo, Hibler has found another chef with a serious resume: Trees has cooked at Le Bernardin and the Fat Duck, worked with Michael Mina at XIV and with Gordon Ramsay on the TV series "Hell's Kitchen." More recently, he was in the kitchen of Hutchinson, the recently opened Indonesian steakhouse in West Hollywood. The new Superba Food + Bread features the same genre of market-driven California cooking as the Venice restaurants, and includes a rotisserie, the better to offer its roast chicken.
And as is mostly the case when new chefs take over, the menus at both Venice restaurants are recalibrating. Hunter's background is impressive, to say the least. He's spent much of his career cooking with chef Ludo Lefebvre, at the often-lamented restaurants L'Orangerie and Bastide, then at Lefebvre's recurrent pop-up LudoBites, and most recently at Lefebvre's current restaurant Petit Trois.
After years of cooking fine dining and classic French dishes in, well, somewhat intense kitchens, Hunter says that he likes taking a break with the current staff to do yoga. "I am a very calm person," says the chef. "I like to be able to think. This place provides me that — now I'm creating food that is more like me."
Matsusaka, who originally moved to California from Japan to cook, worked for Wolfgang Puck as chef at Chinois on Main. He and Fan — who met while both were cooking at Zenzero — together opened Beacon, a restaurant that ushered in the current dining scene in Culver City, and which closed in 2011. More recently, Matsusaka had been working as a private chef; Fan was general manager of Lemon Moon.
"No foams. No molecular gastronomy," says Fan of the cuisine at her current restaurant.
As for what Matsusaka is cooking these days, he says that right now his favorite ingredient is the persimmons that are currently loading up at local farmers markets. "We compress it with verjus, olive oil and chestnut honey; I vacuum pack it with almost no air for a few days." Then it's added to greens grown in the Superba urban farm garden run by Courtney Guerra, the farmer whose local produce recently showed up on the menu at Alma, Ari Taymor's recently closed downtown restaurant.
And finally, for folks in Pasadena, the Superba on Arroyo Parkway next to the Pitfire Pizza is still a work in progress — but you can always get a pizza at the Pitfire next door.
Superba Food + Bread, 1900 Lincoln Blvd., Venice, (310) 907-5075, www.superbafoodandbread.com | Superba Snack Bar, 533 Rose Ave., Venice, (310) 399-6400, www.superbasnackbar.com | Superba Food + Bread El Segundo, 830 S. Sepulveda Blvd., Suite 100, El Segundo, www.thepointsb.com.
ALSO:
Best whipped cream ever? Just make it yourself
A day-by-day guide to prepping the ultimate Thanksgiving
Dominick's Italian restaurant is closing after 67 years on Beverly Boulevard
---