Dominick's Italian restaurant is closing after 67 years on Beverly Boulevard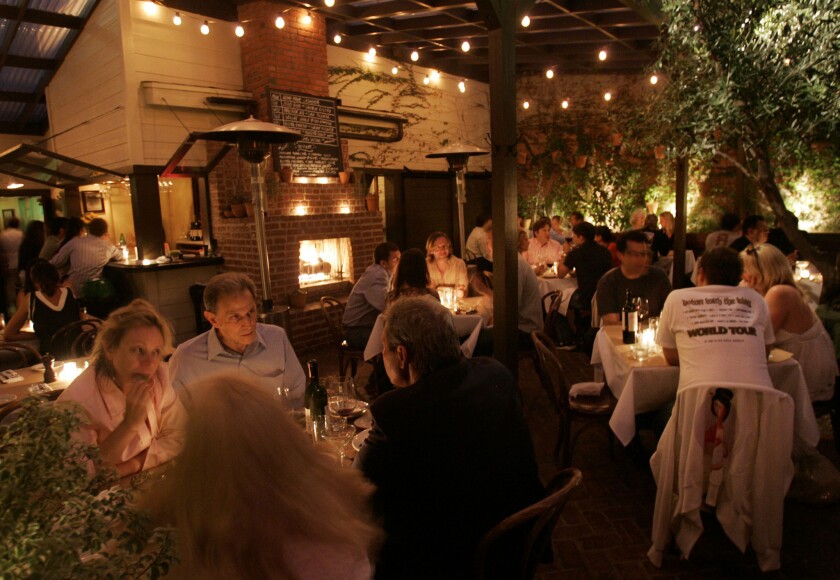 Dominick's, the Beverly Boulevard restaurant known for classic red sauce Italian food and celebrity clientele, will close after 67 years in business.
In an email to The Times, a representative for the restaurant said owners Warner Ebbink and Brandon Boudet will close the restaurant on Dec. 20.
Ebbink and Boudet will focus on their other business, Little Dom's, the Italian restaurant and deli in Los Feliz. There are plans to open a location of Little Dom's in Ojai, where Ebbink lives.
"We're sad," said Ebbink. "Basically, it was the right time for Brandon and I to move on from one of our existing places to do something else. There wasn't really one thing that prompted it. It was just the right person [who offered to buy the restaurant] at the right time for us."
Ebbink said a company called Select Hospitality and Design purchased the restaurant. It's the same company behind Hinterland in Santa Monica. Eater LA is reporting that a restaurant named Verlaine will move into the Dominick's space.
Dominick's opened in 1948. Frank Sinatra was a frequent visitor, and the restaurant has been a celebrity hangout ever since, with famous customers including Brad Pitt, Ewan McGregor and Britney Spears.
When former Los Angeles Times Food editor Ruth Reichl reviewed Dominick's in 1986, she referred to it as "the restaurant that all the new American places are trying to be."
Reichl went on to write, "There is history in every pore of the place, from the brick that props up a nail that is holding up a piece of the front wall to the funky slope of the roof. Dominick's has plenty of charm. This is not a restaurant for the hip or the harried, and it is certainly not a restaurant for a Foodie. But for anyone who wants a restaurant that does not take itself too seriously, Dominick's is a very pleasant place to be."
8715 Beverly Blvd., West Hollywood, (310) 652-2335, www.dominicksrestaurant.com.
I prefer my spaghetti with meatballs. Follow me on Twitter @Jenn_Harris_
ALSO:
13 wines for the holiday table at $25 or under
Men eat more pizza when trying to impress women, study suggests
Restaurants and bars open for Thanksgiving, plus where to pick up the essentials to go
---
Get our weekly Tasting Notes newsletter for reviews, news and more.
You may occasionally receive promotional content from the Los Angeles Times.