Why a 3% benefits surcharge? Suzanne Goin, Josiah Citrin, Josh Loeb explain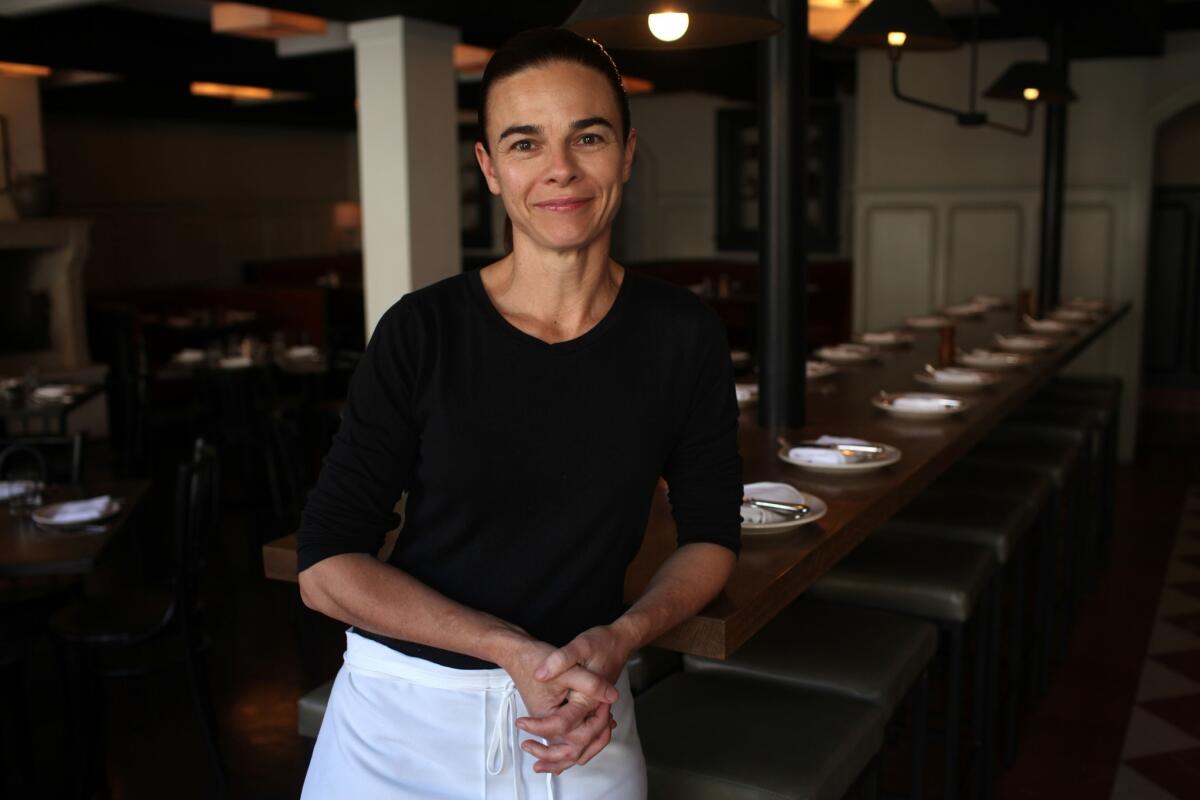 Josiah Citrin's Melisse and Suzanne Goin's Lucques, The Larder restaurants, Tavern and the new AOC are just the latest in a group of Los Angeles restaurants implementing a 3% employee benefit surcharge to all guest checks.
Goin, along with Citrin and Rustic Canyon's Josh Loeb and Zoe Nathan all made the announcement to add the surcharge in recent newsletters to customers. The surcharge started showing up on guest checks Monday.
"To us, when we rolled it out, we thought people would want to support places that are supporting their staff," Loeb told The Times. "I would do that. If I knew a place was supporting their staff, I'd want to go there."
According to Loeb, the decision to add a surcharge rather than increase menu prices was twofold.
"We wanted to have our menu prices be an accurate reflection of ingredient costs, and we also wanted give customers a little bit of control and power," said Loeb. "If we were to call out every ingredient price increase, how do you designate where the line is drawn?"
Goin said, "It seemed cleaner and more transparent to just put it as a line item. We're not trying to be sneaky. It's a charge that goes to the whole staff, as opposed to a tip that just goes to the front of the house."
If customers have a problem with the surcharge, they can adjust their tip percentages to subtract the 3% or ask to have it removed. The restaurants will provide information on what the money is being spent on and will save any extra funds for future healthcare costs.
Goin says she was thinking about healthcare for her employees even before the Affordable Care Act, which requires businesses that employee more than 100 to provide health benefits to full-time employees by 2015. Her restaurants were already paying for full benefits for managers and partial benefits for employees.
"The act put the idea of healthcare on the table which is something we all have been striving to do," Goin told The Times. "Restaurants are a high labor business and it's just something we can't afford."
Citrin doesn't employ enough people to fall under the Affordable Care Act, but said it's something he's been wanting to make available for his staff for a while.
Like the restaurants in the Rustic Canyon family, employees who work 30 hours or more a week at all of Goin's restaurants and at Citrin's Melisse will be given a fully covered HMO plan with a carrier, or the opportunity to contribute to a PPO plan Oct. 1.
Goin said Loeb was the one who called the group of chefs, including David Lentz (the Hungry Cats) and Jon Shook and Vinny Dotolo (Animal, Son of a Gun, Trois Mec, etc.) together to discuss a surcharge.
"If we come up with a solution together then maybe it will start to become the norm," Goin said. "If we do it together, all supporting each other, we can present it to customers in the same way."
"We do this together because trying to make a difference takes more than one," Citrin said.
According to Helen Johannesen, director of operations for Animal, Son of a Gun and Trois Mec, Dotolo and Shook's restaurants will be implementing a service charge in the fall. They are currently trying to figure out the best plan for the restaurants and are also looking into possibly applying a larger service charge like the one now in place at Trois Mec.
For the most part, Goin and Loeb say they've received positive feedback.
"A lot of people think that workers should have healthcare," Goin said. "Now it may seem really crazy, but it will probably be part of how restaurants cover that cost."
Citrin says he hasn't gotten much feedback since he added the surcharge Tuesday.
"When an employee comes and says 'Hey, thanks, this is my first checkup since I left my parents' insurance,' that is inspiring to me," he said.
More restaurant news? Follow me on Twitter @Jenn_Harris_
Get our weekly Tasting Notes newsletter for reviews, news and more.
You may occasionally receive promotional content from the Los Angeles Times.