Have dessert for breakfast with this sweet potato pancake recipe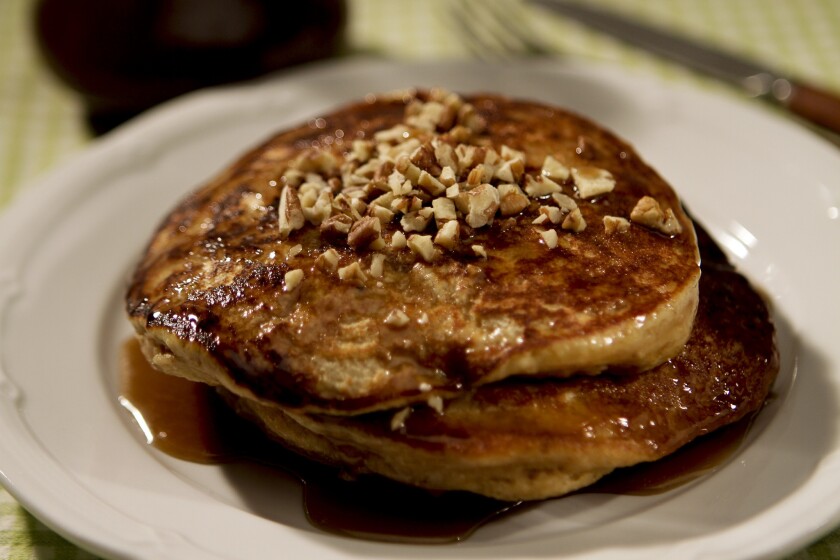 Sometimes you just need to start the day with a little dessert. Who are we to judge? These sweet potato pancakes are just sweet enough, with hints of cinnamon, nutmeg and vanilla, the tang of buttermilk and rich molasses. It's kind of like having your pie, but in pancake form. Drench a stack with brown sugar butter sauce and toasted pecans, and, well, you're ready to conquer the day.
This recipe comes courtesy of Highland Bakery in Atlanta.
HIGHLAND BAKERY'S SWEET POTATO PANCAKES WITH BROWN SUGAR BUTTER SAUCE
Total time: 1 hour, 10 minutes | Serves 4 to 6
Note: Adapted from Highland Bakery in Atlanta.
BROWN SUGAR BUTTER SAUCE
1/2 cup (1 stick) butter
1 cup light brown sugar
1/4 cup water
In a medium saucepan over medium heat, melt the butter. Add the sugar and stir until it is dissolved. Whisk in the water and simmer for 8 to 10 minutes until thickened. This makes about 1 cup sauce.
SWEET POTATO PANCAKES
2 medium-small sweet potatoes, about 1 1/2 pounds total
3/4 cup plus 1 tablespoon (4 ounces) whole wheat flour
3/4 cup plus 1 tablespoon (3.8 ounces) all-purpose flour
1 tablespoon baking powder
1 teaspoon salt
1/2 teaspoon nutmeg
1/2 teaspoon cinnamon
1/4 cup (1/2 stick) butter
2 eggs
1/4 cup plus 2 tablespoons light brown sugar
1 1/2 cups buttermilk, more if desired
1 1/2 teaspoons vanilla
1 tablespoon molasses
Brown sugar butter sauce
Toasted pecans, for garnish
1. Scrub the sweet potatoes and pierce them all over with a fork. Microwave on high until they are easily pierced through with a knife or fork, 6 to 7 minutes. Slit the sweet potatoes lengthwise and set aside until just cool enough to handle, about 5 minutes.
2. While the sweet potatoes are cooling, in a large mixing bowl, sift together the whole wheat flour, all-purpose flour, baking powder, salt, nutmeg and cinnamon. Set aside.
3. Spoon the flesh of the warm sweet potatoes into a bowl and measure 1 1/4 cups (discard any remainder, or save for another use). Transfer the 1 1/4 cups sweet potatoes into the bowl of a food processor. Add the butter and process until smooth. Add the eggs and brown sugar and continue to process until smooth. Add as much of the buttermilk as will fit and process until smooth.
4. Spoon the sweet potato mixture and the remaining buttermilk, along with the vanilla and molasses, into the large bowl with the dry ingredients and stir just until combined. If the batter is too thick, adjust the consistency as desired with a little more buttermilk.
5. Heat a skillet or griddle over medium heat. Lightly oil the griddle and drop heaping spoonfuls of batter onto the hot griddle. When the pancakes set and start to bubble, flip and cook until golden. Serve with the brown sugar butter sauce and garnish with toasted pecans.
Each of 6 servings: 623 calories; 10 grams protein; 91 grams carbohydrates; 4 grams fiber; 26 grams fat; 16 grams saturated fat; 126 mg cholesterol; 54 grams sugar; 756 mg sodium.

Love cooking as much as I do? Follow me @noellecarter
ALSO
Here's the recipe for rice with roasted cauliflower from Ad Hoc
This brown butter cookie recipe is all you'll need for dessert tonight

Farmers market report: English peas are in season. Here are 7 recipes
---
Get our weekly Tasting Notes newsletter for reviews, news and more.
You may occasionally receive promotional content from the Los Angeles Times.