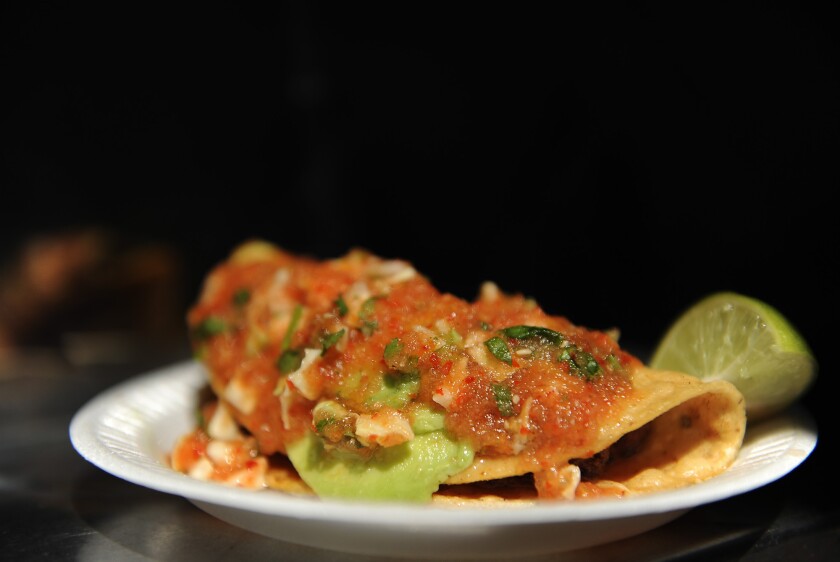 That way madness lies: no, not March Madness (though there is that too), but Taco Madness, L.A. Taco's very fun annual event that pits the city's best tacos against each other in a populist tournament-style bracket competition. The online competition started on Monday and ends at midnight on Wednesday, April 6. The winner will be announced on the following day, April 7.
This is the eighth year that L.A. Taco has been running this contest on its website. Last year, competitors were initially categorized by ingredient; chef Wes Avila's fantastic taco truck Guerrilla Tacos, which can often be found curbside at coffee shops around town and serves things such as cauliflower tacos with Castelvetrano olives, ultimately was crowned the winner.
This year, the 16 competitors are divided by geography. Specifically, the site uses the 110 and 10 freeways to broadly partition Los Angeles into four regions (That L.A. can be split in this way? "Ugly but sort of true," L.A. Taco says), and four stellar tacos were chosen to represent each region.
The first few rounds of Taco Madness will determine the top taco in each corner of Los Angeles. The geography of the contest, such as it is, produces some interesting first-round match-ups: the Northwest bracket, say, has Ricky's Fish Tacos in East Hollywood going up against Santa Monica's Tacos Punta Cabras. In the Southeast, newcomer Tacos La Güera faces off against 2012 Taco Madness winner Mariscos Jalisco.
Voting for this first round ends on Friday at 11:59 p.m.; head over to L.A. Taco to make your picks. And note that you are permitted to vote once a day, meaning enough dedicated fans of a lesser known, possibly underrated spot just might be able to pull off an upset à la Yale versus Baylor.
ALSO:
Bet you didn't know these 5 new restaurants are open for lunch
These coffee doughnut muffins are everything you want for breakfast, and more
What we're into: Magma Powder, insanely hot chiles you'll want to put on everything
---