First Look: The Line Hotel's Break Room 86 has Pac Man, fruity drinks, karaoke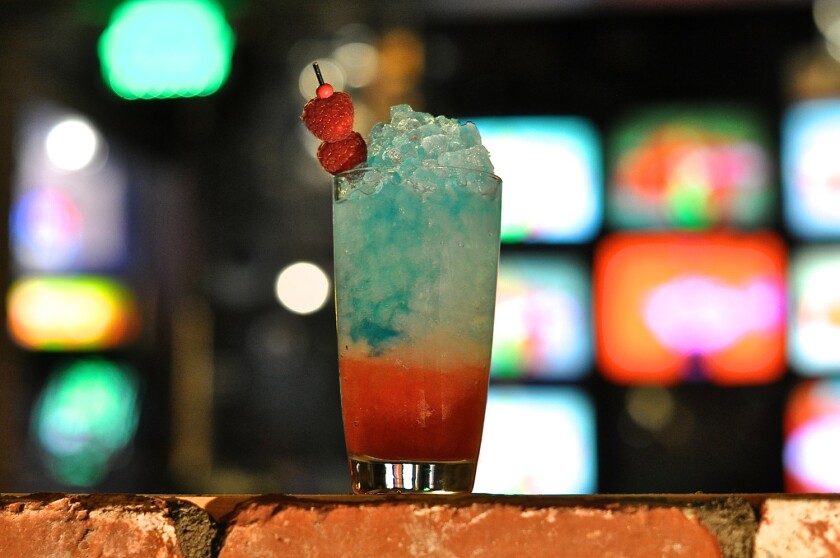 Mark and Jonnie Houston, the brothers behind Houston Hospitality, have created a '70s basement lounge, a rum and cigar lounge, a Victorian mansion turned '20s glam party house, and now, with Break Room 86, their newest venue, an '80s-themed bar with karaoke. The new bar is scheduled to open later this week at The Line Hotel in Koreatown -- possibly tonight.
Enter through the loading dock off Ardmore then walk through an employee entrance. From there, you're directed down a grey, glossy-walled hallway past the hotel kitchens and ice machines. The end of your destination is what was originally designed as the hotel employee break room, now transformed into L.A.'s newest '80s bar.
Like most Houston Hospitality properties, there is an element of surprise to the entrance. We won't ruin it for you.
Once inside, you're in an underground New York dance club from the '80s. There are old stacked TVs playing "Garfield," "The Ghostbusters" and "Rainbow Brite" highlighting the dance floor, a DJ booth with a special area for friends — and a wall completely covered in tapes.
Houston Hospitality Beverage Director Joe Swifka created a cocktail menu inspired by his childhood. The "Rock-It Pop," named after the old Herbie Hancock song, is made to look like a red, white and blue Turbo Rocket popsicle. There's a bottom red layer of raspberry black tea syrup, a middle layer of lemon juice and vodka, and blue Curacao on top.
The Dr.J! cocktail was named after basketball player Julius Erving, and is also an homage to Swifka's love of Orange Julius. His tiki version of the mall favorite incorporates lime, orange and pineapple juice, vanilla liqueur, overproof rum, Irish whiskey and a dash of bitters.
"Each drink is loosely based on a fruit, with lemon, cherry, etc., then they get the modern craft cocktail treatment to make them more palatable for adults," said Swifka. "The drinks are simple and straight-forward but with enough complexity to mix it up."
Behind the bar, the shelves are on hydraulics, which makes it easy to move them up or down, and flush with the floor to create a stage area. On some nights, you may find break dancers performing.
Seating in the main bar area consists of leather couches and booths the Houston brothers upholstered themselves. Mark also made each of the microphone-turned lighting fixtures throughout the bar.
Break Room has four karaoke rooms, three of which you can rent for private parties. And each of the rooms features a special entrance. In the largest room, you enter through a phone booth.
If you snag one of the karaoke rooms, there's a disco ball, the walls are lined with old record sleeves and the televisions come with a VHS player and copies of "Ghostbusters" and "Black Stallion." There's also Atari with 95 games, which can be switched over to karaoke.
"We modeled these off old recording studios," said Mark. "You can just hang out and play with your buddies."
For around $10, guests will be able to choose from a selection of junk food including Bagel Bites, Hot Pockets, Hostess Twinkies, Snickers bars and Top Ramen.
And when you're ready to head home, you'll exit through a different door than the one you entered through — but not before squeezing in a couple games of Pac Man, Donkey Kong or Centipede.
Break Room 86 will be open Tuesday to Saturday from 8 p.m. to 2 a.m.
3515 Wilshire Blvd., Los Angeles, (213) 268-3056, www.thelinehotel.com.
Who's buying the first round? Follow me on Twitter @Jenn_Harris_
---
Get our weekly Tasting Notes newsletter for reviews, news and more.
You may occasionally receive promotional content from the Los Angeles Times.