Three books that will give you a head start on beer drinking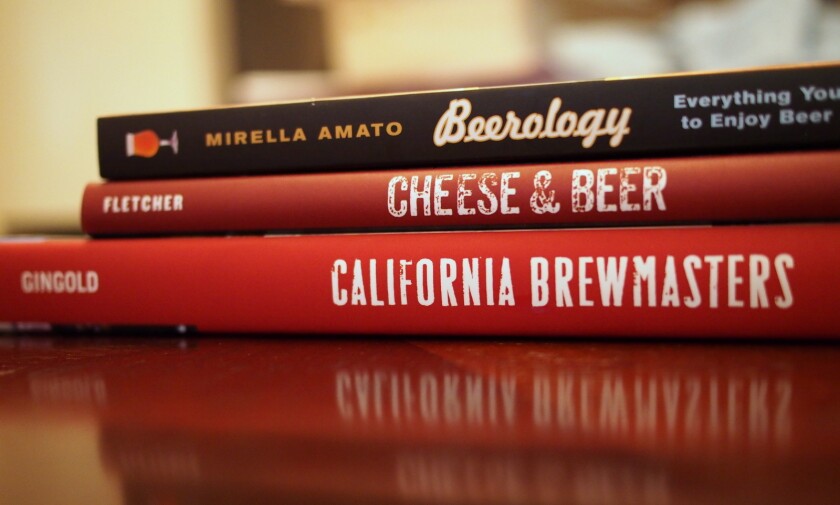 Whether you're looking to learn the beer basics, play with pairing food and beer, or learn about the men and women making the beer you're drinking, there's a new book about beer that will work up your thirst and educate you on craft beer's finer points.
"Beerology" by Mirella Amato
Mirella Amato is a beer educator and one of only seven Master Cicerones in the world, and "Beerology" is a complete course in beer appreciation. She covers such topics as the basics of the brewing process, beer styles, tasting and food pairings with a direct and elucidative style. She even manages to bring something new to the chapters on beer styles; she's organized the different types of beer into novel groups - "refreshing brews," "mellow brews," "captivating brews" - and offers perspicacious suggestions for how best to enjoy each style. Amato takes beer seriously, and her chapters on hosting tasting parties and food pairings will make you excited to delve deeper into the world of craft beer.
"Cheese & Beer" by Janet Fletcher
If you're interested in exploring the magic of food and beer pairings, the most sensible place to start is with cheese. Cheese and beer have a natural kinship that makes for nearly foolproof matches, and Janet Fletcher's guide to the finer points of the relationship makes pairings even easier. Including specific recommendations on breweries and creameries to match up, and explaining the concepts behind just why Stilton and barleywine work so well together, Fletcher has you covered. The slim volume is brimming with some high-grade food photography that will compel you to take a drive to the cheese shop for something bandaged-wrapped, runny, or ashy and veined.
"California Brewmasters" by Nick Gingold
Get to know the brewers behind the craft beer you love with this hard cover coffee table book. "California Brewmasters" is filled with interviews and portraits of 46 of the golden state's best brewers -- including Vinnie Cilurzo of Russian River and Tomme Author of Lost Abbey. Author/photographer Nick Gingold spent two and a half years collecting material for the book, which was initially funded on Kickstarter. Lots of Southland breweries are spotlighted (including fan-favorites Noble Ale Works, the Bruery, Eagle Rock Brewing, and even Craftsman Brewing), and the interviews provide insight into what makes California craft beer special. You'll come away feeling like you have a personal connection with the brewers and a better appreciation for the beers that they make.
---
Get our weekly Tasting Notes newsletter for reviews, news and more.
You may occasionally receive promotional content from the Los Angeles Times.