Three Jerks Jerky: Friends turn filet mignon into your favorite snack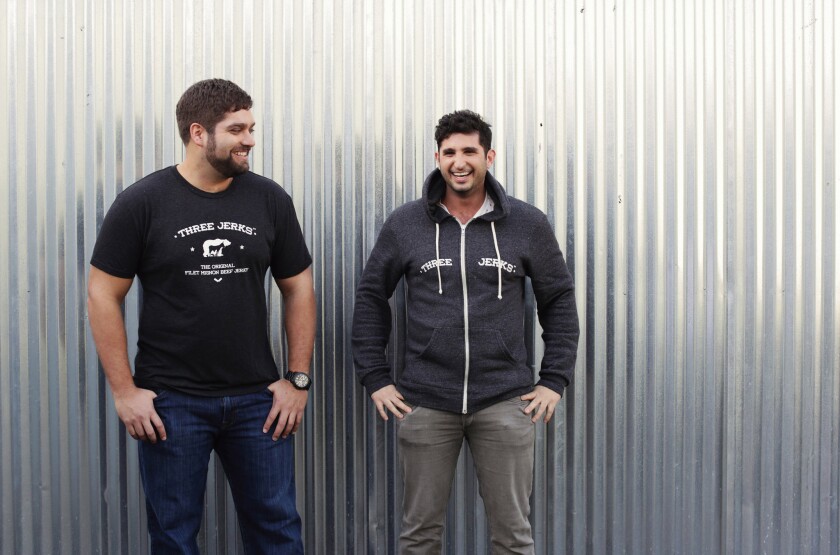 Almost two years ago, at an apartment in Newport Beach, best friends Daniel Fogelson and Jordan Barrocas sat on a couch eating jerky. Unimpressed, they resolved to do something about it. But instead of shopping for a different brand, they decided to make their own jerky.
The next day, Barrocas, while at work as a shoe producer, looked up how to make strips of dehydrated meat. He happened to have a dehydrator -- an old gift from his mother -- and the two friends bought some rib eye, New York strip and beef tenderloin at Costco.
They soon were buying 30 to 40 pounds of beef at a time and making batch after batch of jerky in the apartment. Two additional dehydrators were purchased and the friends started a mini beef jerky factory.
Fast forward to present day, and Fogelson, 27, and Barrocas, 28, have quit their jobs and started making jerky full-time with Three Jerks Jerky, a brand of jerky sold in 41 stores nationwide, including the DTLA cheese stand at Grand Central Market.
On a recent morning, Fogelson was wearing a white coat and hair net over his Kings baseball cap inside the Settlers Jerky Inc. facility in Walnut. Fogelson and Barrocas have partnered with the jerky company and moved the operation out of Barrocas' apartment. The aroma of meat and spices wafts in and around the small concrete building where 20 to 25 brands of jerky are made and packaged.
"We just wanted to make it for fun for friends and family," said Barrocas, who is currently traveling in Italy.
They created a campaign on the crowd-funding website Kickstarter. They set a goal of $20,000, but at the end of the 30-day campaign had raised $45,663 with 641 backers.
They attracted attention with their "Midas touch" jerky made with the original flavor dusted in 23-karat gold, and received celebrity endorsements from Adam Richman, Robert Irvine and local athletes.
Inside the Walnut factory, the overwhelming smell of thousands of pounds of raw and baking meat immediately slams into your nostrils.
"Now you get the real jerky smell," joked Fogelson as he led the way into a refrigerated room where the Three Jerks Jerky beef tenderloins are stored. He picked up two large tenderloins and held them up to the light.
"See? These are real tenderloins in here," Fogelson said.
All of Three Jerks Jerky starts with partially frozen beef tenderloin. The loins are taken to the facility's "raw room" and are hand-sliced. They are then placed in a vacuum tumbler machine with a few gallons of marinade. After 10 minutes in the tumbler, the marinade is fully absorbed into the meat.
The marinated meat is taken out of the tumbler and set to rest on racks of perforated trays where it marinates for 24 to 36 hours before being placed in a large, 200-degree, cross-flow oven. The meat dehydrates in the oven for two to three hours, and 1,000 pounds of raw meat transforms into 400 to 700 pounds of thin, dry strips.
Three Jerks Jerky produces three flavors, including original, which contains soy sauce, Worcestershire sauce, garlic powder and a variety of other spices; Chipotle Adobo, which Fogelson says was created after mixing some chipotle barbecue sauce and adobo marinade in Barrocas' apartment; and Memphis BBQ created from Fogelson's own barbecue rub recipe he's been using for years. The "Midas Touch" was a one-time promotion with no current plans to make more, unless, Fogelson says, it's the right situation or customer.
The result is softer and moister than traditional jerky with thin veins of fat running through the seasoned meat.
"It took almost a year to duplicate the process of what we did at home," Fogelson said. "We wanted to make sure it tasted like the homemade jerky we made in small batches."
The two former Emory College roommates have a busy summer ahead of them when Barrocas gets back to the states, with plans to bring their jerky to the Smorgasburg festival in Brooklyn. Production varies but Fogelson anticipates they produce around 1,500 bags every three weeks, and the volume continues to increase. Each 2.5-ounce bag is sold for around $15.
"We started this because we were together all the time, eating together" said Fogelson, holding his phone up so that Barrocas could hear him.
"To us the business isn't just about making money though," interrupted Barrocas. "And we're not yet. Maybe someday we will. But it's just a pleasure to pursue a passion and do it together as best friends."
And if you're wondering who the third jerk is, the two friends say it's the jerky.
Settlers Jerky Inc., 307 Paseo Sonrisa, Walnut, (909) 444-3999.
---
Get our weekly Tasting Notes newsletter for reviews, news and more from critics Bill Addison and Patricia Escárcega.
You may occasionally receive promotional content from the Los Angeles Times.