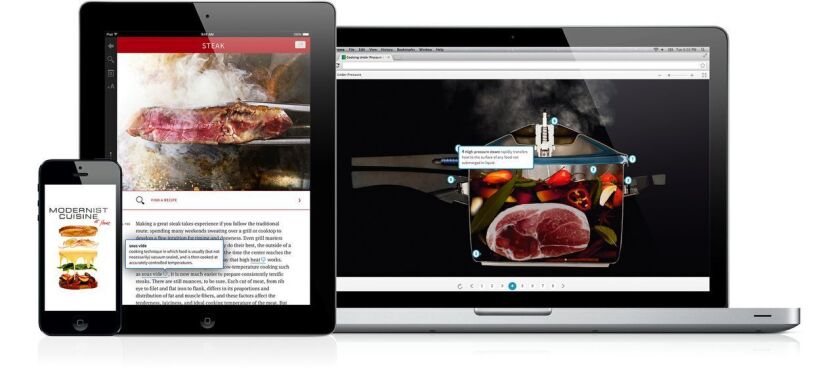 As of today, "Modernist Cuisine at Home" by Nathan Myhrvold and Maxime Bilet has been turned into a brilliant interactive app by the geniuses at Inkling.
Go to Inkling.com to download the free sample chapter "A Modernist Meal at Home." After that, any of the 24 individual chapters ("Breakfast Eggs," "Cooking Sous Vide" or "Cheeseburger," anyone?) are available at $4.99 each. The entire book with 416 recipes, almost 1,700 photos and 37 technique videos is $79.99 on Inkling or at the Apple app store.
Expensive? Yes. But the unwieldy print version costs $140 and this one has 260 more recipes, 359 more photos. If you really read it and use it, the eBook will be well worth the money. Who wouldn't want to know how to cook salmon sous vide in the kitchen sink or learning to deep-fry without a deep fryer?
I was immediately drawn in by a section on the pressure cooker, learning the science behind it and how and why it's such an essential tool. I just ordered one. Dangerous.
Though many of the techniques in the book are sophisticated, adapted for the home cook from Myhrvold and Bilet's masterwork "Modernist Cuisine," the dishes are familiar and surprisingly homey.
The chapter on mac 'n' cheese is a good example of how the authors work. First they discuss the science of hot emulsions, why they're not such fans of béchamel, and how to make a sauce that doesn't dilute the taste of the cheese.
Then there's the recipe -- just macaroni, white cheddar cheese, water or milk -- and sodium citrate (the secret to the method). A video takes you step by step through the process -- and these are some of the clearest cooking videos I've ever seen. Nothing is assumed.
You can see exactly how to use a whisk to dissolve the sodium citrate in the water, how to add the finely grated cheese one spoonful at a time, and blend each into the mixture with an immersion blender.
Ever meticulous, the authors also include troubleshooting tips. Then come the variations on a theme -- recipes for mac 'n' cheese with gorgonzola and fontina, with goat gouda and cheddar, with Jack and Stilton, etc. And because it's related, a recipe for fondue.
The photography is simply stunning -- and if you see something you'd like to investigate more closely, you can zoom in on photos.
But here's what's really genius: recipes will scale to however many people you're having for dinner. And those ingredients can jump right onto your shopping list.
For ease of use in the kitchen, the app trumps the printed book and makes a perfect gift for the geeky or science-inclined cook.
Designed for the iPhone or iPad, it is, of course, best experienced on the iPad's larger screen. Myhrvold, the former chief technology officer of Microsoft, defines the modernist approach to cooking as "a new aesthetic that embraces abstraction, modern technologies and science-inspired ideas to create genuinely new experiences."
If your cooking is more Chez Panisse than Fat Duck or elBulli, this may not be for you. But if you've ever wondered what modernist cuisine is all about or had the itch to try some of the techniques used at cutting-edge restaurants such as Ink or Bazaar, now is your chance.
ALSO:
Republique to soft-open early thanks to glitch
Time's 'Gods of Food': Women chefs talk back
The simple pleasure of making 'One Good Dish' from David Tanis
Twitter: @sirenevirbila
---