Name: The Tuck Hotel restaurant, opened by chef and restaurateur Juan Pablo Torre in mid-January. Torre, who is from Spain, also consulted on the menu of Eat Drink Americano in the Arts District.
Concept: We are still, it seems, in the Age of the Egg. Fried eggs perched atop hamburgers, sandwiches, rice bowls, nests of pasta, even crab cakes — most savory dishes these days often come with some form of whole egg. This is a frequent sight at Tuck restaurant, the tiny, Spanish-leaning restaurant in the tiny, new 14-room Tuck hotel in downtown Los Angeles. A perfectly fried, runny egg serves as the top layer of every sandwich on the restaurant menu. If you're not into an egg on everything, just ask to have it on the side or not at all.
Order this: The menu is a short list of sandwiches, salads, sides and tortilla de patatas (a traditional Spanish omelet). If you're a fan of the bacon-and-egg breakfast sandwich, the smoked turkey sandwich with pancetta is an elevated alternative. The Italian bacon is cooked until crunchy and crinkled, layered on top of smoked turkey, arugula and a fried egg on a cilantro-aioli-slathered bun (all the buns are from Bread Lounge). There's also a fun take on a smoked salmon bagel with the smoked salmon sandwich, made with smoked salmon, avocado, wasabi mayo, spring onions — and yes, a fried egg — on a bun.
For serious carnivores, Torre is also making a 24-hour smoked brisket sandwich. The shreds of meat melt into the caramelized onions — the sandwich, like all the others, is topped with a fried egg.
And this: The tortilla de patatas is a traditional representation of the Spanish dish. The hubcap-sized omelet is made with layers of egg, potato and onion, served with a light aioli on the side.
For dessert: After a couple of fried egg sandwiches, why not order the pancakes for dessert? Torre is making fluffy flapjacks topped with ricotta cheese, berries and maple syrup.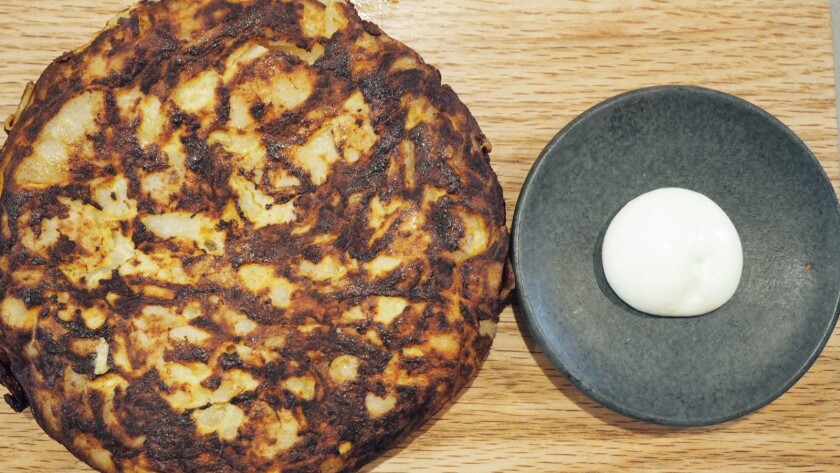 To drink: The restaurant serves a small selection of wine, beer and coffee. There's also a private bar in the hotel lobby, next to the restaurant, where you can grab a drink if you're a hotel guest.
And for next time: You can pay to have Torre shut down the restaurant for a private party for you and your friends, complete with an interactive, customizable menu, if you choose. It's a small space, with a narrow row of tables opposite the kitchen that leads into a larger area in the back, with a few tables and lounge seating, frequently occupied by guests on their laptops.
Info: Open daily from 8 a.m. to 3 p.m. 820 S. Spring St., Los Angeles, www.tuckhotel.com/restaurant.