A moment of remembrance for Sriracha: What the chefs do with it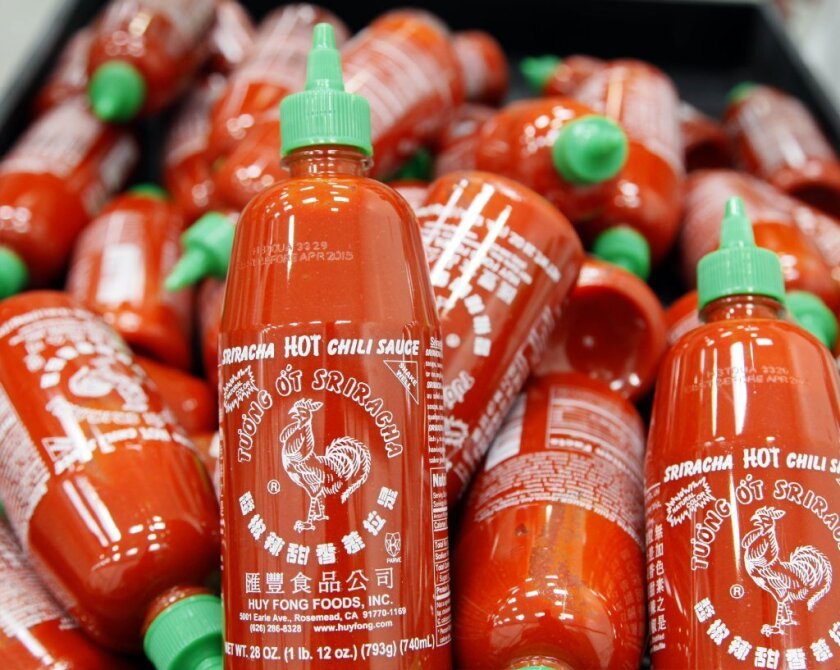 Is the Srirachapocalypse here? A judge on Tuesday ordered the partial shutdown of Huy Fong Foods' Sriracha hot sauce plant in Irwindale after a lawsuit from the city claimed that odors from its chile processing were a public nuisance.
The plant already has completed processing the millions of pounds of special hybrid jalapeno peppers necessary for next year's supply of hot sauce. The chile processing takes place over three months, and bottling and mixing takes place year round. But the fate of the following year's Sriracha is yet to be determined.
So let's take a moment to reflect on all of the favorite ways we use that neon-red, chile-flecked, slightly sweet, garlicky sauce we know and love as Sriracha.
Here's what some of L.A.'s top chefs do with it:
At ink. restaurant on Melrose Avenue, chef Michael Voltaggio says it's served every day with staff meals. "It's the No. 1 request we have," he says. "Also we serve it with our 'pho' dish" on the menu -- beef short rib with radish noodles, puffed tendon and pho broth.
Says Walter Manzke, chef of soon-to-open Republique: "Sriracha has such a distinct flavor.... I love it on dishes that we eat all the time at home, like adobo fried rice. We make adobo with pork or chicken cooked in vinegar and soy sauce, mix it in with some fried rice and pour Sriracha on top. It's perfect and tastes awesome with the other flavors of the dish."
"It's my general-use hot sauce," says Sang Yoon, the man behind Father's Office (who famously doesn't serve ketchup). "Eggs, oatmeal, tacos, pho." Yeah, oatmeal.
Susan Feniger (Border Grill, Mud Tavern) makes deviled eggs with it. "I love Sriracha. I think it's the combination of the heat and vinegar that for me is that perfect balance to finish certain dishes. But I have to say our green sriracha is killer." She makes her version of deviled eggs with the bottled Sriracha and her green version. (See recipe below.)
"I am actually addicted to Sriracha!" says Ricardo Zarate, the chef behind Peruvian restaurants Mo-Chica, Picca and Paiche. "I use it blended with unagi sauce at home as the ideal way to finish a dish — grilled chicken, barbecue beef, homemade sushi, really anything."
What's your favorite way to use Sriracha?
And here's that Sriracha deviled eggs recipe.
Angry Eggs Recipe
1 dozen medium boiled eggs
4 tablespoons mayonnaise
1 tablespoon Dijon mustard
3 tablespoons spicy red Sriracha sauce (or to taste)
1/2 teaspoon kosher salt
Green sriracha (see following recipe)
Cut each of the eggs in half lengthwise. Remove the yolks and place in a small mixing bowl. Set the whites aside. Add the mayonnaise, Dijon, red Sriracha and salt to the yolks and mash with a fork while combining the ingredients. Stuff the spiced yolk mixture back inside the egg whites. Top with a small dollop of green Sriracha.
Green sriracha sauce
Makes 4 cups
3 poblano peppers, roasted, peeled, seeded and roughly chopped
1 bunch cilantro (leaves and stems), washed and roughly chopped (about 3 ounces)
1 bunch Thai basil, leaves only (approximately 2 cups)
1 bunch mint, leaves only (about 1 cup)
4 kaffir lime leaves, roughly chopped
1 bunch chives, roughly chopped (about 1 1/2 cups)
1/2 teaspoon fine minced lemon grass, inner stalks only
2 serrano chiles, stems removed, sliced (optional)
3 cloves garlic, sliced
1 cup shredded, dried, unsweetened coconut
1 3-inch "thumb" young ginger, peeled and roughly chopped
1 1/2-inch "thumb" fresh turmeric, peeled and thinly sliced
Juice of 3 to 4 limes
1 cup canola oil
1/2 cup cold water
2 1/2 teaspoons kosher salt
Place a third of all of the solid ingredients in a blender with all of the oil, water and lime juice.
Puree until smooth. You may need to "pulse" the blender in the initial stages of blending so that the ingredients don't catch in the blender.
Depending on the size of your blender, you may continue adding ingredients to the already pureed sauce until all of the ingredients are used. If you need more space, then remove half of the pureed sauce and continue blending the remaining ingredients in batches, always using a little bit of the original sauce to start with.
When all of your ingredients are blended smooth, place in a medium bowl and stir with a spoon to incorporate flavors.
ALSO:
The $75 Umami truffle burger is back
---
Get our weekly Tasting Notes newsletter for reviews, news and more.
You may occasionally receive promotional content from the Los Angeles Times.