Third-wave coffee — the type of hip cafes focused on single-origin beans, light roasts and pour-over brews — has left behind blue-collar consumers. That's the assessment of Tony Konecny, the man behind the coffee at Locol, Roy Choi and Daniel Patterson's growing fast-food venture, which opened its first location in Watts in January 2016, and has since opened two locations in the Bay Area. Konecny hopes that by serving $1 coffee in neighborhoods such as Watts and West Oakland, where Locol's first bakery opened in late March, he can not only help to draw them back in but also create a new segment of the coffee market too.
"I'm not trying to cut in on third-wave specialty coffee's market share, because I think their market share sucks," he said over coffee, naturally, last year. "I don't want a piece of that — I want a piece of Dunkin' Donuts, I want a piece of Starbucks, I want a piece of Keurig."
Konecny knows from third-wave coffee: In 2007, he helped open Intelligentsia Silver Lake, which arguably set the standard for what specialty coffee shops look and taste like. In 2014, he sold Tonx, the coffee-bean subscription service he co-founded, to Blue Bottle Coffee. Now, Konecny is taking a step closer to his blue-collar coffee dream with Yes Plz, an independent company that will continue to serve as Locol's in-house coffee brand.
By virtue of Locol's ambition — nothing short of a self-styled fast-food revolution — Konecny, Choi and Patterson get a lot of big-picture, forward-looking questions about plans for the business. Questions like, "What will a Yes Plz coffee shop look like in 10 years?" or "What does it mean when you guys take over all food, and every cafeteria in every prison is run by Roy Choi or something?" Konecny joked last week. "I'm being cautious to not go down that rabbit hole."
So, rather than trying to guess where Yes Plz is going, let's consider exactly where it's at: The company won't be opening its own stores, and it won't really be stepping away from Locol in any significant way. Konecny's retail expansion plans look exactly like Locol's retail expansion plans. With locations open in Watts and Uptown Oakland and its new bakery in West Oakland, Locol is looking to expand into San Jose, East Palo Alto, San Francisco's Tenderloin neighborhood, along with an additional Los Angeles location, near Slauson and Crenshaw.
And with the noncompete agreement he signed with Blue Bottle in 2014 now expired, "the future for Yes Plz, I think, would be of little surprise to anyone," Konecny said. It's right there on the FAQ-style text chat on the website: "Umm, do you deliver? Can I buy a bag online? A subscription maybe?" There's no mail order service from Yes Plz yet, according to the site, "you should hop on our email list to get notified." Bags of the Blend, currently sold only at Locol locations, run $8 or $9.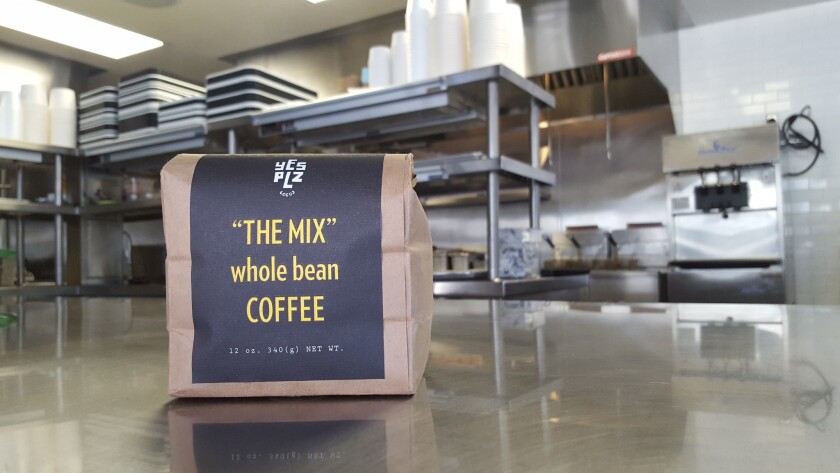 For the time being, Yes Plz is focused on what Konecny started with in 2016 when Locol Watts opened: Hot coffee and cold coffee; a buck for black, a buck-and-a-half for sweet and creamy. "That's probably going to be a signature move for all of the Locols," Konecny said, allowing that there could be some expanded coffee options at future outposts if the location is just right.
Yes Plz isn't the first stand-alone business to get its start under Locol. Konecny and head roaster Sumi Ali are following the Ambassadors, the crew of Watts residents Locol hired to function as community liaisons and a sort of soft security team, which became an independent company with its own clients last year. Choi says that incubating new businesses has always been part of the plan and that more will follow.
"They are Locol. We are all one family," Choi wrote of Yes Plz and the Ambassadors in an email. "Members of bands have solo albums, but the band is still the band."
Since the Watts opening, the response to the coffee has been really positive, Konecny said. "Some people are like, 'Wow, this is really good coffee,' and other people are like, 'Wow, this is really good coffee for only a dollar.' " And that's the kind of response Yes Plz is looking for. "Just because someone isn't interested in going all the way down the coffee rabbit hole, they aren't interested in a C-grade coffee product," he said. "They're interested in an A-grade."
Konecny and Ali are working against the kind of austere approach to handling coffee that Konecny admits perpetuating: "a roaster can only reveal what's already there, and to express the farmer's intent in the cup and yadda yadda yadda." That's not to say that they're buying low-quality coffee. Konecny said the beans used at Locol come from many of the same farmers that supply shops selling a cup for $3, but he didn't name specific suppliers.
When you aren't treating the beans with kid gloves, Konecny said, "you can do whatever you need to do to make the best possible cup." And sell it for a buck.
1950 E. 103rd St., Los Angeles, www.welocol.com.
ALSO:
Your 2017 guide to great Los Angeles bakeries
After NYT pans Locol, Jonathan Gold wonders if some restaurants are unreviewable
Roy Choi and Daniel Patterson try to start a healthful fast-food revolution in Watts with Locol
---