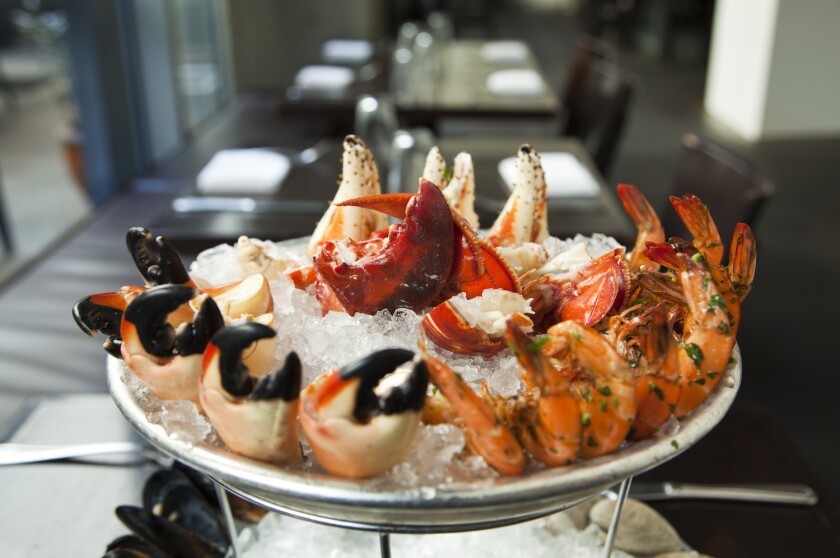 If you're planning on staying up all night — or most of it — drinking, then having a good dinner first is probably a good idea. But if making yet another holiday dinner at home is too much for you right now, maybe let the professionals do it for you. On New Year's Eve many local restaurants are staying up late too, serving excellent food — often with a glass of something fun at midnight. Here are a few to chose from.
A.O.C.
Suzanne Goin and Caroline Styne's restaurant has a four-course small plates and platters menu, including American caviar and blinis; a vintner's plate with cheeses, meats and pickles; pan-roasted scallops, green garlic soubise and nettles; roast chicken "ode to Zuni"; chile-spiced pork shank with Kabocha gratin; and a chocolate dessert platter. $125 per guest includes a Champagne toast. 8700 W. 3rd, Los Angeles, (310) 859-9859, aocwinebar.com.
Acabar
The restaurant will be decked out in "elements of a Winter Wonderland Carnivale," which somehow includes an ice palace. New Year's Eve will have two seatings, each with a four-course, prix-fixe tasting menu (the regular menu will also be available), live entertainment from their resident DJ, and a specialty cocktail or glass of bubbly at midnight. The first seating menu is $65 per person; the second seating menu is $125. 1510 N. Stanley Ave., Los Angeles, (323) 876-1400, acabar-la.com.
Barton G.
The so-called theatrical restaurant (the original is in Miami) is offering lots of over-the-top holiday specials. The "Mother Clucker," a whole roasted chicken, is deboned and served for guests to carve and eat with acorn squash; Colorado rack of lamb with root vegetable fondant; veal chops and apple fritters are served to look like an orchard harvest. Specials are $38-$68. Reservations are required. 861 N. La Cienega Blvd., Los Angeles, (310) 388-1888, bartongtherestaurantla.com.
The Bazaar
Jose Andres' restaurant in the SLS hotel is having a Spanish masquerade party for New Year's Eve. Tray-passed tapas, specialty cocktails, many stations throughout the many dining areas, music from the house DJ, dessert at the Patisserie. General admission tickets are $195 until Dec. 25, $250 Dec. 26-31. Table service packages are also available. Purchase tickets here. 465 S. La Cienega Blvd., Los Angeles, (310) 246-5555, sbe.com.
Bucato
Evan Funke's Culver City Italian restaurant will have its regular lunch menu, and then later a special New Year's Eve à la carte menu, with à la carte pricing. Dishes include tagilatelle with burro fuso (melted butter to most of us) and white Alba truffles, and gnocchetti with Santa Barbara uni and Maine lobster. (The restaurant will be closed on New Year's Day.) 3280 Helms Ave, Culver City, (310) 876-0286, bucato.la.

Church & State
The downtown French bistro will be offering chef Tony Esnault's New Year's Eve menu, a five-course, prix-fixe dinner for $95 per person, with a winter truffle supplement for $15. Dishes include: butternut squash risotto; forest mushroom pasta; Scottish salmon with quinoa and baby beets; beef tenderloin with potato confit and Brussels sprouts; and for dessert, chocolate mousse with raspberry gelee and fruit tart with coconut meringue. 1850 Industrial St., Los Angeles, (213) 405-1434, churchandstatebistro.com.
Craft
Tom Colicchio's restaurant is celebrating the end of 2014 with a three-course prix-fixe menu from chef Ray England and pastry chef Shannon Swindle. The first two seatings are $125 per person; the third seating is $160 per person, and includes canapés, a Champagne toast, and party favors. Dishes include: crab fritters and avocado; duck rillette and pickles; dry-aged beef rib-eye; pork belly tortellini and clams; whole wheat orecchiette and green garlic; and chocolate chestnut torte with burnt orange ice cream. There will be additional truffle sides for the gnocchi, potato puree and Parmesan risotto. 10100 Constellation Blvd., Los Angeles, (310) 279-4180, craftrestaurantsinc.com.
Fig & Olive
The Melrose Place restaurant is having a French Riviera New Year's Eve dinner party, with an à la carte menu served until 9 p.m., a four-course, prix-fixe dinner ($150) starting at 9 p.m., and a cocktail party with passed hors d'oeuvres ($100) from 9 p.m. to midnight. Prix-fixe dinner dishes include: truffle risotto; rack of lamb with goat cheese gnocchi; grilled Maine lobster with artichoke tapenade; and a complimentary glass of Veuve Clicquot Champagne. Also party favors, jazz music and bottle service. 8490 Melrose Place, West Hollywood, (310) 360-9100, figandolive.com.
Hakkasan Beverly Hills
Get a complimentary glass of Champagne before chef Ho Chee Boon's prix-fixe menu. Dishes include a dim sum platter; salt and pepper squid; braised Chilean seabass; black pepper rib-eye; steamed lotus leaf rice with Chinese sausage; and a chocolate tasting for dessert, including blood orange and chocolate mousse. The 5:30 p.m. seating is $78 per person; 6:30 and 9:30 p.m. seatings are $138 per person. 233 N. Beverly Dr., Beverly Hills, (310) 888-8661, hakkasan.com/beverlyhills.com.
The Hungry Cat
Both of chef David Lentz's L.A. seafood restaurants — the original in Hollywood and the Santa Monica Hungry Cat on the PCH — are celebrating New Year's Eve with à la carte raw bars and a three-course prix-fixe seafood-centric dinner. In Hollywood, where the dinner is $75 per person, dishes include: grilled whole lobster with saffron rice; rib-eye with Dungeness crab and béarnaise sauce; and johnny cakes with cured Arctic char and trout roe. In Santa Monica, where the dinner is $85 per person, dishes include: pastrami-cured Arctic char on rye; braised monkfish with chorizo and mussel broth; and butter-poached Maine lobster and braised beef short rib. 1535 Vine St., Hollywood, (323) 462-2155. 100 W. Channel Road., Santa Monica, (310) 459-3337, thehungrycat.com.
L'Assiette Steak Frites
If you like steak frites, you probably already spend a lot of time here, so why not New Year's Eve as well. For the holiday, the restaurant is offering a prix-fixe menu at only $25 per person, featuring steak frites (of course), sorrel soup or the house salad and a glass of Champagne. The late seating (from 10 p.m. to 1 a.m., is $75 per person, and includes the above with live music, party favors and "free-flowing Champagne." 7166 Melrose Ave., Los Angeles, (323) 274-2319, lassiettesteakfrites.com.
The London West Hollywood
The Gordon Ramsay restaurant in the swank West Hollywood hotel (currently undergoing a $25-million renovation) is celebrating the evening with three-course ($95) and five-course ($165) menus. Dishes include: oxtail tortellini with black winter truffles and parsnips; roasted beef Wellington (for two); eggplant terrine with goat cheese and Portobellos; broiled miso-marinated black cod with green papaya and quinoa. 1020 N. San Vincente Blvd., West Hollywood, (310) 358-7788, thelondonwesthollywood.com.
Maude
Chef Curtis Stone's Beverly Hills restaurant is hosting a New Year's Eve dinner party, featuring his ingredient of the month, winter squash — or rather, a "luxury incarnation" of it. Stone's winter squash tasting menu have additions of lobster, caviar and truffles, wine pairings and a Champagne toast. Cost is $500 per person, and the dinner will be served from 8 p.m. on. Reservations required. (310) 859-3418. 212 S. Beverly Dr., Beverly Hills, (310) 859-3418, mauderestaurant.com.
Park Grill
On New Year's Eve, Park Grill is offering a three-course menu, including an amuse-bouche of Champagne prawns with white asparagus, roasted parsnip soup, duck with sweet potato gnocchi, chickpea panisse, and profiteroles with salted caramel bourbon sauce. $75 per person; $35 for kids under 12. 2151 Avenue of the Stars, Century City, (310) 284-6536, intercontinentallosangeles.com.
Piccolo
The Italian restaurant by the beach in Venice is serving three separate truffle-themed tasting menus by chef Bobo Ivan on New Year's Eve. The four-course, 5:30 p.m. seating features fresh black truffles and is $80; the six-course, 7 p.m. seating features black Perigot truffles and is $110; and the eight-course, 9:30 seating features black Perigot and white Alba truffles, and a live jazz band, and is $150. 5 Dudley Ave., Venice, (310) 314-3222, piccolovenice.com.
POT
Roy Choi's Koreatown bar, bakery and hot pot restaurant is throwing a party. In addition to lunch and dinner served in the lobby, there will be a party from 9 p.m. to 2 a.m., with a DJ, Korean pub food, pot shots and tiger beer. No cover or reservations required, although bottle service needs to be reserved (info@eatatpot.com). 3515 Wilshire Blvd., Koreatown, (213) 368-3030, eatatpot.com.
Providence
Michael Cimarusti's Melrose Ave. seafood palace will be celebrating the end of the year with a seven-course, prix-fixe dinner. Dishes will include Santa Barbara uni with caviar and soy milk; baked live scallop with black truffles; Maine lobster with knuckle sandwich and porcini; wild striped bass with turnips and brown butter; prime rib of beef with braised root vegetables and black truffles. There will be two seatings and reservations are required. Prices are $210; $280 with wine pairing. 5955 Melrose Ave., Los Angeles, (323) 460-4170, providencela.com.
Republique
Walter and Margarita Manzke's restaurant will be serving a special menu for New Year's Eve, which they won't decide on until that day (check the website then). It'll be similar to the customary food served at Republique, which is probably all you need to know, but with special additions, all of which will be à la carte. Lots of oysters and escargot, which are perfect for the occasion. 624 S. La Brea Blvd., Los Angeles, (310) 362-6115, republiquela.com.
RivaBella
After the first dinner seating on New Year's Eve, the Italian restaurant will have later seatings (at 9, 9:30, 10 and 10:30) with a special pre-set menu, a Champagne toast, party favors and a DJ, for $125. The holiday menu choices include cauliflower soup with quail egg and black truffles; langoustine crudo; gnocchi with oxtail ragu and sweetbreads; risotto with King crab; oven-baked Dover sole and truffle hollandaise; and Guinea hen rollata with black lentils. 9201 W. Sunset Blvd., West Hollywood, (310) 278-2060, innovativedininggroup.com.
Salt's Cure
Chris Phelps and Zak Walters will be making an a la carte "greatest hits" menu to include California caviar with blini; grilled oysters; Milliken sweet potato soup; duck breast with griddle cakes; lamb shank for two; rib-eye for two; Berkshire pork chop and more. Dinner is offered from 5:30 p.m. on and reservations are highly recommended. 7494 Santa Monica Blvd., West Hollywood, (323) 850-7258, saltscure.com.
Tavern
Tavern is celebrating New Year's Eve with a tribute to Southern dishes inspired by chef de cuisine Amy Deaderick's South Carolina roots. The first seating is four courses for $90; the second seating is five courses for $120. Dishes include: Charleston she-crab soup with collard greens; grilled shrimp hoppin' john with red peas and smoked pork shoulder; cornmeal-crusted black snapper with braised turnip greens; and vacherin with bittersweet chocolate. 11648 San Vincente Blvd., Brentwood, (310) 806-6464, tavernla.com.
Tipple & Brine
The Sherman Oaks gastropub is celebrating the end of the year with oysters and champagne. Start with a free amuse-bouche, then move on to the raw bar, sea urchin toast, fried octopus with squid ink aioli or the seafood stew — all à la carte. There will be a complimentary Champagne toast at midnight, with noise-makers and party hats. Also lots of cocktails. 14633 Sherman Oaks Blvd., Sherman Oaks, (818) 528-2580, tippleandbrine.com.
Lots of pictures of soup dumplings and holiday cookies on Instagram @ascattergood.
---