Tyler Malek, Salt & Straw's ice cream mastermind: 'You can tell whatever story you want on that frozen canvas'
Tyler Malek is head ice cream maker for Salt & Straw, which means he\'s the dreamer in chief of those surprising flavors.
(Marcus Yam / Los Angeles Times )
Caitlin Schirle spreads almond brittle for use in Salt & Straw ice cream.
For the Record, May 31, 12:30 p.m.: This caption misidentifies Clarissa Buch as Caitlin Schirle.
(Marcus Yam / Los Angeles Times)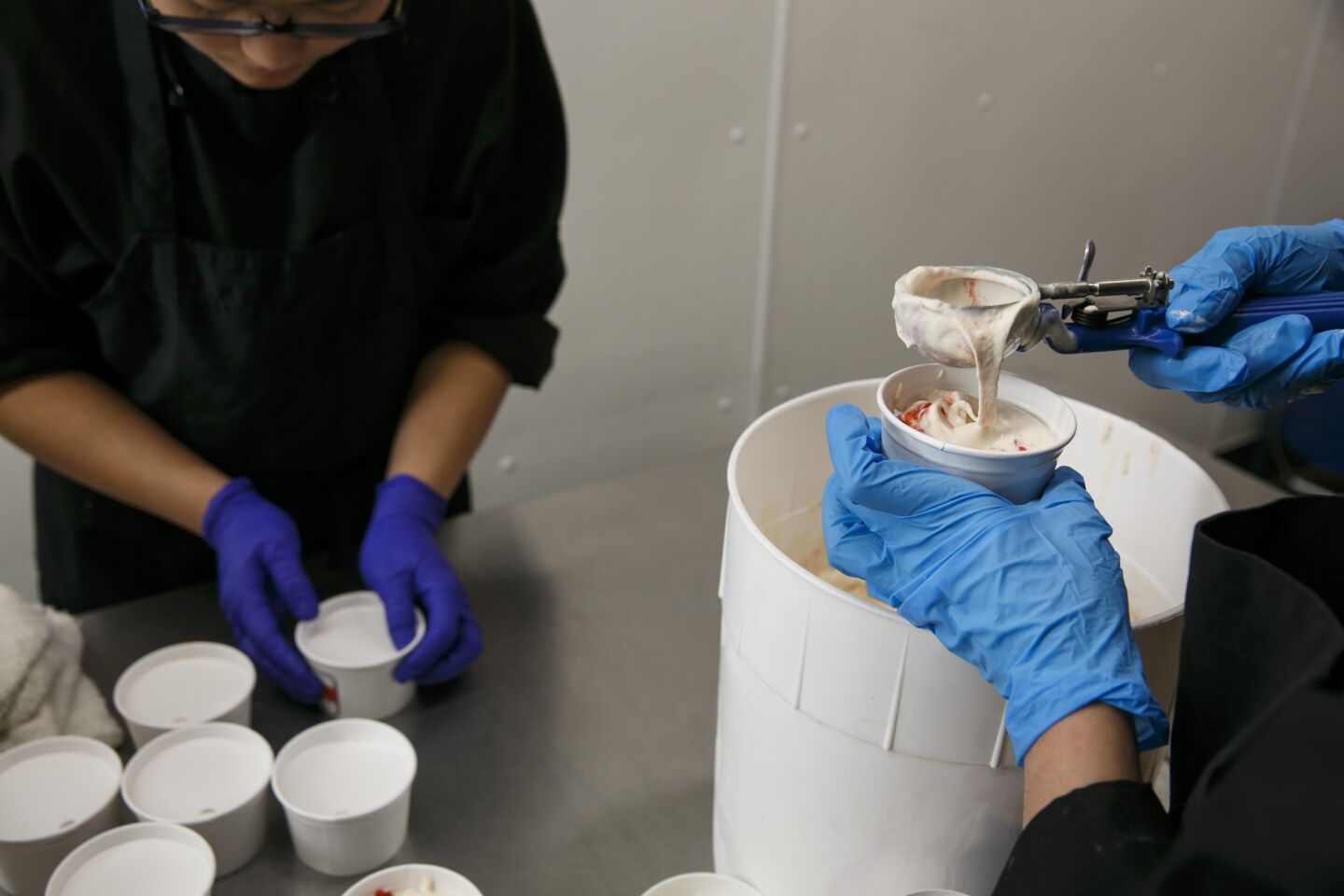 Grace Cho, left, and Rebecca Townsend, right, pack strawberry ice cream at Salt & Straw's L.A. factory. Salt & Straw originated in Portland, Ore.
(Marcus Yam / Los Angeles Times)
Marisol Ferra pours ingredients into an ice cream machine at Salt & Straw's L.A. factory.
(Marcus Yam / Los Angeles Times)
Head ice cream maker Tyler Malek, center, and his co-workers gather at the lunch table at Salt & Straw's L.A. ice cream factory.
(Marcus Yam / Los Angeles Times)
Workers at Salt & Straw's ice cream factory ready dill for use.
(Marcus Yam / Los Angeles Times )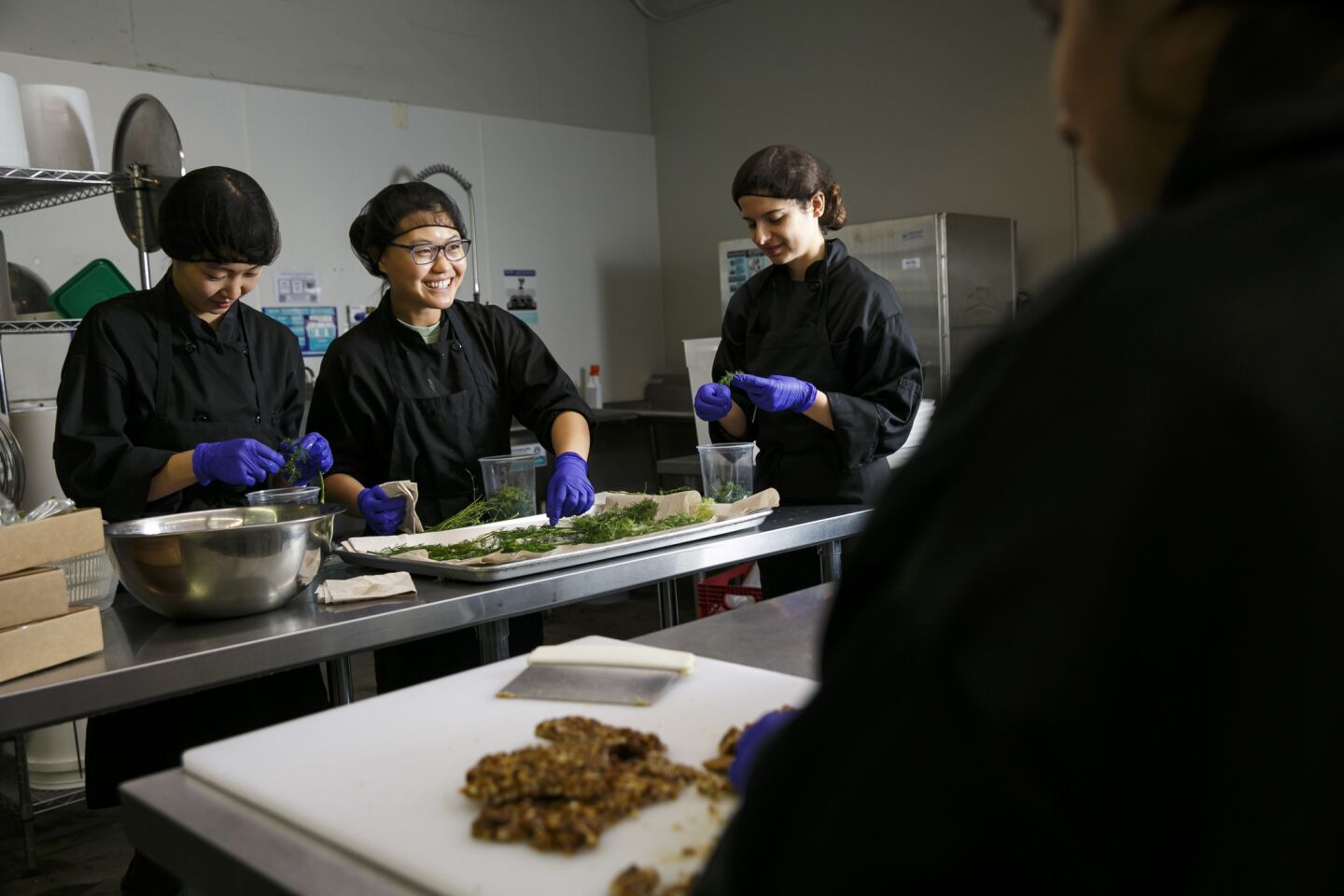 Kwan Liu, from left, Grace Cho and Rebecca Townsend prepare dill at Salt & Straw's ice cream factory.
(Marcus Yam / Los Angeles Times)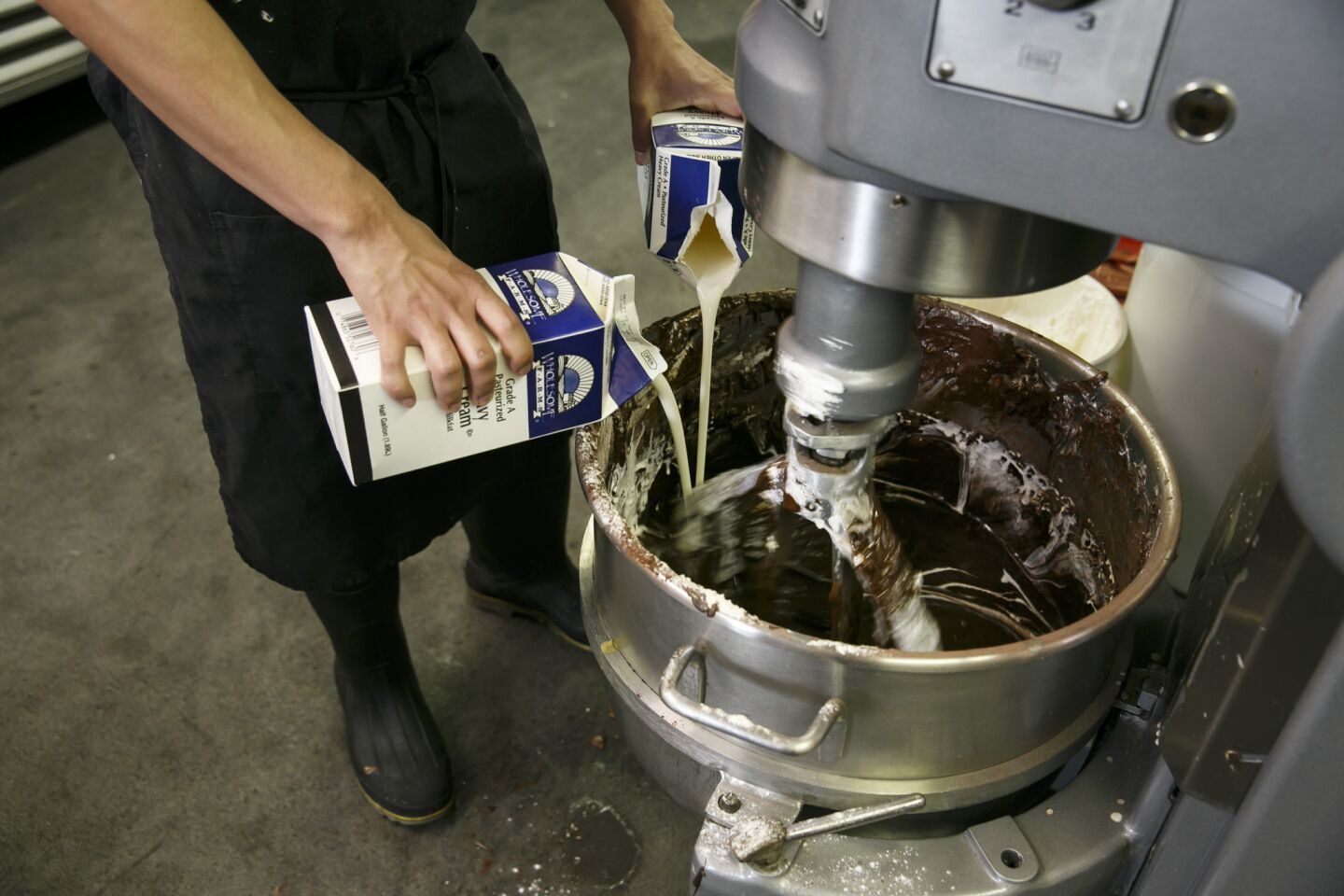 Kent Rugama pours milk into a chocolate mix at Salt & Straw's ice cream factory.
(Marcus Yam / Los Angeles Times)
Walking into the Los Angeles kitchen of Salt & Straw is more than a little magical. You're hit with a rush of sugar, breathing in the aromas of fresh-baked brownies and an enormous batch of chocolate chip cookie dough churning in a giant mixer. At another table: mounds of vibrant red strawberries, picked at their peak. Then there are the trays and trays of almond brittle cooling in another corner. "That's my grandmother's recipe," says Tyler Malek. "It's a little under-baked right now, but by the time it's in the ice cream it will have the perfect crunch."
Tall and lanky, the bespectacled 28-year-old is the official head ice cream maker and creative mastermind behind the flavors at Salt & Straw and has been on board since the company was founded by his cousin Kim Malek in 2011. The popular Portland, Ore.-based ice cream company has just opened its third Los Angeles location, in Studio City.
Tyler Malek finds inspiration for ice cream flavors in a variety of sources, including the Oregon Symphony orchestra. "They came to our Portland kitchen last year and played, and we translated the music into flavors. I saw the musical notes and they read like a recipe," says Malek. "One was a Bach piece. The way the flavors would transform and melt in your mouth for 1 1/2 minutes follows a particular 1 1/2-minute piece of music."
To date, Salt & Straw has come up with more than 300 unique recipes, and Malek has played with ingredients as diverse as berries, chocolate and his grandmother's almond brittle, as well as more unconventional flavorings such as sea urchin and fermented carrots.
Why ice cream? "You don't need it — it's fun," says Malek. "But more importantly, you can tell whatever story you want on that frozen canvas."
Malek originally studied Chinese and business, graduating from Western Washington University in 2010. He discovered his passion for blending flavors while studying in China and traveling throughout Vietnam and Cambodia, and was enrolled in culinary school when his cousin told him about her dream of starting an ice cream business. He joined her in Portland, and Salt & Straw was born, first as a food cart, then with its first brick-and-mortar shop.
See the most-read in Life & Style this hour >>
In the beginning, Malek knew nothing about the ice cream-making process. "I had all these crazy ideas, but no idea what they actually meant in practice." He visited experts in various fields — including chocolatiers and beer brewers — to learn about their processes so he could translate the flavors into ice cream. "They were so open to sharing and helping me out. It's that true cooperation that leads to all these great stories and flavors."
While Salt & Straw has a selection of classic flavors it sells year-round, Malek is always coming up with new recipes and themed series. "I'll start thinking about ideas a year in advance, and we come up with new flavors every four weeks. It's that constant drumbeat." For Malek, developing flavors is much like storytelling. "I've tried to go different routes, but I find it's easiest to come up with a cohesive story in developing flavors. I like to look at it through themes."
Inspiration comes from anywhere, be it the latest offerings at the farmers markets, the notion of time or a partnership with a chef. One of his first collaborations was with Michael Voltaggio when the chef came for a food festival in Portland. "He offered to send me some ice creams he'd done and I said, 'No, let's talk about the restaurant and your passions. What is the verbiage you use to explain that and how can we translate that in a scoop of ice cream?'" They ended up creating a loaded baked potato ice cream.
SIGN UP for Jonathan Gold's Counter Intelligence dining newsletter >>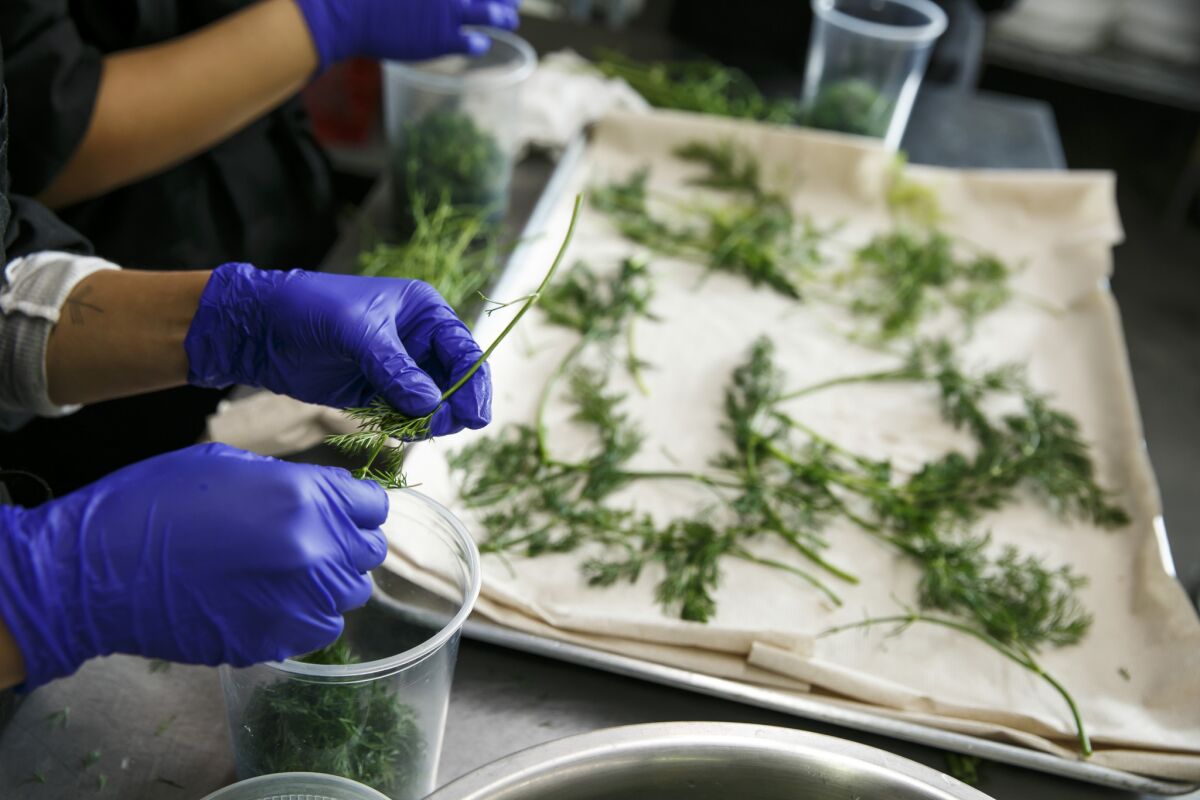 Malek is also proud of Salt & Straw's elementary school project, now in its fifth year. For a month, seasonal flavors are developed by a school close to each of the shops. "We'll go into the classes and talk to the students about creativity." This year, Salt & Straw also worked with teachers to develop a curriculum, including pictures and marketing pitches written by the students to be translated into ice cream. "Even the way they misspelled the words told so much and got me into their minds as I developed the flavors." The monthly campaign is used to donate money to the schools.
Creative as the ice-cream-making process is, Malek credits so much of the experience — particularly texture and mouthfeel — to science.
"I think that in-depth knowledge of 'the science of ice cream' is one of the most important things when creating new flavors. If you can break down and understand why things work and don't work, you can push the limits on how you create and troubleshoot." As he goes on to explain the science of ice cream, it's hard not to think of Matt Damon's character in "Good Will Hunting," sans the chalkboard, detailing factors such as butterfat amalgamation, ice crystals and butterfat particles colliding.
Pointing to a batch of cookie dough, Malek explained the importance of texture: "The dough is very soft, almost too soft to cut into cubes. But then it's frozen for a day, and when added to the ice cream it will have the perfect texture when you take a bite — nice and doughy."
One of his latest projects is a just-introduced series of ice creams highlighting fermentation, testing flavor combinations such as sourdough with chocolate and strawberries. "We created a house-fermented sourdough 'mom' specifically for this, ice cream and sourdough 'croutons' surrounded by ribbons of jam and chocolate. The ice cream is as pleasantly sour as walking into a bakery at five in the morning."
Other combinations include fish sauce caramel with palm sugar ("fermented anchovy sauce meets its lusciously sweet, candied delicacy") and avocado with cardamom and fermented carrot custard. "We teamed up with Jessica Koslow at Sqirl to create this. Her avocado-cardamom ice cream is mind-blowing delicious, and we swirl in our own house-made fermented carrot custard, which is slightly musky."
And then there's the dill pickle sorbet.
"Is pickle juice drinking a guilty pleasure for anyone else? We highlight the lighter and sweeter side of the pickle's acids, focusing on spices that are much more pastry-forward like dill and fennel, and stopping fermentation while the cucumbers still have that bright freshness to them," says Malek.
"We're gambling a bit that there are lots of others out there who also drink pickle juice by the glassful."
Twitter: @noellecarter
MORE FROM THE DAILY DISH
Where and what to eat for brunch in L.A.
Why brunch in L.A. is, like, so hot right now
Get our L.A. Goes Out newsletter, with the week's best events, to help you explore and experience our city.
You may occasionally receive promotional content from the Los Angeles Times.