Calabacitas, salads, relish and more ideas for zucchini and other summer squash, now in season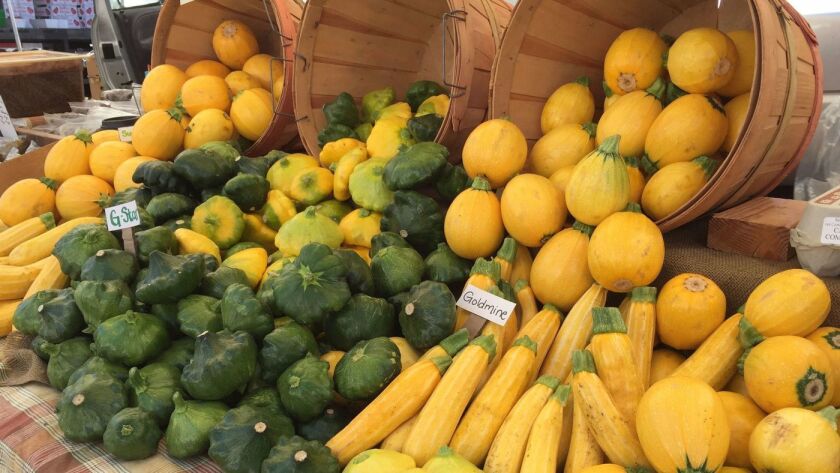 What's in season: Zucchini, one of the quintessential warm weather vegetables, and other summer squash are now filling market stands. There is a wide variety of summer squash beyond classic green zucchini: from softball-sized, white-green Eight Ball and stout Mexican zucchini, to yellow oblong Goldmine and small, flower-shaped Sunburst squash. Exterior colors range from a lighter grayish-green and vibrant shades of yellow-orange to almost black, with sizes varying from small and slender to massive squash well over a foot in length. The season runs through the hotter months of summer, tapering off as the weather cools in fall.
A summer favorite: 12 great recipes for zucchini »
What to cook: Smaller zucchini tend to pack more flavor than their larger counterparts and work well raw or cooked. Slice or grate the squash to use in salads or slaws. Steam or stew chopped or diced squash, or throw large wedges or slices on the grill, tossing them with olive oil and chopped fresh herbs and garlic. Use larger zucchini in soups, or consider roasting, braising or even stuffing the squash as you might with peppers or tomatoes.
What's on the horizon: New potatoes, normally available in late spring, are just beginning to show up.
---
Get our weekly Tasting Notes newsletter for reviews, news and more.
You may occasionally receive promotional content from the Los Angeles Times.