The Obamas' White House chef would have us all 'Eat a Little Better'
Many good books have great first lines, but they're mostly novels rather than cookbooks. So when you open the debut cookbook from Sam Kass, out from Clarkson Potter in April, and begin: "The Secret Service hates it when you run in the White House," you know a few things right up front. First, that you'll be getting a back story as well as recipes from the six years that Kass spent cooking for the Obamas in the White House, where he was not only their personal chef but senior advisor for nutrition policy, executive director for Michelle Obama's Let's Move initiative and co-creator of the White House's landmark vegetable garden. Second, that Kass' "Eat a Little Better: Great Flavor, Good Health, Better World" is a lot more than its casual, do-gooder title might suggest.
The book takes off from that first line — Kass, who was a Division III baseball player in college, was running to get the first family's dinner on the table, an event often complicated by his other tasks, not to mention the thousand tasks of his boss — and keeps going. The introduction frontloads the narrative, combining elements of memoir, mission statement and operating manual, so that we're firmly embedded in the landscape before we get to the cooking. And it's a pretty great landscape, not only of the White House, with its kitchen and dining room and garden of mustard greens and escarole and lavender, but of the simple yet profound approach that Kass has taken to both making and thinking about food.
"You won't get any lectures or shaming," Kass writes in his smart, chatty prose. "Just my no-bull take, plus advice that'll cut through the information clutter that has complicated our relatively simple task." Because Kass' project with this book is not really food policy (that's apparently his next book), but getting us to the dinner table much as he did the Obamas, to eat good, unintimidating, healthful food — with more vegetables and fruit, less sugar and preservatives and meat, and to make better choices. "Better" is the operative word here, as a recurrent descriptor (it's a word that occurs almost as much as "awesome"), and it's the key to Kass' deeply accessible, slow-pitch approach.
"Eat a Little Better" is a thoroughly disarming book, intentionally so. By the time Kass gets to the more than 90 recipes, he's grounded us in his homey pragmatism even as he's managed to slide bits about nutrition labels, GMOs, food additives and fiber (fiber!) over the plate. Kass has a history degree from the University of Chicago (he started cooking for the Obamas before they went to Washington, D.C.) and trained as a chef at the Michelin-starred restaurant Mörwald in Vienna. Kass also spent about five years traveling and cooking around the world, and becoming interested in global food systems, long before he found himself in the White House, so his prose and the recipes themselves have both context and the kind of earned simplicity that comes from classical training.
Which gets us to the recipes, which are as disarming and approachable as the rest of the book — and seemingly the chef himself. (Check out his 2015 TED talk, and his Instagram feed.) The first recipe is a primer on how to roast vegetables, and it's both helpful and emblematic of Kass' use of technique, utility and flavor. There are sections on meat and fish, and grains and beans, with lovely photographs by Aubrie Pick, and helpful sidebars about making smarter choices. The nearly 300 pages are threaded with personal anecdotes — Kass is married to Alex Wagner, a journalist and author, and the two have a young son — and more fun asides about his culinary life with Michelle and Barack Obama and their own kids.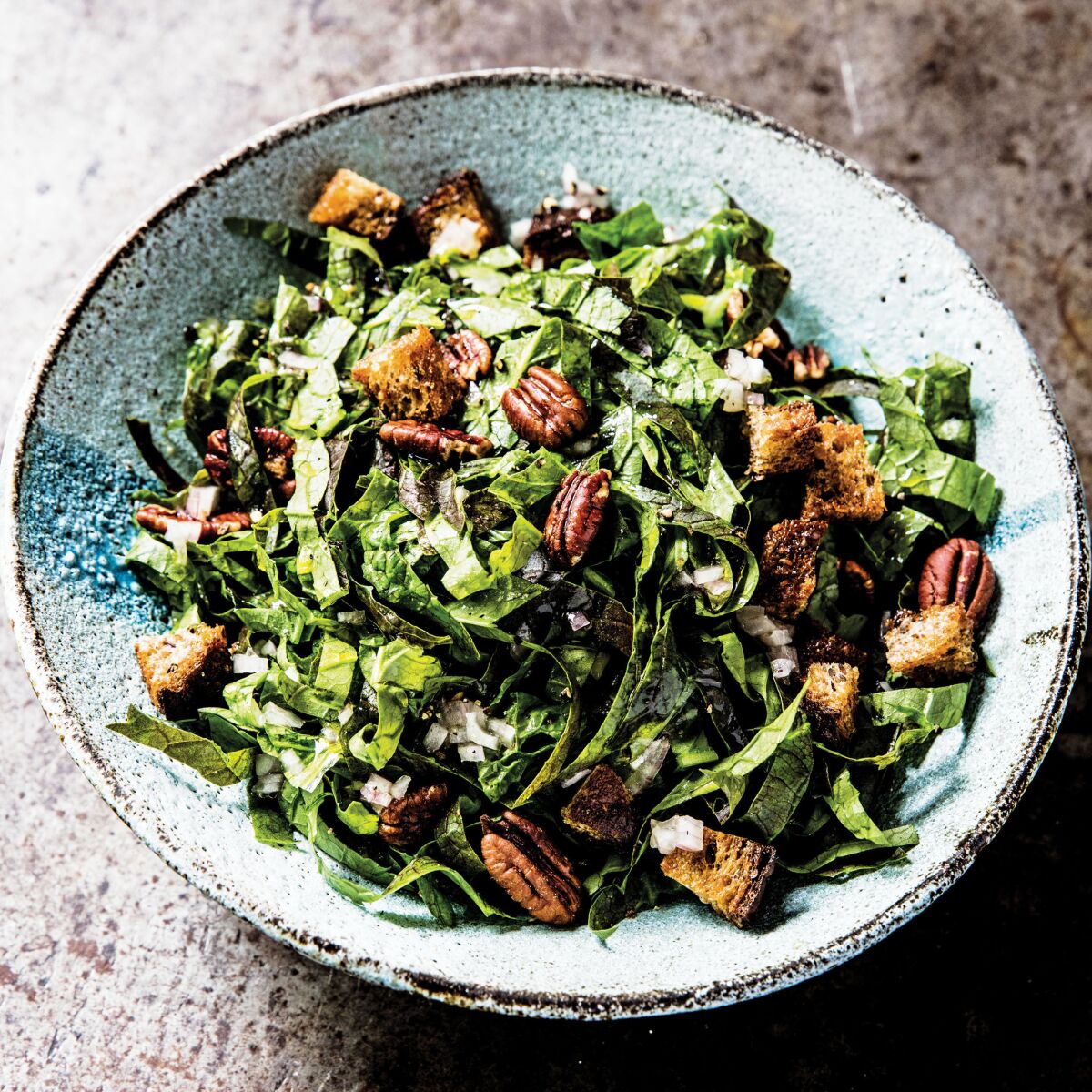 So you can organize your pantry like Sasha and Malia did, and get Kass' recipe for the "lucky pasta" he made the president in the tiny kitchen of Air Force One. The recipes are often purposely simple, but they're not simplistic. The recipe for mustard green salad, for example, which Kass says came about because of an overabundance of some purple greens in the White House garden, seems ordinary at first but has a deceptive flavor that builds as you fork it up from the bowl until you realize that you've eaten the whole thing. Kass' recipe for roasted sweet potatoes (a favorite vegetable of his), which are similarly addictive, are paired with condiment bowls judiciously loaded with things (brown butter, bacon, sour cream) that remind you that he is hardly an ascetic.
One public service announcement is needed, for a cookbook that is actually loaded with them, albeit with humor and remarkable subtlety: There is not a single recipe for desserts in this book. But if you paid attention to the big bowl of fruit that Kass instituted very early in the Obama kitchen, and repeatedly points out ("we eat what we see"), you'll know why.
Cookbook of the week: "Eat a Little Better: Great Flavor, Good Health, Better World" by Sam Kass (Clarkson Potter, $32.50)
Get our L.A. Goes Out newsletter, with the week's best events, to help you explore and experience our city.
You may occasionally receive promotional content from the Los Angeles Times.