Farmers market report: Beets are in season. We have recipes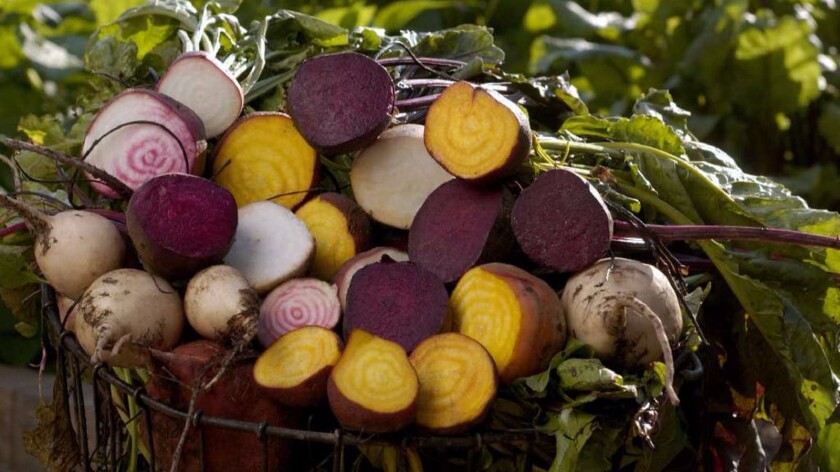 What's in season: Though classic red beets can be found in supermarket produce aisles year-round, the season for these root vegetables typically extends from November through the late winter months. At farmers market stands, you can find varieties in shade from deep garnet to brilliant gold, white sugar beets, an orange Danish variety that looks more like a carrot than a beet, and even some with the candy-striped or "bulls-eye" white and red markings characteristic of Chioggia beets. Regardless of color, these beets are similar in flavor.
What to cook: If you buy beets with the leaves attached, save the leaves and use the greens in stews, salads or sautéed as a quick side dish. Grate raw beets, adding them to borscht or other stews or soups, or use in place of potatoes when making latkes. To roast beets, wrap them in foil and roast at 400 degrees until tender, about an hour. Peel the beets, then toss into salads for a burst of bright color.
What's on the horizon: Citrus, normally in season through the winter months, are just beginning to show up.
Click on the photo gallery for additional recipes:
ROASTED BEET SALAD WITH CITRUS, FENNEL AND RICOTTA SALATA
Total time: 1 hour and 20 minutes | Serves 4
Note: From David Lentz at the Hungry Cat. While roasting the beets, make the vinaigrette and toss the fennel and onions together.
CITRUS VINAIGRETTE
1 tablespoon finely diced shallots
1/4 cup orange juice
2 tablespoons lime juice
1/4 teaspoon kosher salt
1/4 cup extra virgin olive oil
1/2 teaspoon fennel seeds, toasted and ground
1/8 teaspoon black pepper
1. In a bowl, combine the shallots, orange and lime juices and salt and allow to macerate for about 15 minutes.
2. Whisk in the olive oil, then add the fennel seeds and pepper. Taste and adjust the seasonings. Set aside. (Makes about two-thirds cup.)
HERB SALAD
1/4 cup small Italian parsley leaves
2 tablespoons 3/4-inch chive pieces
2 tablespoons chervil leaves
2 tablespoons dill sprigs
Combine the parsley, chive, chervil and dill, place a slightly dampened paper towel on top and set aside.
BEET SALAD AND ASSEMBLY
12 small beets (4 each of 3 different colors, if possible)
1 head fennel, very thinly sliced (about 1 cup)
1 red onion, very thinly sliced
1 tablespoon lemon juice
2 tablespoons extra virgin olive oil, divided
Kosher salt
Freshly ground black pepper
Citrus vinaigrette
1 each tangelo, pomelo, grapefruit and tangerine, cut into segments
1/4 pound ricotta salata
Herb salad
1. Heat the oven to 350 degrees. Wash and trim the beets. Place the beets of each color in a separate foil packet and roast until the beets are very tender, about 50 minutes. Remove from oven; cool slightly. Peel and cut into wedges, keeping the different colors separate.
2. Toss the sliced fennel and onion with the lemon juice, 1 tablespoon olive oil, salt and pepper. Arrange on four plates.
3. Toss the beets of each color in separate bowls with a few tablespoons of the citrus vinaigrette. (This will prevent the colors from bleeding onto each other.) Sprinkle with salt and pepper. Arrange the beet wedges (pointing up) on the fennel and onion.
4. Place an assortment of citrus segments around the beets, also pointing up (cut the pomelo segments in half or thirds so that all of the segments are roughly the same size). Thinly slice the cheese into triangles and lay 3 slices on top of each salad.
5. Toss the herb salad with 1 to 2 tablespoons of citrus vinaigrette, salt and pepper. Scatter the dressed herbs on top of the vegetables. Drizzle a little of the remaining tablespoon of olive oil over each salad and serve.
Each serving: 451 calories; 10 grams protein; 43 grams carbohydrates; 8 grams fiber; 30 grams fat; 9 grams saturated fat; 30 mg. cholesterol; 520 mg. sodium.
Love cooking as much as I do? Follow me @noellecarter
ALSO
Make the ultimate beer-baked mac 'n' cheese recipe
Holiday Cookie Bake-Off: Enter our 6th competition now
Persimmons are in season. Here are some of our favorite recipes
---
Get our weekly Tasting Notes newsletter for reviews, news and more.
You may occasionally receive promotional content from the Los Angeles Times.