Jonathan Gold goes on a holiday tamale crawl across L.A.
I don't think you can find them all on Google, but this is probably the 12th or 13th time I have been assigned to write a year-end tamale piece, and for almost all of them I have made the rounds of more or less the same Boyle Heights tamaleros before declaring once again that Juanito's is definitively the best.
This weekend is when you need to order many of the area's best tamales if you want to pick them up on Christmas Eve. Such decisions are not to be taken lightly.
Juanito's supremacy is also not to be taken lightly.
A New York chef I know has her husband pack a couple dozen every time he flies out from Los Angeles. They are the tamales I miss when I happen to be out of town for the holidays. The smack, the funk, the slippery, corn-thickened red chile, taste like Christmas, even in the middle of July.
But I was determined to do a different kind of tamale essay this year, so I gathered my family on a weekend morning and drove to Tamales Liliana's, a fragrant restaurant near El Mercado, to begin a tamale crawl – I was planning to try a red-chile tamale at each of half a dozen places. We ordered a few tamales, but my wife was distracted by the menudo; and my son wanted an enchilada plate; and green chile tamales, cheese-drenched rajas tamales and sweet elote tamales somehow found their way onto the table; I eyed the Zacatecas-style peanut mole, and suddenly we weren't hungry anymore. Tamale crawls demand a kind of discipline we clearly didn't have.
The next morning I thought it might be a good idea to include tamales from other regions of Mexico — the banana-leaf-wrapped mole tamales from Guelaguetza are especially good, as are the super-rich banana-leaf-wrapped Yucatecan tamales from both Chichen Itza in the La Paloma complex near USC and La Flor de Yucatan a short drive away.
I dreamed of the Taiwanese zongzi, the bamboo-leaf-wrapped pyramidal mounds of pork-stuffed sticky rice that are so good at Four Sea Restaurant in San Gabriel, or the sweeter, Shanghai-style zongzi at Dean Sin World in Monterey Park. I considered the Thai bamboo wraps stuffed with sticky rice and banana that occasionally show up at Sapp Coffee Shop, or the delicious hor ab, banana-leaf-steamed catfish curry at Night + Market Song. I contemplated the tasty central Vietnamese banh nam at Kim Hoa Hue.
I also thought about the fancy, loose tamales stuffed with pork neck at Broken Spanish, and the deconstructed tamales you see sometimes at La Casita Mexicana.
And I decided they didn't count — holidays are about tradition, and in my family, in which my mother-in-law still drags the kids to see "Too Many Tamales" at the Bilingual Foundation of the Arts and lugs home armfuls of tamales from La Mascota Bakery every year, anything that isn't a red-chile pork tamale is pretty much beside the point. We have the rest of the year to discuss the appropriateness of mixiotes and hor mok.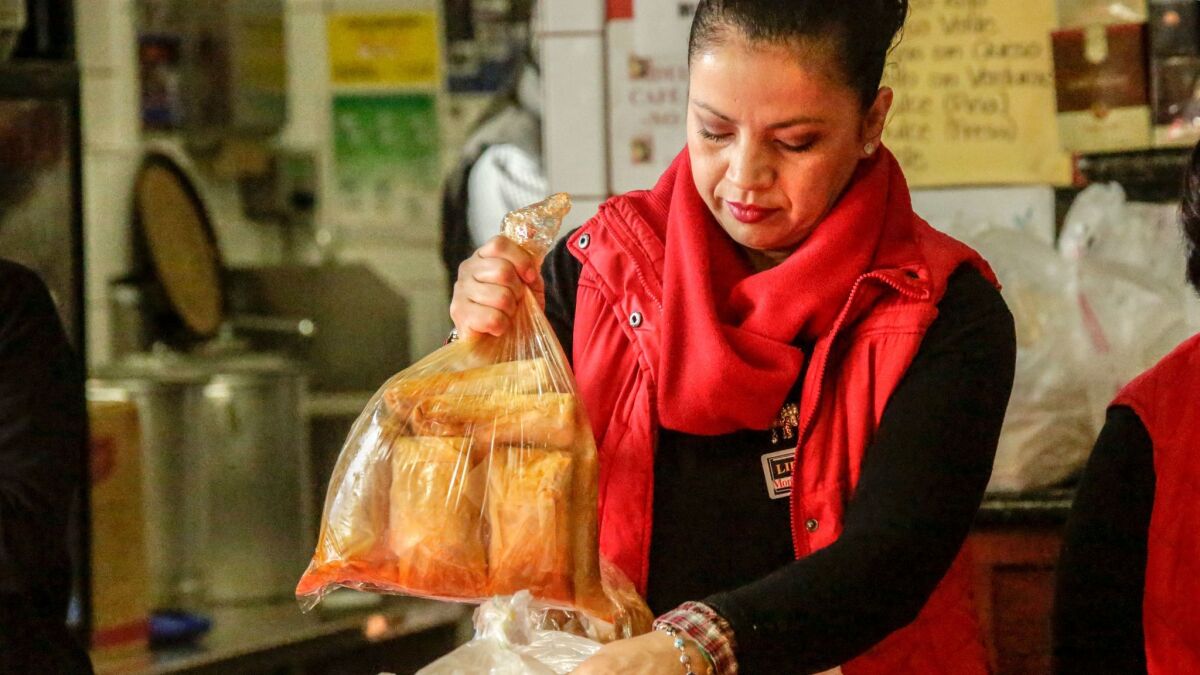 Did I make the usual rounds once again? I did. By this time, my truck can practically guide itself along the six-stop trail from Juanito's to La Mascota. I stood behind burly MTA workers scarfing 8 a.m. carnitas burritos at Los Cinco Puntos, women carting basins of masa preparada, tamale dough, at La Indiana, and skinny teens waiting for huevos divorciados at Liliana's. I paused to observe the guys at Uruapan nixtamal-izing vast tubs of corn. I marveled once again at the tamale-stuffed sandwiches at La Mascota.
And when I broke out the tamales back at The Times Test Kitchen, nobody was quite surprised by what they tasted. The dense, stubby tamales from Los Cinco Puntos were slightly greasy, with a forward flavor of toasted chile and cumin — a masculine tamale, if you want to look at it a certain way — a tamale you could probably fire out of a gun. Liliana's tamales were pudding-like, delicate, with a slightly perfumey aroma of corn. The ones from La Indiana were surprisingly spicy, thick and moist, almost like the Platonic version of the tamales you may have grown up eating in non-Mexican parts of the world. Uruapan's tamales were pleasant if unremarkable; La Mascota's tamales were balanced if a little stodgy, with an instantly recognizable smack. I would be happy eating any of them, with a mug of champurrado, a ladle of my mother-in-law's chile rojo and a discreet heap of beans.
I am probably going to be eating La Mascota this year. But as always, I will be aware that I am not eating tamales from Juanito's: masa shaped into thin, sturdy layers around a rather impressive amount of filling, and steamed in broth rather than the customary water. An extra, bouncier layer, insulated from the body of the tamale by an extra few inches of corn husk, displays the round flavor of the masa in a surprisingly different way. Chile oozes stickily. Fingers are burned. Each bite is more delicious than the next.
Jonathan Gold's six-stop tamale trail:
Juanito's, 4214 E. Floral Drive, East Los Angeles, (323) 268-2365
Los Cinco Puntos, 3300 E. Cesar E Chavez Ave., Los Angeles, (323) 261-4084
La Indiana, 1142 S Indiana St., East Los Angeles, (323) 262-4682
Tamales Liliana's, 3448 E. 1st St., Los Angeles, (323) 780-0839.
Carniceria Uruapan, 2100 E. Cesar E. Chavez Ave., Los Angeles, (323) 265-2474
La Mascota, 2715 Whittier Blvd., Los Angeles, (323) 263-5513
ALSO
Jonathan Gold's 10 best dishes of 2016
Jonathan Gold finds strong flavors and a splendid bar at Here's Looking at You in Koreatown
Jonathan Gold didn't expect a Nick Erven vegan restaurant, but it might be L.A.'s best vegan dining
Get our L.A. Goes Out newsletter, with the week's best events, to help you explore and experience our city.
You may occasionally receive promotional content from the Los Angeles Times.