Where to dine in Southern California if you love tasting menus
You can call it a tasting menu. You can call it omakase. You can call it dégustation, a banquet menu or modern kaiseki. What it tends to be is a meal made up of dozens of small tastes, served in exquisite rhythm, where the courses, their order and their precise composition has been determined for you the second you walk in the door, so that your only choice is really whether you want to gut it out with a bottle of Lodi Verdelho or submit to a relentless wine pairing. The chef is the artist and your belly is her canvas. And when a tasting menu is done well, it can be the summit of cuisine.
Grand Harbor
The first thing you should probably know about Grand Harbor in Temple City, the Hong Kong-style palace from Joe Liang, is that its top-tier tasting menu costs $9,388, which is a pretty good price for a used Sentra but an awful lot of money for a meal for 10. You aren't going to get that particular dinner — there is a perfectly opulent banquet menu for $418 — but its existence is a statement of purpose, an inference that a meal there might be worth that kind of money, as well as a hint that you may be out of your league. When the menus come, you are flabbergasted by choice — there is a family menu offering things like calamari fried with spicy salt, diced string beans stir-fried with bits of pork, and noodles sautéed with seaweed. The next menu lists seasonal specialties at a somewhat higher price. You really do want the "signature roast pork entrée," which is a small plate of beautifully crisp roast suckling pig flanked by marinated slivers of cucumber and a crunchy heap of sliced jellyfish curls dressed with sesame oil. Then you get to the varsity menu: big, glossy photographs and half a dozen ways to have your crab prepared, all of which are good. So you take a leap — even if some dishes are expensive, they tend to feed a lot of people. Tasting menu prices vary based on dishes. 5733 Rosemead Blvd., Temple City, (626) 280-2998.
Le Comptoir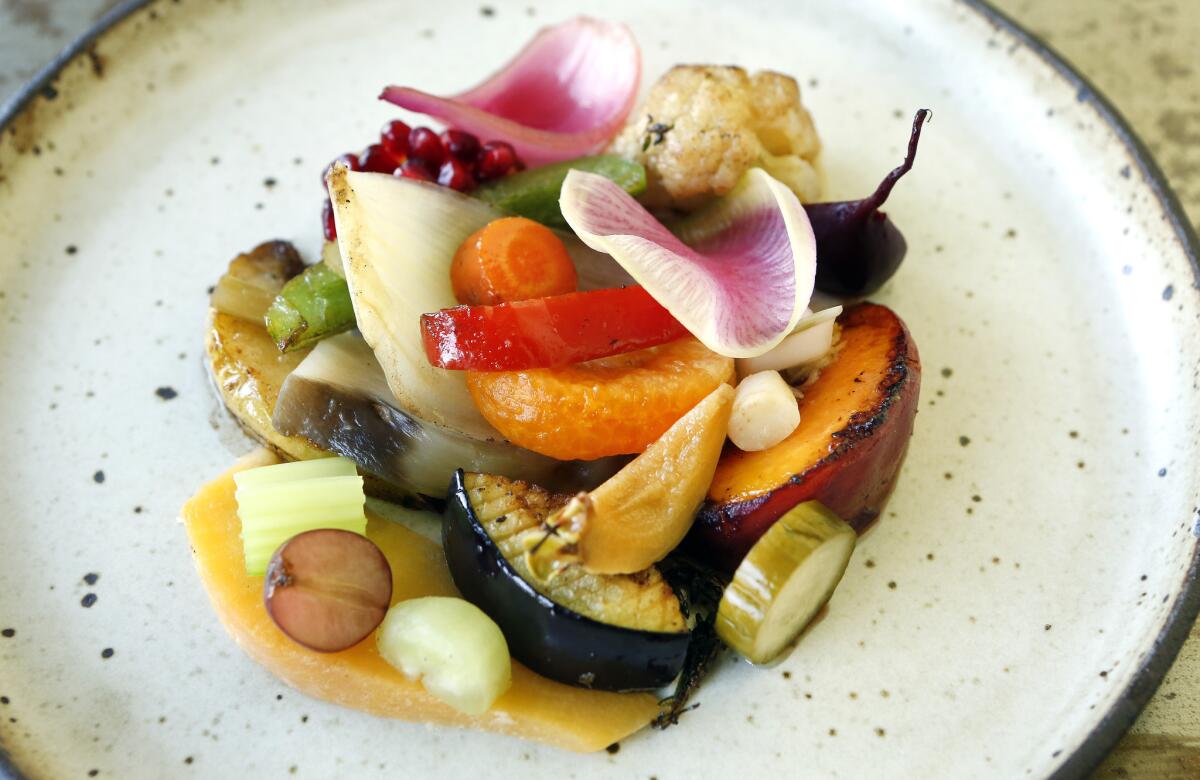 There are only 10 seats at the tiny counter in the Hotel Normandie. And after you are led to your place at the counter — everybody in the restaurant sits at once — you will register no open flames, bubbling pots or cooking smells. Your dinner begins not with bread and butter but with a short lecture from chef Gary Menes on the structure of the menu. And when the meal finally begins, the wavelike rhythm of everyone being served the same course at the same time can be soothing, aggravate your OCD, or both. But Menes' austere California-French cooking is mesmerizing, mostly based around vegetables from his Long Beach garden. Your meal will probably include an elaborate "veggie and fruit plate" that includes up to 30 different, separately prepared plants; a poached egg served with profoundly sour bread; roasted squash; and a sourdough fritter with preserves. And you will get to know the taste of that small plot of land as intimately as you have known any patch of dirt, ever. $89 for the eight-course tasting menu. 3606 W. 6th St., Los Angeles (in the Hotel Normandie), (213) 290-0750, lecomptoirla.com.
Maude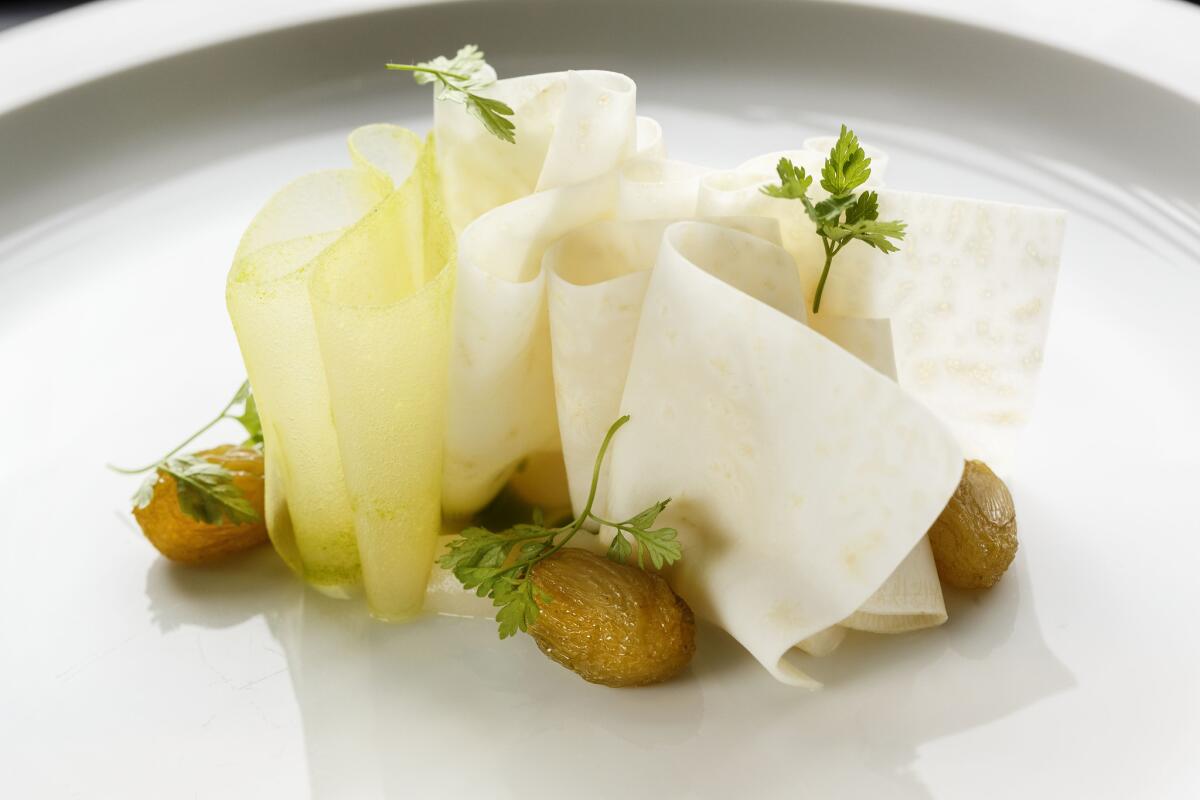 There are people who believe that Maude is L.A.'s best restaurant, and if you squint a little you can see what they mean. The restaurant belongs to Curtis Stone, who is pretty much everybody's favorite food television personality, and its conceit — each month features a long tasting menu with a different star ingredient — indicates a seriousness of purpose. Reservations are difficult, but regulars consider monthly meals at Maude to be the culinary equivalent of season tickets to the ballet. It's a nice place, just 25 seats, with mismatched silver and dishes that look as if they were plucked from your favorite grandmother's breakfront. And when the featured ingredient plays into Stone's sensibilities, the results can be lovely. $140 for the tasting menu. 212 S. Beverly Drive, Beverly Hills, (310) 859-3418, www.mauderestaurant.com.
Mélisse
When Michelin announced that it would be releasing a Washington, D.C., guide instead of returning to Los Angeles, my first thought was of Mélisse. Because while the local dining scene has become a postmodern mosaic of three-star food trucks and strip-mall Alain Passards, Mélisse, the land of the $145 tasting menu, has always been the kind of special-occasion restaurant Michelin likes, meriting two stars in the last Los Angeles guide. Mélisse isn't precisely old-fashioned — chef Josiah Citrin is averse neither to spot prawns with celtuce nor Wagyu beef tartare, and modern Japanese touches have crept into his otherwise French cuisine — but the restaurant is furnished with the impressive flower arrangements and ironed tablecloths, foie gras torchons and caviar eggs that have become nearly extinct elsewhere in town. When you're in the mood to be clobbered with truffles and drink good white Burgundy, Mélisse is an obvious place to go. $145 for the tasting menu and the vegetarian menu. 1104 Wilshire Blvd., Santa Monica, (310) 395-0881, www.melisse.com.
n/naka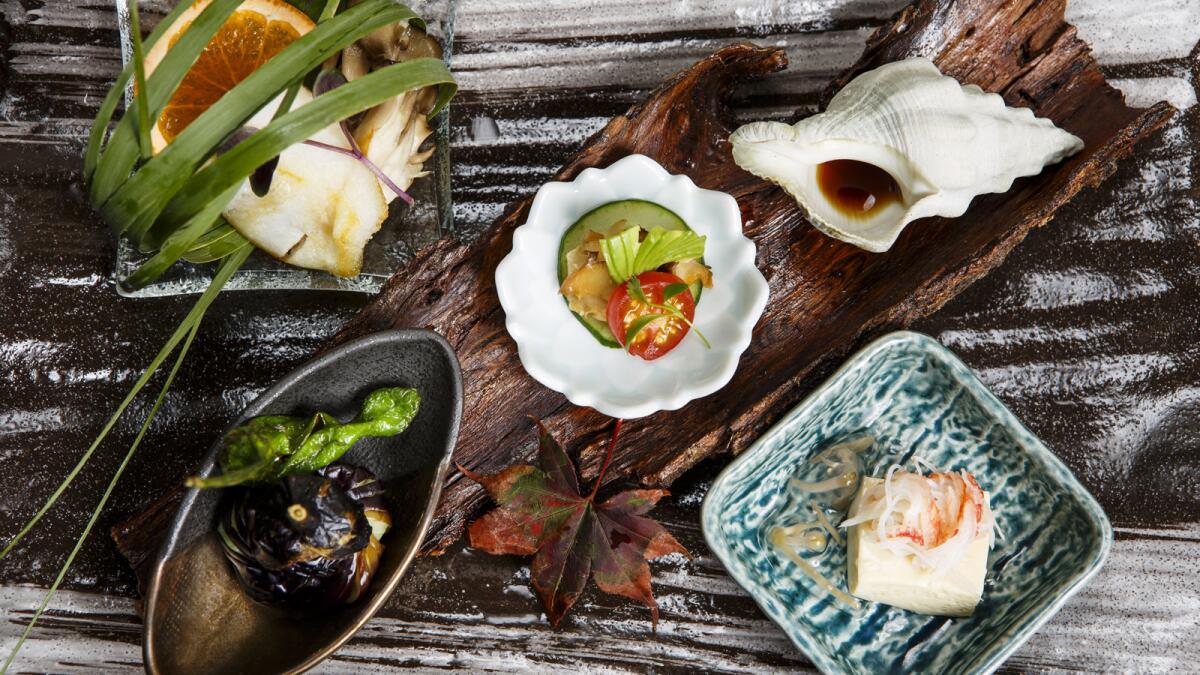 The ideal of Japanese kaiseki, multi-course feasts designed to express the mood of a season, has quietly supplanted the more conventional French model in ambitious California restaurants. n/naka may be as close as we come to kaiseki in Los Angeles, and the tiny Westside bungalow is reserved three months in advance. Niki Nakayama, whose background includes both local sushi bars and Japanese ryokan, has become a food-world celebrity in the last couple of years, as famous for the herbs and vegetables she grows in her own backyard as she is for the classical rigor with which she might address a classic dobin mushi or a sashimi arrangement. She is not strictly tied to tradition — she may serve foie gras with eel, or spaghettini with abalone, pickled cod roe and truffles where a Kyoto chef would serve soba. There is always the option of a vegetarian, though not a vegan, kaiseki meal. $185 for 13 courses. $160 for the vegetarian menu. 3455 S. Overland Ave., Los Angeles, (310) 836-6252, www.n-naka.com.
Orsa & Winston
In a review of a long-closed Josef Centeno restaurant, I once suggested that he could spin probably at least four restaurants from the controlled chaos of the one: a cantina, a bistro, a modern izakaya and a tapas bar. To the surprise of no one, he turned out to have done precisely that: You could spend several evenings around the intersection of Fourth and Main streets bouncing from one of his restaurants to the next. Orsa & Winston is more or less the fine dining in that lineup, a tasting-menu restaurant that mostly but not entirely crosses the structures of Mediterranean cooking with the strictures of Japanese technique — agnolotti with geoduck in a seafood ramen broth, for example, or beef carpaccio presented as part of a shellfish sashimi plate, or a truffled omelet flavored with yuzu. Centeno is obsessed with detail: the tweezer-placed herbs, the drops of exotic oil, and the miniature, perfected scale. Menus change almost nightly. $85 for the six-course tasting menu. 122 W. 4th St., Los Angeles, (213) 687-0300, orsaandwinston.com.
Providence
Providence embodies what a restaurant should aspire to be. Michael Cimarusti still operates within the context of a modernist seafood chef who embraces flavors from across the globe, but the fish he uses is increasingly local and sustainable — you'll never see bluefin on his menu, but you do see local yellowtail, rockfish and mackerel, spot prawns from Santa Barbara, uni from a local diver, much of it acquired through the Dock to Dish program he helped to set up. And he is committed to local flavors — a tasting menu may include dumplings of fresh, briny clams wrapped in shaved daikon; tiny, crisp Wagyu beef spring rolls; and a limpid, persuasive bowl of pho made with squid. Providence menus taste of the season, but they also taste like Los Angeles, and in the end, that may be all you can ask. The dining room is lovely and unfussy, double height, lively but not loud; the wine list is appropriate to the cuisine. Multiple tasting menus available. $220 for the chef's tasting menu. 5955 Melrose Ave., Los Angeles. (323) 460-4170, providencela.com.
Q Sushi
The most transformative sushi meals I have had in L.A. have come from Hiroyuki Naruke at the omakase-only Q Sushi downtown, who seems to have the ability to distill all the wonders of nature into careful mouthfuls of rice, vinegar and fish. Naruke practices the deceptively plain tradition of 19th century-style edomae sushi, where a lovely piece of fresh seafood is only the beginning: His universe of pickling and curing and aging edges closer to a great charcuterie counter than to a raw-fish floor show, but subtly enough to be invisible to diners who may not be looking for it. Naruke shut his tiny, well-regarded Roppongi sushi bar when partners at a local law firm offered to set him up with this elegant downtown restaurant, and Los Angeles is the better for it. Q is not inexpensive, but the cost of its fixed-price omakase, the only meal served, is comparable to that of the other first-rate sushi restaurants in town. $75 to $125 for lunch omakase, $125 to $165 for dinner omakase and $250 for premium menu. 521 W. 7th St., Los Angeles, (213) 225-6285, qsushila.com.
Saam
Saam and Bazaar make up the local playground of José Andrés, the most famous Spanish chef in America. Like his Minibar in Washington and his é in Las Vegas, Saam is a restaurant within a restaurant — the couture inner sanctum of Bazaar — serving luxurious tasting menus that both expand and improve on the pleasures of the larger dining room outside. Last year chef Aitor Zabala, a longtime veteran of the late elBulli on the Catalan coast, pushed the restaurant into a whimsical version of the culinary present — fewer encapsulations, less liquid nitrogen. And the execution was stunning, from baskets woven from strips of ripe avocado, to bright tropical fish fashioned from Spanish mackerel and flower blossoms, to soft asparagus spears impaled on whittled rosemary twigs. $100 for the 14- to 22-course tasting menu. 465 S. La Cienega Blvd., Beverly Hills, (310) 246-5545, thebazaar.com.
Scratch Bar & Kitchen
Phillip Frankland Lee is one of the most idiosyncratic chefs in a city filled with them, a proponent of ingredient-driven abstraction whose presentations sometimes resemble fourth-grade science projects and a proponent of tasting menus so long that it is easy to get the feeling he gets a little lost along the way. (Around course five, I sometimes start thinking about the 20-minute solos Jimmy Page would take in the middle of "Dazed and Confused," the ones where the violin bows somehow appeared.) And in what is either Lee's most brilliant or most random move yet, he closed his original Scratch Bar and his vegan restaurant Gadarene Swine and moved to a faceless Encino shopping mall — his house-made cheese and cured meats, and his rustic constructions of king crab with white gazpacho, lamb belly with currants and smelt in brioche are even more surreal in context. $95 for the tasting menu. 16101 Ventura Blvd., #255, Encino, (818) 646-6085, scratchbarla.com.
Shunji
Dinner at Shunji, the playground of Shunji Nakao, is not your average great sushi meal (a progression of fish and rice that runs from the vinegared dish at the beginning to the warm crab hand roll at the end), although it is possible to get an all-sushi meal at lunch. The basic unit of consumption in the round dining room, built in the 1930s as a chili restaurant, is the omakase-like tasting menu, a lovely expression of the season. There may be a bit of vinegared jellyfish, a tiny sphere of monkfish liver, a tangle of sardines, a bowl of sesame tofu with a crumpled sheet of tofu skin. You may be served braided needlefish or what Nakao calls tomato tofu; or perhaps a dense mass of of raw squid, squid ink, sea urchin and black truffles, the quail egg on its surface like a vivid yellow eye. Nakao may pluck your sashimi from a sleek, metal attaché case that looks like it might contain nuclear codes instead of seafood. And the sushi is never less than perfect. The tasting menus range from around $140 and $160 and change frequently. 12244 W. Pico Blvd. (near Centinela Avenue), Los Angeles, (310) 826-4737, shunji-ns.com.
Spring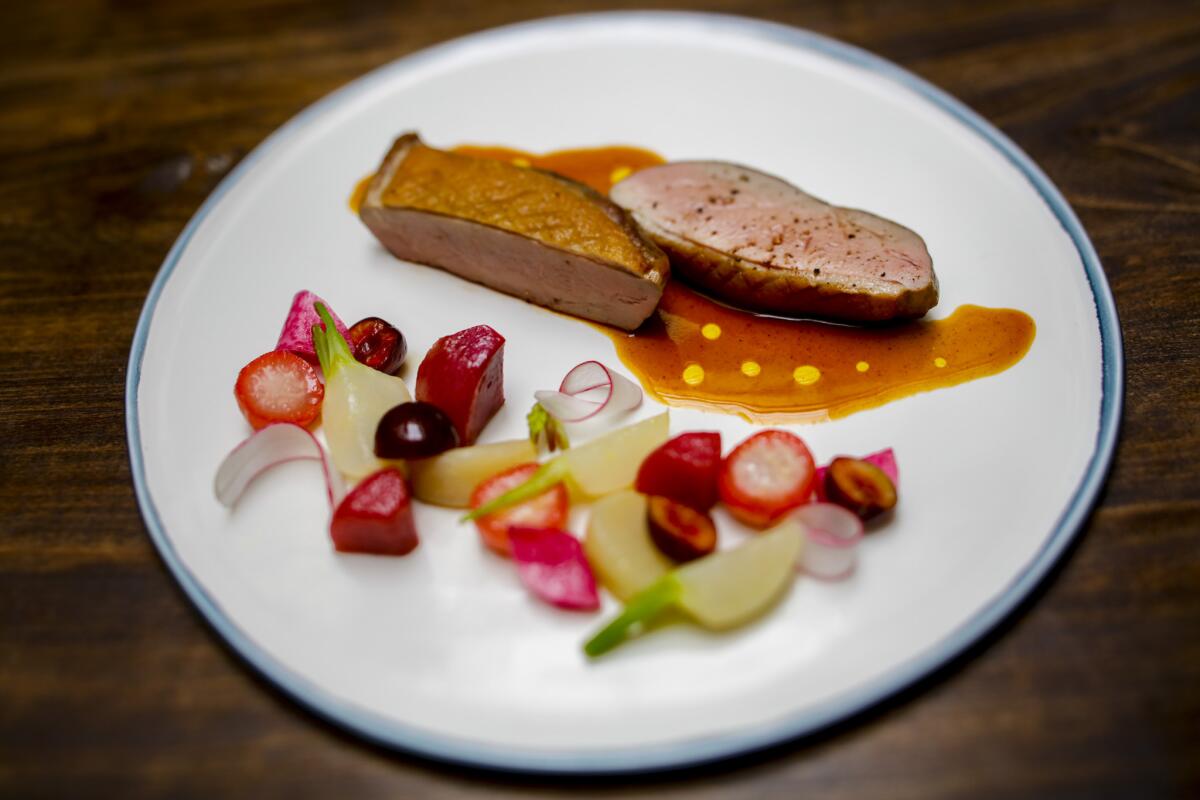 Spring is one of the loveliest restaurant spaces in Los Angeles: an old courtyard, dotted with pepper trees and high-end lawn furniture, under a century-old canopy of cast iron and glass. Tony Esnault, whose early career was mostly spent with Alain Ducasse, comes to Spring from the Arts District bistro Church & State, also run by his wife and business partner, Yassmin Sarmadi. Spring is a serious restaurant, its flavors influenced by Provence and California, whose kitchen has achieved an almost fanatical level of execution. Esnault's roast duck breast is aged and cooked slowly; the meat is as rich and delicate as the best sautéed foie gras. Earthy snails, wild-caught in Burgundy, are arranged into a lovely salad with a tiny dice of tomato and fennel, painted with a vivid green purée of garlic and herbs — as ethereal as snails could possibly be. His Provençal bourride is spectacular, a landscape of vegetables and seared fish dabbed with garlicky aioli, moistened with thick, saffron-infused fish soup. And at $24, the fixed-price lunch on the sun-washed courtyard is one of the great bargains downtown. $84 for the tasting menu. 257 S. Spring St., Los Angeles; (213) 372-5189; springlosangeles.com.
Taco María
Taco María may be the most unlikely great restaurant in Southern California; a mall place, descended from a food truck, with a scattering of rough-hewn tables. It would be easy to mistake Taco María for a genteel enchilada place instead of a restaurant with a $75 prix-fixe tasting menu and a young chef, Carlos Salgado, esteemed by some of the finest culinary minds in both California and Mexico. Salgado prepares what he calls "Chicano cuisine" — the food of a second-generation chef who cooked at fine-dining restaurants like Commis and Coi and returned home to reinterpret the flavors he'd grown up with. The aguachile, fine fat shrimp cured in a sharp broth of citrus and kombu seaweed, could pass for a course at Providence were it not for the chile heat; a scallop in its shell, briefly broiled under a sprinkling of buttery bread crumbs saturated in squid ink, is lovely. You don't quite realize that a dish of seared jack mackerel with crisp bread crumbs, braised romaine lettuce and a runny 65-degree egg is a clever play on a Caesar salad until the flavors come together in your mouth. And if you do happen to run into a taco at dinner, it is likely to be made with almond-wood-smoked sturgeon and a tortilla made with an heirloom blue corn Salgado brings up from Atlacomulco, Mexico, and nixtamalizes himself. $75 for the four-course tasting menu. 3313 Hyland Ave., Costa Mesa, (714) 538-8444, tacomaria.com.
Trois Mec
If you are a fan, your alarm is already set for 10 a.m. on alternate Fridays, the time at which you need to be online to secure tickets for a table at Trois Mec. But Ludovic Lefebvre is probably the buzziest chef in a city filled with buzzy chefs, the telegenic inventor of the pop-up restaurant and a veteran of the kitchens of Alain Passard and Marc Meneau; a chef capable of running grand kitchens who prefers to cook for 24 people at a time. Will the tasting menu include mustard crème brûlée, truffled grilled cheese sandwiches with charcoal ice cream, or cold smoked eel with white chocolate mashed potatoes? Or pork and cabbage? They just might. (You can specify a vegetarian menu if you wish; otherwise the menu is both constantly changing and set.) Trois Mec is shoehorned into a former pizza parlor; the counter seats have a perfect view of the kitchen. Trois Mec is the closest thing in the United States to the ecstatic improvisational cooking at Parisian bistronomy shrines such as Frenchie and Le Chateaubriand. $85 for the tasting menu. 716 N. Highland Ave., Los Angeles, troismec.com.
ALSO
Ready for the Super Bowl? Score big with these 20 recipes
6 great restaurants for spicy food
Now you can ask food critic Jonathan Gold for advice anytime
Get our L.A. Goes Out newsletter, with the week's best events, to help you explore and experience our city.
You may occasionally receive promotional content from the Los Angeles Times.