Meet Helen Johannesen, the wine director behind five hot L.A. restaurants
Helen Johannesen oversees the wine programs for the gamut of Los Angeles restaurants owned, partly owned and managed by chefs Jon Shook and Vinny Dotolo, a lineup that includes Animal, Son of a Gun, Trois Mec, Petit Trois, Jon and Vinny's, Trois Familia and Kismet.
If there is a nerve center for these wine programs, it would be Helen's, the Lilliputian wine shop established in 2015 and named for wine director Johannesen, occupying a corner of Jon and Vinny's, across from Animal on Fairfax Avenue.

For the record:
9:18 a.m. Feb. 1, 2023An earlier version of this article said wine bottles at Helen's are stored in pinewood cubbyholes. The wood is white oak.
"Shop" is an odd word for it; from the restaurant dining room it looks like some sort of wine terrarium, enclosed by picture windows through which you can glimpse a cramped, closet-sized space populated by bottles in white oak cubbyholes from floor to ceiling, where you'd hope to find something good to drink before you succumb to a bout of claustrophobia.
And yet this is where Johannesen and her posse of on-site wine and beverage directors — including Heather Newman, Molly Kelly, Kate Madzounian, Vanessa Proctor and Bethany Kocak — meet, train and strategize about the wine programs; discuss service standards; divvy up allocations; manage the inventories; and, of course, taste together.
Shook and Dotolo burst onto the L.A. dining scene with Animal in 2008, and as they've expanded the scope and style of their restaurant domains, Johannesen has kept abreast of their efforts with focused, mildly subversive wine lists, as quirky and provocative as their menus; Johannesen's selections mirror the group's ethos so deftly that the Jon and Vinny double moniker, by rights, should be a triad: Jon and Vinny and Helen and Co.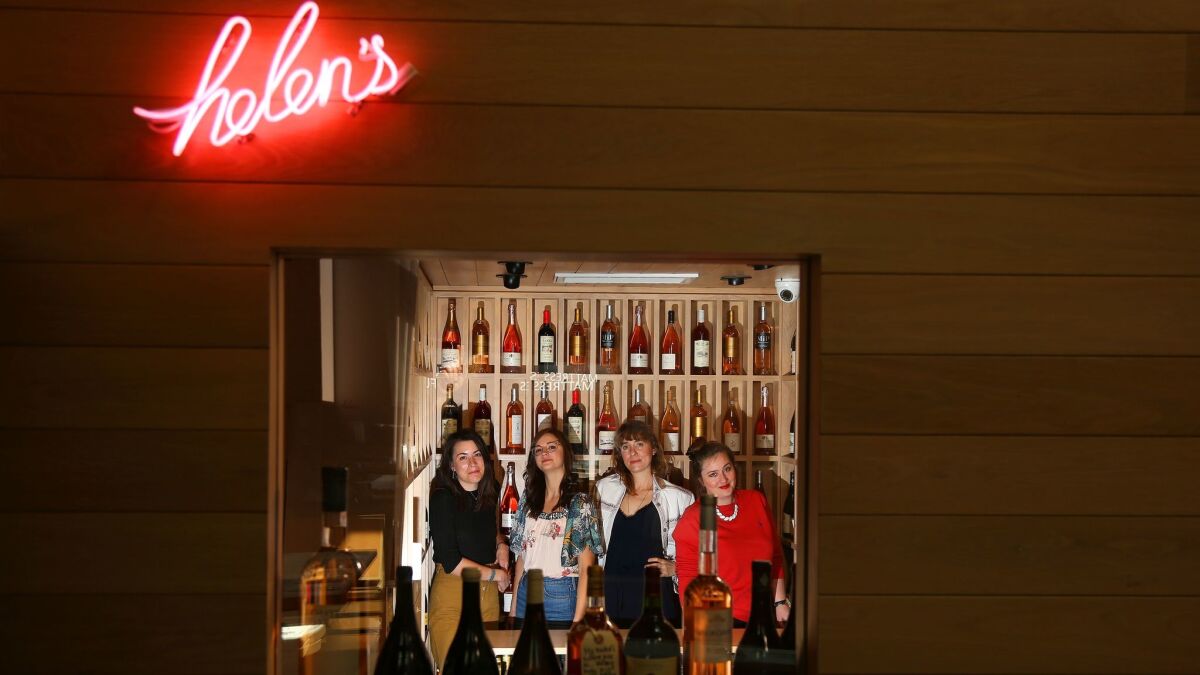 These are remarkably different restaurants after all, with different gastronomic thrusts and different kitchen collaborators in some instances. They're linked by Shook and Dotolo's brash and uncanny juxtapositions of flavor and textures, famed at times for its extravagance.
Generally, in her wine selections Johannesen comes in beneath all that excess, undercutting the chefs' more lavish inclinations with high-acid whites and reds, as well as a crucial smattering of reds that are both high-acid and high-tannin.
Johannesen is 34 and from New York, and her interest in wine stems from a meaningful stint in restaurants in Madison, Wis., where she went to university. From there she moved to L.A. and assisted David Lusby at Craft, but moved on to work with Shook and Dotolo at Animal, developing the wine programs for each successive new venture including Trois Mec and Petit Trois, the collaboration with Ludo Lefebvre.
Conceptually, Johannesen has a keen sense of how to distinguish each program. She refers to Animal's list, for example, as "the boss," a classic old-school selection constrained by a two-page format, which keeps it lean and ever-changing. Son of a Gun is more New World, and adds some congenial colloquial descriptors, such as the Jura Chardonnay from Gahier that's referred to as "creamy delish" or the St. Aubin Burgundy from Prudhon, which Johannesen proclaims as "an unexpected baller."
All of the lists are a bit sneakily seditious. At present, for example, you'll find no California Cabernet on Animal's list to pair with your poutine and veal tongue, but Paolo Bea's "Pagliaro," a fiercely gripping Sagrantino di Montefalco from Umbria, probably does a better job at ridding the palate of unwanted unctuousness. (There is a Cab at the seafood-centric Son of a Gun — go figure — which you're encouraged to taste, or rather to "take a toke on this Cabernet peace pipe.")
Trois Mec's all-French list is deep in Burgundy, but deeper still in wines from the Rhône, Provence and the Languedoc. (Wine sales at both Trois Mec and Petit Trois are overwhelmingly by the glass, for their pairing menus, with some of those wines preserved by Coravin.)
Ironically, Jon and Vinny's, the pizza-and-pasta joint and arguably the least adventurous restaurant in the group, has the most elaborate wine selection, precisely because of its boarder (Johannesen is in fact a partner for both the restaurant and the wine shop). Helen's the shop doubles as a wildly overachieving wine list, the place you can order a Raveneau Grand Cru Chablis, or a 2001 Pomerol, or a vintage Gaja Barbaresco to wash down your pizza Margherita. Why not? And maybe, if you haven't gorged on too much pasta, you can squeeze yourself into the terrarium after your meal and rub elbows, literally, unavoidably, with the eponymous Johannesen.
412 N. Fairfax Ave., Los Angeles, (323) 334-3369, helenswines.com. Helen's inventory is online; they also deliver, for a fee.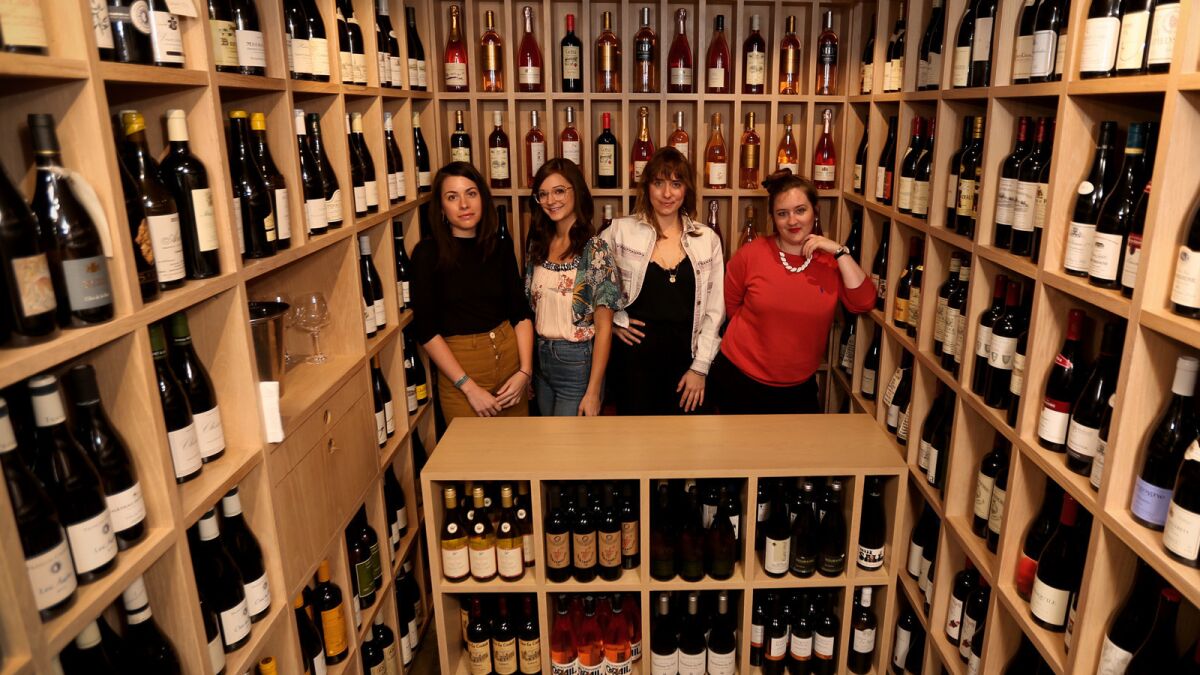 Animal and others, by the numbers:
Wine Director: Helen Johannesen
Floor Sommelier(s):
Animal: Bethany Kocak
Jon and Vinny's: Heather Newman
Kismet: Eric Murdoch and Kae Whalen
Petit Trois, Trois Mec: Molly Kelly
Son of a Gun: Kate Madzouian and Vanessa Proctor
Median bottle price: $75 - $100
Least expensive: $50 (Trois Mec)
Most Expensive: $2,385 (Trois Mec)
Helen Johannesen's current obsessions, and her new course pairings for spring:
Current obsession: I've gotten deep into the Languedoc-Roussillon. There is so much energy and interest in this area; it's sort of going through this revolution as more and more growers seek out their own plots of land and move away from cooperatives; there is a heightened awareness of the awesome terroir in such a killer landscape.
A pairing story: I went by Trois Mec to taste a new avocado dish. It has a tart cream, dressed in sesame, toasted crunchy grains, garlic, and apple. Molly really wanted a red wine pairing. We discussed how it needs to be a specific style of red wine, impeccably light but not iron-ey, juicy but not full or sweet. We were thinking Gamay but maybe something other than Beaujolais. So we settled on an Oregon Gamay, from Evening Land, Seven Springs Vineyard.
---
Get our L.A. Goes Out newsletter, with the week's best events, to help you explore and experience our city.
You may occasionally receive promotional content from the Los Angeles Times.