How Mr. Fries Man turned his love of pastrami-topped fries into an Instagram success story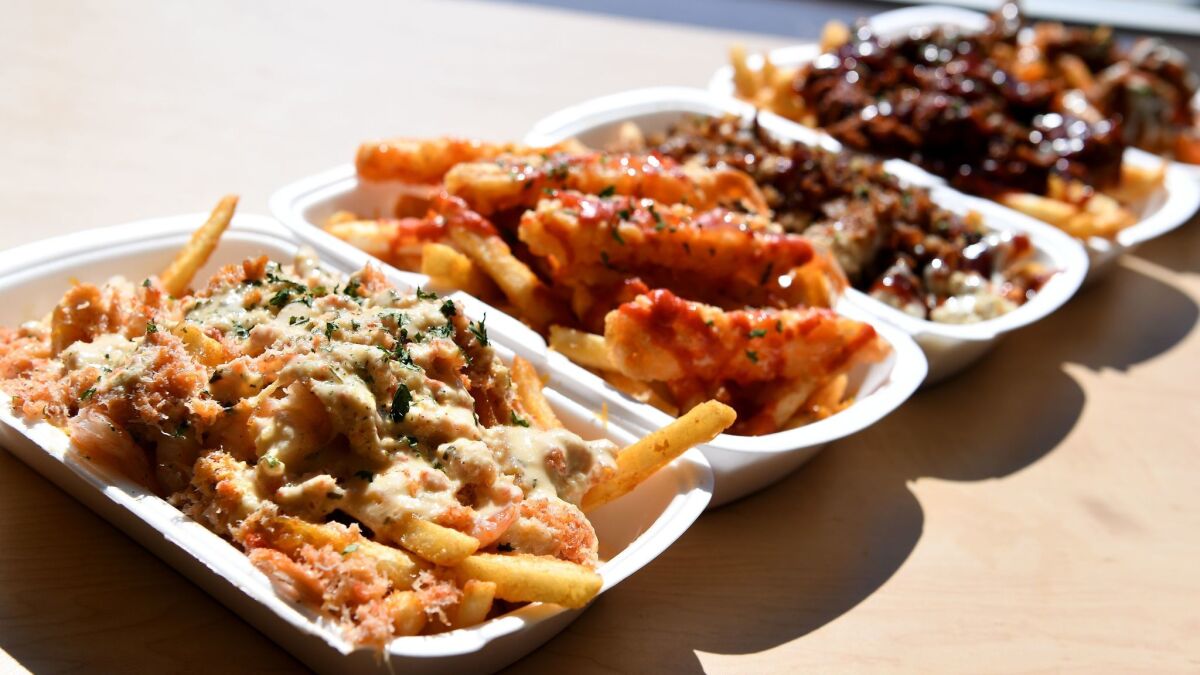 Craig Batiste isn't your typical culinary superstar — he doesn't have a résumé that includes staging at any of the city's best restaurants, he's adamant about the fact that he isn't a chef, and his culinary reputation is built on heaping piles of French fries topped with sautéed shrimp and lemon garlic sauce. What he does have is half of a restaurant, which he shares with a Wings N Greens in a strip mall in Gardena, and a boisterous following that includes nearly 65,000 followers on Instagram. He also goes by the name Mr. Fries Man.
On a recent Tuesday, Batiste is moving around his 5-by-5-foot restaurant kitchen, conducting an orchestra of three fryers, squeeze bottles of lemon garlic sauce and fistfuls of shredded cheddar cheese while a steady line of customers snakes from the register beyond the front door. In just the month since the restaurant has opened, this little storefront has become one of the neighborhood's most popular lunch destinations.
Batiste's Instagram fans shower him with compliments daily that include multiple fire emojis, frequent use of the words "drool" and "omg" and too many of those smiling emoji with the heart-shaped eyes to count.
In January 2016, 31-year-old Batiste and his fiancée, Dorothy Morales, were draining the power from their Gardena home, using three fryers to make batches of French fries for groups of friends. Morales had just lost her job as a medical tech and Batiste's job as a merchandiser for Pepsi wasn't going to support their family of five.
"I was like down to my last $400," says Batiste. "I said, 'I got some ideas.' I got some fries."
So, in his home kitchen, Batiste created what are now his most popular fries, the lemon garlic shrimp fries, along with fries covered in shrimp scampi; fries with shrimp enchiladas; fries topped with chicken, bacon, ranch and BBQ sauce; and fries with Buffalo ranch chicken. He started the Mr. Fries Man Instagram account, then started posting pictures.
"People would message me saying, 'Where are you, I want to try that,' " says Batiste.
He and Morales shared a daily menu on Instagram, then started taking orders using a Google phone number posted on the account. People would order their fries, then meet Batiste in front of a Gardena doughnut shop to retrieve them. The business model proved improbably successful.
"We were selling like 100 plates a day," says Batiste, who added he would have friends come over to help hand-cut the fries. "Then some guy thought we were selling drugs over there at the doughnut shop. I was like, man, we're selling fries! So we had to leave."
Batiste moved his fries operation to the parking lot of the Taco Bell on the corner of West Rosecrans Avenue and Western Avenue in Gardena before finding a more permanent location at the Smart & Final on Redondo Beach Boulevard, where he sold fries every Wednesday, Friday and Sunday for about 10 months.
I was like down to my last $400, I said, 'I got some ideas.' I got some fries.
— Craig Batiste
Batiste and Morales experimented with a food truck — which lasted about two weeks before the truck caught on fire — then the couple found the Gardena strip mall location.
Morales says now they spend about 17 hours a day at the restaurant. She helps prep in the morning, Batiste takes the kids to school, then they both return to the store — Morales at the cash register, Batiste in the kitchen.
Before becoming Mr. Fries Man, Batiste, who grew up in Westmont, says he wanted to play football. He had his first son, also named Craig, when he was an 18-year-old senior at Gardena High and decided he needed to get a job. He became a ramp agent at LAX, unloading and loading the planes, then moved on to a FedEx job at the airport before getting a job at Pepsi, where he worked for a decade.
But the decision to start making and selling French fries via Instagram wasn't too hard of a switch for Batiste, who says cooking has always been in his family. His father, Craig Batiste Sr., used to run a Los Angeles BBQ restaurant called Big's BBQ. Batiste also says he "watched the hell out of some Food Network, to the point where I was like 'I don't even need any movie channels.' "
So why build a business built on to-go containers of fries?
"I just love fries, and I would go any place if they had fries with some toppings on them," says Batiste, who used to go to his friend's burger restaurant in El Segundo and create his own fries toppings. "I'd say, look man, put some pastrami, Thousand Island, grilled onions and whatever other meat is available on there.
"The first fries I made, it was crazy," says Batiste. "I made some Thousand Island sauce, some shrimp, some bacon. I didn't have any parsley so I just chopped up some lettuce real thin to make it look pretty. And I put an over-easy egg on there. Yep."
Since starting Mr. Fries Man in that doughnut shop parking lot, Batiste has expanded the menu to include about 11 different kinds of fries, some covered in snow crab, others topped with onion rings. But he's always working on his daily specials, and his Instagram page consists of repeating tiles of fries covered in everything from shrimp tempura and sweet chile sauce with Sriracha to Philly cheesesteak fries, to fries topped with Filipino shrimp lumpia — even oysters.
And regardless of your fries order, Batiste hits them with a shake of dried parsley.
"To make it look pretty, you need some color," says Batiste, as he adds some parsley to an order of lemon garlic shrimp fries. He gives a little shimmy in his True Religion sweat pants as he tops the fries. "I learned that from the Food Network. People eat with their eyes."
Just as the lunch rush starts to pick up, guys in construction uniforms stand in line behind a couple of students and some government workers with badges around their necks. Then Batiste's father walks in the door for lunch. Batiste spots him from behind the counter and quickly rushes over to envelop him in a hug.
"I'm so proud, I can't tell enough people — but most people already know about him," says Batiste Sr. "Sometimes you got to follow your dreams, and he's got his mind set and he's following them."
Batiste has been Mr. Fries Man for a little more than a year now and even he can't believe where his fries have taken him. He's delivered fries to the comedian Gabriel Jesus Iglesias, known as Fluffy, and rapper the Game, while other celebrities who have tried his fries include Olympic medalist Carmelita Jeter, rapper Nipsey Hussle and NBA player Dorell Wright.
"It's crazy, some fries taking off this far?" says Batiste. "It's some fries. It's a potato. A damn potato. Yep."
14800 S. Western Ave., Ste 108, Gardena, (310) 648-4487, www.instagram.com/mr_fries_man.
ALSO:
The joy of meatloaf, that iconic comfort food
Grand Central Market favorite China Café (the won ton soup place) gets an upgrade
California's vineyards are coming back from the brink of disaster thanks to the winter rains
---
Get our L.A. Goes Out newsletter, with the week's best events, to help you explore and experience our city.
You may occasionally receive promotional content from the Los Angeles Times.