Mary Sue Milliken and Susan Feniger are the first women to win the Julia Child Award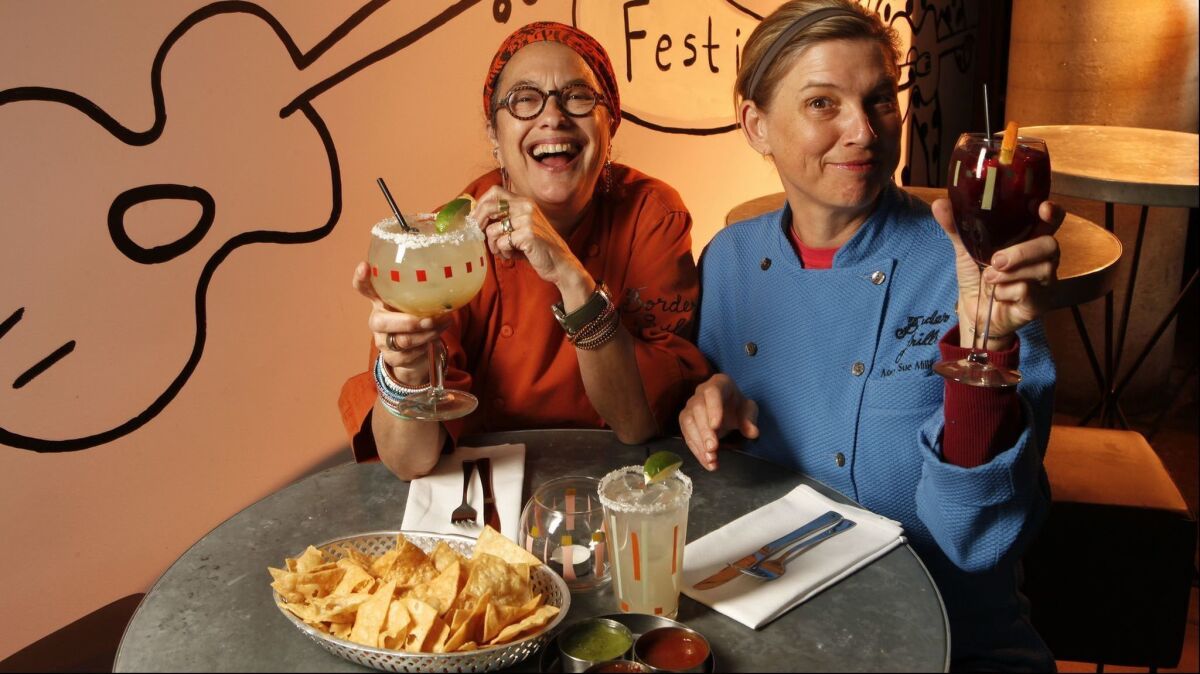 From craft beer in Hancock Park to burritos and margaritas in Las Vegas, here's what's happening in our food and drink world:
Cheers
Border Grill chef-owners Mary Sue Milliken and Susan Feniger will be the first women, and first duo, to receive the fourth annual Julia Child Award this fall. The award, given by the Julia Child Foundation, recognizes an individual (in this case a duo) who has influenced the way people in America eat, drink and cook. Previous winners include restaurateur Danny Meyer, chef Rick Bayless and chef Jacques Pépin.
For the record:
3:55 p.m. July 17, 2018An earlier version of this post said that Mike Minor, executive chef at Border Grill's Mandalay Bay location, has a food truck that combines Mexican food and Texas-style barbecue. He sold the truck.
"Julia was a huge influence on me in my career, and I remember feeling like she was such a professional and somebody I would love to emulate," Milliken recently told The Times. "I'm also blown away that it's the fourth time the award has been given and the first time given to women, and that means this foundation is looking at, so far, 25% of the awardees are female. Maybe we've reached a time where people are actually being a little more cognizant of how embedded the whole boys club is in the culinary world and how it needs to get shaken up."
Milliken and Feniger will receive the award at a gala at the National Museum of American History in Washington, D.C., on Nov. 1. They also will receive $50,000 to donate to the cause of their choosing. Milliken added that the Smithsonian's curator will collect some items from Milliken and Feniger's careers over the past 40 years, such as menus and photo journals, to add to the museum's archives. www.juliachildaward.com.
To the pub
The Artisanal Brewers Collective, the group behind Library Bar, Beelman's bar and restaurant and Bluebird Brasserie, has opened a new brewpub in Hancock Park called 6th & La Brea, located at the corner of 6th Street and La Brea Avenue. Head brewer Noah Regnery, who has worked at Pizza Port Brewing and has won awards at the Great American Beer Festival, will lead the brewing operations at the bar. Jihee Kim, who has cooked at Gary Danko in the Bay Area and Rustic Canyon, is helming the kitchen. She's preparing a menu of mochi gnocchi (chewy rice cakes with shiso and Thai basil pesto); KFC crispy, boneless whole chicken in a sweet chile glaze; and vegan mushroom dumplings. 6th & La Brea will have a California-focused wine and spirits list that highlights California distilleries. The 8,400-square-foot space includes a 168-seat dining room, a 25-seat private lounge and an 80-seat patio. 600 S. La Brea Ave, Los Angeles, (323) 998-8565, www.6thlabrea.com.
Heading south
Melissa Perello, the celebrated chef/co-owner of Frances and Octavia restaurants in San Francisco, plans to open a restaurant in Los Angeles. The to-be-named restaurant is scheduled to open at Row DTLA in spring 2019. Perello is a James Beard Foundation nominee, a Food & Wine magazine Best New Chef, and when she worked as executive at Fifth Floor, the restaurant received a Michelin star. Details on the new restaurant are slim, but you can expect a menu with a similar ethos to that of Frances and Octavia, with a focus on seasonal, sustainable ingredients. 777 Alameda St., Los Angeles, www.octavia-sf.com.
Viva Las Vegas
Feniger and Milliken have opened a new restaurant at Mandalay Bay Resort and Casino in Las Vegas. BBQ Mexicana is a quick-service restaurant across from the Border Grill location at the hotel. It specializes in house-smoked meats in burritos, bowls and salads. There will be mesquite smoked pulled pork, chicken, slow-smoked brisket and tofu. And if you've had just a little too much to drink the night before, BBQ Mexicana will be open for breakfast on select days, with breakfast burritos. The restaurant also serves margaritas, aguas frescas and because it's Vegas, beers to-go. Feniger and Milliken are working with chef Mike Minor, who is the executive chef at the Border Grill location at Mandalay Bay. Minor also had a food truck that combined Mexican food and Texas-style barbecue. 3950 S. Las Vegas Blvd., Las Vegas, www.BBQMexicana.com.
Time for brunch
Like the sound of an all-day brunch event? BrunchCon, the festival that celebrates all things brunch, is happening on Aug. 5 at the Reef in DTLA. The festivities will take place from 8 a.m. to 4 p.m. and include brunch from more than 40 restaurants. DK's Donuts, Beacon at Echo Park, Stella Barra and M Street Kitchen are some of the participating restaurants. There also will be an open bloody Mary bar, a bottomless mimosa bar, mimosa pong (like beer pong but with mimosas), corn hole and more. The event is open to adults 21 and older. Tickets start at $45 and are available for purchase online. 1933 S. Broadway St., Los Angeles, www.brunchcon.com.
Instagram: @Jenn_Harris_
---
Get our weekly Tasting Notes newsletter for reviews, news and more.
You may occasionally receive promotional content from the Los Angeles Times.