How to make the killer chicken cheeseburger from Curtis Stone and the NoMad food truck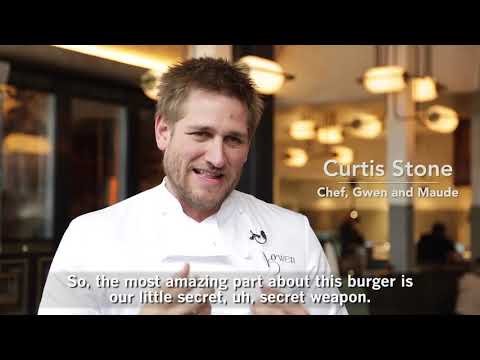 Chef Curtis Stone of Gwen and Maude will be making the Gwen chicken burger as part of a collaborative effort with the NoMad food truck during March. The collaboration with various chefs in L.A. will allow NoMad to showcase different burgers, be part
Think of the chef collaboration as the culinary equivalent of an "Avengers" movie. The latest high profile mix involves Curtis Stone, chef-owner of the Los Angeles restaurants Gwen and Maude; Ashley Abodeely, the chef on the NoMad truck; and the team behind that truck, Swiss-born chef Daniel Humm and business partner Will Guidara, who are also the guys behind the NoMad and Eleven Madison Park restaurants in New York City.
Since launching in L.A. in September, the truck has teamed up with chefs around the city to create special collaboration burgers, including Roy Choi (Pot, Kogi BBQ) and Jon Shook and Vinny Dotolo (Animal, Son of a Gun, etc.).
For Stone's burger, he used NoMad's ground chicken and truffle patty with Gwen's house-cured bacon, Swiss cheese, sauerkraut, watercress and a caraway mustard and buttermilk dressing. There's a lot going on here, including a total of three slices of cheese per burger and a tangy sauerkraut to help cut the richness.
"A Bavarian flavor profile was the inspiration behind the Gwen chicken burger," Stone said in an email. "We fermented the sauerkraut for five days, used lots of Swiss cheese, and added lemon myrtle, an indigenous spice to Australia, in our dry-cured smoked bacon. The caraway in the mustard adds a little freshness. The only thing missing is the pretzel."
The burger is available at the truck through the month of March, or you can make one at home, with the recipe below.
View the recipe in our California Cookbook »
NOMAD FOOD TRUCK COLLABORATION BURGER WITH CURTIS STONE
About 1 hour. Makes 4 burgers
CHICKEN PATTIES
1 pound ground chicken thighs
2¾ teaspoons black truffle pâté
½ teaspoon truffle oil
1 heaping tablespoon brioche bread crumbs
¼ ounce salt
In a bowl, knead together the chicken, truffle pâté and oil, bread crumbs and salt. Divide the mixture and form it into four patties. Set aside.
CARAWAY DRESSING WITH DIJON
1½ teaspoons caraway seeds
¼ cup plus 2 teaspoons creme fraiche, preferably from Kendall Farms
1½ tablespoons buttermilk
2 teaspoons lemon juice
About 1/3 cup Dijon mustard
Salt
1. In a dry skillet, toast the caraway seeds over medium heat, shaking or stirring frequently, until lightly browned and aromatic, about 3 minutes. Remove from heat. Grind the seeds to a powder using a spice grinder or mortar and pestle.
2. In a bowl, whisk together the caraway powder, creme fraiche, buttermilk, lemon juice, mustard and a pinch of salt, or to taste. This makes a scant ¾ cups dressing, which will keep, covered and refrigerated, up to 5 days.
NOMAD FOOD TRUCK COLLABORATION BURGER
4 chicken patties
Salt and pepper
12 slices cooked smoked bacon
1 1/3 cups drained sauerkraut
12 slices (4 ounces) Swiss cheese
4 potato buns
½ cup caraway dressing with dijon, more if desired
1 bunch watercress
1. Heat a grill or grill pan over medium-high heat until hot. Meanwhile, season each chicken patty lightly with salt and pepper on each side.
2. Lightly char the cooked bacon on the grill until warmed through. Remove and set aside.
3. Cook the patties until charred and cooked through, about 5 minutes on each side depending on the thickness of the burgers. Place a spoonful of sauerkraut on top of each patty, followed by 3 slices of cheese and 3 strips of bacon. Set aside so the heat from the burgers can begin to melt the cheese. Toast each half of each bun.
4. To assemble the burgers, spread 1 tablespoon of the dressing on each half of each bun, or more if desired. Place about ½ cup watercress on the base of each bun. Top the watercress with a prepared burger, then season with a twist of freshly ground pepper. Top with the remaining bun half. Serve immediately.
Each burger: Calories 657; Protein 46 grams; Carbohydrates 40 grams; Fiber 3 grams; Fat 32 grams; Saturated fat 13 grams; Cholesterol 171 mg; Sugar 6 grams; Sodium 2,388 mg
Note: Adapted from a recipe by chefs Daniel Humm and Curtis Stone.
Get our weekly Tasting Notes newsletter for reviews, news and more.
You may occasionally receive promotional content from the Los Angeles Times.