Food Truck Report: The chef of a Michelin-starred restaurant opened a food truck in Los Angeles
Ground chicken with truffles, a dollop of black truffle mayonnaise, tart frisée salad, pickled onions — and shards of crispy chicken skin. This is the basic burger on the NoMad food truck. A previous version included foie gras.
If you're familiar with chef Daniel Humm, the Swiss-born co-owner of the New York City restaurants Eleven Madison Park (which has three Michelin stars) and the NoMad, then you know to expect anything but the ordinary from his food truck, which has been roaming the streets of Los Angeles for a little more than a month now.
Yes, the chef behind one of the most lauded restaurants in NYC and Will Guidara (co-owner of the hospitality group Make It Nice, which owns and operates Eleven Madison Park, the NoMad, and the NoMad Bar), have a food truck. The truck just finished a stint at the Line Hotel in Koreatown, home to a few of Roy Choi's restaurants, and is currently making its way through Hollywood.
"The food truck is a great way to get to know the city and to get to know the chefs here," said Humm. "We want to really connect with this place before we open the NoMad Los Angeles. Because we don't want the NoMad to be a carbon copy of what we do in New York."
NoMad on wheels was created in preparation for NoMad Los Angeles, which is scheduled to open in the Giannini Place complex in downtown L.A. next fall. (The truck's pale blue color is an exact copy of the ceiling in the new restaurant.)
On the truck's menu is comfort food, only skewed a little fancy. Humm is working with different chefs on collaborations as he roams around the city. In Koreatown, Choi and the NoMad truck team created a chicken dumpling burger. The NoMad team is currently working with Jon Shook and Vinny Dotolo of Animal fame. The core NoMad truck menu includes the NoMad burger, a Humm dog, a fried fish sandwich, fries and a dessert called Milk & Honey.
The NoMad burger is Humm's riff on the NoMad's signature chicken for two dish, made with two patties. Why two? Because Humm and Guidara were inspired by the Double Double at In-N-Out. The Humm Dog is the chef's take on a bacon-wrapped hot dog. It's a Hebrew National beef hot dog wrapped in bacon, topped with a Gruyère cheese sauce, black truffle mayonnaise, celery relish and pickled mustard seed. (Both the burger and the hot dog, with all that truffle, are priced around $10.)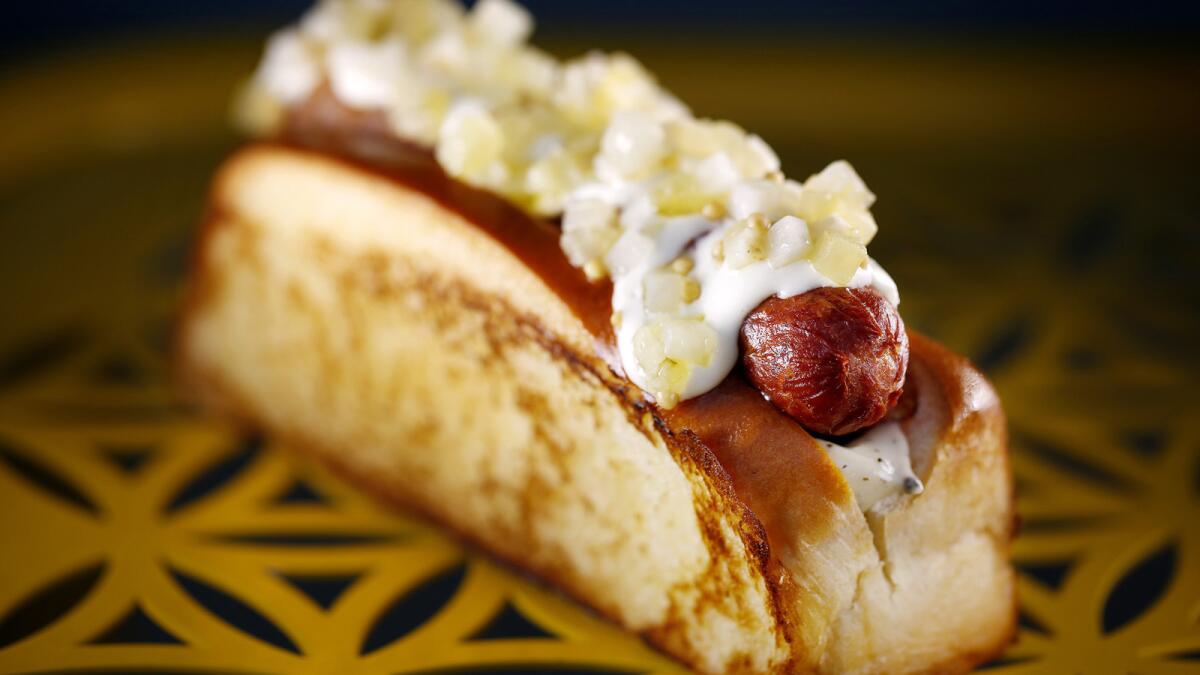 More of our L.A. food truck reports »
So, yes: burgers, hot dogs, fries and soft serve. Just remember who's cooking.
"The idea is a very casual format," said Guidara. "Just to give people a little taste of who we are and what we're going to be."
"Earlier in our careers, I don't think we would have had the confidence or maturity to do this," said Humm. "Ten years ago I'd have wanted to do a sea urchin cappuccino with cauliflower and crab at a tasting event. Today there are events where we are actually doing a hot dog or something to that effect, because I also know when I'm at one of those events, I know what I would want to eat."
The truck is also serving a few side dishes that change seasonally. A recent trip included a pickled cucumber salad with quinoa and avocado; and thin, crispy French fries with not a little rosemary and lemon.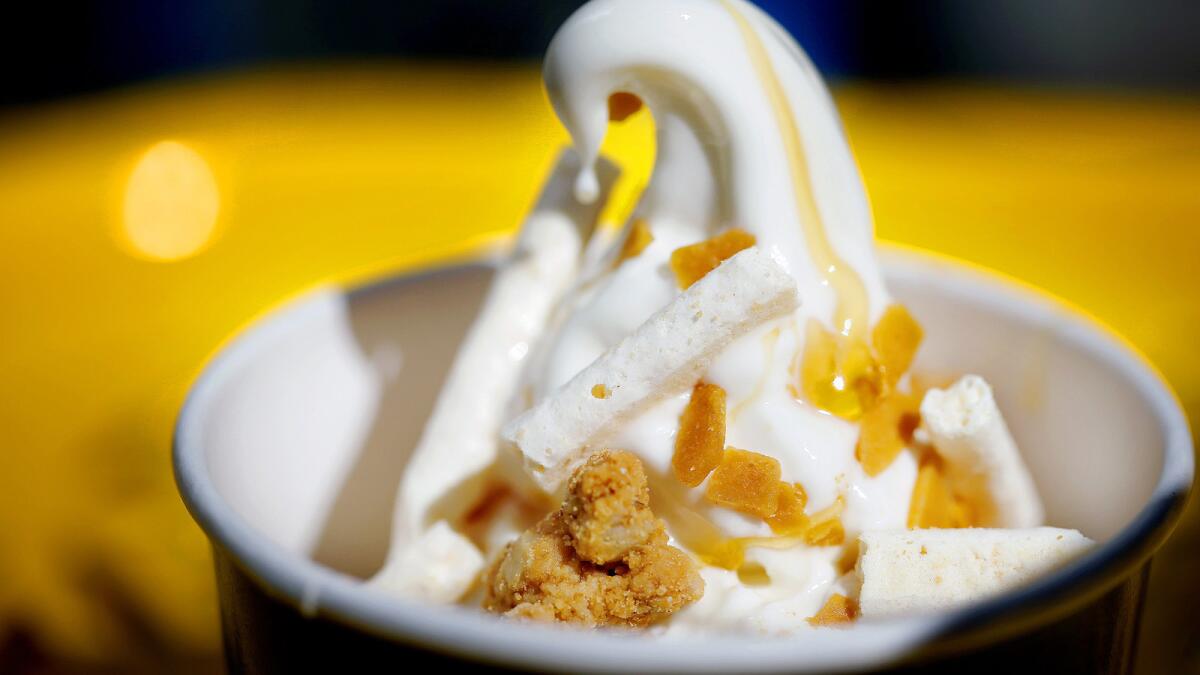 For dessert there's a version of a dish Humm grew up with called Milk & Honey. It's a swirl of vanilla soft serve topped with a drizzle of honey, sweet crispy bits that taste like the best-ever version of Honeycomb cereal, and little white cylinders of crunchified milk meringue. Told you it was fancy.
Once the NoMad L.A. opens next year, the plan is to close the truck, although Humm and Guidara promise versions of at least some of the truck items at the NoMad bar in L.A.
"We'll see if we can emotionally let go of it at that point," said Guidara.
To track down the truck before it rides off into the sunset next fall, visit the Nomad truck Instagram page for updated locations.
ALSO:
And now for some red wines to pair with fall's bountiful food
This chocolatier adds caramel, toffee and cannabis to her chocolates
This Sherman Oaks restaurant is inspired by the Hamptons, but with hookah and plenty of Nutella
Get our L.A. Goes Out newsletter, with the week's best events, to help you explore and experience our city.
You may occasionally receive promotional content from the Los Angeles Times.