She used to dodge police. Now she can make Puebla-style food and run a business while speaking up for other vendors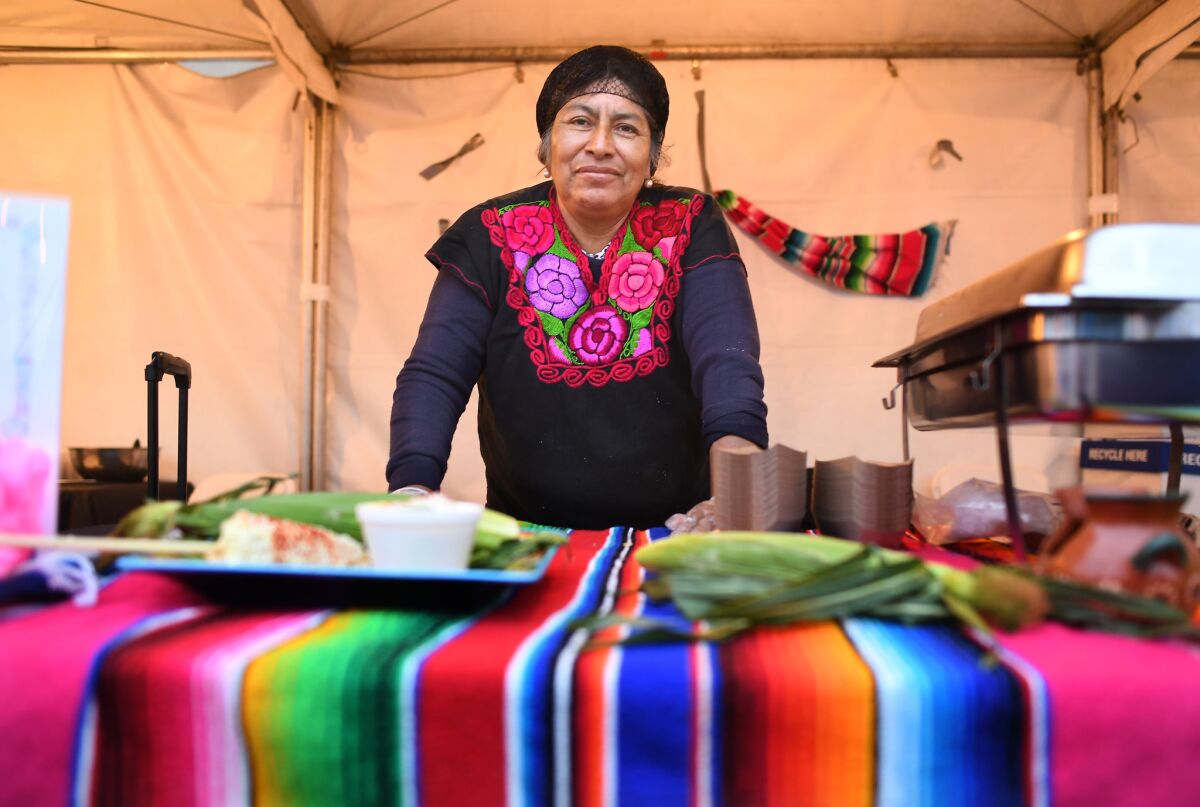 "Our work is just as dignified as a desk job. Los Angeles City Council members need to recognize this," Merced Sanchez told a group of USC undergraduates enrolled in a class on food justice in Latino neighborhoods in March.
The students were gathered at the community development organization LURN (the Leadership for Urban Renewal Network) to hear from Sanchez and other organizers about the many challenges sidewalk vendors have faced in Los Angeles, about their lengthy battle for legalization and about sidewalk vending as a form of entrepreneurship and a way to improve access to healthful food in low-income Latino communities.

For the record:
5:55 p.m. June 14, 2018An earlier version of this article said the L.A. City Council voted to legalize sidewalk vending on April 17. The vote to decriminalize sidewalk vending took place Feb. 15, 2017. The April 17 vote backed a revised set of proposed rules for vending.
Sanchez is an entrepreneur and sidewalk vendor in her late 50s from a small town in the Mexican state of Puebla. In her hometown, Sanchez worked as a secretary for a government agency. In 2002, she fled Mexico for safety reasons with her two teenage children, joining her husband, who was already living in Los Angeles.
Upon arriving in the U.S., she realized that she had few employment options available to her as a Spanish-speaking immigrant without a work permit.
At first, she worked in a shop sewing labels on hats, but earned so little that she left after a few months. Next, she sold prepared food in plastic containers to employees in downtown's Fashion District.
When the police would stop and tell her that sidewalk vending was illegal, she would tell them that she was bringing meals to family members, claiming that she couldn't possibly be selling food since she wasn't carrying disposable plates and forks. Eventually, they figured it out and wouldn't let her off the hook so easily.
Worn out by the police, Sanchez devised a new business idea. She began to sell costume jewelry downtown. She set up a small stand inside a store, paying the Korean owner $800 a month to rent a 10-foot long space. For three years, she ran her own successful small jewelry business, until one day she arrived to find that the store had burned to the ground — taking her inventory with it. Sanchez was utterly despondent and her health quickly declined.
A few months later, she discovered that her daughter was pregnant and that she was about to become a grandmother. This news gave her a reason to start over and she returned to her true love — preparing and serving traditional Mexican food.
She began to sell elotes — Mexican grilled corn on the cob, which is traditionally served with salt, chile sauce or powder, and rolled in Mexican crema and Cotija cheese — on the sidewalks of Los Angeles.
A fellow sidewalk vendor put her in touch with LURN; Two years ago, the organization gave her a loan of $2,500 to pay off over three years. Along with the loan, LURN taught her the skills to run her own small business: how to fill out forms to pay state and federal taxes, create a menu and design a business card. Most important, LURN instilled in her the idea that she is not a criminal and that she should stand up and defend her rights as a sidewalk vendor.
Sanchez learned to cook from her mother. During Lent, she helped her mother prepare non-meat dishes such as shrimp mole and shrimp cakes to sell at the town market. Sanchez delights in preparing dishes from her home state — mole poblano (a thick, dark sauce with chiles and chocolate), chicken tinga (shredded chicken in a tomato and chipotle sauce), along with more common street food — taquitos de papa (potato taquitos), elotes and agua fresca made with flavors such as pomegranate, cucumber, and lemon with chia. Over the years, Sanchez has sold these dishes on the sidewalks in Hollywood, Boyle Heights and downtown.
For the last eight years, Sanchez has also been one of the leaders of the movement to legalize sidewalk vending in Los Angeles. She has spoken eloquently at protests at City Hall, demanding respect and justice for all sidewalk vendors.
Last year, the Los Angeles City Council voted to decriminalize sidewalk vending, giving Sanchez and tens of thousands of other vendors much greater security and allowing them to enter the formal economy.
At El Coraloense, Jonathan Gold looks past the aguachiles' appearances and finds deliciousness »
Soon, they will receive licenses and inspections from the County Health Department, just like other food-related businesses. This will give Sanchez the freedom to prepare and sell food on Los Angeles' sidewalks, since she will not have to worry about running from the police or receiving a citation.
In the last few months, Sanchez has been invited to cater many events, including a recent one at La Plaza de Cultura y Artes downtown, where she served mole, chicken tinga and esquites (a popular snack of boiled and sautéed corn served with lime juice, salt, chile powder and mayonnaise).
She plans to expand her catering business in the coming months and, once the city issues permits, start selling food at the Mercado Olympic, a stretch of the Piñata District near Olympic Boulevard and Central Avenue, where more than 100 sidewalk vendors congregate each weekend to sell everything from chapulines (roasted grasshoppers) to Oaxacan cheese, baby clothing to electronics.
Portnoy is a professor at USC, where she teaches classes on food, culture and social justice issues in Latino Los Angeles. Her recent book is "Food, Health, and Culture in Latino Los Angeles."
Get our L.A. Goes Out newsletter, with the week's best events, to help you explore and experience our city.
You may occasionally receive promotional content from the Los Angeles Times.