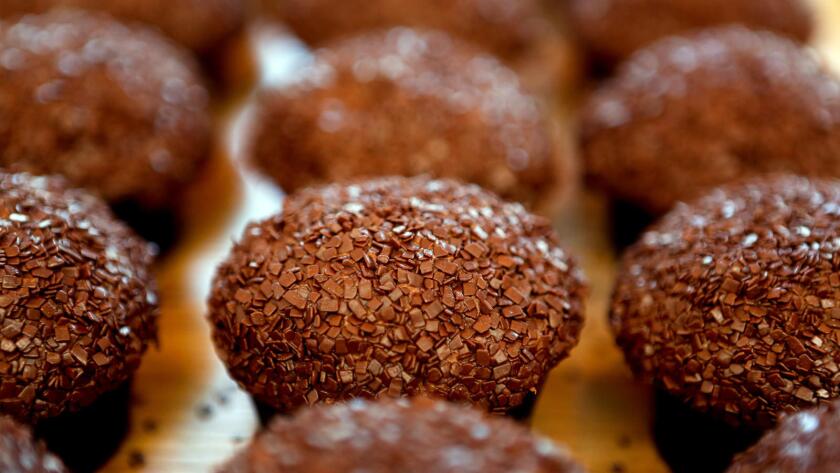 From a new food festival to chef Nancy Silverton making hot dogs, here's what's happening in the L.A. food and drink world:
#treatyourself: Treat Yourself L.A., a new food festival in Santa Monica, is calling itself a "millennial-focused" event. Will there be fried chicken, grilled cheese sandwiches, churros, ice cream, pizza and a dozen other foods that probably made it onto your New Year's resolution list of stuff to stay away from? Sure. Some of the confirmed vendors include Sprinkles cupcakes, Hot Star (known for fried chicken cutlets the size of your arm), the Kroft, Gus's World Famous Fried Chicken and Pie Hole. The event takes place March 17 at the Barker Hangar in Santa Monica from 11 a.m. to 4 p.m. Tickets go on sale Jan. 15 and include all-you-can-eat food samplings and drink tickets. General admission tickets are $75 and VIP tickets are $100. 3021 Airport Ave., Santa Monica, www.treatyourselfla.com
Farewell to a friendly face: Gary Canter, a member of the family that owns Canter's Deli in Fairfax, died last week at age 58. He was the grandson of Ben Canter, who — along with two brothers — opened the first Canter's in Boyle Heights in 1931. The 24-hour deli, known for its enormous sandwiches and celebrity clientele, moved to its current location on Fairfax Avenue in the 1950s. According to Gary's cousin Terri Bloomgarden, who co-owns Canter's, Gary started working at the deli in his 20s. "He had this gregarious personality that could just engage people in anything," Bloomgarden said. "He was always there meeting and greeting customers and making friends." Bloomgarden added that it was Gary's vision to bring the Canter's name to Las Vegas, where the deli now has two locations. "He was always looking outside with different ideas for the family." 419 N. Fairfax Ave., Los Angeles, (323) 651-2030, www.cantersdeli.com
Firing up: Dave's Hot Chicken, the late-night hot chicken pop-up that started in an East Hollywood parking lot in May, has opened a permanent location. Owners David Kopushyan, Arman Oganesyan and Tommy Rubenyan opened their restaurant on Western Avenue, just south of Santa Monica Boulevard, on Jan. 1. On the menu are the fiery Nashville-style hot chicken tenders the guys are known for. 970 N. Western Ave., Los Angeles.
Flyaway eats: Travelers dining in Delta's Terminal 3 at LAX have a new option for a pre-flight meal. Ashland Hill, the restaurant and beer garden on Main Street in Santa Monica, has opened a location in the terminal. The menu includes a breakfast burrito; the restaurant's signature Ashland Hill burger (made with Niman Ranch beef, caramelized onion and cheddar); and crispy Brussels sprouts. The restaurant also will serve a selection of local beer, wine and cocktails. 1 World Way, Los Angeles, www.ashlandhill.com
Still hungry? Nancy Silverton may be best known for her Italian-influenced dishes at the Mozzaplex. (Or for the way she revolutionized the bread scene in Los Angeles when she opened La Brea Bakery.) But now Silverton is turning her attention to hot dogs. She's teaming with the Koreatown restaurant Sumo Dog to make a special dog that includes an American Wagyu beef dog, Calabrian chile mayo, pepperoncini and red onion salad, caciocavallo cheese and oregano. The Silverton dog will be available at Sumo Dogs for a limited time, Jan. 10-22, with proceeds from sales going to the midnight basketball program at Nickerson Gardens Recreation Center in Watts. 516 S. Western Ave., Los Angeles, (213) 375-7755, www.eatsumodog.com
Let Goldbot help you find the best places to eat in L.A. »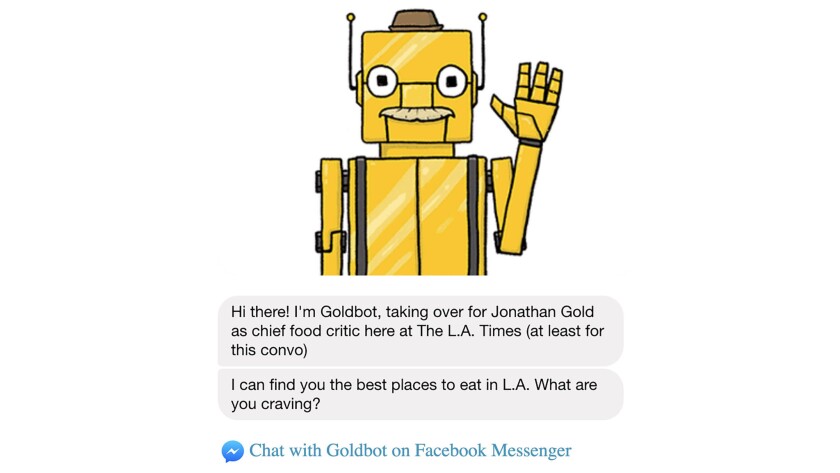 ALSO:
Jonathan Gold's 10 best dishes of 2017
Jonathan Gold's hangover helper: 9 dishes to help your morning after
Mac 'n' cheese, glazed short ribs and more great dinner recipes for a chilly winter evening
---