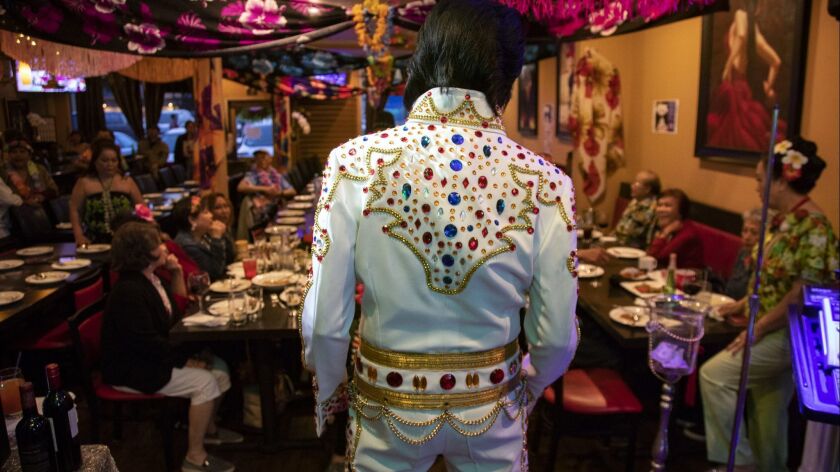 Manuel Toi GB — yes, that's his actual name — sat calmly at a table at the Siri Thai Cuisine restaurant in Burbank on a recent Saturday and waited his turn to take the small stage at the back of the dining room. The restaurant, which serves both northern and southern Thai dishes, is in a small shopping center off Burbank Boulevard, next to a dog groomer and an Edible Arrangements. It's one of many Thai restaurants in Los Angeles that features a small stage for entertainment — some Elvis or Britney Spears covers while you eat your green curry.
On this particular Saturday, the narrow restaurant was packed with about 100 diners, all there to eat dinner, celebrate the restaurant's three-year anniversary and listen to Toi GB, one of Thailand's most popular Elvis impersonators, sing.
At 5-foot-2, Toi GB is a thin but sturdy man who may or may not be in his 70s. Like most performers, he prefers to keep his age a secret. He favors faded denim tuxedos. He wears his jet-black hair with deep, bushy sideburns. Gem-studded rings fit for a fistfight all but engulf his fingers. And even when he's not in his Elvis garb, he has a period look about him; it's always as if he's just walked off the Opry stage in 1954.
"And now, Elvis Presley," bellowed a woman from the stage, her silhouette illuminated by rotating red, orange and yellow lights.
Energized by a Thai iced tea, Toi GB slipped out of a maroon-colored robe to reveal a white jumpsuit covered in red, blue and yellow gemstones that snaked around his collar, chest and down both legs. Elvis' version of "C.C. Rider" started to play out of a nearby laptop and Toi GB sparkled as he sauntered to the stage, nodding his head at the diners around him. Between bites of fish cakes and noodles, they appreciatively turned their heads in his direction. Toi GB took the microphone, started to sing in a familiar growled whisper, and the room erupted in cheers.
Toi GB, known by his fans in Thailand and Los Angeles as Thai Elvis, has made a career out of impersonating the late singer. He traveled about 8,261 miles from Thailand to do a series of what he and his manager Rungsit Kongchan call "mini concerts" at Thai restaurants around Los Angeles, including the performance at Siri Thai. But Toi GB is not the Thai Elvis you might be thinking of.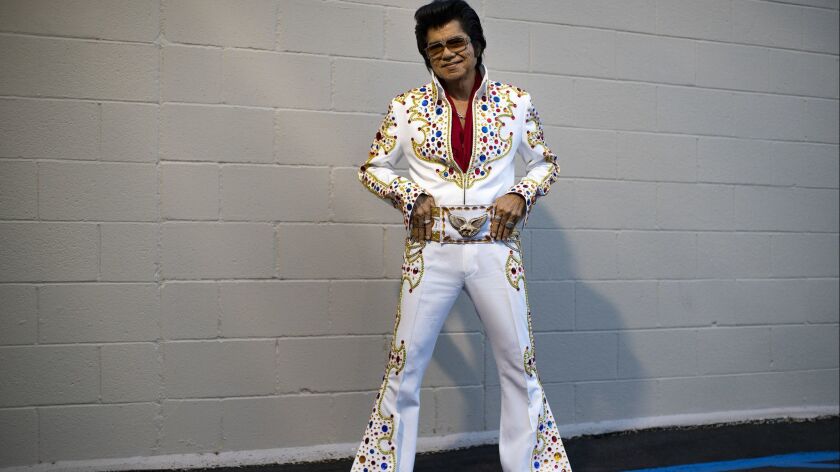 The concept of a Thai Elvis is nothing new for Angelenos. Elvis has been and continues to be a popular figure in the Thai community in Los Angeles and abroad. Early visitors to what is now Thai Town, a 2.61-square-mile stretch of East Hollywood between Western and Hyperion avenues, and foodies who have researched any Thai Town restaurant list from the 2000s, have heard of Thai Elvis. Until seven years ago, he performed most Friday and Saturday nights at Palms Thai in Hollywood, a restaurant people visited as much to see Thai Elvis as they did for the deep-fried trout with mango sauce. Only that Thai Elvis' name is Kavee "Kevin" Thongpricha.
Toi GB is not Thongpricha. But when Toi GB took the stage as Thai Elvis at a recent performance at the Line Hotel in Koreatown, many in the audience were confused. "I thought he was dead." "Didn't he have a stroke?" "I heard he moved back to Thailand."
Turns out, there's more than one Thai Elvis — there are dozens.
"Thai people really like Elvis," said Surapol Thaichareon, one of the many admirers who came to watch Toi GB at Siri Thai. He's known the performer since he was in a band in Bangkok 50 years ago. "During the Vietnam War, the American soldiers would come to Thailand on vacation. One of the streets in Thailand was full of clubs and restaurants. And they all played Elvis songs because it was good for business."
That tradition continues today, both in Los Angeles and in Thailand, and it's not uncommon to see a Thai Elvis or other performer sing during your dinner.
According to Toi GB's manager Kongchan, who is also a friend of Thongpricha, the Palms Thai Elvis moved back to Thailand about seven years ago, motivated by a deteriorating voice and senior citizen housing in Chiang Mai. He is very much alive.
Toi GB is another Thai Elvis, one with deep ties to the Los Angeles restaurant community, and the Elvis who is currently touring the Los Angeles Thai restaurant circuit.
"Ever since I was a kid I liked Elvis," said Toi GB, seated at a table at Jitlada in Hollywood the afternoon before his Saturday night concert. Sarintip "Jazz" Singsanong, owner of Jitlada, the Thai Town restaurant credited with bringing "real" Thai food and spice to Los Angeles, is one of the many restaurant owners the singer has become friends with during his time performing at restaurants around Los Angeles. Toi GB, who grew up in Bangkok, is one of 11 siblings; seduced by Elvis' voice and charisma, Toi GB fell in love with Elvis while listening to his older brothers' records as a teenager. "I thought it sounded nice, and I thought he [Elvis] has got something that I want to be."
He moved to Los Angeles in 1974. During the day he worked as a parking lot attendant in Beverly Hills. In the evenings, he played in a band. of He performed at the Troubadour and at various Thai restaurants around Los Angeles and the San Fernando Valley.
"I met Fleetwood Mac at my parking lot," said Toi GB. (He claims to have driven a Stutz previously owned by Elvis Presley.) He saved up some money and ended up buying a Thai newspaper called TV Paradise. And that's how, in 1982, he crossed paths with his late idol's wife, Priscilla Presley.
"The director of her movie ["Love Is Forever"] made a party in Bel-Air and invited me," said Toi GB. "She [Priscilla] told me 'nice snake shoes' and she knew I was from Thailand. At that time I wasn't an impersonator yet, but I thought someday if I want to be an Elvis impersonator, I must have something, because no Thai people got close to Elvis' family like me. I had a connection."
Then at some point, he found himself in the Los Angeles restaurant business as one of the first owners of Ruen Pair, the Thai Town staple on Hollywood Boulevard.
"My parents were both chefs," said Toi GB. "They would always cook at someone's house or in the mosque in Thailand for the poor people. I like to cook a lot of things too."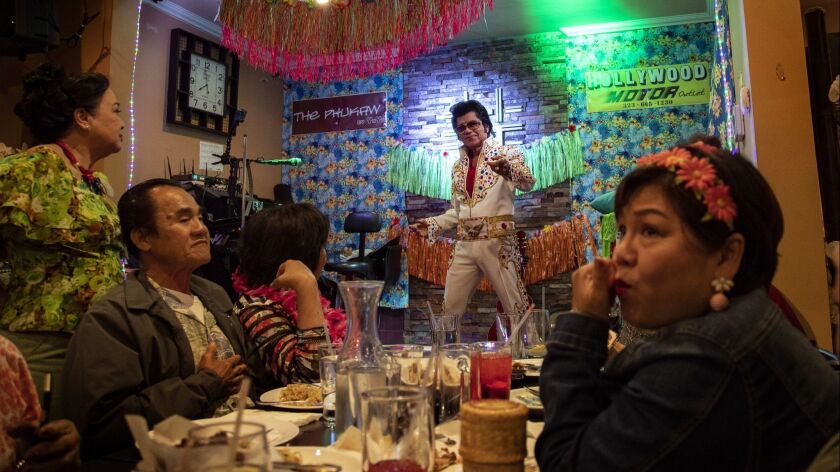 But after becoming a newspaper editor and a restaurant owner, a homesick Toi GB decided to move back to Thailand in 1990. He needed work and decided to turn his love for Elvis into a career.
"I learned from videos of Elvis all the details, how to act, how to move," said Toi GB. He commissioned a tailor to make a plain white jumpsuit, printed out a picture of one of Elvis' costumes, and proceeded to glue gems onto the suit one by one. He's made about 15 jumpsuits for himself, and they each take about a month to finish.
With his jumpsuits appropriately bedazzled, song lyrics memorized and his shoulder shrugs and elbow pops perfected, Toi GB started booking gigs at restaurants and clubs all over Patpong, an entertainment district in Bangkok.
"I was bringing in more customers," said Toi GB, who added he was especially popular at events on Aug. 16, the anniversary of Elvis' death. "I did a lot of concerts there and they called me Elvis Patpong."
After playing at every major club and restaurant in Patpong, Toi GB got a job as an Elvis impersonator on the Chao Phraya river cruise in Thailand, where he's been singing "Jailhouse Rock" and "Love me Tender" to tourists for the last seven years.
Toi GB returned to Los Angeles last year, after 15 years performing in Thailand, for the series of mini concerts at Thai restaurants in L.A., Montebello, San Diego and City of Industry. And now he's back, singing at Thai restaurants around town for a little more than a month.
"I have confidence," said Toi GB. "There are a lot of Thai Elvis impersonators, but most of them, their English is no good. I lived here for a long time and my English is better."
"I've seen him so many times and I'm such a fan," said 73-year-old Nitaya Nontabut, who came to Siri Thai to see Toi GB. "I love the way he dances like Bruno Mars. I love the way he shakes it."
By the time Toi GB neared the end of a full set that included "The Wonder of You," "Return to Sender" and "Hound Dog," the Siri Thai diners were on their feet, dancing in a cluster near the stage.
"Thank you," said Toi GB in his best Elvis voice. Out of breath, his chest heaved as he turned back to give the applauding crowd one last look before leaving the stage. "Thank you very much."
Elvis is in the building
Manuel Toi GB a.k.a. Thai Elvis will be performing at the Arcadia Recreation Center on June 9, at Im Aroi restaurant in Montebello on June 16 and at Siri Thai in Burbank on June 23. For more information on Thai Elvis, call (562) 896-3003 or visit www.rspetv.com.
Instagram: @Jenn_Harris_
---