République's new wine director is now one of the most influential Latina sommeliers in the country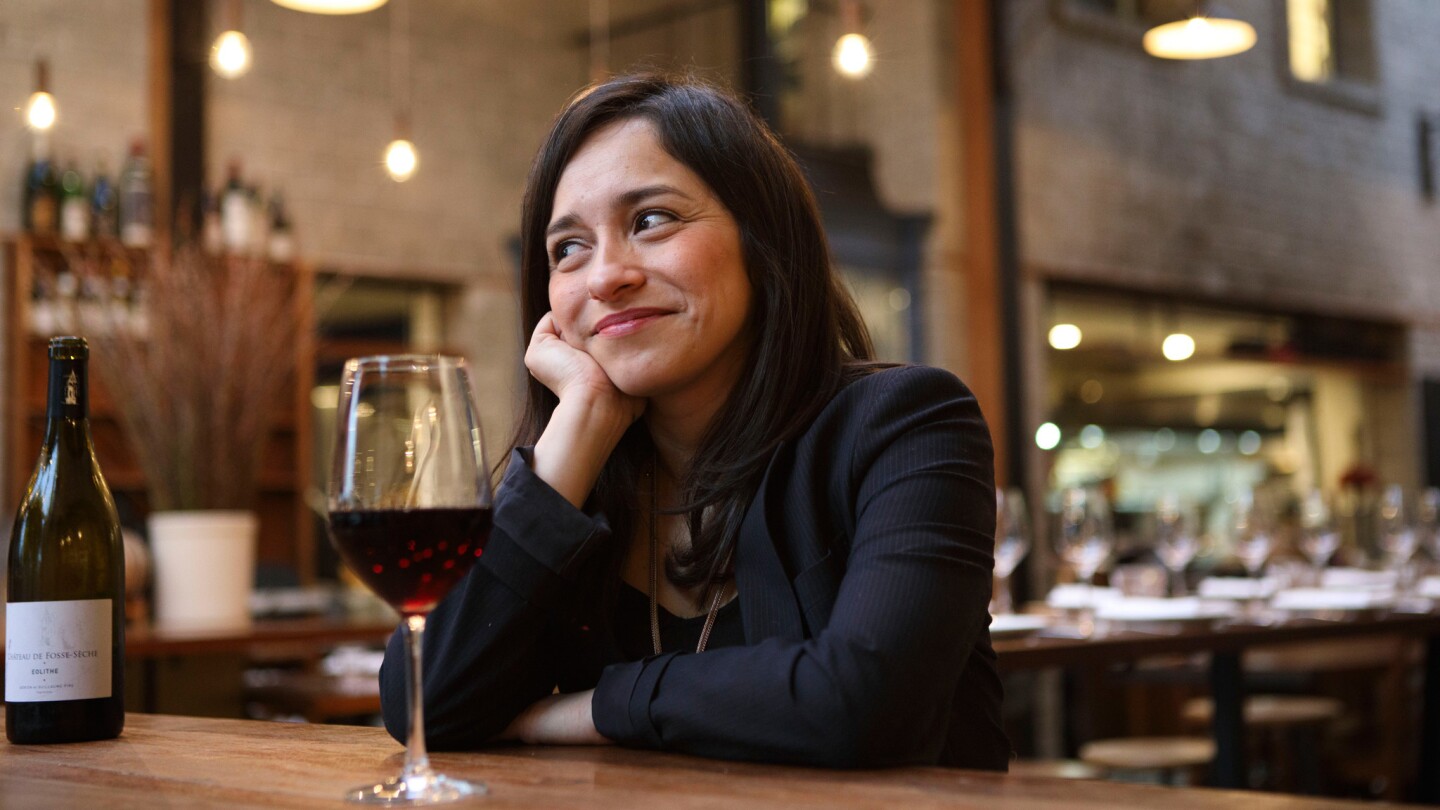 Sommelier Maria Garcia sits for a portrait with a glass of wine at Republique restaurant.
(Patrick T. Fallon / For The Los Angeles Times)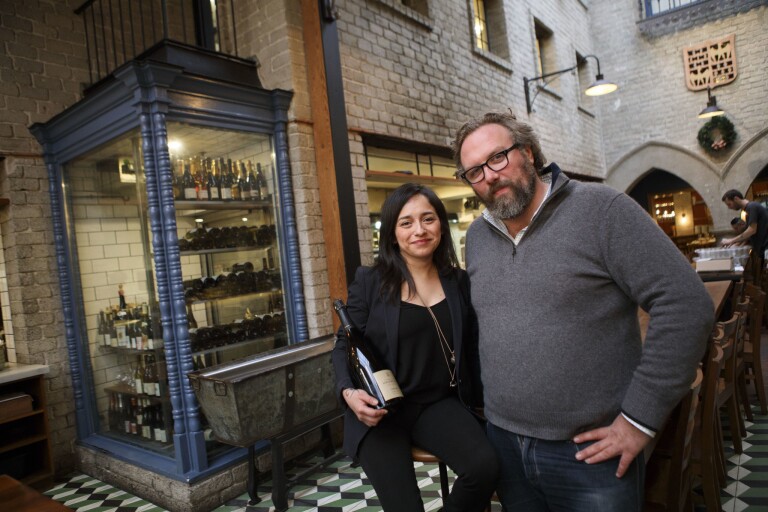 Sommeliers Maria Garcia and Taylor Parsons from Republique restaurant are seen in December. Parsons left the restaurant in January, and now Garcia oversees the wine program.
(Patrick T. Fallon / For The Times)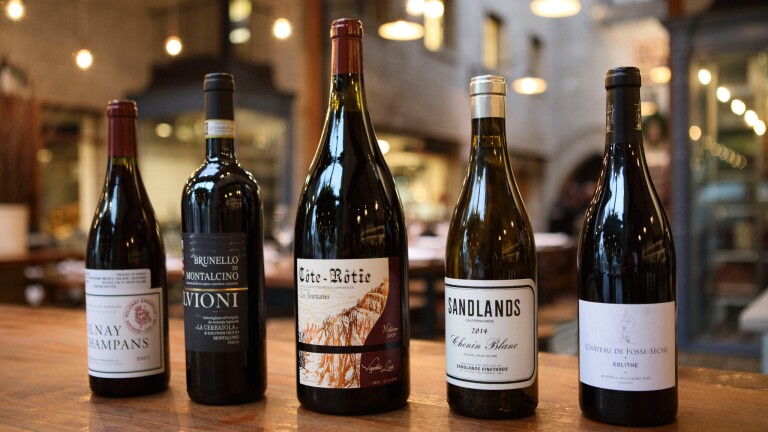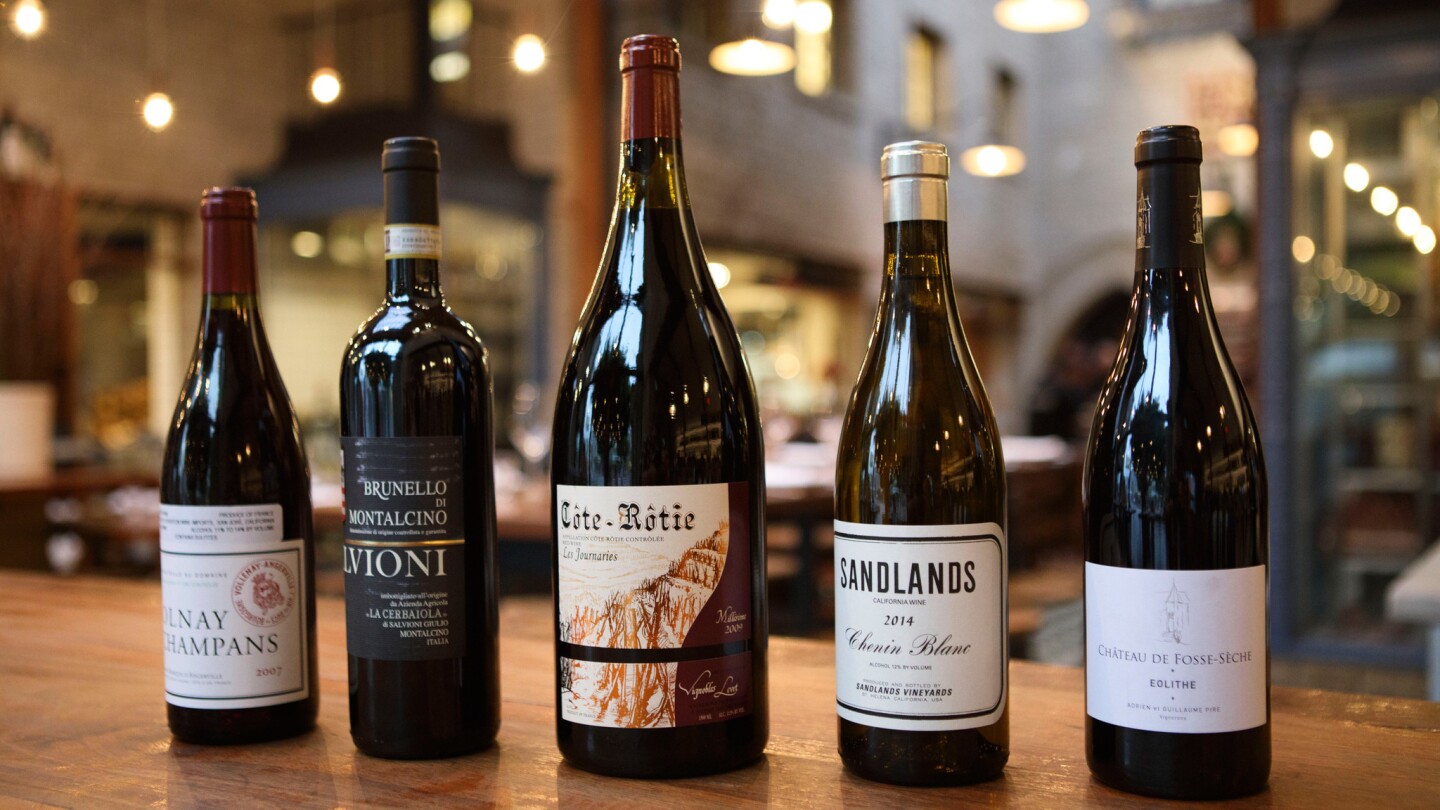 From left: 2007 Domaine Marquis d'Angerville Volnay Champans, 2008 Salvioni Cerbaiola Brunello di Montalcino from Italy, 2009 Vignobles Levet Co™te-Ro™tie Les Journaries wine from France, Sandlands 2014 Chenin Blanc California and 2013 Cha‰teau Fosse-Seche Saumur "Eolithe."
(Patrick T. Fallon/ For The Los Angeles Times )
An employee prepares food as bottles of wine stand on shelves at Republique restaurant.
(Patrick T. Fallon/ For The Los Angeles Times )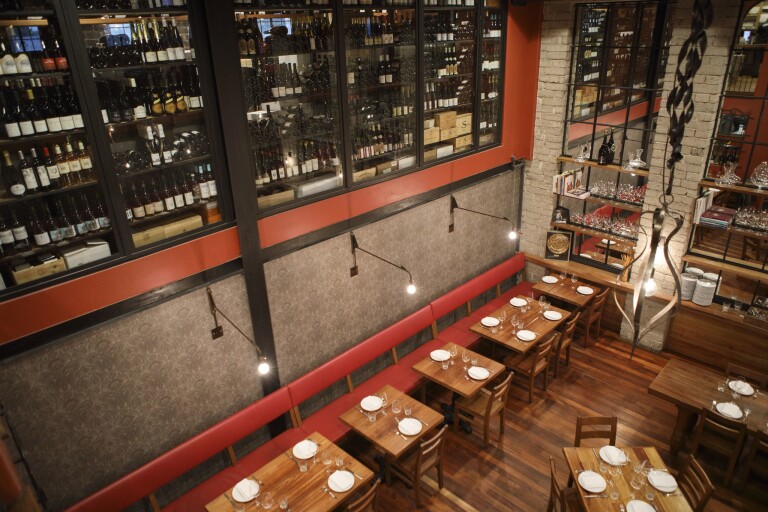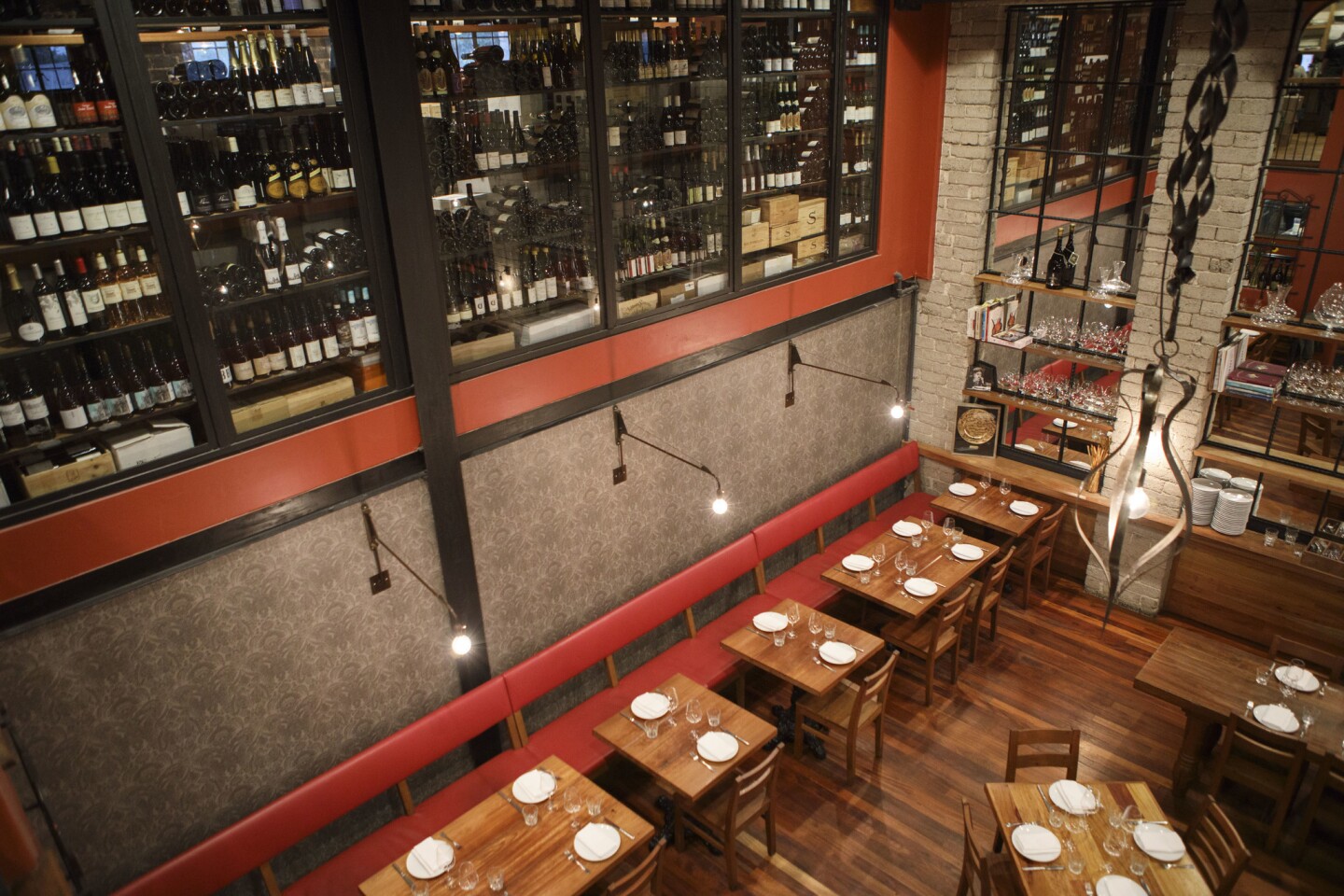 Bottles of wine rest in the cellar above tables at Republique restaurant.
(Patrick T. Fallon / For The Times)
On the second day of January, Taylor Parsons, chief author of one of the most dynamic wine lists in Los Angeles, left his position at République — that day, by his calculation, represented his 1,000th evening menu at the celebrated Hancock Park bistro. He plans to spend the next year developing a restaurant project he can call his own, consulting, and helping his wife Briana Valdez expand her own business, the Loz Feliz Tex-Mex joint HomeState.
He left the wine program in the hands of 33-year-old Maria Garcia, who instantly becomes one of the most important wine directors in the city, and one of the most influential Latina sommeliers in the country.
Garcia is an L.A. native raised in Whittier. She was set on taking her history and political science degrees from UCLA into a career in education — in fact, she was teaching at a high school in Crenshaw when her interest in wine and cocktail culture drew her back toward the culinary arts. Her wine career, then, has been short, but highly pedigreed. After dabbling in retail and wine-slinging as a street rep for a broker, she landed a job at Spago, where for three and a half years she managed the cellars and worked the floor for Chris Miller, M.S. — as did Parsons, for one year, where he became well-acquainted with Garcia's skills and work ethic.
At Spago, Garcia became a kind of unofficial enforcer for the sorts of service standards the restaurant needed to elevate its game toward the Wine Spectator's Grand Award, a kind of Oscar nod for restaurant wine programs. Garcia beefed up staff training, service accouterments, storage protocols and monitored countless other minuscule details which helped to bring the entire program to another echelon, resulting in a half-dozen Grand Awards since 2010.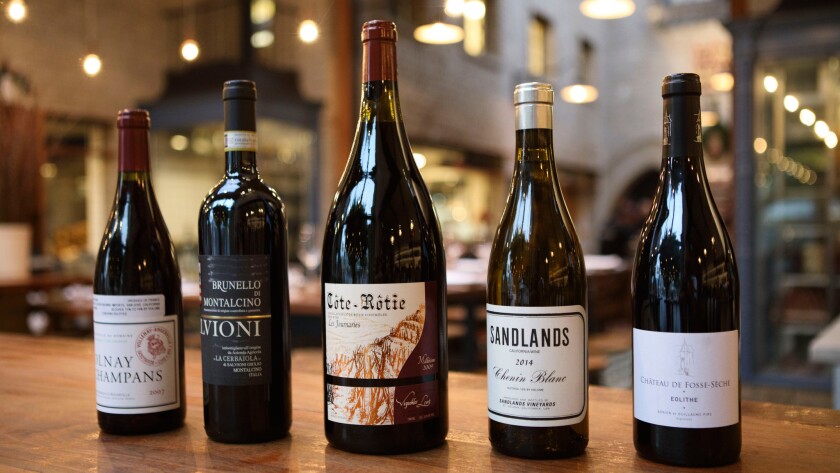 Since joining Parsons at République nearly three years ago, Garcia has retained that role, managing the cellar, overseeing service standards and staff training, such that the wine program runs at an unusual level of efficiency and polish, even as it remains one of the most idiosyncratic in the city, if not the country.
Why idiosyncratic? Parsons and Garcia have, in effect, created a wine list that's more conceptual than fixed. It's a nod to the particular demands of Walter Manzke, a chef given not only to daily changing menus, but who is so predisposed to improvisation that he thinks nothing of going four courses deep on the fly for a four top, off-menu, laying waste to the walk-in to pull together something special and singular.
To match up with their chef's itinerant inclinations, Parsons and Garcia have fashioned a wine program that's more ephemeral than literal. The physical wine list, the one presented at table, is a single page of about 75 wines. But this is just the tip of the iceberg; the rest of the wine selections loom in the cellar, more than 2,000 strong, off-list, which Garcia and her staff draw from depending on the menu, and on the guest and the timbre of engagement they're looking for, and if needed, draw from the hidden trove stashed away.
For the moment, Garcia is keen on preserving this moving target of a wine list, as she settles into the driver's seat. While she ponders introducing a reserve list, it's the mini-list that puts everything in motion.
"The page opens the dialogue," explains Garcia. "It's just a conversation starter." But the additional latitude of the "off list" list gives Garcia, her staff and her customers a much broader horizon. "Guests come here looking for new wines now," she says, "not something they can find anywhere. They're here to get turned on to something different."
Wine Director: Maria Garcia
Floor sommelier(s): Alexander Goldfisher
Number of wines on the list: 75ish
Number of wines "off" the list: 2,000ish
% White/red: 40%/60%
Least expensive bottle: $36
Most expensive bottle: $4,500
Median bottle price: $120
% Domestic/Imported: 20%/80%
Number of wines by the glass: 12-15 (including fortified/sweet)
Particular strength: France: Burgundy, Champagne, Loire and Rhône Valleys. Italy: Piedmont, Tuscany. The "New California."
République current staff go-to wine:
Cavallotto 2008 Barolo 'Bricco Boschis'
"We ripped through our allocation of this Nebbiolo," République wine director Maria Garcia says, "in part because we met the winemaker a few months back. Many of the servers have tasted a few of his vintages and recognized that it was a special list addition. Plus, a lot of guests were looking for something with a little age that's reasonably priced to celebrate the season, and the Cavallotto was in this category.
Your current obsession:
Loire producers Thibaud Boudignon, from Anjou, and Château de Brézé, from Saumur
"These are two of my favorite producers this year. They possess many of the qualities we look for in producers. They make low intervention, small production wines of exceptional quality. They're beautiful, textural, mineral wines, appealing to the Burgundy lover in me; plus I can introduce these wines to guests without them breaking the bank."
Your most exciting wine by the glass:
Jean & Sebastien Dauvissat 2008 1er Cru "Vaillons" Chablis
"This is an older Chardonnay from Chablis, in Burgundy, from a special premier cru vineyard. To be able to offer premier cru Chablis with a little bit of bottle age by the glass is something special. The guest can experience what we mean when we speak about development, without having to commit to an entire bottle."
If you could change L.A. wine tastes just for one day, what would you tell folks to do:
"Trust your sommelier. Go to dinner, tell them what you like, and take a risk. Let them guide you to something new, even if it's in the wheelhouse of the types of wines you already like. If you trust your sommelier, today might be the day you fall in love with a new wine."
---
Get our weekly Tasting Notes newsletter for reviews, news and more.
You may occasionally receive promotional content from the Los Angeles Times.