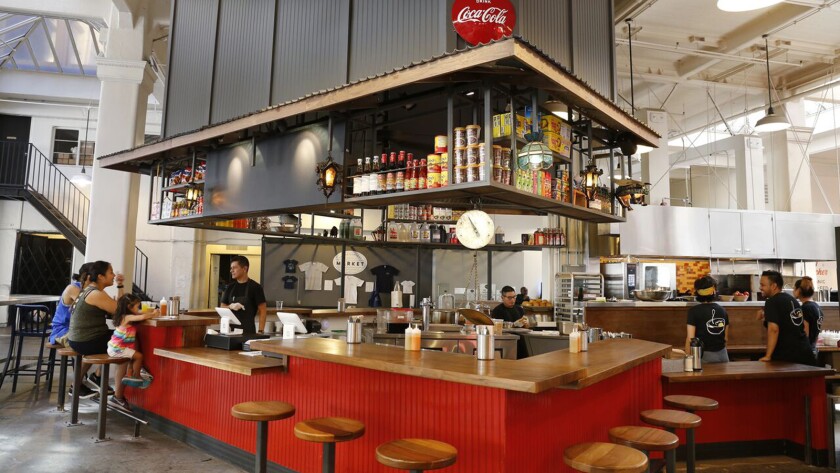 From excellent Filipino rice bowls to ice cream in an alley, here's what's happening in the L.A. food and drink world.
Bowled over: Like the sound of garlic fried rice topped with bits of crisp pork belly, a fried egg and pickled chiles? Chef Margarita Manzke is making Filipino rice bowls and halo halo for dessert at the new Sari Sari Store at Grand Central Market. She and husband and business partner Walter Manzke (they are also the duo behind Republique) are making food sourced from Margarita's Filipino heritage, in a stall just across the walkway from China Cafe. What's on the menu: adobo, rice porridge and lechon manok chicken, along with fresh calamansi and passion fruit sodas. 317 S. Broadway, Los Angeles, (323) 320-4020, sarisaristorela.com.
We all scream: Smorgasburg, the Sunday market at Row DTLA, has launched a new area called Ice Cream Alley. Each Sunday, the market will feature a rotating crew of ice cream pop-up vendors, including Jeni's Splendid Ice Cream, Nancy Silverton's Nancy's Fancy, Salt & Straw, Sweet Rose Creamery and the Tidbit Truck. Some of Smorgasburg's regular vendors are also participating, including Wanderlust Creamery and Donut Friend (making vegan doughnut ice cream sandwiches). The Ice Cream Alley will happen every Sunday through Labor Day weekend, from 10 a.m. to 4 p.m. 777 S. Alameda St., Los Angeles, (718) 928-6603, la.smorgasburg.com.
So wild: Matthew Hechter and Christopher Brandon, the owners of Verlaine restaurant on Beverly Boulevard, will open Wild Beast, a new lounge, inside the restaurant on Wednesday. The menu will rotate nightly and feature Baja street food from Verlaine chef Diego Hernandez. John Neumueller (formerly of Tasting Kitchen and Scopa Italian Roots) is behind the beverage program. The space, accessible by a black door just off the entrance to Verlaine, will be open Wednesday through Sunday evenings and feature small plates, cocktails, music and art. 8715 Beverly Blvd., West Hollywood, (424) 288 4621, www.verlaine.la.
Crab fest: The Hungry Cat in Hollywood is hosting its 13th annual crab fest on July 30. Chef David Lentz's seafood restaurant is offering a $65 prix-fixe menu that includes Maryland crab soup; fried soft shell crab with heirloom tomatoes and grilled avocado; steamed blue crabs and grilled corn; and buttermilk panna cotta with summer berries for dessert. Expect plenty of drink specials as well. The festivities will take place from noon to 8 p.m. 1535 N. Vine St., Hollywood, (323) 462 2155, www.thehungrycat.com/hollywood
Drink up: Badmaash, the downtown L.A. Indian restaurant by chef Pawan Mahendro and his sons Nakul and Arjun, has launched a new wine program. Jesse Brawner, formerly of Bestia and Shibumi, has curated a list of wines meant to be paired with the restaurant's butter chicken samosas, Punjabi fish fry and beef short ribs. Some of the new selections include the Populis Sauvignon Blanc from Mendocino County and the "Sans" VD.C. ZInfandel from San Luis Obispo. Brawner is also making a spritzer with Chinato Americano. 108 W. 2nd St. #104, Los Angeles, (213) 221-7466, www.badmaashla.com.
Still hungry? BäcoShop, Josef Centeno's Culver City restaurant, is now offering frosé, a blended rose drink, and evening-only Family Packs of bäcos, sides and cookies. Shake Shack is launching a Hot Chick'n sandwich Aug. 1. Beefsteak, Marcel Vigneron's Melrose Avenue restaurant, has launched a daily happy hour from 5 to 7 p.m. Delicious Little Tokyo, a three-day culinary festival featuring workshops, culinary demos and food tours, returns to Little Tokyo in downtown L.A. Friday through Sunday. Truxton's American Bistro is now open in Torrance at the base of the Palos Verdes Peninsula. Poke Me, a build-your-own poke bowl restaurant, has opened a location in Palos Verdes. All-you-can-eat roasted pig is $15 at the Standing Room in Hermosa Beach every Tuesday this summer.