Review: All'Acqua has bright Italian flavors with a lively atmosphere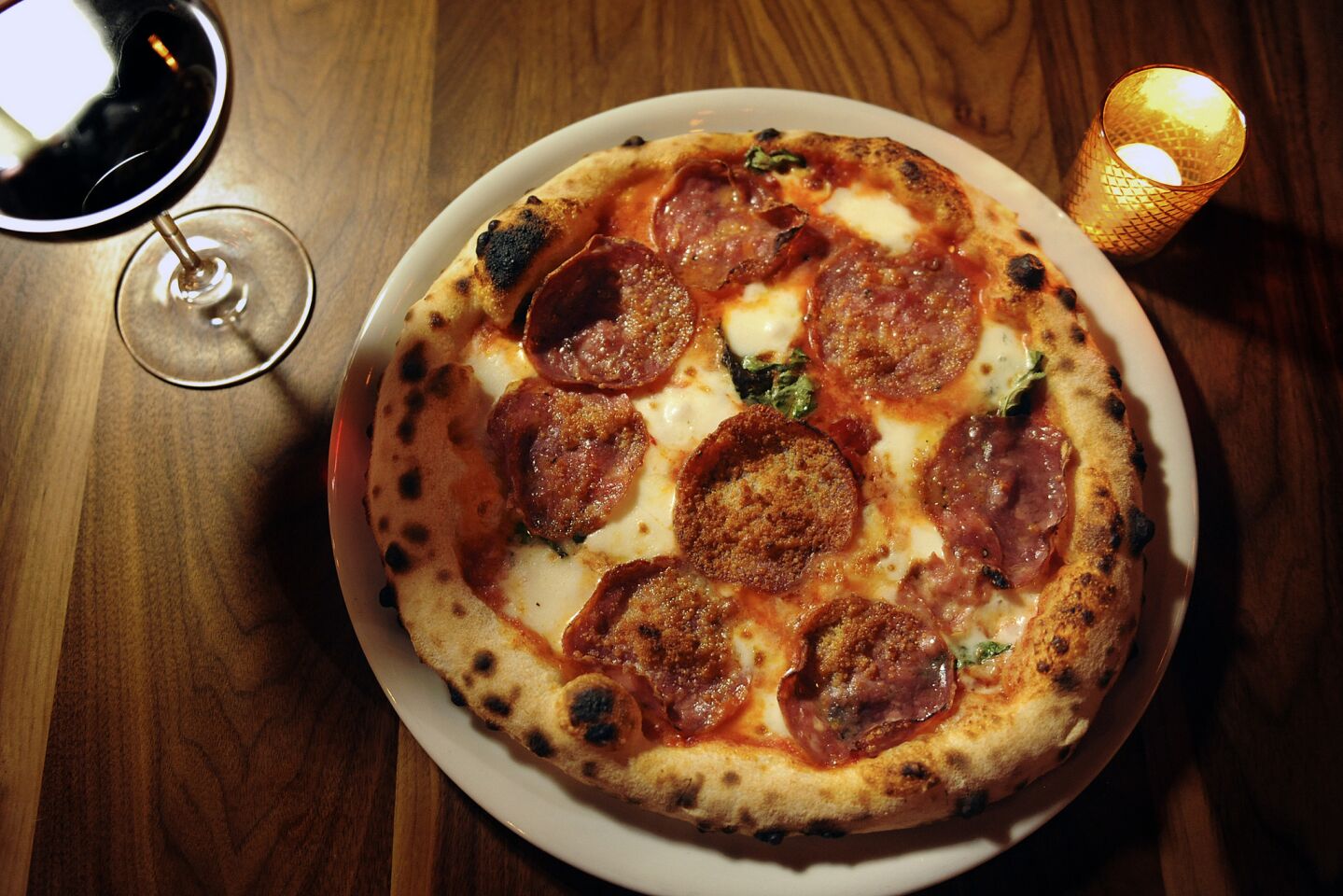 All'Acqua offers a standard variety of Italian food in Atwater Village, including diavolo pizza. More great L.A.-area restaurants:
Jonathan Gold's 101
(Wally Skalij / Los Angeles Times)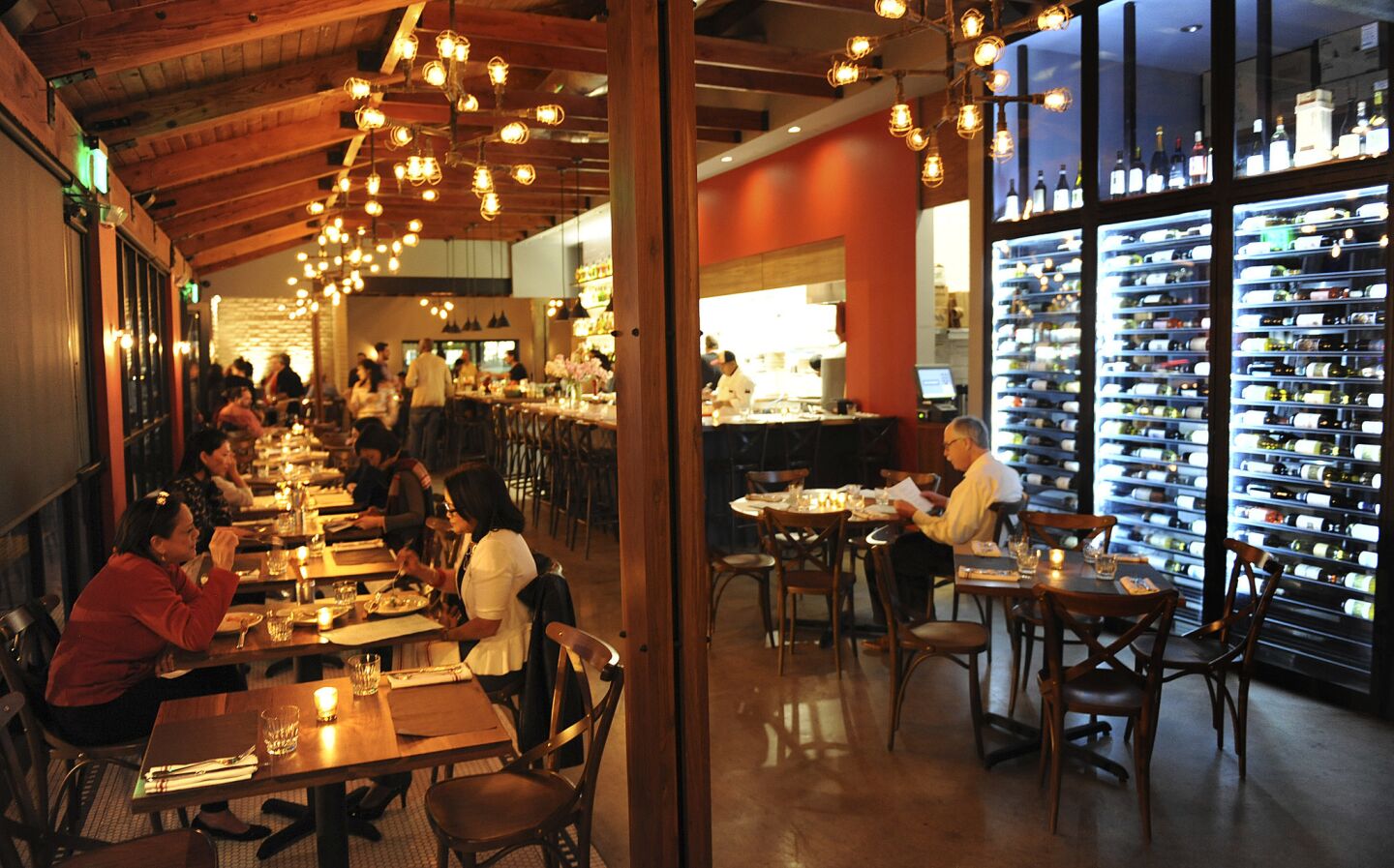 All'Acqua has become a favorite in the neighborhood and is usually crowded, but the wait is never too long.
(Wally Skalij / Los Angeles Times)
Don Dickman's version of porchetta has followed him from restaurant to restaurant.
(Wally Skalij / Los Angeles Times)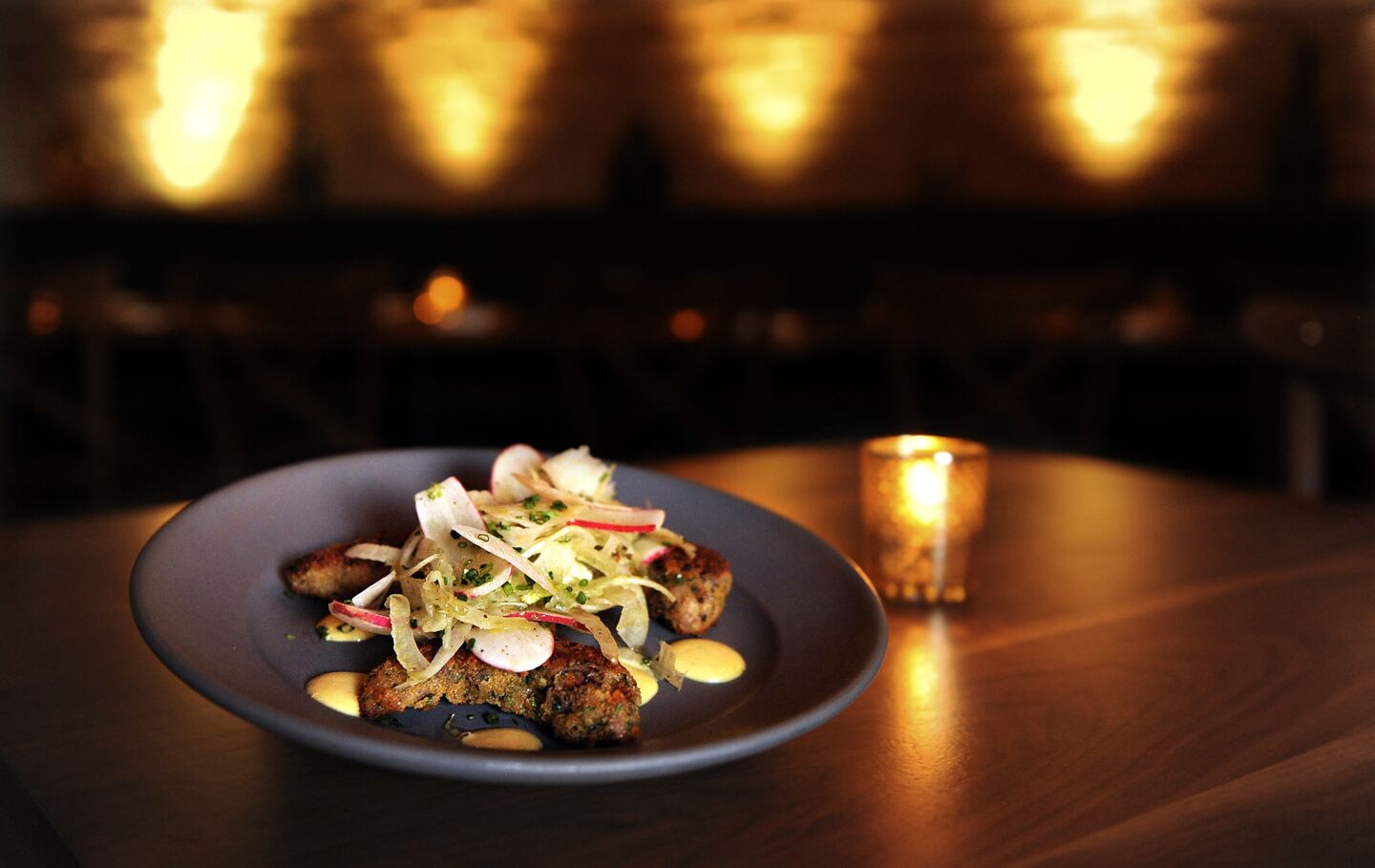 The crispy lamb's tongue is garnished nicely with crunchy radish.
(Wally Skalij / Los Angeles Times)
Among the antipasta at the new All'Acqua is a bowl of meatballs with whipped ricotta and tomato sauce.
(Amy Scattergood / Los Angeles Times)
Pasta with short rib and porcini ragu and fresh mozzarella at All'Acqua.
(Amy Scattergood / Los Angeles Times)
Wood-grilled Spanish octopus with citrus and olives is among the starters at All'Acqua in Atwater.
(Amy Scattergood / Los Angeles Times)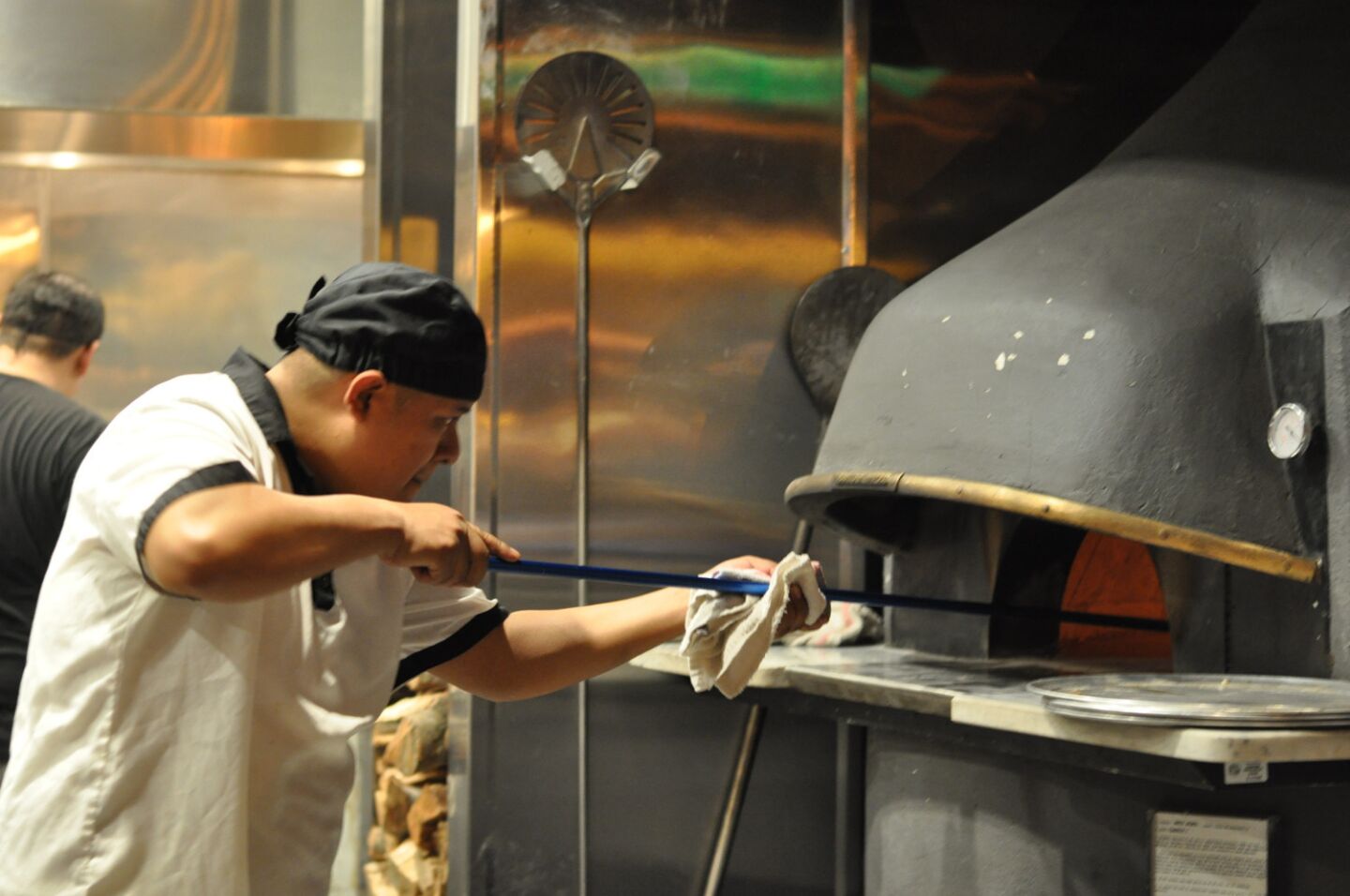 Putting a pizza into the giant Naples-built oven at All'Acqua.
(Amy Scattergood / Los Angeles Times)
Among the many pizzas, a pie with fennel-pork sausage, red onions and fennel pollen at All'Acqua.
(Amy Scattergood / Los Angeles Times)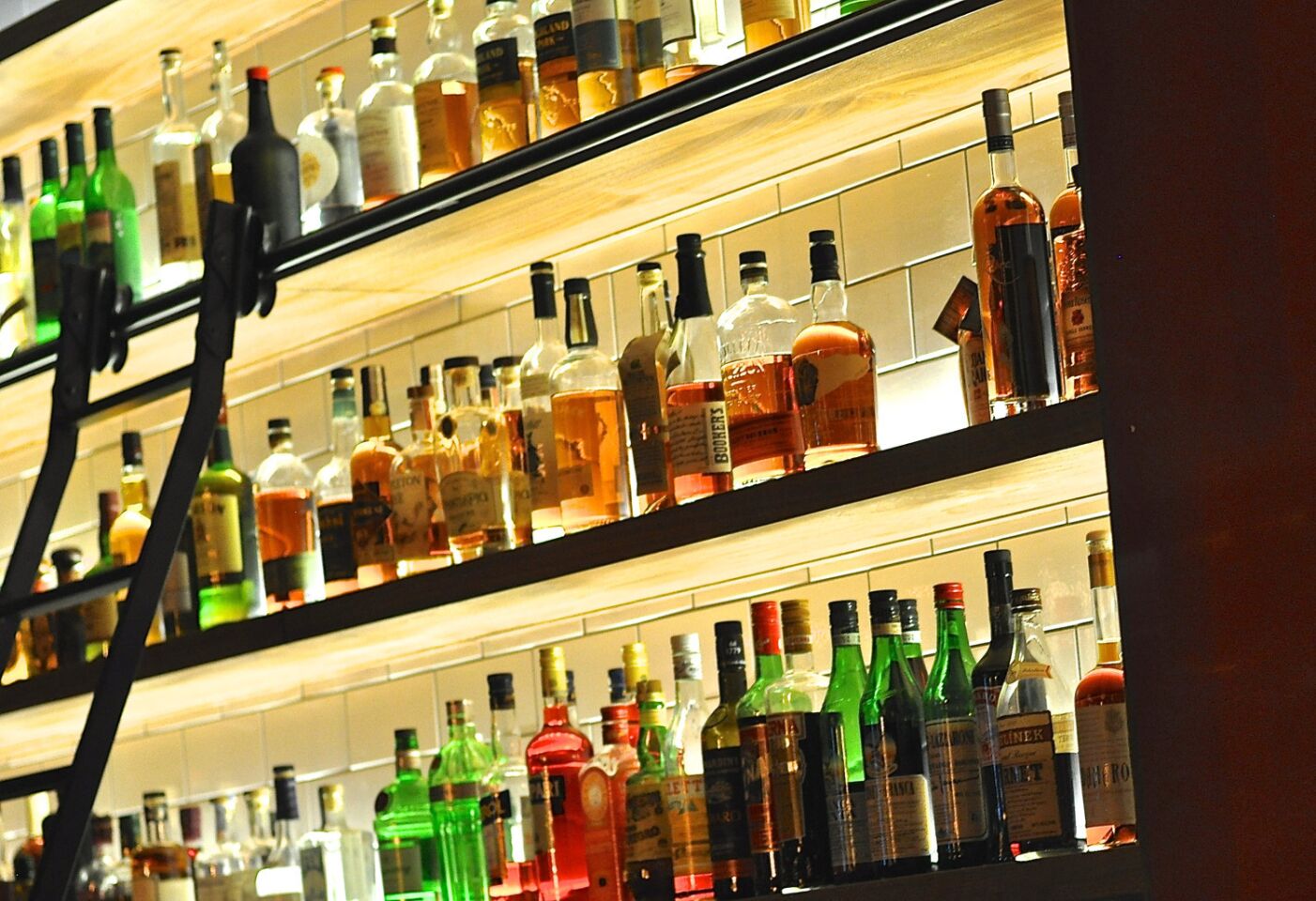 Behind the bar of All'Acqua in Atwater Village.
(Amy Scattergood / Los Angeles Times)
Bar manager Lucy Augusta Voigt makes a drink called house old-fashioneds.
(Wally Skalij / Los Angeles Times)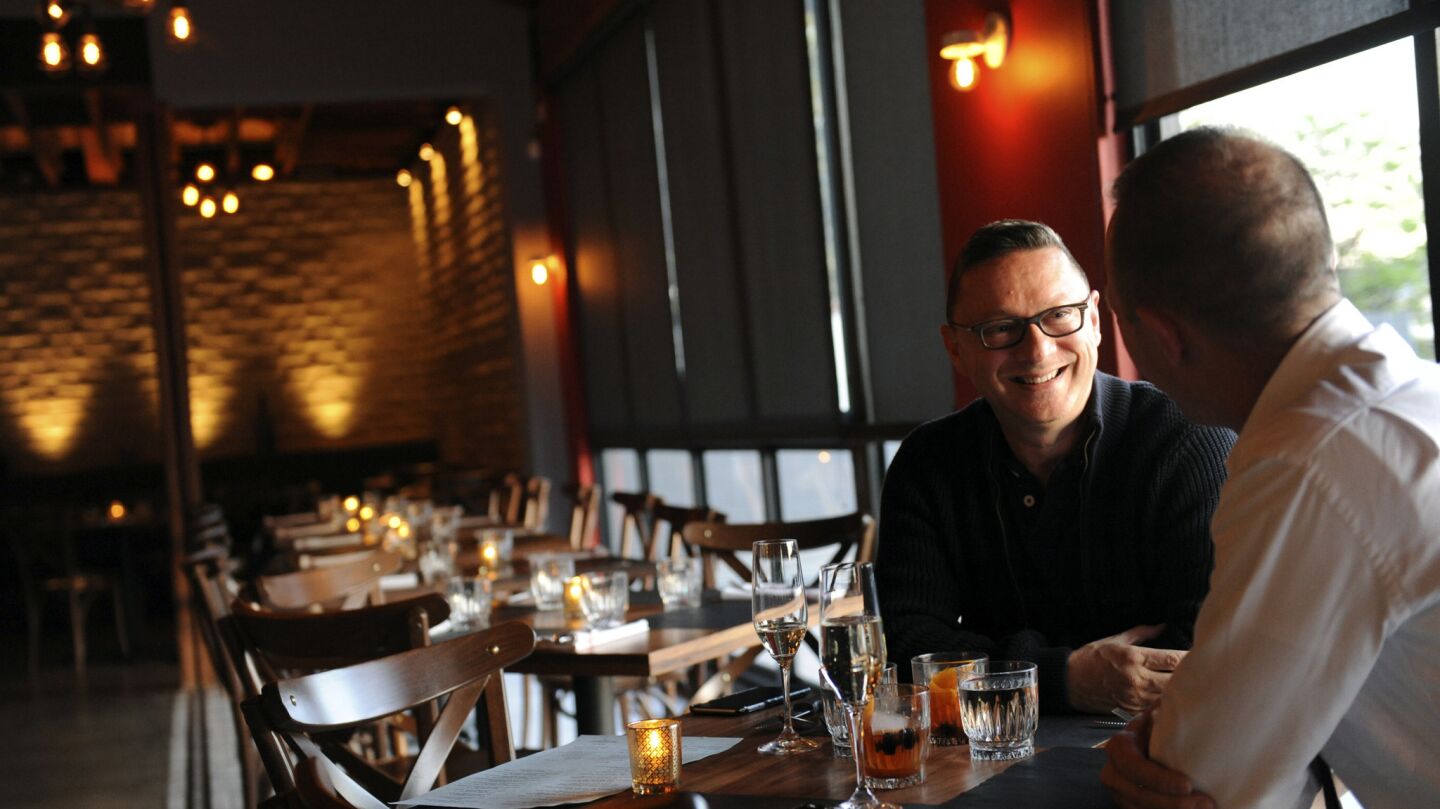 Steve Machado, left, and Tim Campbell have a drink before their meal.
(Wally Skalij / Los Angeles Times)
A dessert of lemon budino with rosemary shortbread cookie at All'Acqua.
(Amy Scattergood / Los Angeles Times)
The pear-brown butter crostata with vanilla bean gelato at All'Acqua.
(Amy Scattergood / Los Angeles Times)
Felicia Fasano, left, and Rosa Graziano share a toast at the convivial restaurant bar.
(Wally Skalij / Los Angeles Times)
Chef Don Dickman at All'Acqua in Awater Village.
(Wally Skalij / Los Angeles Times)
Los Angeles Times Restaurant Critic
All'Acqua is a buzzy place on a weekend night, cars spilling out of the parking lot, crowds milling, the soaring, open-kitchen restaurant, once the local branch of Acapulco, suffused with a happy roar. On cool nights, you can smell garlic, rosemary and wood smoke from more than a block away.
All'Acqua is a useful place, with a well-stocked bar, a longish menu of light and amusing food and long hours, so that you can drop in for an artichoke pizza and a glass of Chianti after a late movie or a show at the Alex Theatre. The wine list is shortish but well-chosen, and it rotates enough that you feel triumphant when you score the last bottle of crisp Ligurian Pigato. The dining room is always full, but the wait is never too long, and nobody seems to mind if you stop in for a quick plate of prosciutto and a beer. Around the holidays, the huge municipal Christmas tree is just outside. It is the bustling neighborhood place Atwater has always needed.
If you've spent much time in Los Angeles Italian restaurants, you are probably familiar with the hearty, masculine cooking of Don Dickman, a protégé of the late Trumps chef Michael Roberts. Dickman has run the kitchens at Rocca, Matteo's and the nearby wine bar Barbrix among other places. You also know the proprietor Claudio Blotta, the Campanile veteran who owns Barbrix and Cooks County.
Dickman loves vinegar, pickled chiles and salt. His version of porchetta, which has followed him from restaurant to restaurant, may not resemble anything you've tasted in central Italy, but it is delicious enough, a sturdy pork roast extravagantly seasoned with fennel pollen and tricked out with ribbons of crunchy skin. The linguine with clams is solid. He is a guy you would trust with pappardelle noodles and long-cooked Bolognese sauce, with grilled lamb chops, with smoky grilled calamari steak or with a New Haven-style pizza topped with chopped clams and lots of garlic, and for good reason.
But Dickman's style is not what you might call hedonistic. So a plate of grilled asparagus isn't the seething, fragrant, oily mess you might see elsewhere in town; it is grilled asparagus, black grill lines neatly etched on the stalks, crowned with a poached egg rolled in bread crumbs and fried — proper. Fried chunks of lamb's tongue are crisp and melting, garnished nicely with crunchy radish, but tend to be slightly anonymous in flavor. Crisp-skinned sea bass fillets over sweet-and-sour braised endive are really good. Still, this is food meant to be enjoyed, not talked about, no matter how abundant the herbs or how nicely sourced the Brussels sprouts. If you need your pasta to be seasoned with a worldview, perhaps this is not the place for you.
The last time I visited All'Acqua, one of the people I was dining with texted to say that she was running late. And while we waited for her, we ended up working through a big chunk of the menu, a course or two at a time.
There were marinated anchovies wrapped around a tangle of roasted peppers, a neat mound of herby salmon tartare with triangles of grilled brioche to spread it on, loosely packed meatballs with tomato sauce and a creamy schmear of whipped ricotta, and charred octopus tentacles with olives, segmented citrus and thinly sliced pickled chiles.
Somebody ordered a sausage pizza, and it wasn't bad: crisp-bottomed, a little fluffy, sprinkled with fennel pollen and bits of cured pork. We had bucatini, like hollow spaghetti, tossed with cheese, cracked pepper and lots of butter; green garlic ravioli with tiny, first-of-season favas; and half-moon pasta stuffed with a coarse, strong paste of chopped chicken liver and glazed with balsamic vinegar.
We drank beer named things like Victory Monkey and Mongo. The kids had a sword fight with breadsticks. And by the time our friend finally showed up, 90 minutes after we first sat down, I realized that this not-quite meal was probably the most fun I'd ever had at All'Acqua, nibbling instead of dining; allowing myself to be delighted by Dickman's bright flavors rather than annoyed by his disdain for regional specificity. All'Acqua probably isn't a serious Italian restaurant, but not every restaurant needs to be serious. Especially when there is limoncello budino waiting for dessert.
::
All'Acqua
Chef Don Dickman cooks Italian in Atwater Village, with handmade pasta, a pizza oven and cocktails.
LOCATION
3280 Glendale Blvd., Los Angeles, (323) 663-3280, allacquarestaurant.com
PRICES
Antipasti, $5-$14; pastas, $14-$18; pizzas, $14-$16; main courses, $19-$28.
DETAILS
Open 5:30 p.m. to 1:30 a.m. daily. Full bar. Valet parking.
RECOMMENDED DISHES
Grilled octopus salad; bucatini cacio e pepe; clam pizza; grilled calamari steak; limoncello budino.
jonathan.gold@latimes.com
Follow me on Twitter
@thejgold
---