Review: Jonathan Gold ponders what new Cronut-like trend might come out of 189 by Dominique Ansel
The roasted radicchio at Dominique Ansel's new restaurant 189 at the Grove comes with fresh honeycomb, endive, hazelnuts, shaved manchego and lemon hazelnut vinaigrette.
(Christina House / Los Angeles Times)
Dominique Ansel's 189 serves a rotisserie baby chicken with black garlic rice stuffing and chilled spicy scallion salad, with a shot of chicken jus.
(Christina House / Los Angeles Times )
Spoon-tender cabbage soup at 189 comes with sourdough crouton, pork bone broth, wheat ale and gruyére & fontina.
(Christina House / Los Angeles Times)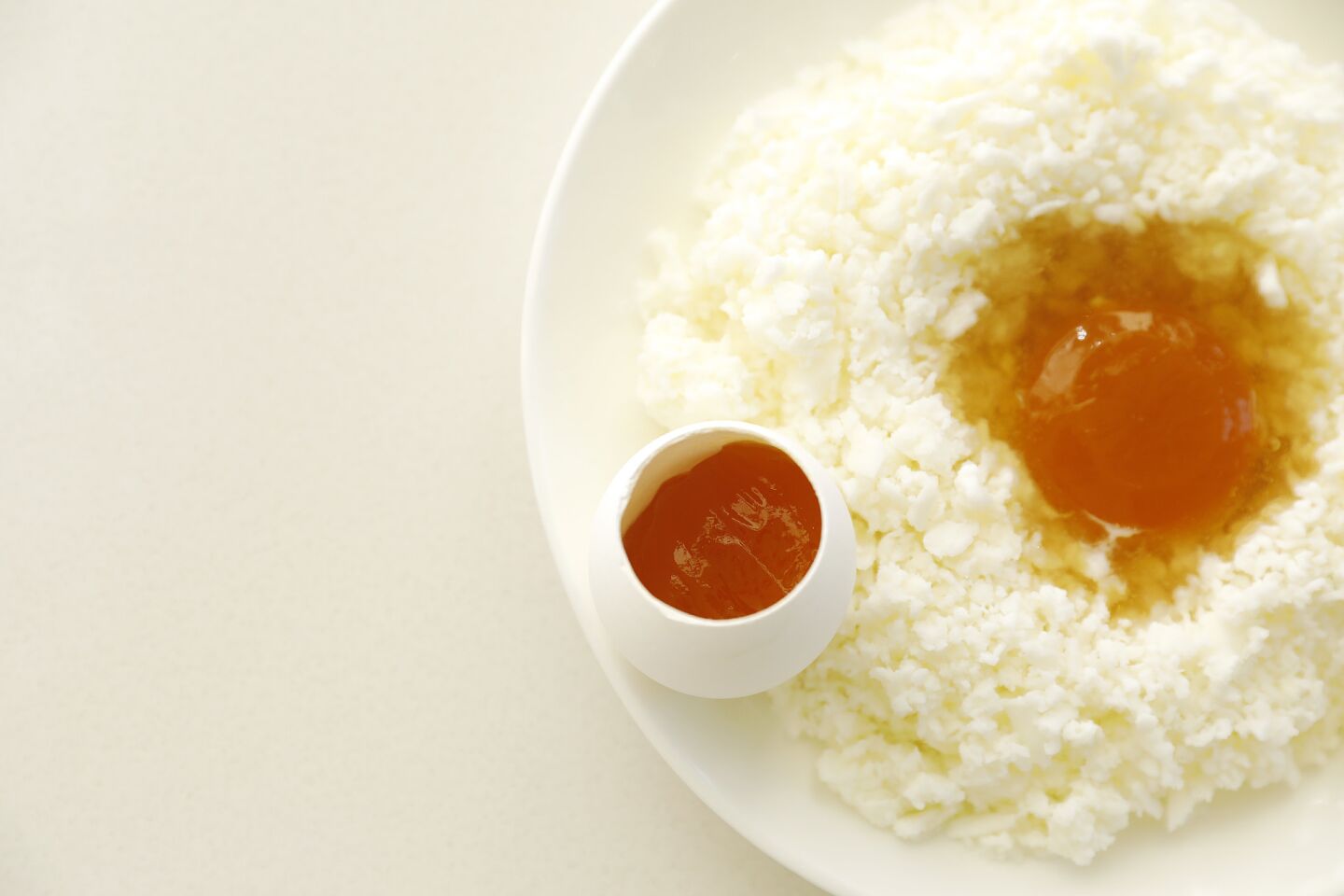 189's "The Well" dessert is made of milk granita, wildflower honey, passion fruit gelée and fennel.
(Christina House / Los Angeles Times)
189's "Knife Skills" dessert is apples done five ways: ribbons in lemon thyme, brunoise in Calvados, apple young ginger sorbet wedge, carmelized slices and julienne meringues.
(Christina House / Los Angeles Times)
189's rotisserie baby chicken is served with black garlic rice stuffing, chilled spicy scallion salad and a shot of chicken jus.
(Christina House / Los Angeles Times)
At 189, confit duck gizzards come with crispy potato galette, shallots, white balsamic and bibb lettuce.
(Christina House / Los Angeles Times)
189 executive chef Hyun Lee squeezes garlic on top of Dirty Potatoes, smashed and crispy with paprika pommery mustard and served with whole-roasted garlic head.
(Christina House / Los Angeles Times)
Sweet corn milk bread is dusted with cotija cheese at 189.
(Christina House / Los Angeles Times)
Dominique Ansel's new restaurant 189 takes up a second-floor space that looks out over the Grove's main street.
(Christina House / Los Angeles Times)
Executive Chef Hyun Lee runs the kitchen at 189 by Dominique Ansel at the Grove.
(Christina House / Los Angeles Times)
189 executive chef Hyun Lee gets to work at the Grove.
(Christina House / Los Angeles Times)
Dominique Ansel's 189 at the Grove is the chef's first full-service restaurant.
(Christina House / Los Angeles Times)
Restaurant Critic
The new Cronut — could it be the "avocado toast" at the new Dominique Ansel bakery, a trompe l'oeil confection of avocado ice cream, frozen ricotta and shortbread that looks more like the real thing than the actual avocado toast on offer? The ice cream-stuffed marshmallow blow-torched to order so that it resembles a cross between a campfire s'more and a baked Alaska on a stick? Or even the milk bread at the restaurant 189 by Dominique Ansel upstairs — a construction of soft bread cubes dusted with cotija cheese and filled with puréed corn that somehow tastes like the best street corner elote in East L.A.?
If you glance at food magazines, you know about Dominique Ansel. He's the guy who started the kouign-amann fad a few years ago, the one that obligated every ambitious pastry chef in America to learn how to make the intricately folded Breton pastry. He served terms at Fauchon in Paris and with Daniel Boulud before he moved into his eponymous New York pastry shop, probably the most famous in Manhattan, then spinoffs in London and Tokyo, then a new store in the Grove. More to the point, he is the inventor of the Cronut, the Frankensteinian love child of a croissant and a doughnut whose limited daily run inspires endless early morning queues, a New York tradition he has imported here.
A Cronut is an easy thing to make fun of. I've done it myself. I'm still not sure I'd wake up before dawn to get one — his croissants, eclairs and kouign-amann are reason enough to visit — but my first taste at an event a few weeks ago was pretty mind-bending, a buttery pastry crunch punctuated by a pop of flowery jam.
189 by Dominique Ansel is the first full-service restaurant from the chef, a big, airy second-floor space looking out over the Grove's main street. One of the dining areas, dominated by the glassed-in open kitchen, features dining alcoves decorated with what looks like giant croissant interiors rendered in gold leaf. Another dining area is crowded with bush-size swirls of baby's breath, like a tableau from the Rodarte Paris show in 2016. The music leans to the milder forms of EDM. The wine list tends toward biodynamic things that drink like beer. If you are there much before 8, there probably will be happy children darting around the widely spaced tables, which makes sense given the restaurant's Disneyland-like setting.
The migration of pastry chefs to the savory kitchen is not common, but there is precedent. Carême, possibly the first great French chef, thought of himself primarily as a pastry-maker. Locally, former pastry chef Michel Richard opened Citrus, one of the emblematic Los Angeles restaurants of the 1980s, and, of course, Nancy Silverton of the Mozza restaurants worked for decades in the pastry kitchens of Spago and Campanile.
Pastry chefs bring a chemist's precision to the savory kitchen — exacting ratios and techniques are vital when you work with dough — but also a willingness to experiment with form. The look of a plate becomes important — former pastry chefs do not brag about making ugly food. Texture becomes as vital as flavor. There is a realization that tiny variations in measurements can cause huge variations in food.
So it is not a surprise that at 189 very little is quite what it seems. There is that milk bread masquerading as street corn, which may rely on many, many steps or may be as simple as injecting rolls with purée. There are paper-thin slices of tomato moistened with balsamic, laminated onto sliced honeydew melon and sprinkled with herbs. The smack of salty and sweet, the contrast between chewiness and lusciousness, is not unlike what you might expect from a plate of prosciutto and melon, although the dish tastes nothing like it.
Cabbage soup turns out to be almost exactly what you are hoping for when you order a tureen of French onion soup, down to the sweetness, the soaked bread, and the boatload of melted cheese. Charred radicchio has the bitterness and aroma of honey without the sweetness. It has been tossed with bits of honeycomb.
When you order pasta carbonara, the plate is the sunny yellow of egg yolk, and the fettuccine is tweaked with roasted sunchokes and toasted sunflower seed purée. Ansel calls the plate Triple Sun.
Duck gizzards, simmered in duck fat, are sliced and heaped over what amounts to a potato latke, and I am almost sure that to most of the 189 customers, Hanukkah dinner comes to mind.
Some of Ansel's dishes read better than they sound. Salt and pepper spare ribs, crisp on the outside and sous-vide soft within, are both too bland and over-rich, although the squeeze of fresh pineapple juice at the end does make them resemble something you may have eaten at Trader Vic's after a cousin's bar mitzvah. A Chinese New Year special of split and fried Dungeness crab was acrid and overcooked. A plate of squash gnocchi is notable mostly for a garnish of braised breakfast radishes with frizzled deep-fried tops.
But it is easy enough to be happy here, gnawing on the massive prawn cracker that comes with the fried shrimp or tearing into a spoon-soft lamb shoulder roasted with persimmons; nibbling roast carrots with shaved chestnuts; or diving into a bowl of garlicky mussels. A roasted game hen is served with garlic-infused sticky rice and a bowl of marinated scallion slivers, as if it were a rotisserie-cooked take on the Korean soup samgye tang — right on cue, the waiter shows up with shot glasses of strong chicken broth to sip along with the bird.
As you might expect from a pastry chef expanding his range, the least sybaritic course at 189 may be his desserts, which are all abstracted takes on aspects of chefly technique: an apple dessert demonstrating knife skills; sliced cake made to resemble the snacks banquet chefs often make for themselves by stuffing cake trimmings into a jar; and a composition of ice cream-stuffed charcoal briquettes and little cakes stuffed into exploded chestnut shells.
::
189 by Dominique Ansel
The pastry chef opens his first full service restaurant at the Grove.
LOCATION
189 the Grove Drive, Los Angeles; (323) 602-0096, dominiqueansella.com.
PRICES
Small plates $8-$18; larger plates $26-$45; desserts $12.
DETAILS
Dinner 5-10 p.m. Monday through Thursday; 5-11 p.m. Friday; 5:30-11 p.m. Saturday; 5:30-10 p.m. Sunday. Weekend brunch 11 a.m.-3 p.m. Saturdays and Sundays. Credit cards accepted. Full bar. Validated mall lot parking.
RECOMMENDED DISHES
"Elotes" milk bread; roasted radicchio with honeycomb and hazelnuts; cabbage soup; rotisserie baby chicken; "knife skills" dessert.
Get our L.A. Goes Out newsletter, with the week's best events, to help you explore and experience our city.
You may occasionally receive promotional content from the Los Angeles Times.