Review: Salt's Cure brings the city's best pork chop to its new location on Highland Avenue
The pork chops at Salt's Cure restaurant may be the best in L.A.
(Marcus Yam / Los Angeles Times )
Patrons enter Salt's Cure restaurant at its new location on North Highland Avenue in Los Angeles.
(Marcus Yam / Los Angeles Times)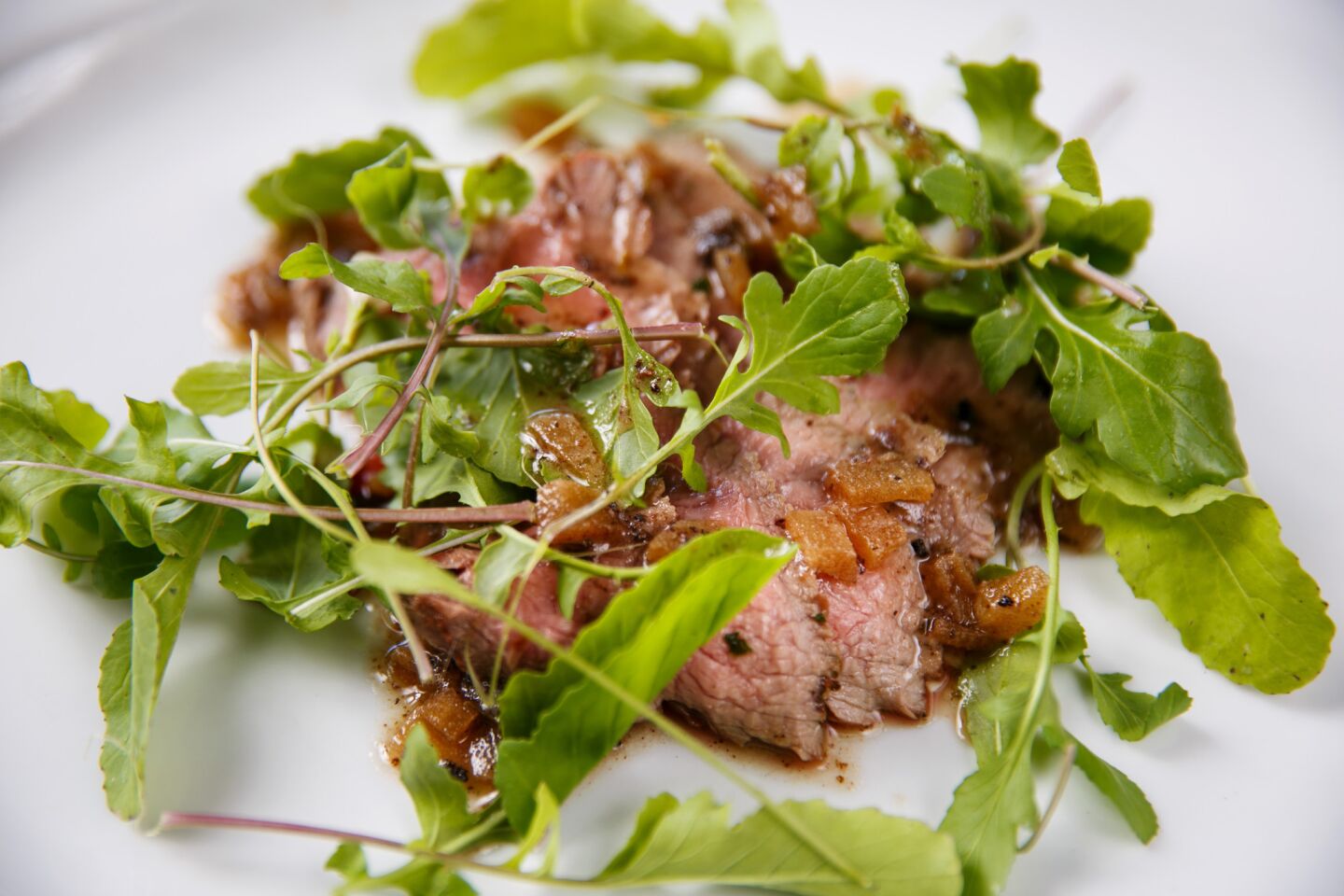 Veal with arugula served at Salt's Cure restaurant in Los Angeles.
(Marcus Yam / Los Angeles Times)
Salt's Cure chefs Chris Phelps, left, and Zak Walters perch atop the bar at their restaurant's new location on Highland.
(Marcus Yam / Los Angeles Times)
Duck leg, oatmeal griddle cakes and blackberry compote served at Salt's Cure restaurant.
(Marcus Yam / Los Angeles Times)
Patrons dine at Salt's Cure restaurant's new location.
(Marcus Yam / Los Angeles Times)
Grapefruit pie at Salt's Cure restaurant.
(Marcus Yam / Los Angeles Times)
Salt's Cure restaurant's new location is on North Highland Avenue.
(Marcus Yam / Los Angeles Times)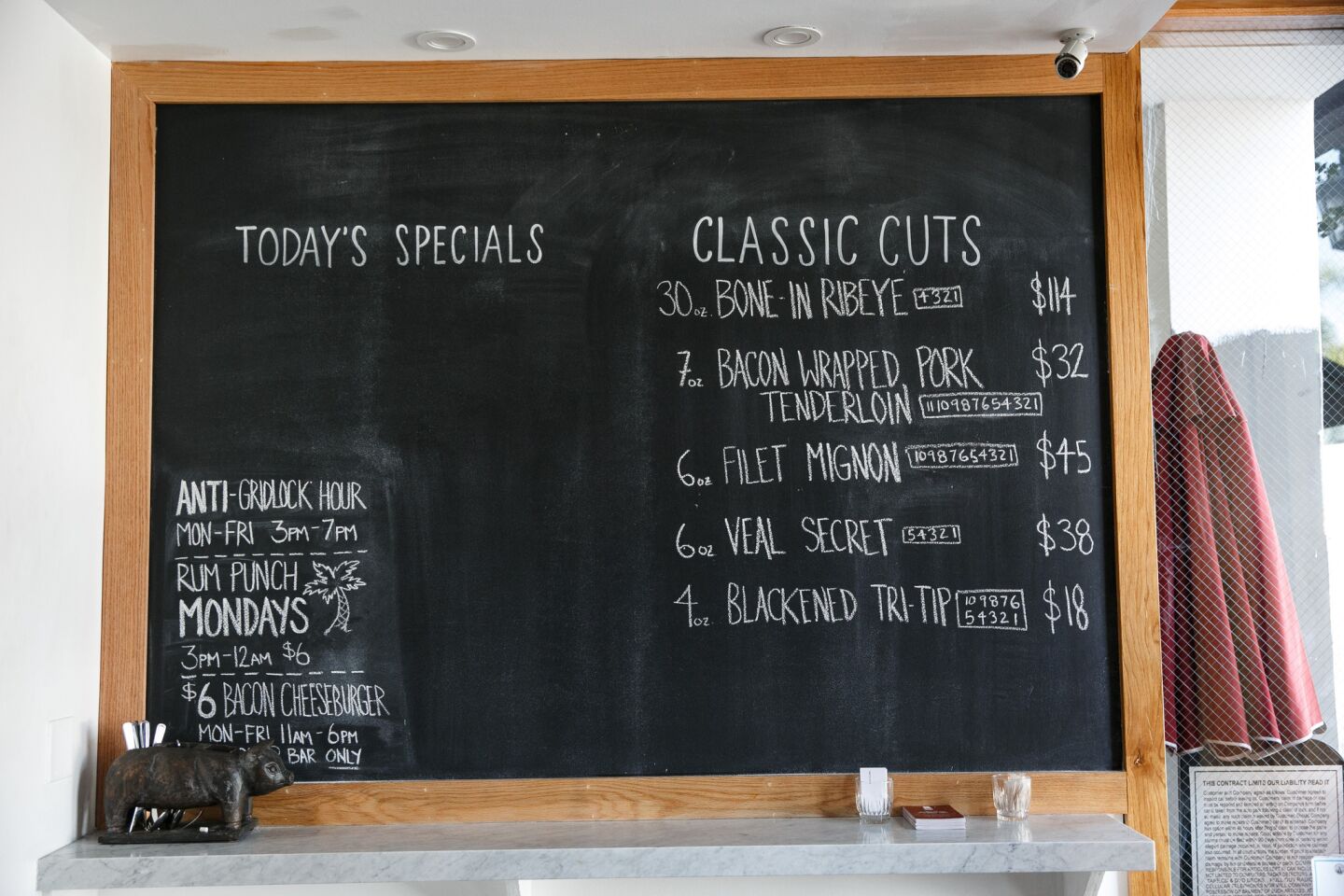 Chalkboard shows the day's offerings at Salt's Cure restaurant.
(Marcus Yam / Los Angeles Times)
Los Angeles Times Restaurant Critic
It is probably easier to find a great pork chop in Los Angeles than it has ever been, from the char siu pork chop at Jar to the fennel-crusted chop at Sotto, to the racket-size tomahawks at Chi'Spacca. But the best pork chop in town is the one at Salt's Cure in its new Hollywood digs: a full pound of sustainably raised Marin Sun Farms pork from Northern California, lightly marinated, and cooked slowly, so that the thin rim of fat crisps while the juices concentrate in the meat and the pork tastes intensely, gloriously of itself. It's a pork chop, but it is also a tour de force.
"I'd been at my last restaurant for almost eight years," a server confessed. "But I wanted to work with people who could cook a pork chop like that. I know that sounds superficial, but …"
When I'd heard that Salt's Cure was moving from its cramped storefront to the former Ammo space up on Highland Avenue, I wasn't quite sure what to think. The restaurant was one of those places that has always seemed to thrive in West Hollywood: democratic yet mysterious, and serving a level of cooking that could be called deeply sophisticated if you didn't want one of the regulars to punch you. Some restaurants you tell people about and they call to thank you for the nice meal. Some of the people I sent to Salt's Cure ended up going back two and three times a week for years.
Chris Phelps and Zak Walters occasionally seemed less like chefs than like butchers, finding superb meat and cooking it plainly, putting up their own bacon and charcuterie, often seasoning with no more than salt, pepper, vinegar and herbs. The first few times I visited, I wasn't sure whether it was even a restaurant — it seemed like a butcher's counter that happened to serve great steaks — and I'd usually end up spending more on uncooked bacon and potted meats to take home than I had on the meal.
There was a nominal regular menu, but the regulars knew to look up the latest chalkboard menu on Facebook before they came in. It was the only way of knowing for sure whether they were going to have the bluefish or the salted mutton you'd liked the last time you came in.
The new, larger Salt's Cure is very much a restaurant, dimly lighted, with patio seating, deep Miles Davis cuts on the sound system and decent cocktails. A massive construction of valves and pipes near the front entrance looks like a prop from a steampunk movie — I can only imagine the architects' delight when they came across the thing — and the dark wood paneling gives the impression of a 1970s fern bar without the Tiffany lamps or the ferns. Much of the food is served in crocks, like big cazuelas. The restaurant is an excellent place to get lost and to melt into the crowd on date night, especially if you manage to snag one of the wooden booths. It's also open all afternoon, good for day drinking — try an intensely gingery Dark & Stormy.
Is a meat restaurant retro? In 2016, probably so. But the daily menu is still posted online.
So you smear a hot, salty pretzel roll with a bit of whipped lardo, pour a little Beaujolais into your glass and wonder whether you would rather splash $110 on the giant rib-eye featured on the chalkboard or settle — settle! — for what is only the best pork chop in town.
The chopped salad is huge, vinegary and studded with creamy dabs of goat cheese and finger-size slabs of house-made mortadella whose texture is closer to steamed pudding than it is to anything you may have picked up from a deli case. Cold tomato soup, thick as pasta sauce, is served with smoking-hot wedges of grilled cheese sandwich. Thick spears of grilled asparagus are blanketed with roasted almonds and shards of hard-boiled egg that seems less crumbled than shattered. If you are that person who likes to order vegetarian food in a steakhouse, you may like the flat disks of potato gnocchi buried under a thicket of kale and wild mushrooms, or a lunchtime plate of tart fried green tomatoes arranged around hillocks of smashed blue cheese.
Salt's Cure is a meaty place. But it is meaty in ways you may not expect, like the plate of chewy "pork ham confit" dominated by a tangle of pickled vegetables and rowdy herbs, or the gamy chunks of lamb sausage with the steamed clams, or the strips of porky bacon that are apt to show up almost anywhere. The buttery, crisp-edged pancakes at the center of a Salt's Cure brunch are uncommonly delicious — why not serve a short stack of them alongside the duck confit. The specials board sometimes features a grass-fed veal "segreto" — on a pig, the cylindrical cut comes from inside the shoulder, although I'm not sure where it falls on a calf — simply seared and served with a few leaves of curly endive and a nutty wash of brown butter, a preparation that combined the bloody virtues of medium-rare meat with the pleasures of extreme caramelization.
Salt's Cure's portions tend to be on the modest side, if that sort of thing bothers you. But the gift of moderate satiation may leave you with room for a slice of the grapefruit pie, like a Key lime pie with a different tang and a lingering bittersweet hint of peel that finishes the rich meal like a kiss.
::
Salt's Cure
A neighborhood favorite relocates, bringing terrific meai-intensive cooking to a new space.
LOCATION
1155 N. Highland Ave., Hollywood, (323) 465-7258, saltscure.com.
PRICES
Vegetable dishes $5 - $19; seafood $18 - $26; meat $ 6- $34; desserts $10. (Blackboard specials often more.)
DETAILS
Open Mon.-Fri., 11 a.m. to midnight; Sat.-Sun., 10 a.m. to midnight. Credit cards accepted. Full bar. Valet parking.
RECOMMENDED DISHES
Pork chop; duck leg with oatmeal griddle cakes; pork ham confit; grapefruit pie.
MORE REVIEWS FROM JONATHAN GOLD
Kagura does a crisp business in the pork cutlet known as tonkatsu
Shawn Pham's Simbal is what you might call a Vietnamese izakaya
Get our L.A. Goes Out newsletter, with the week's best events, to help you explore and experience our city.
You may occasionally receive promotional content from the Los Angeles Times.