Review: Warm up with dizi at Nersses Vanak in Glendale — and be sure to do the final steps of prep yourself
Dizi, left, a dish made with lamb meat, potato, tomato, turmeric and garbanzo and white beans baked in the oven for three hours, at Nersses Vanak Persian restaurant in Glendale.
(Cheryl A. Guerrero / Los Angeles Times)
Nersses Vanak is an Iranian restaurant in Glendale, and dizi is a specialty.
(Cheryl A. Guerrero / Los Angeles Times)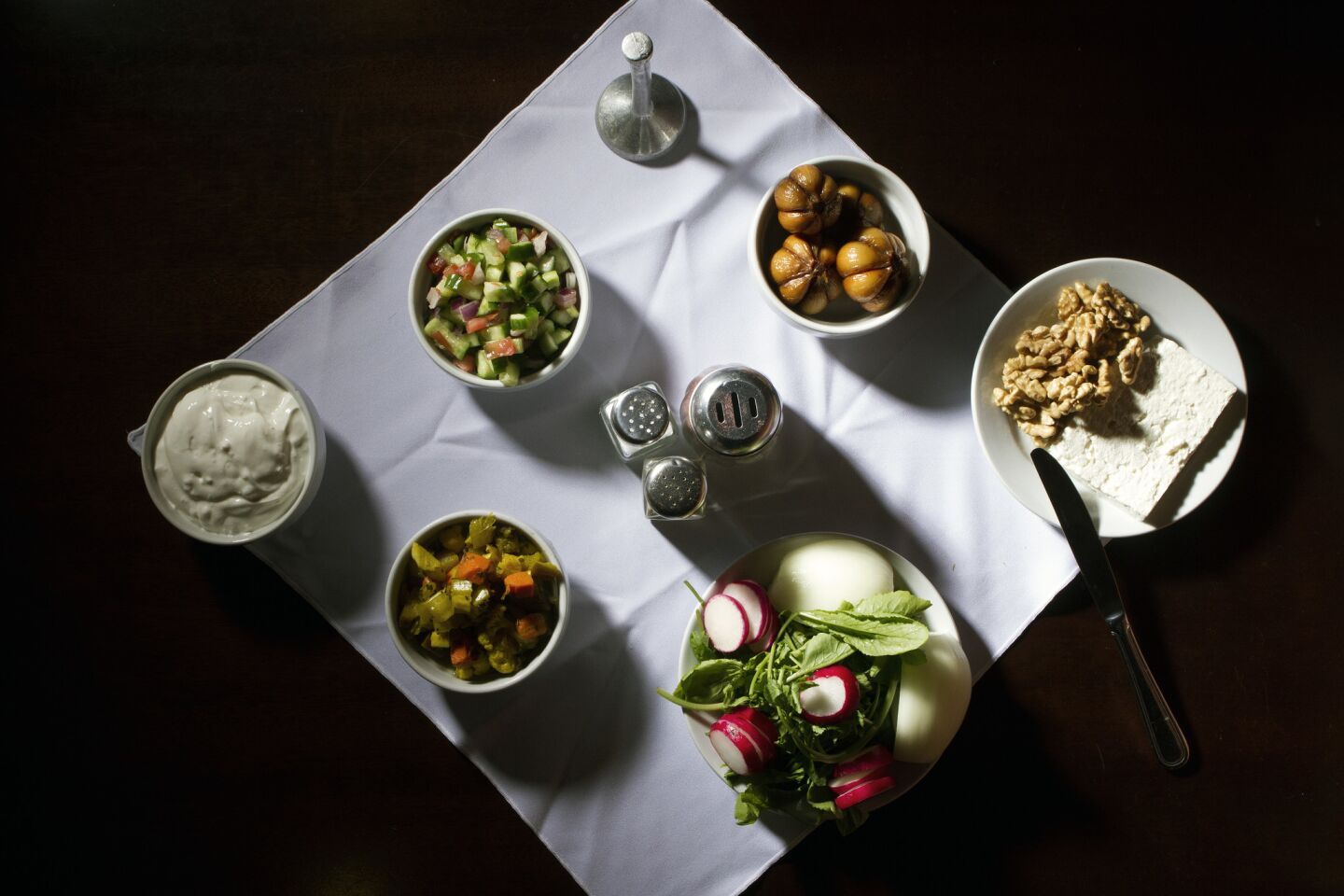 These are some of the common sides that complement dishes at Nersses Vanak: yogurt and shallot, clockwise from far left, pickled carrots, celery, ginger, eggplant and cabbage cooked in apple cider vinegar, pickled garlic, barbados cheese and fresh walnuts, vegetables on the side and shirazi, tomato, onions and cucumber.
(Cheryl A. Guerrero / Los Angeles Times)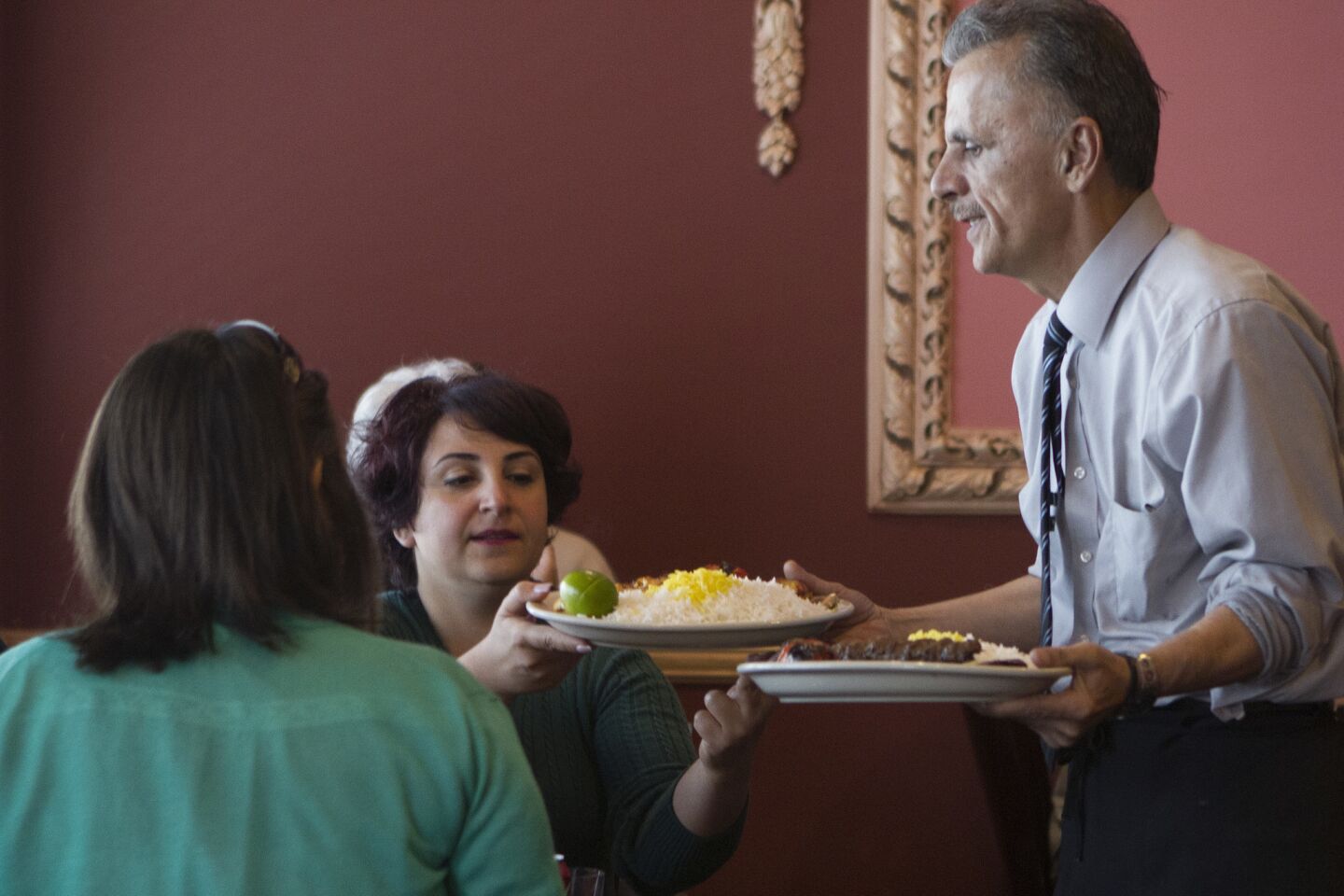 Saeed Rahimi, right, serves lunch to customers.
(Cheryl A. Guerrero / Los Angeles Times)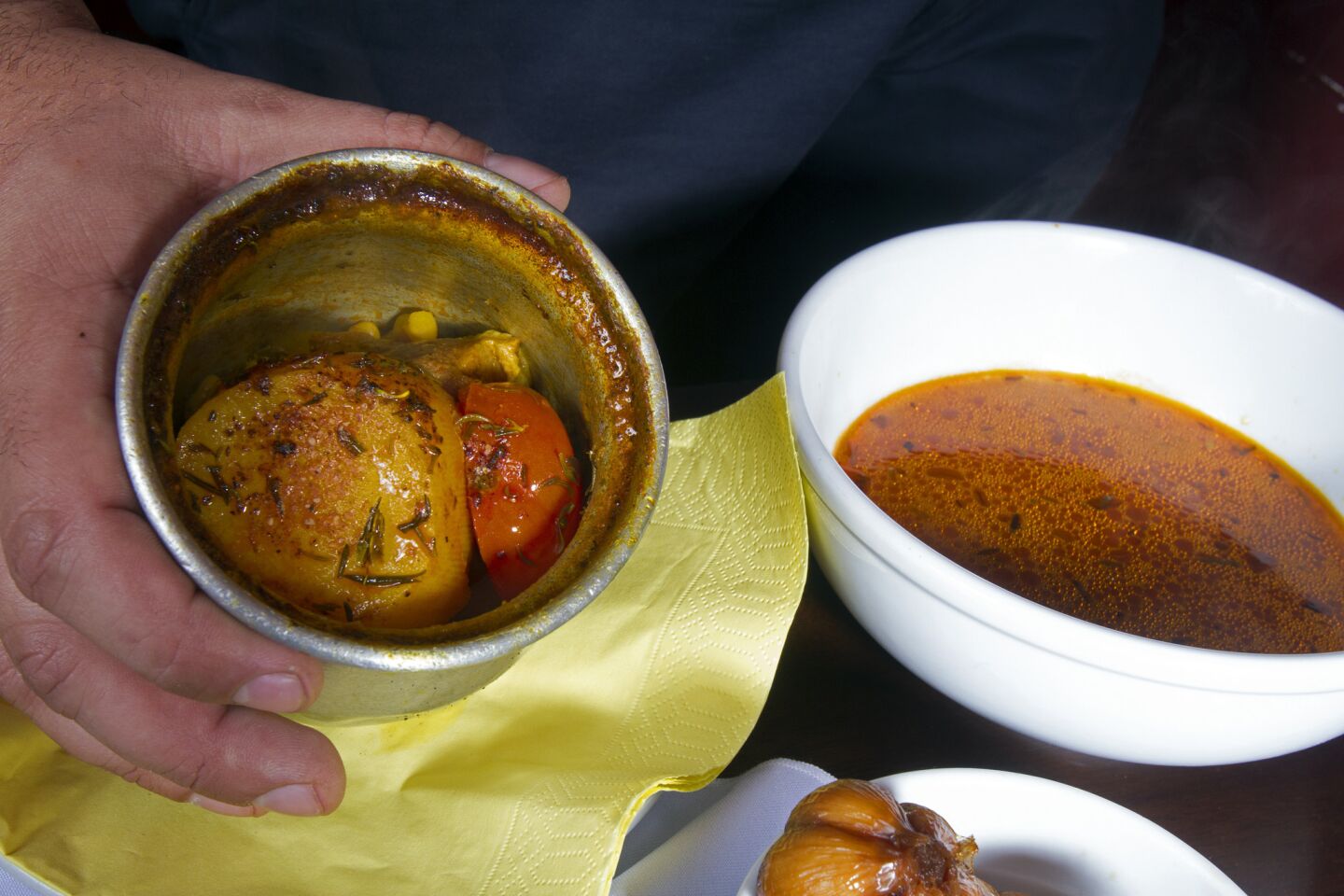 Dizi, made with lamb meat, potato, tomato, turmeric and garbanzo and white beans.
(Cheryl A. Guerrero / Los Angeles Times)
Customers dine at Nersses Vanak.
(Cheryl A. Guerrero / Los Angeles Times)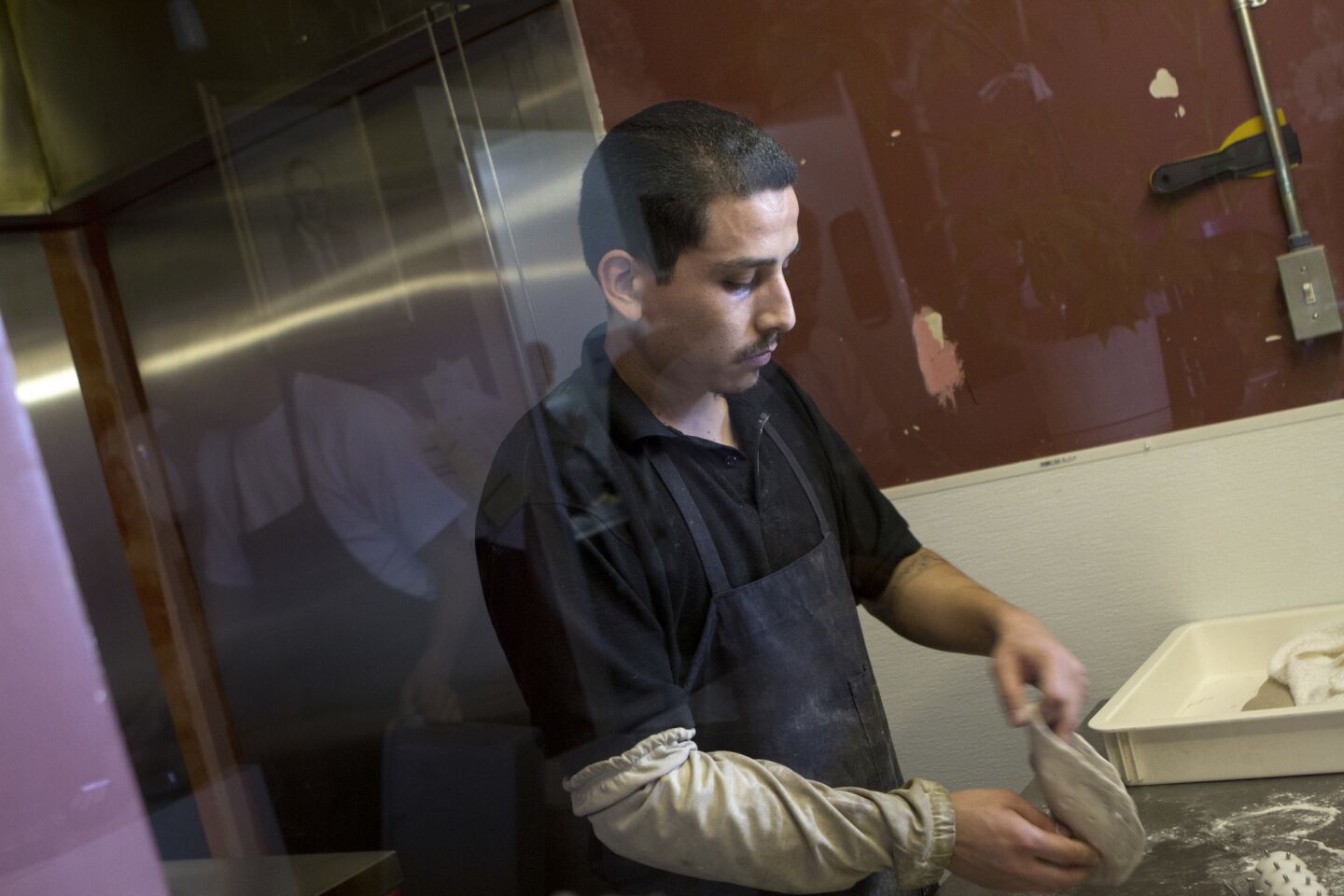 Erin Naranjo makes taftoon bread.
(Cheryl A. Guerrero / Los Angeles Times)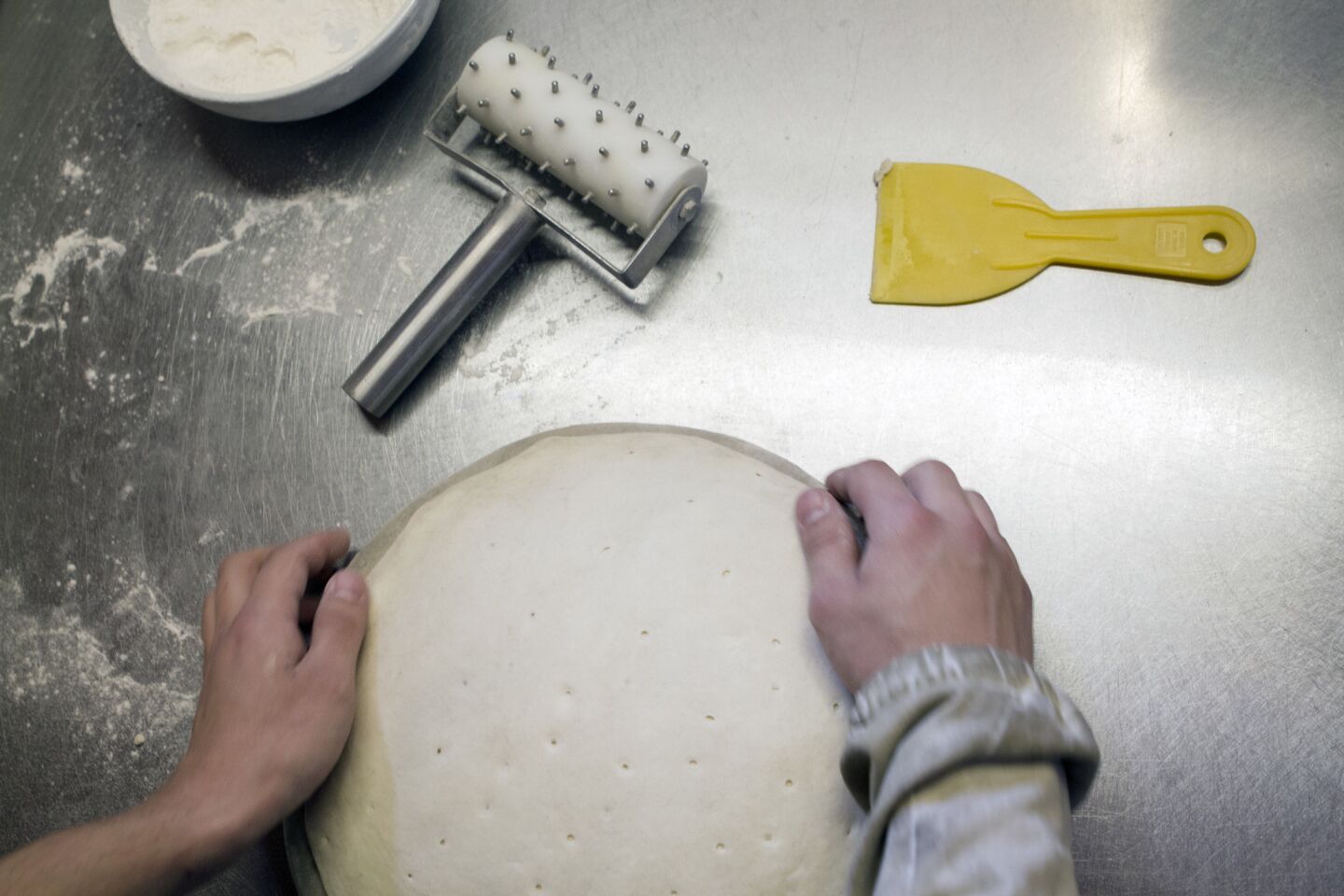 Erin Naranjo makes taftoon.
(Cheryl A. Guerrero / Los Angeles Times)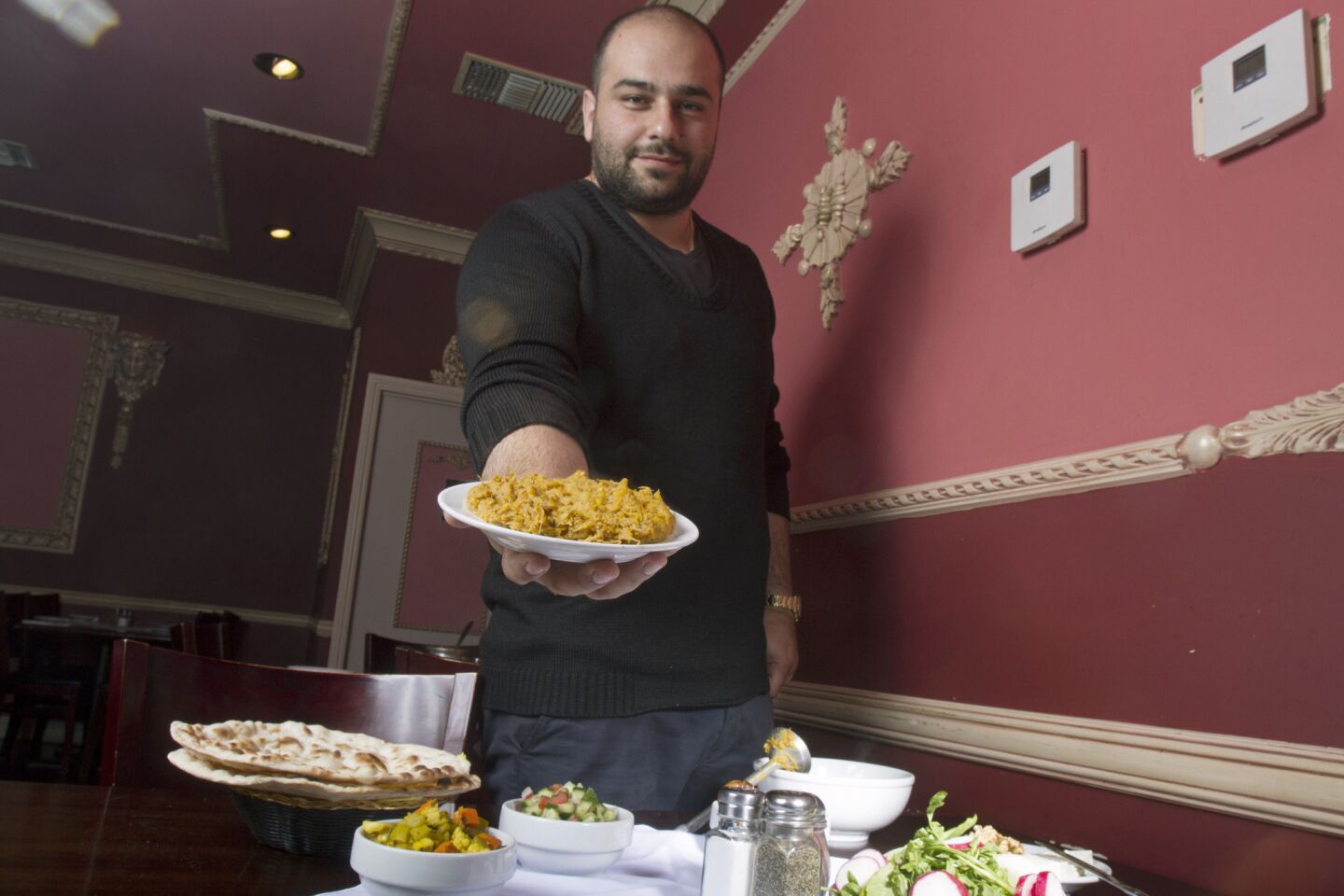 Co-owner Robert Abdian serves a plate of food at Nersses Vanak.
(Cheryl A. Guerrero / Los Angeles Times)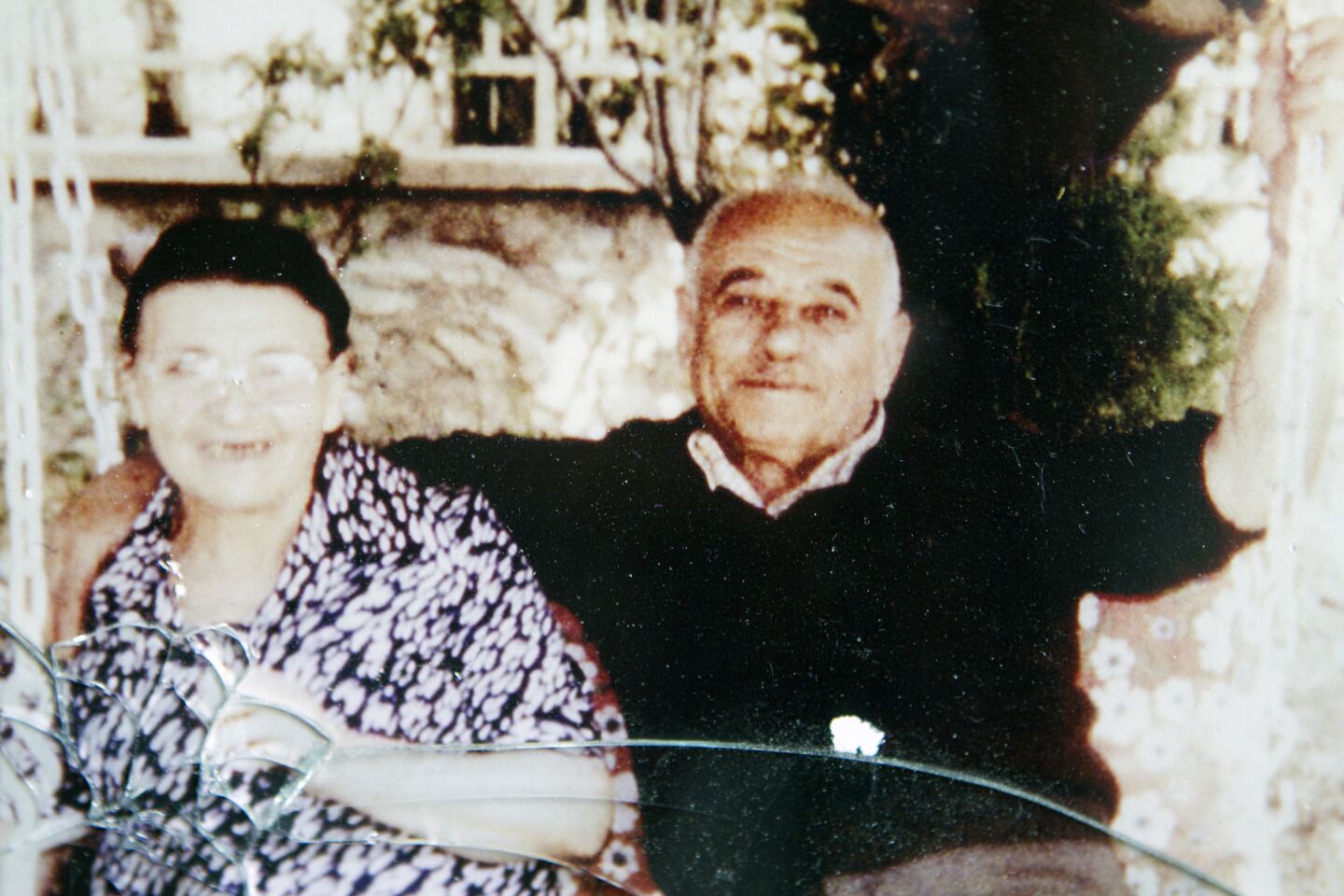 Co-owners Robert and Romik Abedian have a picture of their grandfather, Nersses, right, and their grandmother, Aslik Aramian, at Nersses Vanak in Glendale.
(Cheryl A. Guerrero / Los Angeles Times)
Los Angeles Times Restaurant Critic
It is cold in Los Angeles. Rain is in the air. What you want to be eating is dizi, an Iranian lamb and chickpea stew, flavored with turmeric and dried lime — a popular street food dish from Tehran that seems to have a tonic effect against the chill. If it is Friday, you can find dizi at Attari in Westwood, called there by its alternate name ab-goosht, where it is the inevitable weekly special. If it is not Friday, you should probably be at Nersses Vanak instead, a slightly faded restaurant in an industrial district of Glendale, where dizi is always the thing.
What color is the restaurant's interior? I'm not sure I have the vocabulary to describe it, but it falls somewhere between persimmon and mauve. There is an abundance of crown molding used as a rococo decorative element, flat indirect lighting and an occasional mounted plaster bust. If it reminds you of the banquet hall where you celebrated your first Communion, you would probably not be wrong.
SIGN UP for Jonathan Gold's Counter Intelligence dining newsletter >>
But at the front of the dining room, a cook is making the blistered, puffy Iranian flatbread taftoon on a glass-enclosed grill, and a few seconds after you are seated there will be smoking rounds of it, big as pizzas, on the table in front of you. With the flatbread come half a raw onion, some foil-wrapped butter, and a plateful of herbs, which will probably include arugula, sorrel and mint. Make yourself an herb sandwich if you want. You won't be the only one in the room.
Like almost all Iranian restaurants in Glendale, Nersses Vanak is probably best known for its kebabs, which are big, well-seasoned, made with halal meat, and served on immoderate mounds of saffron-gilded rice. The luleh kebab, made of ground beef, is especially good, juicy and less emulsified than is usually the case, tasting a bit like a peppery hamburger. The lemony chicken kebabs are also quite good — "We use the tender part, not the dry part," stresses the waiter — although the lamb kebabs, and the barg, made with beef fillet, are perhaps overmarinated. You should also probably get a plate of the tart, smoky roasted eggplant dip, not far from the Turkish ikra, which is delicious.
But you are probably here for the dizi, which you will see on at least half the tables in the restaurant, usually in the form of chubby cast-aluminum pots with stout metal pestles lodged jauntily inside. The waiter will ask whether you want the dizi prepared in the kitchen, in which case it will be served as a bowl of broth and a plate of mush. You want to do the final steps yourself — the preparation is half the fun.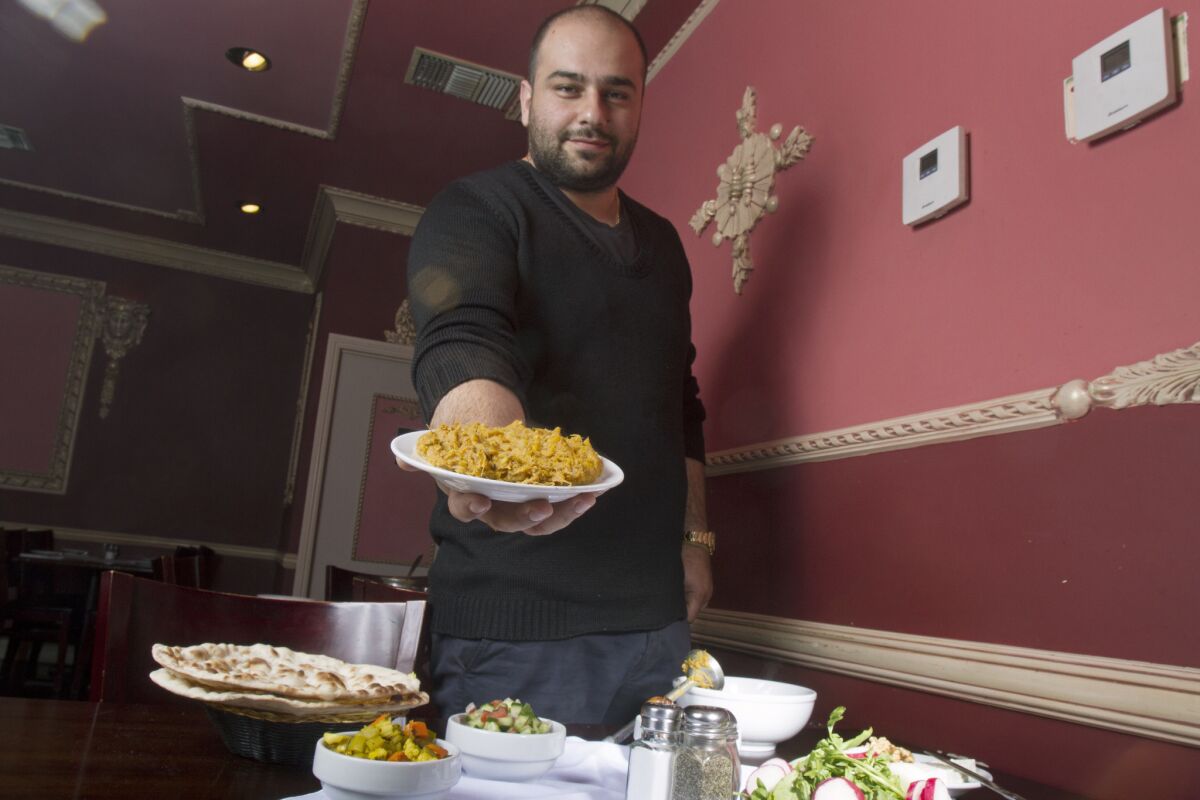 So when you are served the gleaming vessel of dizi, you grasp it carefully around its hot neck with a napkin and pour the steaming soup out into a bowl. There will be a plate of thin, flat oven-dried lavash, almost crackerlike — break the bread up into the bowl, where it swells and absorbs the broth, becoming slightly chewy in the process. (Some of you will think of crumbling crackers into chowder; others of tearing bits of pita-like flatbread to put in a Shaanxi-style pao mo.) Have some of the soup at this point. It's round, lamby, subtly spiced, with a hint of the umami-bomb that always comes with liquid in which chickpeas have been boiled. Some people think the soup is the best part.
Then turn your attention to the aluminum pot. The round disk at the bottom of the pestle has been beveled into more or less the shape of a top; roll it around the bottom of the pot in an undulating circular motion until the meat, legumes, potatoes and aromatics have been crushed into a coarse paste about the consistency of refried beans.
Spoon some of the mash out onto your plate, sprinkle on a bit of salt and sumac, and eat it as is. Moisten it with a spoonful or two of broth if you like. Tear off a scrap of the hot flatbread, tuck in a bit of it with some herbs and pretend that you are eating an Iranian taco. If you look pleased, the waiter may bring out a little bowl of torshi to try, super-tart pickled vegetables that look like glistening confetti. If you are lucky, he may also bring out a bulb or two of the pickled hard neck garlic that the restaurant ages for more than a year, until the crunchy cloves become almost translucent under their ruddy skins. (He sighs, remembering garlic in Tehran that was aged 15 years, but the slightly cheese-like pungency of this garlic is spectacular enough.) When you work through the flatbread, there will be more.
And at the end, glasses of strong, hot tea.
::
Nersses Vanak
At this Iranian restaurant in Glendale, you're here for the dizi, a comforting stew.
LOCATION
6524 San Fernando Road, Glendale, (818) 550-7800, nersses.com.
PRICES
Appetizers, $4.95-$7; kebabs, $12.95-$21.95; stews $10.95-$12.95.
DETAILS
11 a.m. to 9 p.m. Mon.-Sat.; 11 a.m. to 6 p.m. Sun. Credit cards accepted. No alcohol. Street and limited lot parking.
RECOMMENDED DISHES
Dizi; ghormeh sabzi; luleh kebab.
MORE JONATHAN GOLD:
Jonathan Gold's 101 best L.A.-area restaurants of 2015
Andy Ricker's Pok Pok brings a genuine taste of Thailand to L.A.
At Viviane in the Avalon Hotel, Michael Hung's French cooking is clean and soft
---
Get our weekly Tasting Notes newsletter for reviews, news and more.
You may occasionally receive promotional content from the Los Angeles Times.