Review: The Tsujita brings its intense ramen bowls to Glendale
Ramen at the Tsujita in Glendale.
(Christina House / For The Times)
Fried dumplings with pork, garlic chives and onikasu.
(Christina House / For The Times)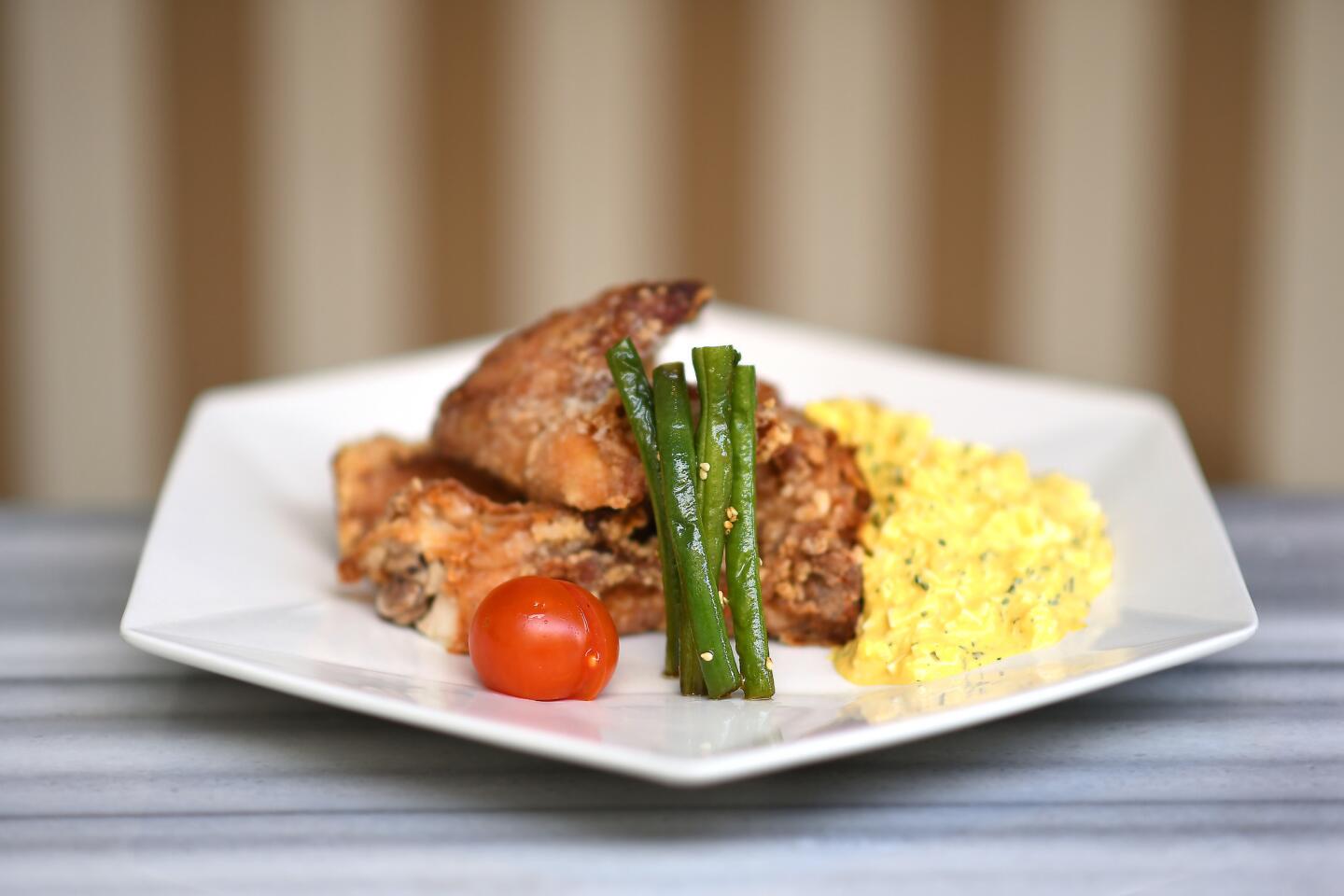 Smoked crispy chicken with tomato, lemon, broccoli and tartar sauce.
(Christina House / For The Times)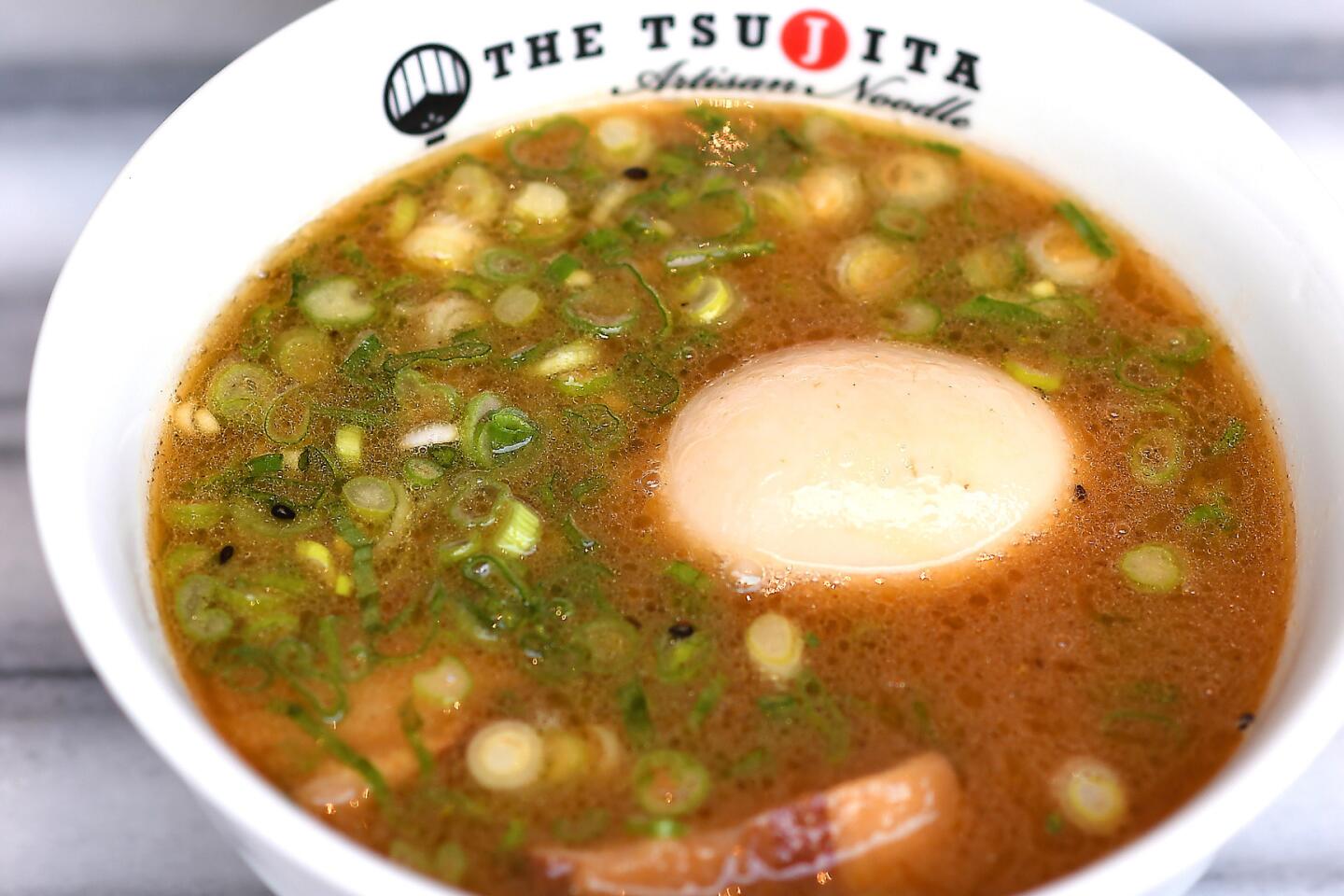 Ajitama tsukemen with soft boiled egg.
(Christina House / For The Times)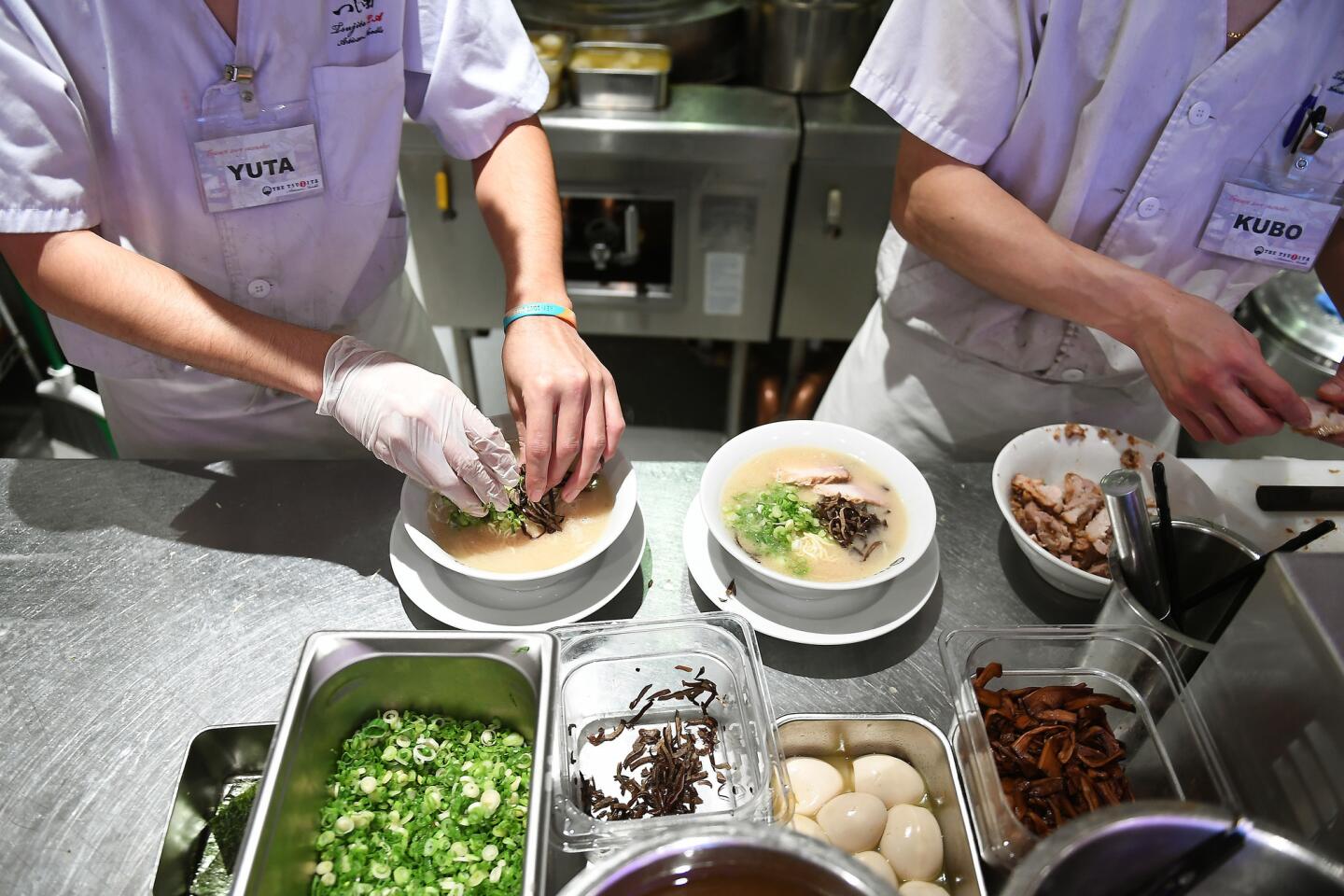 Ramen chefs Yuta Soma, left, and Tomotsugu Kubo at the Tsujita in Glendale.
(Christina House / For The Times)
Joseph Isaacs, left, and Ryan Graber dine at the Tsujita in Glendale.
(Christina House / For The Times)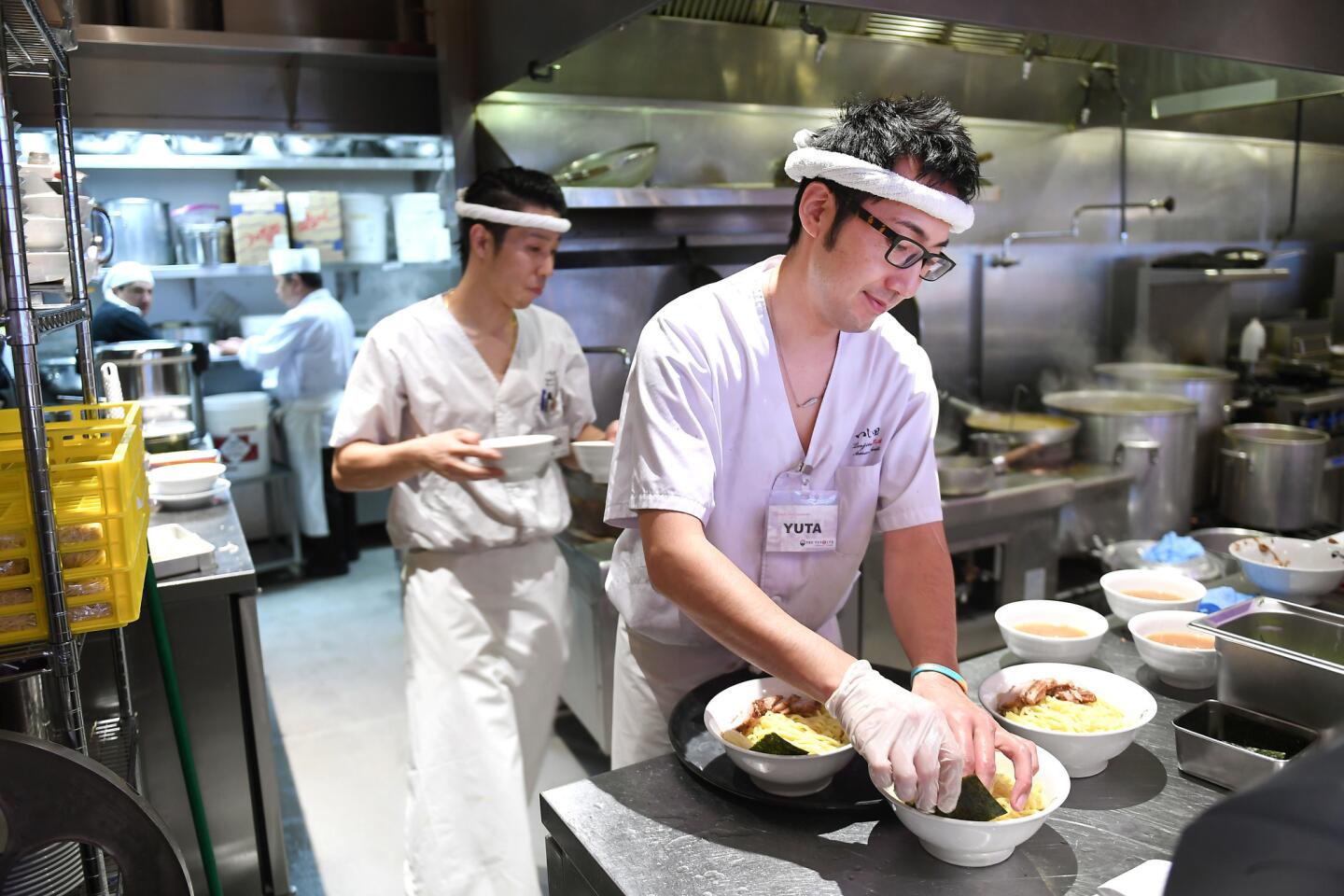 Ramen chefs Tomotsugu Kubo, left, and Yuta Soma.
(Christina House / For The Times)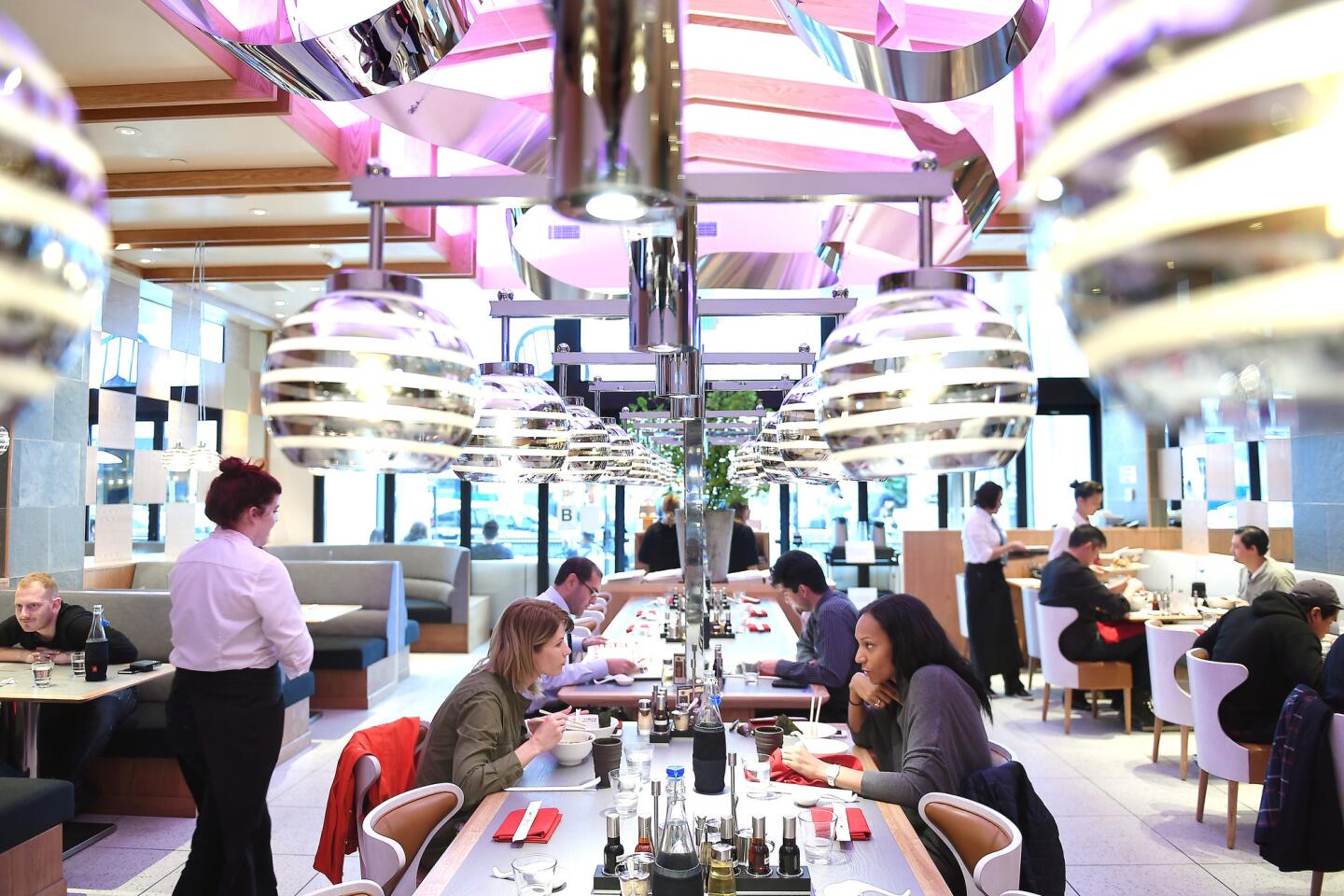 Lunch at the Tsujita in Glendale.
(Christina House / For The Times)
Food Critic
Have you, by chance, tasted tonkotsu ramen? Because the Kyushu-style noodles may be at their peak in Los Angeles at the moment: thin, straight noodles served in a pork broth of maximum intensity. Tonkotsu ramen is often layered with slices of soft braised pork, garnished with simmered bamboo shoots and served with a soft-boiled egg. It is invariably a gut bomb that will stay with you longer than a double chili-cheese from Tommy's. A Tokyo-based friend claimed that he once dropped 20 pounds just by cutting tonkotsu ramen out of his diet, and I believe him.
If you have waited in line outside Daikokuya, you have eaten tonkotsu ramen. If you have been to Shin-Sen-Gumi, Jinya, Tatsunoya or Yamadaya, among other places, you have eaten tonkotsu ramen. There are certain streets in Torrance where it may be impossible to escape the sharp stink of boiling pork bones, wafts of garlic and the unmistakable sound of noodles wetly disappearing into dozens of hungry mouths.
The king of tonkotsu ramen in Los Angeles is probably Tsujita, a branch of a well-regarded Tokyo noodle shop that has clotted traffic on Sawtelle Boulevard since it opened half a dozen years ago. On most days, the lines are just as long outside the Tsujita Annex across the street, a noodle shop dedicated to an even richer style of ramen — the first time I visited I made the mistake of ordering my ramen kotteri, extra-fatty, and the bowl came topped with a glistening Alp of lard.
And now there is the Tsujita in Glendale's Americana at Brand mall, a severely modern restaurant that gleams like a Tokyo dessert parlor, a place of long banquettes, long tables and coffered ceilings; theatrical lighting and a waitstaff that seems slightly stunned by the crowds. There has never been ramen like Tsujita's in this part of town, but the local Din Tai Fung dumpling parlor is right around the corner and a branch of Chicago's famous Lao Sze Chuan is basically across the street. Decent Asian food is a draw at the moment even outside traditionally Asian neighborhoods.
When the Tsujita opened in December, the wait for a table often stretched for an hour or more, and diners signed onto the waiting list by typing their cellphone numbers onto a screen — you could check your wait time by clicking a link the restaurant texted to your phone, so you always knew if you had enough time to duck into Sur La Table or Nordstrom. The link stayed on your phone for as long as you kept the text, so it was easy to check the length of a potential wait even from your office, so you always knew how long you'd have to wait for lunch. (I thought of it as kind of a Waze for noodles.) The electronic convenience seems to have vanished; you pencil your name on a conventional list now.
But when you get in, you may luck into a booth. There are Japanese craft beers and glasses of frosty Asahi on tap, reliable sake and wine by the glass. You can start with a martini glass filled with citrusy lobster ceviche, uni shooters or bowls of salty, steamed edamame pods.
When the restaurant opened a couple of months ago, the menu had been more ambitious: delicate bits of smoked fried chicken where there are now portions the size of Popeyes dinners. The edamame lost its gloss of truffle butter. The crusty, delicate fried dumplings, gyoza, were suddenly a bit limp. The original Sawtelle Tsujita had followed a similar trajectory — the ambitious izakaya meals served in the evenings eventually faded away, leaving a restaurant that served basically nothing but noodles and rice bowls meant to be enjoyed as snacks on the side. The Glendale Tsujita has those rice bowls too, modest things topped with spicy tuna tartare, cooked and raw salmon with a bit of roe, or a handful of roast pork.
But I'm not sure anyone has ever come to any of the Tsujitas for anything but noodles — standard, enhanced with extra bamboo shoots or enhanced with extra pork; served either as ramen or as the thicker, chewier tsukemen, or dip noodles. And with the noodles at least, the Tsujita is immune from compromise.
The restaurant's broth is obscenely rich, made from pork bones boiled for a full 60 hours, with an aggressive creaminess and a slight whiff of the wet-dog aroma that pork tends to get when you cook it for long periods of time. Your lips stick together. The temperature of the soup is just below boiling, as it should be, and your server will remind you of this at least a couple of times as he sets down the bowl.
You'll find fresh minced garlic and shreds of pickled ginger in little jars in front of you, if you want to make the broth even more intense, as well as spice-smeared cured mustard greens to give the noodles a chile jolt. The char siu, braised pork, soft and fatty, dissolves on your tongue like butter. The yolk of the simmered egg is gooey and violently orange.
If you don't get to the ramen immediately, the thin noodles soften and the gelatin in the broth forms a wrinkly skin across the top. A chef friend says that the broth at the Tsujita is pretty much what most line cooks spend their lives skimming from stockpots — if you're afraid of collagen, fat or sundry stockpot debris, this intense tonkotsu broth may not be quite your speed.
But if intensity is what you crave, the tsukemen at the Tsujita are among the most hard-core noodles in town, thick and slithery, with the tensile strength of hand-thrown Lanzhou mian. And the broth, enhanced with a bit of seafood, has been reduced to a consistency just this side of syrup, as if the chef was consumed with the mission of squeezing as much pork as possible into a small bowl. You pluck out chopstickfuls of the tepid noodles, dunk them into the condensed broth, and suck them into your mouth in unbroken strands.
You can season the noodles with a squeeze of lime if you wish — I always forget to smuggle in a more pungent Japanese sudachi — or a sprinkle of red pepper. You can pour on an extra bit of tsukemen base from a cruet. And after you're done, the waiter offers to thin out the remnants in your dip bowl with broth, so that you can sip it as soup. If you live.
::
The Tsujita
The acclaimed ramen specialists expand to the Americana at Brand.
LOCATION
769 Americana Way, Glendale, (818) 553-3822, www.thetsujita.com.
PRICES
Snacks $6.50-$9.50; rice bowls $7.99 ($6.99 as a side dish); noodles $9.95-$14.95.
DETAILS
11 a.m. to 11 p.m. (last orders at 10) daily. Credit cards accepted. Beer and sake. Mall parking.
RECOMMENDED DISHES
Ramen, tsukemen.
MORE JONATHAN GOLD
Jonathan Gold: Gwen, a manly restaurant and butcher shop, simply screams 'steak'
Happy Chinese New Year: Restaurants for noodles, dumplings, chicken, fish and more
Get our L.A. Goes Out newsletter, with the week's best events, to help you explore and experience our city.
You may occasionally receive promotional content from the Los Angeles Times.