Recipe: <i>Shakshuka</i>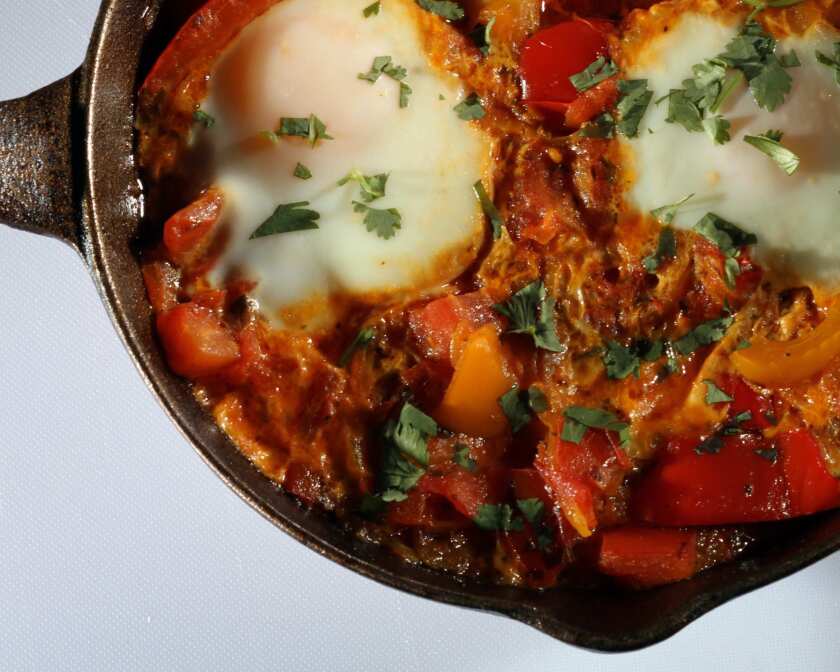 Shakshuka
Total time: About 1 hour
Servings: 4
Note: Adapted from "Plenty" by Yotam Ottolenghi. Muscovado sugar can be found at cooking and baking supply stores as well as at select gourmet markets, and is widely available online.
1/2 teaspoon cumin seeds
3/4 cup light olive oil or vegetable oil
1 large onion, sliced
2 red bell peppers, cut into ¾-inch strips
2 yellow bell peppers, cut into ¾-inch strips
4 teaspoons muscovado sugar
2 bay leaves
6 sprigs thyme, leaves picked and chopped
2 tablespoons chopped parsley
2 tablespoons chopped cilantro, plus extra to garnish
6 tomatoes, roughly chopped
1/2 teaspoon saffron threads
Pinch of cayenne pepper
Salt and black pepper
Up to 1 1/8 cups water
8 eggs
1. In a very large pan, dry-roast the cumin seeds over high heat for 2 minutes, shaking the pan frequently so the seeds do not burn on one side. Add the oil and onion, and sauté for 5 minutes. Add the peppers, sugar, bay leaves, thyme, parsley and cilantro, and continue cooking over high heat, stirring frequently, until the vegetables are nicely colored, 5 to 10 minutes.
2. Add the tomatoes, saffron and cayenne, and season with one-half teaspoon salt and a pinch of pepper, or to taste. Reduce the heat and cook for 15 minutes, stirring occasionally and adding water as needed so the mixture has a pasta sauce-like consistency. Taste and adjust the seasoning as desired. The mixture should be potent and flavorful. (You can prepare the pepper mixture up to a couple of days in advance; cover and refrigerate until ready to use.)
3. Remove the bay leaves, then divide the pepper mix among four small, deep frying pans, each large enough to take a generous individual portion. Place them over medium heat to warm up, then make two gaps in the pepper mix in each pan and carefully break an egg into each gap. Sprinkle with salt and cover the pans with lids. Cook over very low heat until the eggs are just set, 10 to 12 minutes. Sprinkle with cilantro and serve immediately.
Each serving: 587 calories; 15 grams protein; 20 grams carbohydrates; 4 grams fiber; 51 grams fat; 9 grams saturated fat; 372 mg cholesterol; 13 grams sugar; 448 mg sodium.
---
Get our weekly Tasting Notes newsletter for reviews, news and more.
You may occasionally receive promotional content from the Los Angeles Times.