Creating the perfect charcuterie or <i>salumi</i> plate at home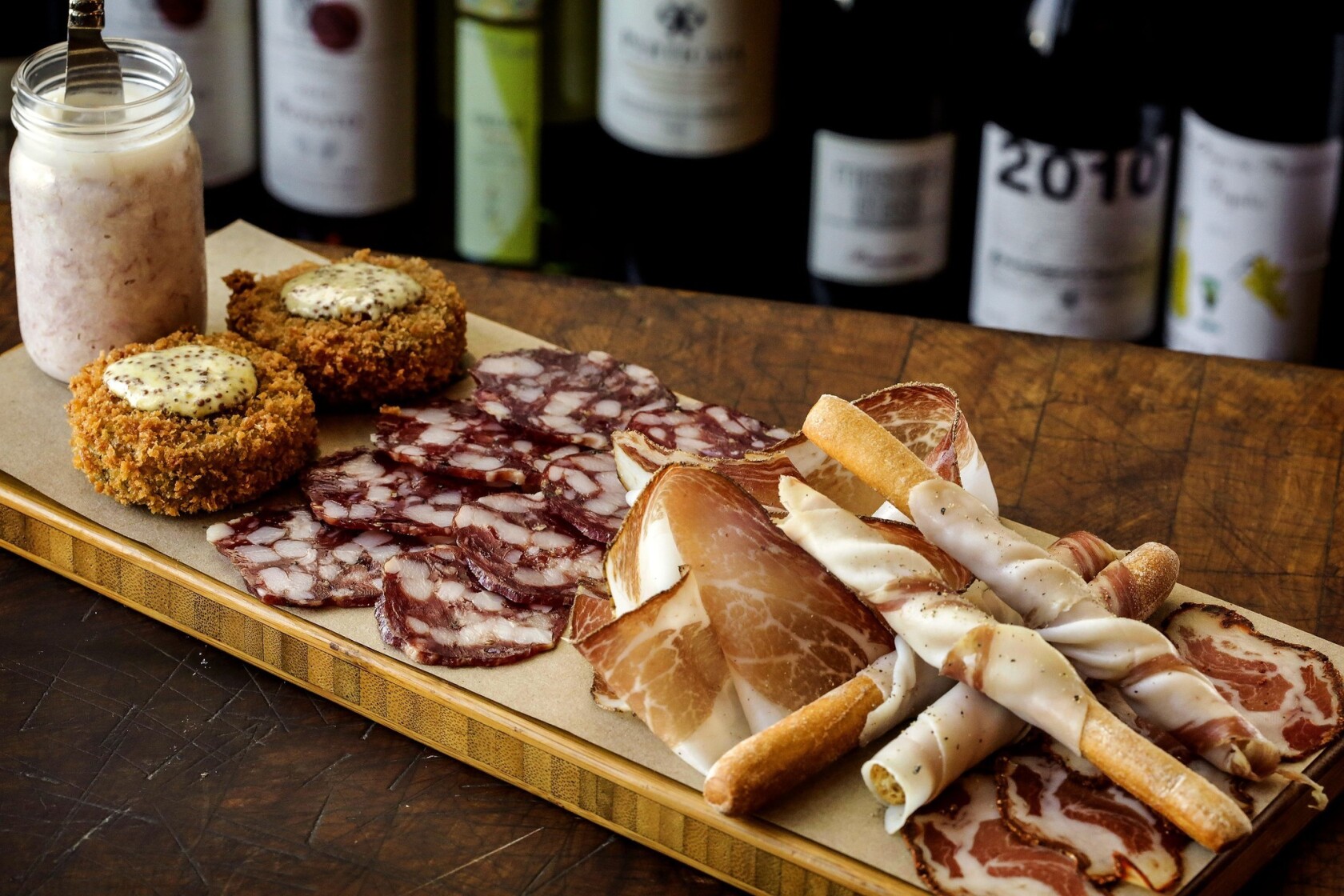 An
affettati misti
plate prepared by chef Chad Colby at Chi Spacca.
(Ricardo DeAratanha / Los Angeles Times)
Chef Chad Colby slices his own cured meats for the charcuterie plate.
(Ricardo DeAratanha / Los Angeles Times)
A variety of salami and cured meats are used.
(Ricardo DeAratanha / Los Angeles Times)
A trotter
fritti
and Trappist salami for the
affettati misti
plate.
(Ricardo DeAratanha / Los Angeles Times)
Chi Spacca, in the Mozza complex on Melrose Avenue, specializes in meat.
(Ricardo DeAratanha / Los Angeles Times)
No matter the occasion, my friend Rafael inevitably shows up with a platter of prosciutto di San Daniele, the sweeter cousin of Parma ham, that he's purchased at Roma Deli in Pasadena. It's always perfectly sliced, the way they do it in Italy, so thin the ham almost melts on the tongue and you can taste every bit of its salty-sweet goodness.
That's an example of sumptuous minimalism in a charcuterie or salumi plate. And it used to be about the only option if you wanted to put together one at home. But now, thanks to a relaxing of import regulations and a new generation of homegrown butchers passionate about the art of charcuterie and salumi, anyone having a dinner party can put together the sort of cold cuts plate we could only dream about until very recently.
Sampling handcrafted salame or chorizo, supple hams and other cured meats, each bite complex and compelling, is a wonderful way to start a meal. The artisans who make the goods have done all the work in choosing the meat, curing it and aging it. Your job is simply to enjoy.
But there is an art to putting together such a plate. And to get some insight on how best to do that, I called up several experts to find out what they'd propose for a charcuterie or salumi plate at home.
Paul Bertolli
The former Chez Panisse and Oliveto chef founded Fra' Mani in 2006 after experimenting with salumi for years. Now his Berkeley-based company makes a huge array of superlative dry salami, cooked salumi, sausages and pancetta.
What's on the plate? Three to four dry-cured items (salami, prosciutto, coppa, jamón, lomo), and a couple of cooked items (mortadella, smoked ham, etc.).
Fine points: The larger in diameter the sausage, the thinner the slice.
And when it comes to plating your selections, rather than shingling the meats, turn the slice partially on itself so that part of it rises up and over itself in a rough arc — best accomplished if the meats are at or very near room temperature. "This 'ruffling' allows air to lift up the aroma," he says. "I do this and people want to dive on the platter!"
Chad Colby
The executive chef at Chi Spacca, the Mozza group's meat-focused restaurant, makes some of the best salumi I've tasted in this country, better than the Italian equivalent in some cases. And his affettati misti (mixed sliced meats) are worth a special trip.
What's on the plate? A combination of something soft and fresh, such as a pâté or a terrine, salami and whole-muscle cures such as speck or prosciutto or coppa. "There needs to be a balance of flavors — something intense and rich and sweet, and something sharp and acidic like pickles. I also like some toasted nuts or olives, or even marinated vegetables."
Fine points: With larger cuts such as speck or coppa, "I like to drape it on the plate. Curl the slice between two fingers and let it drop on the plate in a graceful swoosh. It looks more alive." Fattier items, such as pancetta or lardo, he likes to wrap around breadsticks for easier eating.
Speck, prosciutto or coppa should be sliced to order at the deli, anything else you can hand-slice. For six people, he'd buy one slice each of maybe five or six items and then get a few extra to accommodate that one person who takes four slices of everything.
Amber Clark
Clark curates the cheese and salumi collection at Cube, the restaurant and market on La Brea Avenue, where they are served on a slate tile with the name of each item written in white. She's a big fan of Creminelli products from Utah and cites their wild boar salame as one of her favorites. "It has the right amount of gaminess to keep it interesting."
What's on the plate? A very good prosciutto, wild boar salami, spicy soppressata and a Spanish chorizo.
Fine points: It's important to take the salumi out of the fridge at least half an hour before serving.
You don't have to drive all over town to assemble the perfect cold cut plate. Check our list of good shops and buy what appeals from their selection. It could be just that beautiful prosciutto or jamón. Or a trio of salami in different sizes.
And now that I've found out that Chi Spacca will sell salumi to go, if one of my dinner guests asks what they can bring, I just might suggest stopping by the restaurant to pick up an order of fennel salami or some affettati misti.
That's my appetizer course, done.
---
Get our new Cooking newsletter.
You may occasionally receive promotional content from the Los Angeles Times.