Three L.A. restaurants that are good brunch bets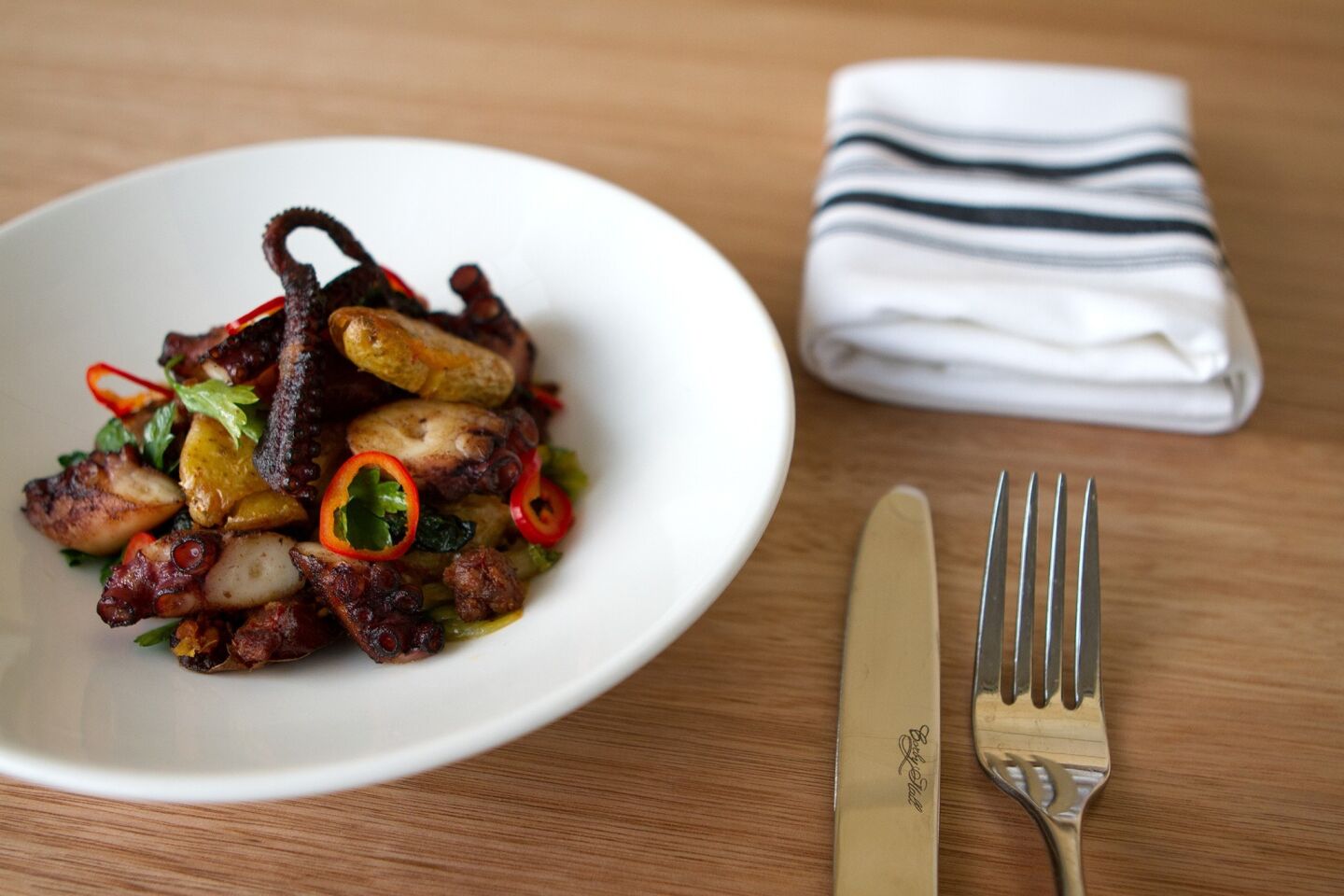 Meaty octopus hash.
(Cheryl A. Guerrero / Los Angeles Times)
The dining room at Farmshop in the Brentwood Country Mart is washed in light in the mornings, a lovely spot for brunch.
(Anne Cusack / Los Angeles Times)
It's the holidays. The relatives are here, and you're tired of cooking and cleaning and then doing it all over again the next day. You need to get them out of the house — for brunch. Please, not a buffet. No mob scenes. You need a restaurant with a chef who has really thought about the meal that bridges breakfast and lunch. How about salmon slow-smoked over foraged "rabbit tobacco" or a sumptuous octopus hash with smashed fingerling potatoes? Maybe a classic omelet or shirred eggs? To start the meal, of course, you'll have a strong cup of coffee from a micro-roaster or perhaps a mimosa stained fuchsia with prickly pear fruit. Why not?
Bucato
At this terrific new Culver City restaurant, chef and owner Evan Funke makes an Italian brunch that would be perfect if only the Italians had anything more than cappuccino and a brioche in the morning. Start with freshly fried doughnuts with a heart of warm, melting Nutella or dreamy toast heaped with avocado smashed with olive oil. Then — and it's a big then — you can have that meaty octopus hash or a swatch of crisp pork belly with velvety peppers and creamy white grits. Or those same grits with grilled shrimp, green garlic and escarole. And why not braised rabbit topped with a sunny egg? Oh, just have everything.
3280 Helms Ave., Culver City; (310) 876-0286, https://www.bucatola.com. Brunch 10 a.m. to 3 p.m. Saturdays and Sundays. Brunch items, $6 to $17.
Girasol
At Studio City's new Girasol, chef C.J. Jacobson turns out a highly original brunch. I'd expect no less after his stint last year at Noma in Copenhagen. His prickly pear fruit mimosa is brilliant. So is the house-cured gravlax, slow-smoked and served with crème fraîche subtly flavored with bonito shavings. There's a grilled octopus gazpacho made with tomatillos, an elegant Maine lobster Benedict with sautéed wild spinach and the world's best hollandaise, and even steak and eggs with a pile of incredibly crisp Kennenbeck potato skins and a garnish of pickled California black walnut. Something for everyone.
11334 Moorpark St., Studio City, (818) 924-2323, https://www.girasolrestaurant.com. Brunch 11 a.m. to 3 p.m. Sundays. Brunch items, $7 to $28.
Farmshop
The dining room at Farmshop in the Brentwood Country Mart is washed in light in the mornings, a lovely spot for brunch. And the menu at this 3-year-old restaurant is just what you'd expect from a chef who worked with Thomas Keller: simple and classic, relying on great ingredients and impeccable technique. If you crave an omelet made with beautiful eggs, chanterelles, soft herbs and Jersey milk ricotta, this is the place. The shirred eggs come with wild greens, carrots, goat cheese and olive tapenade. Not to forget the plate of pastrami with sunny-side up eggs. Or the basket of house-made pastries.
225 26th St., Brentwood, (310) 566-2400, https://www.farmshopla.com. Brunch 8 a.m. to 2 p.m. Saturdays and Sundays. Brunch items, $8 to $18.
---
Get our weekly Tasting Notes newsletter for reviews, news and more.
You may occasionally receive promotional content from the Los Angeles Times.