Review: In Long Beach, Amorcito spotlights Mexican American 'pocho' cuisine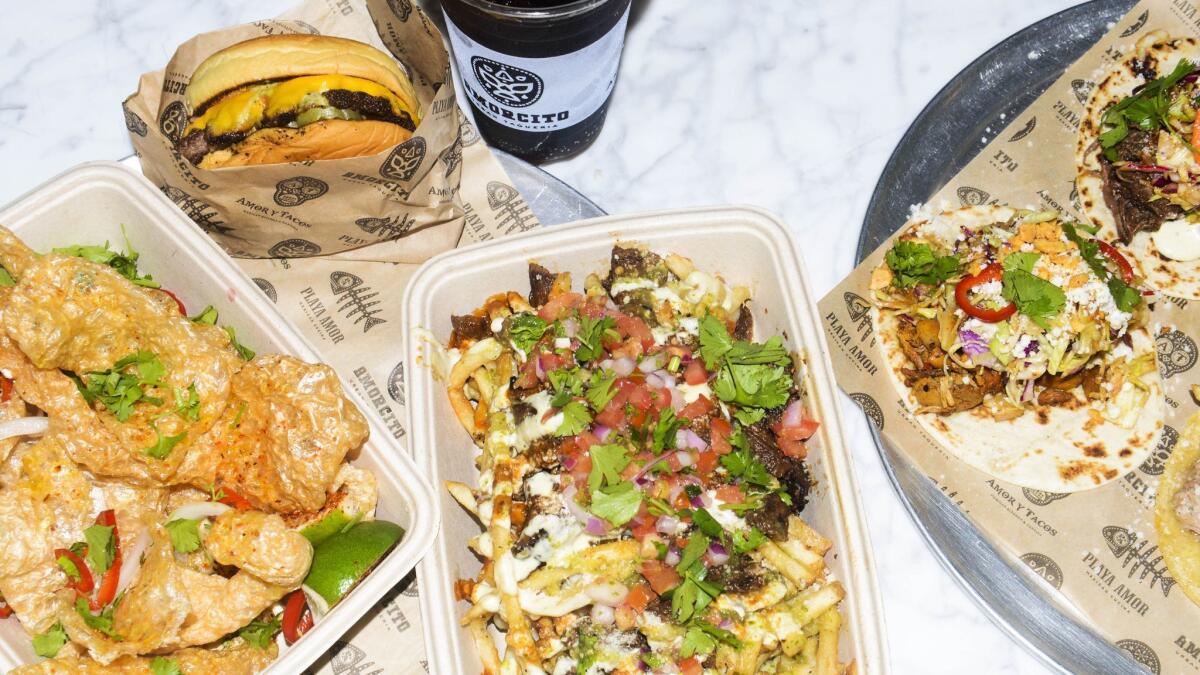 Restaurant Critic
The taco salad, a midcentury Mexican American dish, has never gotten much respect in food circles. Its credibility hit an all-time low May 5, 2016, when then-presidential candidate Donald Trump tweeted a picture of his lunch: a mystery meat "taco bowl," ostensibly eaten in honor of Cinco de Mayo. "I love Hispanics!" tweeted the would-be president, a wolf-in-sheep's-clothing grin pasted on his face, further affirming the dish's reputation as the stuff of unappetizing cafeteria menus and watered-down Mexican cooking.
At Amorcito, a new counter-service Mexican restaurant located inside the Hangar, the aviation-themed food hall located at the Long Beach Exchange shopping center, chef Thomas Ortega presents a version of the taco salad that's, at once, ennobling and playful. He swaps out the familiar stratum of mealy ground beef, grated yellow cheese, diced tomatoes, sour cream and iceberg lettuce for a crisp, cheffy blend of organic field greens, garbanzos, roasted corn, shredded cabbage and a scattering of sharp cotija cheese. It's served inside a comically oversize tortilla shell, which has been shaped to resemble, more or less, the world's biggest taco.
Review: Sushi master Morihiro Onodera reappears at hidden Inn Ann »
The dish's cheeky presentation, and the way it smudges the line between high and low, is a good example of Ortega's cooking style, which food writer Bill Esparza has described as "pocho cuisine." For much of the 20th century, the word "pocho" was hurled pejoratively at Mexican Americans who were deemed to have "lost" their Mexican culture, a judgment often revolving around a lack of fluency in Spanish. (Novelist and native Angeleno José Antonio Villarreal helped disseminate the term more widely with "Pocho," his groundbreaking 1959 coming-of-age Chicano novel). In more recent decades, many Chicanos have reclaimed the word, mining it as a rich source of identity, humor and strength.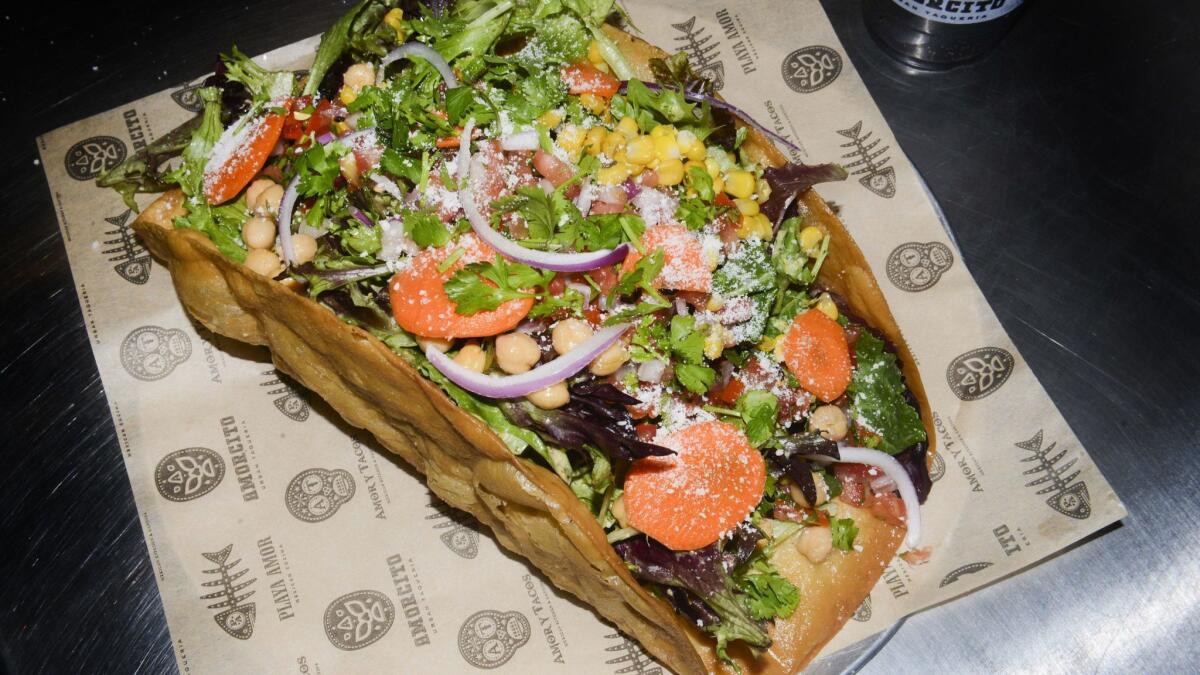 Pochismo, in Ortega's cooking, is a philosophy and culinary aesthetic guided by several qualities: wit, irreverence and the sort of fearless autonomy that allows a chef to erase the boundaries between what we think of as "Mexican" and "American" cooking; haute and lowbrow cuisine. In Ortega's world, the tension that comes from living between two different cultures is not a source of anguish or confusion, but something to be exploited for creative purposes. Some of his most famous dishes include chilaquiles plates made out of Doritos; a tater tot poutine lathered in black mole; pasta sauced with puréed New Mexico Hatch green chiles. "Authenticity," a dubious concept frequently imposed on Mexican cooking, is never more meaningless than when you pull up a chair at Ortega's table.
Review: At Yours Truly in Venice, a chef offers his vision for 'modern Californian' cooking »
Before launching a spate of Mexican restaurants in Los Angeles' southern suburbs — Ortega 120 in Redondo Beach, Long Beach's Playa Amor and Amor y Tacos in Cerritos — Ortega cooked at Spago, the Water Grill and the Four Seasons in Newport Beach. Amorcito is his fourth restaurant and his first foray into fast-casual dining.
The menu is considerably smaller than at his other restaurants, but the spirit of his cooking is still there, particularly in the tacos. You can get battered fish tacos touched with a gently spicy "secret" remoulade; a succulent pollo asado taco garnished with crumbles of chile-lime peanuts; and tacos made with wonderful long-cooked short-rib beef birria. As at Ortega's other restaurants, everything is served on fresh, hot, sturdy tortillas that are made in-house — corn or flour, your choice.
A highlight of eating at Amorcito are the taquitos de papa stuffed with a blend of potatoes, mushroom and spinach — the tightly rolled, deep-fried tacos shatter pleasantly between your teeth, the texture going from crunchy to creamily soft and then crunchy again. They're topped with a spicy-tangy onion-cilantro slaw and a tangy drizzle of the house "guacsalsa."
The best taco in the house is the Tepito, which Ortega said was inspired by one he had on a recent trip to the Tepito Market in Mexico City's Barrio Bravo. The taco is a pork lover's delight: a heap of braised carnitas hacked into loose, juicy scraps and laced with slinky, meltingly soft cueritos. Crisp, thin French fries are crowbarred into the taco, gently punctuated with green and red salsa and the bracing freshness of cilantro and onion. The crowning touch is a wafer-like chicharrón chip, a sort of crisp bookend to the whole drippy, delicious mess.
Burritos are monumental beauties stuffed with your choice of meat and all the trimmings: rice, beans, pico, queso, cilantro, onions and a sweet-tangy green chile aioli. They weigh a half-pound or more, probably, but stay miraculously intact and unsoggy. I've grown especially fond of the bean y queso, a fat, bulging tube filled with a creamy mash of Peruvian beans whorled with molten white cheese and a smoky salsa verde.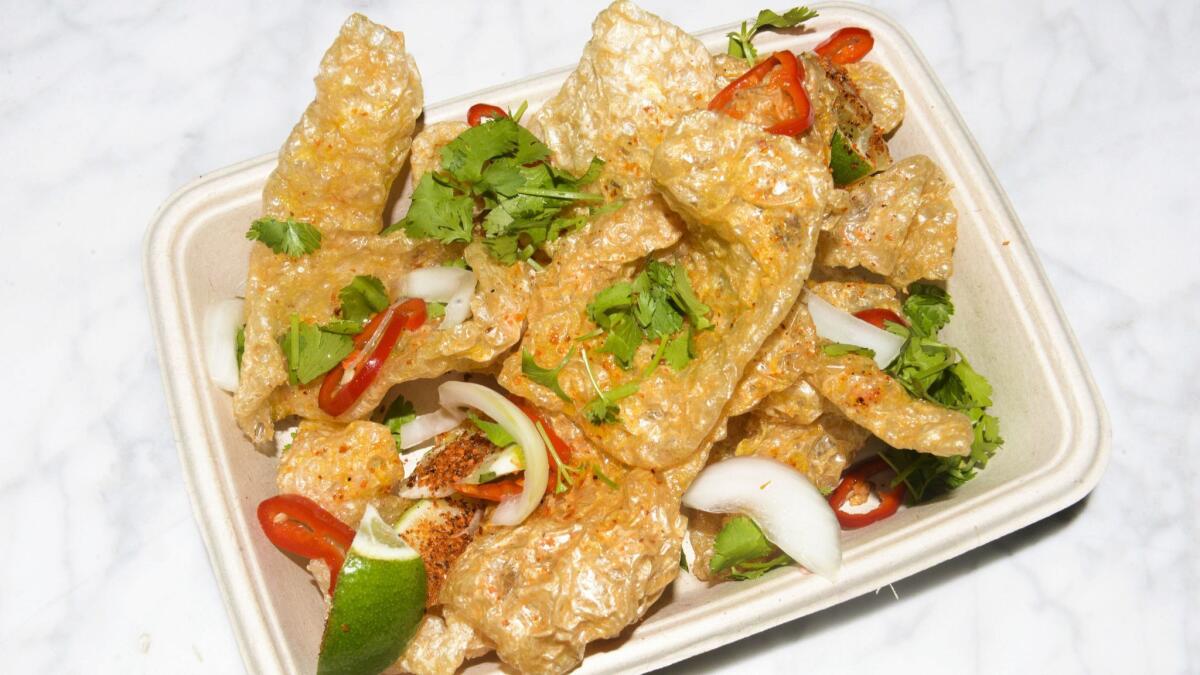 Hopefully your table will be covered with paper boats loaded with Ortega's salty-tangy salsa verde y queso fries, or maybe the pastor fries, spiked with meaty, spicy hunks of the chef's pineapple-sweetened al pastor. In between tacos, you are probably snacking on the house pork rinds, appropriately crisp and spritzed with lime and a spicy salsa roja.
It wouldn't be a true pocho joint without a burger or two on the menu. Amorcito's New Mexico Hatch chile cheeseburger is a slim, well-cooked patty capped with melted American cheese, the bread lightly smeared in a satiny garlic aioli and a thin puree of green chiles. It's a very good burger, although probably not why you came to Amorcito in the first place. But as any pocho knows, the world is a richer, more delicious place when you ditch the rules and eat without boundaries.
Amorcito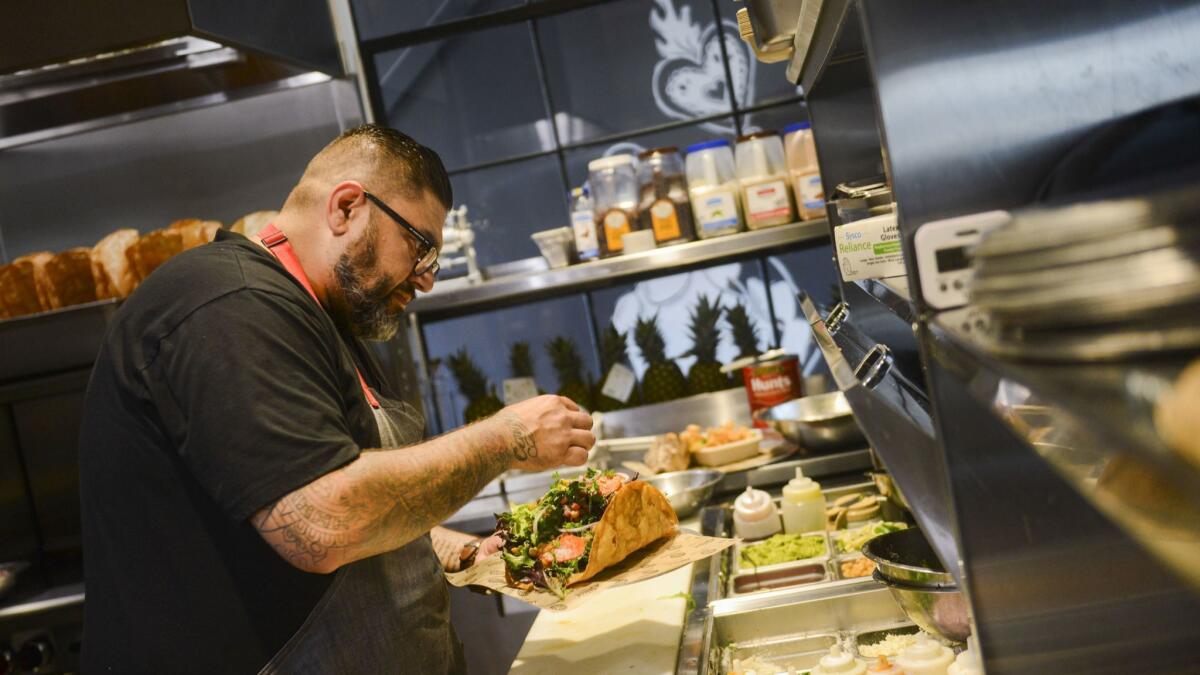 Chef Thomas Ortega opens a fast-casual Mexican restaurant in Long Beach.
LOCATION
3991 N. Lakewood Blvd., Long Beach (Inside the Long Beach Exchange shopping center's Hangar extension), (562) 420-5005
PRICES
Tacos $3.75-$4.25; burritos $9.50; starters $4-$9.50
DETAILS
Credit cards accepted. No bar. Lot parking. Dining room and restroom are wheelchair-accessible.
RECOMMENDED DISHES
Taco salad; short rib taco; Tepito taco; bean y queso burrito
patricia.escarcega@latimes.com
Twitter: @piescarcega
Instagram: @holynopales
Get our weekly Tasting Notes newsletter for reviews, news and more.
You may occasionally receive promotional content from the Los Angeles Times.