Review: Seek out Sri Lankan hoppers and fish curry at Apey Kade in Tarzana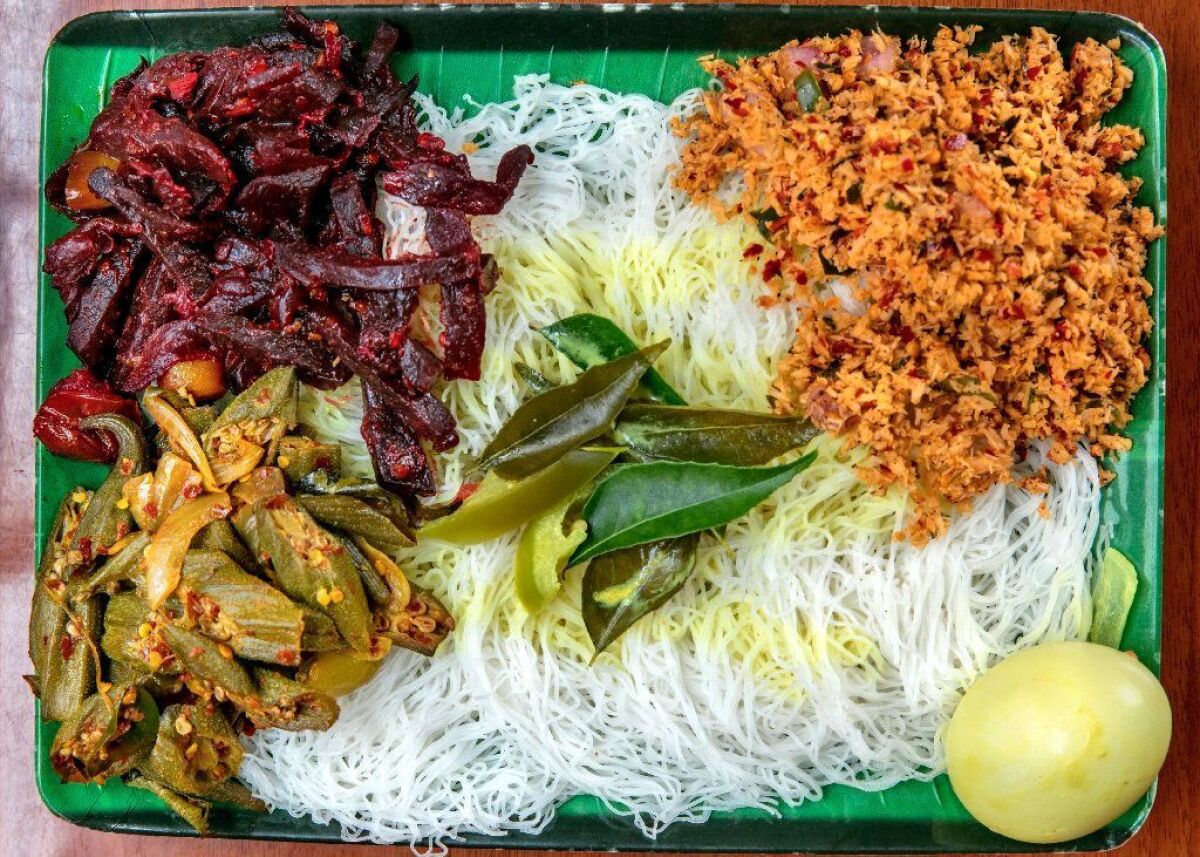 Restaurant Critic
A few weeks ago I was drinking tea at a shop in Alhambra, and a man seated near me mentioned he was from Sri Lanka. I asked him if there were any Sri Lankan restaurants he particularly loved around Los Angeles.
"Only one," he said, plunking his cup down with emphasis. "Apey Kade in Tarzana. That is where the cooking tastes like home to me."
Three days later I'm at Apey Kade in front of a plate of string hoppers — thin rice flour noodles steamed into flat, pearly nests. Garnishes surround them: kiri hodi, a golden spiced coconut milk gravy served with a hard-boiled egg; pol sambol, a fluffy coconut condiment dyed peachy orange from red chiles; mallum, a salad of finely chopped greens (in this case kale) with coconut, onion and lemon; and coconut chutney dusky with chile powder. This all arrives on a turquoise tray. The colors alone spike my dopamine levels.
How best to dig in?
"I like to pour gravy over, add a little of everything else on top of each hopper, and then pick them up to eat them," says owner Lalith Rodrigo, who opened the restaurant with his wife, chef Niza Hashim, in 2011.
The lacy string hoppers have a satisfying bounce. Sweet, spicy, oniony and earthy flavors zoom and stack from all angles, like a game of "Tetris." Coconut is the backdrop — of this collage and of the cuisine itself.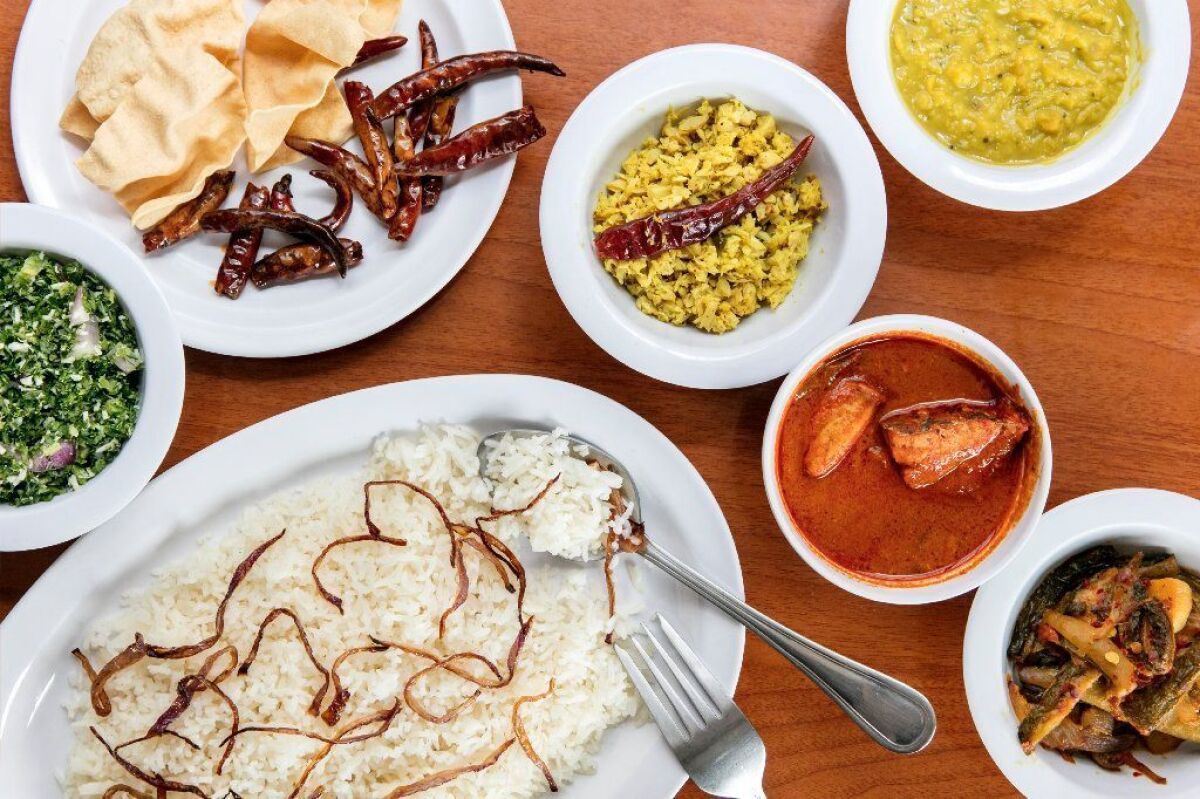 Hashim and Rodrigo are natives of Colombo, Sri Lanka's port-city capital along the western curve of the teardrop-shaped island. They grew up in the city's small Muslim community and serve halal meat at Apey Kade; the name translates from the Sinhalese language as "our store." Their menu reflects the scope of Sri Lanka's many intermingled cultures and the myriad impacts of colonization.
A center of the spice trade for millenniums (the cultivation of cinnamon, for starters, originated on the island), Sri Lanka was on the ancient sea routes of Greek, Roman, Arab, Persian and Chinese mariners and merchants. European incursion began in the 16th century, under Portuguese, Dutch and finally British rule. The island, then known as Ceylon, gained its independence in 1948.
"String hoppers" is an Anglicized name for a dish known in Sri Lankan and South Indian dialects as idiyappam. Hoppers, or appam, are an even more typical variation: a breakfast staple (that can really be eaten any time of day) made of a yeasted rice flour and coconut milk batter. They're cooked in a rounded pan called an appachatti to produce a crepe-like center and crisp, wispy edges. At Apey Kade, the hoppers meal includes four appams — one with an egg fried into its core, the yolk bursting to run wild — and a choice of curries (including bone-in goat or chicken) whose distinct fragrance come from both coconut oil and coconut milk. Katta sambol, a thick, dangerously scarlet chile paste, comes alongside; it burns fast and hot.
Many of Apey Kade's entree options follow a similar format: Curries might be paired simply with rice and vegetables (tomato-laced okra, silky jackfruit simmered in coconut milk) or matched with flatbreads such as small, tender pol roti (flecked with coconut and chilies) or thin, wide, slightly crisped godamba roti. A hash called kottu employs godamba roti cut into strips and stir-fried into a chile-stained whirl with vegetables and various proteins, including fried chicken or cheese and egg. I would hanker for this most on a Sunday morning after a very long, late night.
Appetizers lean toward fried finger foods displayed in a case. Nibble on a breaded "Chinese roll" filled with potato and shredded fish or beef while Hashim disappears into the kitchen to cook hoppers and warm curries. For dessert choose watalappan, a version of flan made with coconut milk, and Ceylon tea made from leaves grown on a Sri Lankan plantation.
Apey Kade's informal dining rooms span two small floors. A few tables line the wall across the table from the ordering counter; 30 additional seats accommodate overflow for the lunch crowd that comes for the small but ever-changing lunch buffet. Hashim and Rodrigo do plenty of takeout business, but I like sitting down immediately to eat some of the call-ahead dishes listed under the menu's "special orders" section; most of these take only an hour or two of notice.
Lamprais (pronounced lump-rice) is the most compelling one to request. The word has Dutch origins but the meal thoroughly evokes Sri Lanka: It is feast wrapped in a banana leaf. Boneless chicken or beef curry; eggplant melted to utter submission; green bananas fried and then bathed in coconut milk; seeni sambol, a tangled of fiercely spiced and caramelized onions; one squishy fish croquette; and a bed of short-grained rice: Hashim carefully arranges all these elements together in the center of a leaf and then steams the bundle before serving. The steam when you unwrap this parcel releases a bottled-up free verse of sweet spice and coconut palms and nutty rice.
Sri Lanka shares some culinary traits with South India. The flavors in the beef lamprais remind me of my dear friend Asha, an incredible cook in Atlanta who's originally from India's southwestern state of Kerala, which sits across the Laccadive Sea from Sri Lanka. I know from her to eat this spread with my right hand, waiting for the food to slightly cool before I form bits of this and that, held together by rice, into a loose ball in my palm. Rodrigo looks at me, nodding and laughing. He tilts his head to the back of the restaurant. "The restroom is that way to wash your hands when you finish."
Hashim makes a fish curry that I have only ever tasted before from Asha's hands. The secret ingredient is a dried regional fruit with many names: goraka, kudampuli, Malabar tamarind. It imparts a sour, smoky tanginess to seafood for which the palate has no other reference. It's my favorite thing Asha makes. Hashim's is wonderful; I may have gone teary when I took the first sip of broth. I didn't expect that the cooking at Apey Kade would taste like home to me, too.
If You Go
Apey Kade
A San Fernando Valley lodestar for the fiery, coconut-rich cooking of Sri Lanka.
Prices: Appetizers $1-$2.79; entrees $9.49-$11.49; desserts $2.75.

Details: Credit cards accepted. No alcohol. Lot parking. Wheelchair accessible.

Recommended dishes: Vegetarian string hopper meal; hopper meal with fish curry; beef lamprais; jack fruit curry.
---
Get our weekly Tasting Notes newsletter for reviews, news and more.
You may occasionally receive promotional content from the Los Angeles Times.