Review: The meat is truly what matters at APL, Adam Perry Lang's steakhouse
Restaurant Critic
I can't say that our server at APL, the Hollywood steakhouse owned by barbecue maestro Adam Perry Lang, exactly talked our table into ordering $300 worth of beef for three people. But she praised the menu's two largest and most expensive meat-a-paloozas with such gusto that it felt like professional negligence on my part not to heed her advice. Sure enough, these mammoths fulfilled the vital steakhouse tenet: They activated our most animalistic eating instincts. In a frenzy of neurotransmitters and gluttony, tripping on fat and protein, we demolished every ounce of cooked flesh brought to us.
First up was Perry Lang's gilded calling card: smoked short ribs, the technique for which he mastered during his run of Serious Barbecue Back Lot BBQ pop-ups earlier this decade. He smokes the ribs over post oak and pecan woods; the final texture emerges a bit ropier than the lush, almost custardy Central Texas barbecue exemplars. The firmness allows his cooks to carve the meat into thin, tapered slices, which are heaped back on top of the bones in irresistible disarray.
Perry Lang built an onsite laboratory for dry-aging steaks; he likens his preferences for concentrating beef flavors to the process of grapes converting to raisins, and he aims to minimalize much of the blue-cheesy funk often associated with dry-aging. I asked our server about the most wizened steak available. "The tomahawk," she said. "It's aged 218 days." That bone-in rib-eye, with its handle-like alabaster tail, is a peacock among steak cuts in the Instagram age. But I liked the specificity of her answer about its age, and I liked the meat's pearly gloss and its flavor even more: intense yet not at all musty, with only a whiff of the usual Roquefort twang.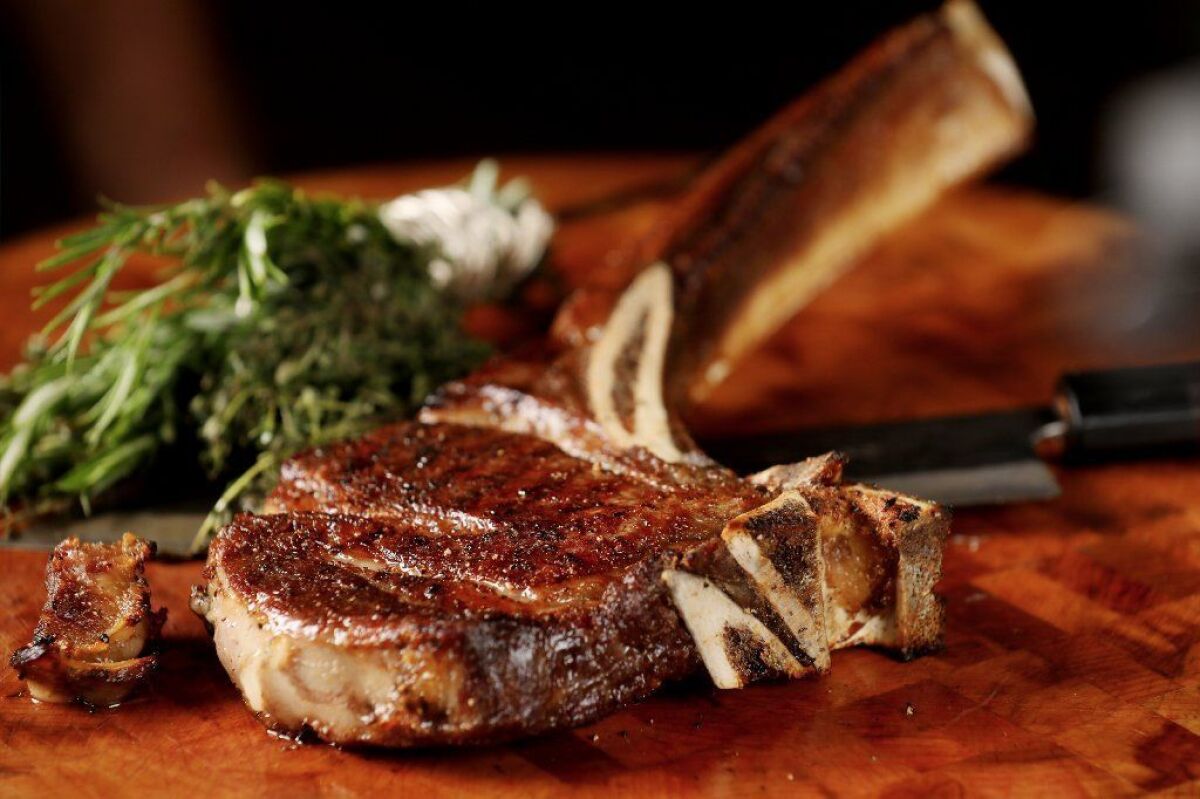 Meat is the absolute standout feature at APL — which might sound doltishly obvious, except that exceptional steak really isn't always a given at a steakhouse. The chophouse format is one of the nucleotides in America's dining DNA, at once codified and constantly adapting. Themes of money and power and celebration drive the genre, but the modern iterations can show up in many guises: as meaty adjuncts for popular cuisines (particularly the Italian riff on steakhouses, such as Nancy Silverton's excellent Chi Spacca), as platforms for nose-to-tail evangelists, as models of inclusivity that pamper pescatarians and vegans.
APL is not one of those places. It falls back on the most quintessential steakhouse trope: the shiny, masculine clubhouse. The restaurant is steps from the intersection of Hollywood and Vine. Note the sidewalk-embedded stars for Audrey Hepburn and Dick Gregory as you walk from the street and right into the dining room, a runway of white and black tiling surrounded by navy-gray walls, gold curtains, bronze booths, marble and mixed woods. I've observed the crowds you'd expect in this setting: businesspeople, older couples snuggling on banquettes, groups of bros going big on Cabs and tomahawks.
Review: At Fonda Mixcoac in Anaheim, order a cheesy 29-inch machete. Bring friends »
Taking APL on its own terms, then, it pays to follow the traditional chophouse feasting map. Precede rich steaks with equally indulgent salads: the textbook wedge, thrashed with blue cheese and draped with a thick, almost obscene, flop of grilled bacon, and burrata flanked with kerchiefs of shaved prosciutto and strawberries (or whichever fruit crops up in the seasonal rotation). Mix and match a few sides: smooth, buttery mashed potatoes or fries crisped in duck fat for the spuds fix; broccolini bathing in bagna cauda, or rainbow chard and white beans in Parmesan brodo for greening the spread.
Most of the short list of steaks — bone-in New York strip, boneless rib-eye, prime rib — are dry-aged, though not as matured as the tomahawk. Because Perry Lang's methods yield subtle results, these dry-aged beauties appeal to a wide berth of palates. I prefer rib-eyes rife with tang and funk, so I veer to the restaurant's ripest specimens.
Minus the beef on which Perry Lang justly prides himself, a lavish dinner at APL doesn't hold in the center. This came into sharp focus during an unfortunate experience in late January, when I happened to dine at the restaurant on a night its broiler system had gone down; the only steak available was a filet mignon. An attempt to rally only highlighted the weak spots: a gloppy and disjointed Caesar salad, a crab cake that seemed meager, dull branzino in lemon brown butter looking lost on its enormous plate, fine enough pasta pomodoro, an odd take on a pear crisp in which the fruit comes half-cooked in skin-on chunks. The sides, all nice enough, needed the beefy centerpieces to feel like an event. The filet, for me, didn't measure up to its dry-aged counterparts.
But I'll tell you what I do love about APL: the weekday-only lunchtime sandwiches served through a carry-out window attached to the restaurant. Perry Lang calls it Hole in the Wall. Here are glimpses of the masterful whimsy with barbecue that sealed his reputation. His burnt-ends sandwich, filled with tumbling hunks of blackened brisket in a not-too-sweet sauce, does Kansas City traditions ample justice. I drift into a carnal trance downing the chili dog smothered in cheese and onions, and I've never been much of a hot dog guy.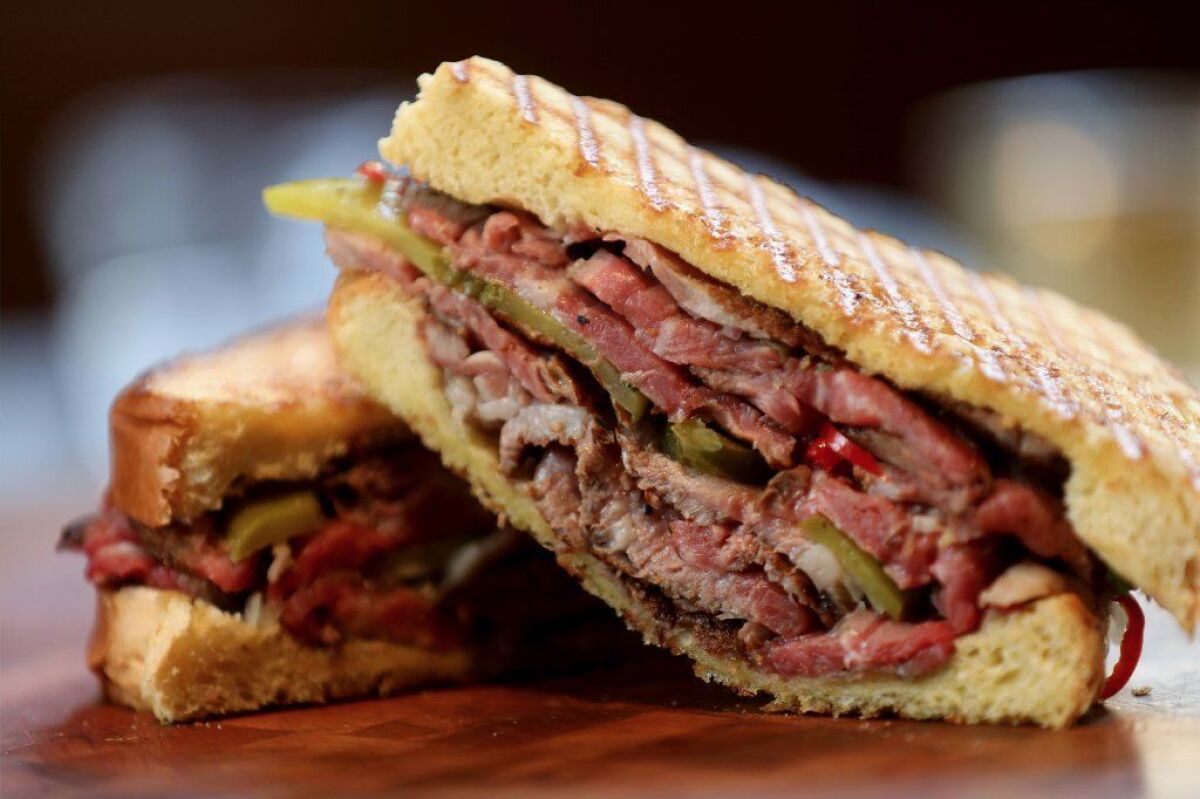 The real killer is a $50 sandwich — Perry Lang dubs it the "Serious Sandwich" — heaped with papery shavings of smoked short rib, dressed in pickle salad with freshly grated horseradish. I know. Fifty dollars. Ridiculous. It can take the cook about 20 minutes to make this behemoth while juggling other orders, and sometimes the temperature inside veers unevenly between hot and cold, but it doesn't matter: Every bite is a rapture of crisp bread, melting meat, smoke, acid and more beef. This could be a Proustian reaction: It registers, particularly with its strum of horseradish, as a luxe transformation of the Baltimore pit beef sandwich from my Maryland childhood.
In any case, it's big enough for two to easily share, and it gave me the same contact high as the $300 steak debauchery at dinner. Any meal worth having at APL rollicks in beefy indulgence; that sandwich is the splurge that will keep calling me back.
APL
Barbecue ace Adam Perry Lang shows off his mastery of steaks and smoked short ribs at his throwback Hollywood chophouse; the rest of the meal doesn't always measure up to the meat.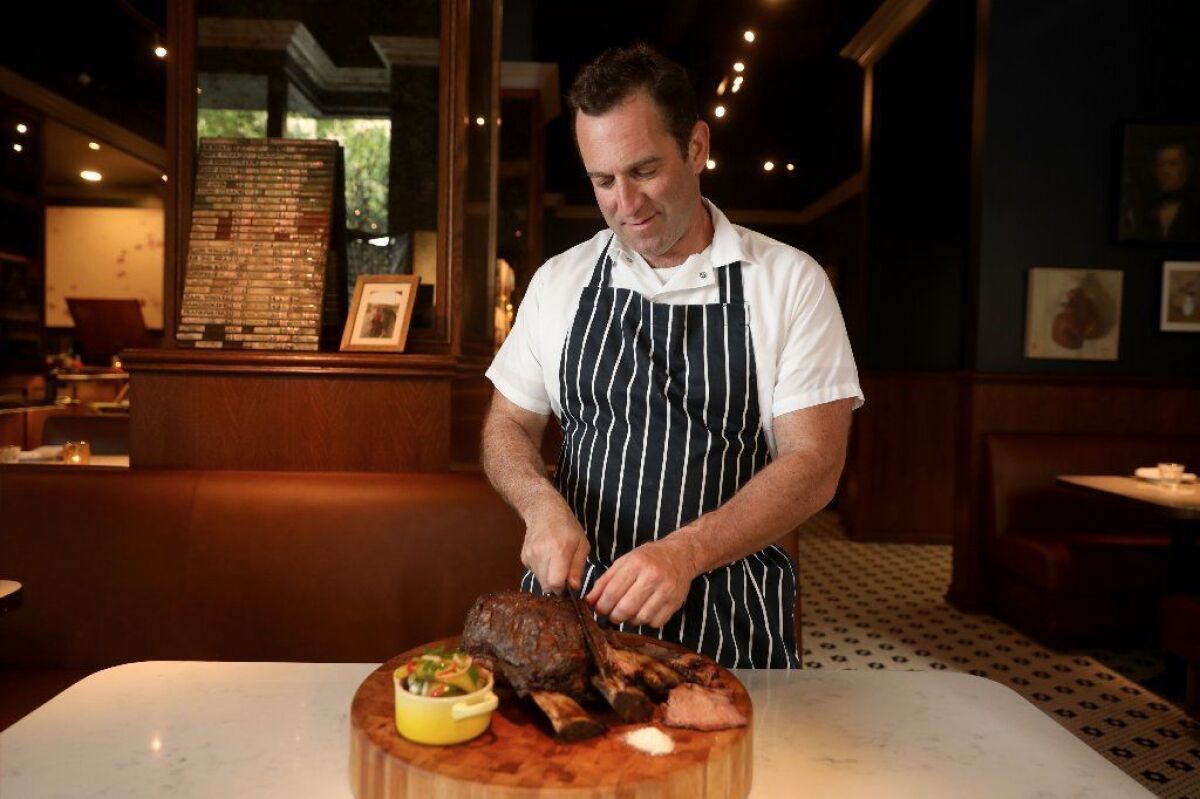 LOCATION
1680 Vine St., Los Angeles, (323) 416-1280, aplrestaurant.com
PRICES
Starters $6-$21; steaks $32-$132; other mains $17-$47; signature short rib platter $168; sides $9-$16; daytime sandwiches $6-$50.
DETAILS
Credit cards accepted. Full bar. Valet parking. Wheelchair accessible.
RECOMMENDED DISHES
Iceberg salad; short rib; bone-in New York strip; tomahawk; Brussels sprouts; fries
Instagram: @bill_addison
Twitter: @billaddison
---
Get our weekly Tasting Notes newsletter for reviews, news and more.
You may occasionally receive promotional content from the Los Angeles Times.